DAVE'S DIARY - 30 JANUARY 2013 - JUSTIN MOORE FEATURE
OUTLAWS LIKE JUSTIN MOORE
"I've cursed the sun, I've prayed for rain/I run a mile to walk through pain/I've seen the worse and I seen the best that I can be/ God bless outlaws like me." - Outlaws Like Me - Justin Moore-Jeremy Stover.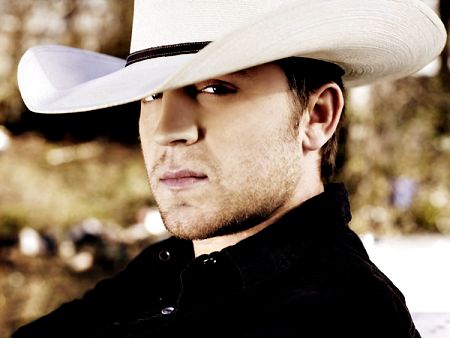 Arkansas singer-songwriter Justin Moore hit the pack running when he chose Outlaws Like Me as the title track of his second album in 2011.

It provoked a fierce new debate about the renegade pickers who rebelled against Music Row power brokers in the seventies in their songs and attitudes.

The late Waylon Jennings, Willie Nelson, Hank Williams Jr, David Allan Coe, Billy Joe Shaver, Merle Haggard, Ray Wylie Hubbard and many more fought in the trenches for their freedom.

Now, a new posse of young guns blazing their own trail, have been parodied for cashing in on the feats of their predecessors without doing the hard yards.

The original outlaws successfully bucked a myopic mainstream while their marketeers sold their music to international acclaim.

Now, their successors have been perceived as watered down wafers off the old block.

Singing actor Shooter Jennings - son of Waylon - took aim with his vitriolic video and song Outlaw You.

Shooter didn't name the faux outlaws but bloggers soon had artists diverse as Moore and Eric Church in their sights.

Moore, 28, nailed his flag to the mast on Outlaws Like Me with songs like Run Out of Honky Tonks, Beer Time, Bait a Hook, Flyin' Down a Back Road, Guns, If You Don't Like My Twang, Redneck Side and Bed of My Chevy.

The singer daubed his self-titled 2009 debut disc with tunes such as Small Town USA, Backwoods, Hank It, Good Old American Way and I Could Kick Your Ass.

Moore doesn't resile from exploiting his own roots to ride on the new millennia outlaw bandwagon.

"Outlaws Like Me is my favourite song I've ever written," Moore revealed.

"It's the title of this album and it's a really personal song to me and has made me a better person. If it has that effect on one person out there, then I'm doing my job as an artist and a Christian."

Moore also took a novel approach to the release of Outlaws Like Me.

He went fishing in New York City.

Avid outdoorsman Justin spent six hours doing press interviews from a bass boat in the middle of Manhattan's beautiful Central Park Lake.

"The record label told me I couldn't find a place to fish in New York City, so I had to prove them wrong," Moore joked.

"This is fun. We try to get out on the road any time we can and fish, hunt or whatever we have the opportunity to do outdoors. This just proves to people that you can do it anywhere; it's all across the country."
NASHVILLE BOUND
"Well I was baptised at the Baptist Church/ and my old man taught about a hard day's work/ I learned how to love, I learned how to fight/ it's where we keep the money in the drawer/ underneath the 44." - The Only Place That I Call Home - Dallas Davidson-Justin Moore-Jeremy Stover.
So it's no surprise the father of two daughters is a family man and master of life's many contradictions.

"Family is definitely the thing I cherish most," Moore confessed.

"In all honesty, I was the kid that never wanted to move away from home. I wanted to stay and have my mom make my bed till I was 30. I wanted to be that guy."

But at 18 and with sights set on Nashville, Moore left the tiny town of Poyen, Arkansas in 2002 to make his own bed in Music City.

He was backed by his parents who took extra jobs to support his ambition while his off stage career including selling cuts of meat from the back of his car.

"I've been here about ten years now," Moore revealed.

"I started playing music my senior year of high school. I made it through about two weeks of college and came home and told my mom and dad I was going to move to Nashville and be a country music singer. They about flipped out, but they moved me to town and paid my bills for years and were very supportive. I'm lucky to have a family like I have, that support system back there. I wouldn't have ever been able to make it around here if I hadn't."
VALORY MUSIC
"You got your million bucks/ you got your flashy sports car/ you got your trophy girls/ man You think you're a star/ you got your teeth bleached/ you like to play the rich game/ yeah you think you're a cowboy/ the new Jesse James but…" - I Could Kick Your Ass - Brian Dean Maher-Justin Moore-Jeremy Stover.
Moore's initial brush with Nashville happened as a 17 year old in Arkansas.

"My future manager had heard a demo tape of me singing The Fireman by George Strait and some old stuff like that, just by a fluke," Moorer recalled of his entrée.

"He called me and said, "If I drive to Little Rock, would you meet me tonight?" I was in high school and I was like, "If this idiot wants to drive six hours, I guess I can meet with him." I remember in that particular meeting he was saying "record deal" this and "record deal" that, and I said, "I'm sorry, but what is a record deal?" I had no idea! I just knew I could sing and that's what I liked to do. So I moved to town and I knew him. Through him I met my producer, Jeremy Stover, and he and I started writing songs together. To be quite honest with you, I never really had any intention on writing songs. When I moved to town we were looking for songs to cut, to try to pitch to get a deal, and I wasn't getting any songs I really liked. Obviously now I know why I wasn't getting everybody's best songs - you don't give them out to people who you don't have a clue who they are! But I thought, "Heck, I'll just write 'em myself, I guess." So Jeremy and I started writing songs."
KEITH STEGALL
"I don't care if you don't like my twang/ cause I know they love it in Small Town, USA/ It's the way I live, it's the way I talk/ hell, yeah, it's the way I sound." - If You Don't Like My Twang - Justin Moore-Rhett Akins-Jeremy Stover.
Hit writer and award winning studio tsar Keith Stegall - long time producer of Georgian superstars Alan Jackson and the Zac Brown Band, John Anderson and Catherine Britt - soon signed Moore as a writer.

"Keith Stegall liked what we were doing together and gave me a writing deal with Big Picture Entertainment, which is Keith's publishing company," Moore recalled.

"I wrote for those guys for four years and developed more as an artist. When I first moved here I could sing on key, but I didn't know what kind of stuff I wanted to do or what was real to me. I met Scott Borchetta, who started Big Machine Records, and he offered me a deal. He said, "If you can be a little big patient, I'll give you a record deal." As a 19 or 20-year old kid, I thought "being patient" meant I'd be Kenny Chesney by the next year. I found out that I was pretty far off so I kept writing and decided that if Scott wanted to work with me I wanted to work with him. I knew that if I only got one shot at it with somebody, I wanted it to be with him - because I thought he was the best. So when he started the Big Machine sister label Valory Music Group, he called me up and said, "Dude, this where I want you to be." And it's been a perfect fit, man. I can't say enough about how hard those guys have worked for me. It's been pretty unbelievable."
HANK INFLUENCES
"You gotta Hank it/ you can't sip whiskey, gotta drank it/ push it up to 10 and crank it/ if you wanna keep your woman gotta spank it/ if you ain't got a boat you gotta bank it/ live it like he sings it/ you gotta Hank it." - Hank It - Brian Dean Maher-Justin Moore-Jeremy Stover
Moore had rootsy musical influences growing up in Arkansas.
"I was always a huge fan of all the guys that were very unique like John Anderson," Moore recalled.

"Charlie Daniels was an influence of mine. I was always a fan of the old-school country, because that's what my dad listened to. It described how I was growing up and rural America in the South. Hank Williams Jr. was a huge influence. It was really cool. We went on the road with him last year for a couple months. But I was also a big fan of Southern rock. My uncle had a Southern rock band when I was a senior in high school and I played in it. Lynyrd Skynyrd, Marshall Tucker Band and the Allman Brothers Band were big influences of mine. Probably my biggest influence - and it's kind of funny, because our music ain't all that similar - is Dwight Yoakam. I've met a quite a few folks, but if I met him I'd be in awe. To me, he was an ultimate artist. I looked up to him as a songwriter and an entertainer probably more than anybody."
Moore later took a call from Kentucky born Californian singing actor Dwight Yoakam, 56, who made his third Australian tour in 2012.

"I love him," Moore said of Yoakam.

"I haven't met Dwight in person yet, but I'm looking forward to that someday!"
DAVID ALLAN COE
"Give me a Saturday night, my baby by my side/ David Allan Coe and a six pack of light /an old dirt road and I'll be just fine." - Small Town Saturday Night - Brian Dean Maher - Justin Moore-Jeremy Stover.
When Moore name checked Hank Williams Jr, David Allan Coe and Lynyrd Skynyrd in debut hit Small Town Saturday Night he connected.

He learned his wife Kate was pregnant with their first daughter Ella Cole and he won a support gig for seven times wed veteran former convict outlaw singer and actor Coe in Houston, Texas.

Although Justin had never met the legendary singer-songwriter he received a phone call from him when the song hit.

"David Allan Coe is huge to me," Justin confessed at the time.

"He called to thank me for putting his name in the song. I just thought, 'Wow, that's pretty cool!'"
The success also propelled him to the big stage on tours with Miranda Lambert and Brad Paisley.

"At the end of the day, all this stuff is great," he said of the success.

"I've had so many great experiences and, honestly, just mind-boggling moments in my past four years of my career. But nothing makes me happier than being back home, though, and sittin' at my grandma's table eatin' dinner. That's just who I am. Family, to me, is the most important thing in the world."
BACKWOODS RICOHET
"Rifle in a gun rack, hanging in the back glass/ buck knife on my belt, ain't no land for sale around here/ red clay country mud/ sipping on a cold Bud/ blue tick coon hound, you know where I'm found, out in the backwoods." - Backwoods - Justin Moore-Jamie
Paulin-Jeremy Stover.
But Moore received a less welcome call in Nashville long after he hit Top 10 with Backwoods.

In February last year local songwriter Bobby Carmichael turned on the radio and was stunned to hear an all-too-familiar song - one he claims to have co-written eight years ago.

The track Backwoods performed by Moore, has been downloaded more than 300,000 times, and the Big Machine album on which it appeared, has sold almost half a million copies.

Carmichael has not earned a cent on the song, despite its having nearly identical lyrics, pitch and rhythm to the track he co-wrote with Louisiana fiddle player Britton Curry, according to a federal lawsuit filed in the U.S. District Court for the Middle District of Tennessee.

Carmichael and Curry are asking for $150,000 for each act of copyright infringement.

At this point the number of times Moore allegedly infringed is indefinite.

Intellectual property lawyer Ramona DeSalvo is handling the case for the plaintiffs, the latest of many legal battles to emerge in the never-ending war over the origin of songs that prove profitable.

Moore, who has opened for ZZ Top, Lynyrd Skynyrd and Hank Williams Jr., released his Backwoods song in 2009 on self-titled debut album.

In 2003 Carmichael handed over the rights to Curry who registered the song with the U.S. Copyright Office, according to the lawsuit.

Around 2005, the duo was shopping a version of the song to major labels on Music Row.

During this time, according to the lawsuit, songwriter Jamie Paulin, who was working for publisher Island Bound, "heard and/or secured" a copy of the song.

Three years later, Paulin, songwriter-producer Jeremy Stover and Moore wrote the song that would later appear on Moore's debut album, and, as the lawsuit submits, earned an untold amount of money from a stolen idea.
HOW I GOT TO BE THIS WAY
"I rolled my daddy's truck off the Dicksonville curve/ after drinking my fifth beer." - That's How I Got To Be This Way - Justin Moore-Rivers Rutherford-Jeremy Stover
Moore also wrote his debut album entrée song That's How I Got to Be This Way with Rivers Rutherford and Jeremy Stover.

"It was the first time that myself or Jeremy had written with Rivers," Moore recalled. "Rivers has written so many big hits and is just a pro. It's always a little bit weird when you get with somebody to write for the first time. You have to feel each other out. You're nervous to throw out ideas. You eventually start talking about what kind of person you are and how you grew up, that kind of stuff. That's what we started doing. I was like, "Oh, I was a good kid, but I did the same stupid stuff that everybody else did growing up. I remember I totalled my dad's truck, and that was probably the stupidest thing I did." That's where the first line of the song came from - 'I rolled my daddy's truck off the Dicksonville curve after drinking my fifth beer.' We kind of went from there. A lot of songs you write, and you go, "Yeah, I think that's all right" then you go demo it, and you go, "that's pretty cool!"
But the song almost didn't make it.

"I had about everything done for the album when I found the demo for that song in my iPhone when I was on my radio tour," Moore confessed.

"I was with a guy from the label, and I said, 'Man, listen to this song I just found it. I had kind of forgotten about it.' He goes, "Dude, we've got to put this on the album!" You know me. I'm kind of laid back and nonchalant. I was like, 'alright whatever.' So I'm glad we put it on there. I think it will be good for the summer."
PROLIFIC WRITER

"I don't care if you don't like my twang/'Cause I know they love it in Small Town, USA/It's the way I live, it's the way I talk/Hell, yeah, it's the way I sound." - If You Don't Like My Twang - Justin Moore-Rhett Akins-Jeremy Stover.
Moore has been a prolific writer since his arrival in Nashville.

"I'm fortunate I'm at a record label that trusts me as a songwriter as much as they do," Moore says.

"I wrote 9 of the 10 on my first album, and I wrote 11 out of the 13 on this album. I'm very proud of it. I think it's the best songwriting I've ever done. I get to hone in on what I want to say and do as an artist even more than I did at the beginning of my career.

I've found out who exactly my fans are, so that's a huge advantage going in to write for another album. This album is a little more country, which I'm proud of. People look at me like I'm crazy when I say that, because the first one was pretty country. I think it's a little more diverse than the first album."
FLYING DOWN A BACK ROAD
"I've been on the Grand Ole Opry/ I've played a show with ZZ Top/ went on tour with Skynyrd and man they still rock/ shot the bull with Bocephus, before he climbed up on his jet/ played south Florida with Alan Jackson/ that's some things that you never forget
and all that stuff it makes you feel real good/ but not near as good as." Flying Down A Back Road - Justin Moore-Jamie Paulin-Jeremy Stover.
Moore personalises his songs including Flying Down A Back Road - with the help of co-writers.

The singer has no qualms about revealing his feelings in song.

"I'm not, I think it matters to people who you are as a person and what you go through as a person," Moore revealed.

"If it's personal to me, it's probably personal to a lot of other people as well. So I try not to hold anything back. I think that's one of the reasons we've had a lot of success over the years. People really know who I am and feel like they're a buddy of mine. The fact that they know I'm going through stuff just as they are, even though I get to do this for a living that has really helped us out. It's genuine. That song in particular, I was talking to my songwriter friends at the time about all this stuff we used to dream of. "What if this happened?" and "could you imagine if that happened?" and that's where that song came from. The fact that we've been able to experience the stuff that we have over the past three or four years is just mind-blowing."
GRANDPA DOUBLE SHOT
"You stood on that bank when I got baptised/ gave me a thirty-thirty when I turned nine/ at sixteen you caught me drinking out in the barn/ I could hear you cheering when we won state/ and you held my hand at Grandma's grave/ and I'll always be thankful you never sold the farm." - Grandpa - Justin Moore-Jamie Paulin-Jeremy Stover.
Moore single If Heaven Wasn't So Far Away - was one of the few songs on the second album he didn't write.

It was a sequel of sorts to Grandpa from his debut disc.

Contributed by songwriters Dallas Davidson, Rob Hatch and Brett Jones, it seems to have been written with Moore in mind.

"We were through with the album when I heard this song and I thought, "Man I can't not cut this record," Moore revealed.

"The songwriters did a great job, and the first time I heard it I just thought, "This is a special record." They don't come along very often like this. The experiences I've had with losing loved ones was portrayed in this song, so I felt really close to it and it turned out to be a big record for us."

"He was my hero," Moore said of his grandfather who passed away a few years ago.
"He was the guy that I thought couldn't do anything wrong. Also, you have a handful of people in your life, in my opinion, that you can't imagine your life without. He was one of those to me, and he was at the top of the list.

"Two or three days before my Grandpa passed, my wife and I walked in his hospital room, and it was the first time he had seen me since he had gotten to the hospital because I had been on the road. My wife was pregnant with our daughter Ella. He couldn't talk, so he was writing on this magic marker board."

His grandfather then reached for the marker and jotted down a message to his unborn granddaughter.

"I love Ella," he wrote.

"That's a mental picture that will never be out of my brain," Moore said.

"The line in the song, 'I'll go pack up the kids and go for the day, introduce them to Grandpa,' just tears me up every time, and I'll never forget that. He was a great guy. I really, really miss him a lot."
IF HEAVEN WASN'T SO FAR AWAY
"If heaven wasn't so far away/ I'd pack up the kids and go for the day/ introduce them to their grandpa/ watch 'em laugh at the way he talks." - If Heaven Wasn't So Far Away - Dallas Davidson-Rob Hatch-Brett Jones.

Moore maintains that balance of work and family imperative to him.

"You just have to make it a priority and you have to have that balance," he said.

"It's not normal to go onstage and have thousands of people scream at you and act like you do nothing wrong. It's just not normal."

Family values and small-town life remain the recurring theme across the new album.

Growing up in a blue-collar home, Moore said all that truly mattered was family, church and whatever sport was in season at the time.

"It really taught me to be grounded and appreciate things that come your way," he said. "It taught me a lot about hard work - which, as you know, this takes."