DAVE'S DIARY - 30 JANUARY 2013 - SLAID CLEAVES CD REVIEW
2004 CD FEATURE
SLAID CLEAVES
WISHBONES (PHILO-SHOCK)
SLAID CLEAVES - HORSING AROUND WITH WISHBONES
"I got nothing but a Ford and a barn full of hay/ if it weren't for horses and divorces/ I'd have a let more money and less gray hair/ I might be even be a millionaire, I'd be a lot better off today." - Horses - Slaid Cleaves.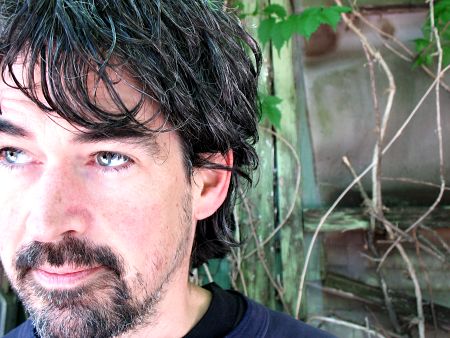 When Gretchen Peters penned the famed line "she got a divorce and a chestnut horse" in Pam Tillis hit Let That Pony Run she tilled the topsoil of marital mayhem.

Slaid Cleaves blasted the divorce stable door wide open with Horses - one of many gems on his seventh album Wishbones (Philo-Shock.)

Cleaves fleshes out divorce dramas by exploiting the tale of an old farmer forced into moonshining to pay for four divorces.

The aggrieved agrarian tells his story for a share of song royalties to finance recovery.

"I got a 51 Ford I'd like to fix up/ I got two sick ponies and one sick pup/ and my third wife's coming today to take my TV set."

Oh, the narrator in the tale is named Willie - but not, of course, Shotgun Willie.

Cleaves was born in Washington, DC, and raised in South Berwick and Round Pound in Maine.

He majored in English and philosophy at Tufts University, New England, and released five cassette albums before he scored airplay on Nu Country FM with 1997 debut disc No Angel Knows and 2000 album Broke Down.

Cleaves busked in the street and formed an alt-country band in Portland, Maine, but moved with his wife Karen to Austin in 1991 chasing a dream.

That dream was music - not his alter ego as guinea pig drug tester at Pharmaco to pay bills, even after winning best new folk talent at Kerrville in 1992.

Although the pharmaceutical testing was the envy of some peers it enabled him to hone his craft as a writer.

"It was time to go to some big music town and get discovered," Cleaves joked.

"And eight years later, I was discovered."

It didn't come easy.

"I was in the black when I left Maine and went immediately into the red in Austin," Slaid recalled.

"I came as an absolute nobody and started at the absolute bottom rungs, playing on the sidewalk on Sixth Street and playing open mikes, begged for opening gigs, entered contests."
RAY WYLIE HUBBARD
"Day after day after, trying to understand/ why the world tried to grind you down/ make a ghost out of a man/ your day of grace is due/ and you have pawned everything you owned." - Wishbones - Slaid Cleaves-Ray Wylie Hubbard.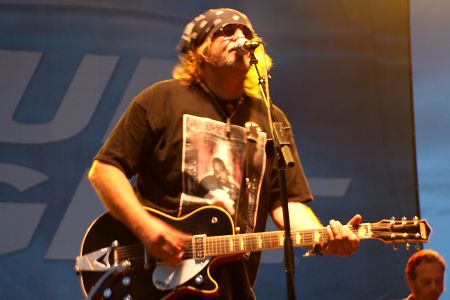 Ray Wylie Hubbard - Photo by Carol Taylor
Cleaves choice of writing partners is fruitful.

He penned the title track with the legendary Oklahoma born long time Texan troubadour Ray Wylie Hubbard.

The duo explores its poverty decimated desolation row - "this is real life brother, this ain't no reality show."

Eliza Gilkyson is back-up vocalist on the song that was featured on ESPN2 TV show Cold Pizza.

"That one's not a story," former pizza and ice cream truck delivery driver Cleaves recalled.

"It's more impressionistic, a little less direct than most of my writing. I usually have one song like that on each record. It's a little more pop, and it's a little more mysterious."

Sinner's Prayer, penned with Rod Picott, is also a song of desperation and hope.

Cleaves and Picott played in a high school garage band named The Magic Rats after a character in Bruce Springsteen's song Jungleland.

The Cleaves-Picott team also co-wrote four songs - Not Going Down, Jennie's All Right, Wrecking Ball and The River Runs - on No Angel Knows and the title track of 1990 album Broke Down.

But in Drinkin' Days - penned with Karen Poston - regret is replaced by jubilation as the reformed drunk trades a Huntsville jail cell for freedom.

The singer name checks iconic Austin locales The Broken Spoke, Gaslight and Horseshoe Lounge where he cut a live album.
ROAD TOO LONG
"My engine block is covered in blood/ and my veins are pumping gasoline/ from Waxahachie to Rabbit Hash, I've felt that steel belt song/ and every exit looks the same/ I guess I've been on the road too long." - Road Too Long - Slaid Cleaves.
The title track segues into truckie anthem Road Too Long, replete with graphic imagery.

Cleaves' forte, like that of Guy Clark, Billy Joe Shaver, a young Steve Earle and many Texan troubadours, is narratives.

Here he expands on horse tales in Quick As Dreams - story of two teenagers who flee to become jockeys.

Tommy Luther - narrator in a tale inspired by Laura Hillenbrand's Seabiscuit - reaches 84 while his best mate dies in a fall 60 years earlier.

"When I see a story like that, it's a neat challenge to me to put it into song format," Cleaves revealed at the time.
"Normally I don't tend towards the confessional. I just don't find that very interesting. I'm interested in stories, characters, adventures. It was inspiring. One chapter in the book was about how tough it was to be a jockey."

More humane characters than the boxer in Picott tune Tiger Tom Dixon's Blues.
REAL POWER OF ELECTRICITY
"One day same the lawyers with cash in hand/ they swore that our village would light up the land, surrounding the valley was a painted red line/ drawn by company men, like marking a crime." - Below - Slaid Cleaves-Nicole St Pierre.
Those tunes are punctuated by social conscience peak Below penned with Nicole St Pierre.

It's a familiar story - corporate fixers target a town for flooding to produce liquid gold as electricity.

Their divide and conquer strategy is to offer cash to residents for their heritage - farms and homes - so they can bury history under water.

Plenty of examples in Australia but Cleaves laces his story with delicious dexterity.

And it's not just the story - also the descriptive delivery.

"Some folks took the money, starting grinding gears/ while the rest of us held out for twenty odd years."

Sure, it's a sibling of John Gorka's Houses In The Fields and Where The Bottles Break but a good one.

The sequencing is a little spooky with the final three songs daubed with death.

Hearts Break uses the Twin Towers metaphor, a double crossed Mexican dope grower is killed in Borderline and New Year's Day is a pathos-primed eulogy to a deceased mate.

Cleaves accessible vocals are complimented by Gurf Morlix's crisp production and pedal steel with Eleanor Whitmore and Darcy Deaville on fiddle, Billy Bright on mandolin, Jeff Plankenhorn on dobro, drummer Rick Richards, organist Ian McLagen, bassist Ivan Brown, cellist Brian Standefer and other Austin pickers.
BORDERLINE BUST
"And he crossed himself at the borderline/ he wired the dollars to Elena back at home/ as he roomed with 10 desperate men/ when the builders had enough, the INS cuffed him/ and it's back to the border again/ a tearful reunion with family and friends/ but soon the reality sets in/ there's no work to be found in the dry desert ground." - Borderline - Slaid Cleaves.
Cleaves fondly recalled the album incubation.

"I took three months off last winter to do stuff around the house," Cleaves recalled.

"I have a friend who has a cabin in Liberty Hill. I went to this little guesthouse behind the cabin to see if I could be a writer again and, lo and behold, it came back. It was scary being a writer again. Once I set aside time to be writer again things came together. I need to be totally excluded and apart from everything. That's the only way I've been able to write for the last two years. I can't do it at the house. There are too many distractions. I found a cabin my friend loaned me. Each record I have to use a different trick to get myself to write. I used to write at a state park, and I used to write at home, and I used to write in the cabin. I don't know what I'll do next, maybe get out of town and go somewhere I've never been before."
Cleaves is a prolific writer - solo - and with older peers dating back to Kent Finlay and Mark Farrington.

"Lately my MO has been to go off by myself and write," Cleaves revealed.

"If a song becomes problematic, if it's not good or exciting enough, I'll take it to a trusted friend who can provide an idea or a word or the glue. Most of the people I write with have been friends for a long time. The song itself usually points to someone."

The solitude and sessions with multi-instrumentalist Morlix, who also produced No Angel Knows, was rewarding.

"I'm proud of Wishbones, Cleaves confessed.

"I love the way it sounds and I love the songs. I know it's not a huge step. It hasn't brought me a new audience the way that Broke Down did, but I have a good audience now, and it's selling much faster than the last one did. "But the main thing was that with Broke Down, I felt I finally made the record I wanted to make for 10 years. It was the best record I could possibly do. On one hand, I wanted to tell the world about it - that's why I toured so hard - but I also had no idea what I wanted to do next. So I was really scared. I tried to cover that up by going out on the road, by not thinking about a new record, not thinking about new songs."

Cleaves has since released Sorrow & Smoke - Live At The Horseshoe Lounge in 2011.