DAVE'S DIARY - 9/8/2011 - PREVIEW OF EPISODE 10 - SERIES 16
INTERNATIONAL DUETS FUEL NU COUNTRY TV
Australian country music king Lee Kernaghan and Arkansas born tourist Dierks Bentley headline Nu Country TV this Saturday - August 13 - at 10.30 p m on C 31.

Fellow Arkansas born tourist Joe Nichols returns with his Fawkner duet partner Jasmine Rae.

Mid Pacific Bob Olson hosts the episode from our former editor Peter Staubli's Sapphire Coast retreat at Tura Beach.

The Jane Dear Girls, Wolverines, McAlister Kemp and Peter McWhirter also perform on the show edited by Ashley Hall and repeated Friday at 2.30 a.m.
DIERKS AND LEE SHARE SCARS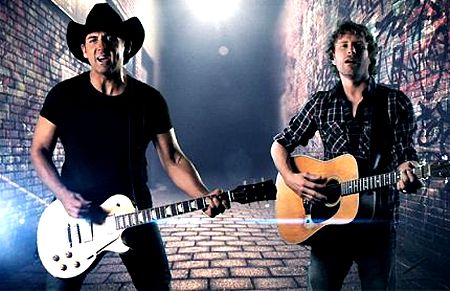 Lee Kernaghan scored a bonus when Dierks Bentley toured here with Brooks & Dunn in 2010.

He lured Dierks into the studio to record a duet on Scars from his ninth album Planet Country.

The duo also strutted their stuff in the video filmed in the big smoke and featured this week on our show.

Corryong born Kernaghan wrote the song with Matt Scullion and Lawrie Minson but Bentley says it also describes his knee injuries from falls off motorbikes.

"Most people can relate to those physical scars and emotional scars - we all carry them," says Kernaghan, 47 and father of two sons.

"Dierks reckons he has a massive scar on his knee. He didn't stack his bike - he wrecked it."

The song was written well before Bentley, whose bluegrass album Up On The Ridge is Top 5 on the U.S. charts, toured here.

"We had been writing songs for this album for a couple of years but the turning point was when Matt Scullion came up to Queensland," Lee said.

"He had been working on a song called Scars with Lawrie Minson in Tamworth and said 'we're not sure if we've got it right' and he came up. The idea brought back memories for me of Hank Jr, David Allan Coe and Waylon. We starred rewriting it, doing it with a southern rock influence. After about five hours I said to Matt why don't we stop now and revisit it later. He said 'no, let's finish it now.' So we pushed on and finished it - that opened a lot of doors for what we could do on this record. He also co-wrote Girl's Gone Wild, Something Right, Planet Country and People Like Us.

He brought a different perspective to the writing."

Kernaghan since released new album Bringing The Music Home, now on sale with Planet Country in a special Deluxe Double CD Edition.

It includes a duet with father Ray on the Hank Williams Jr classic Family Tradition and singing spouse Robbie McKelvie on Bruce Springsteen hit Fire.

CLICK HERE for a Lee Kernaghan feature from the Diary on November 10, 2009.
CLICK HERE for a Dierks Bentley feature in the Diary on April 26, 2009.
JOE NICHOLS - JASMINE RAE
Joe Nichols and Jasmine Rae were contrasts in height when they shared stages on the Arkansas born singer's three Australian tours.

But they met in the middle to record a duet for Jasmine's second album Listen Here.

Nicholls also joined her in the concert video for their collaboration I'll Try Anything.

"I supported Joe here in 2009, I have always loved his music," Rae, 23, revealed.

"I got on really well and asked him. He agreed to come into the studio and did some vocals. He loved the song - he was really cool."

So was it hard to lure Nichols into the studio?
"No, I asked my manager Rob Potts and he organised it with Joe's manager," Rae, daughter of a mechanic in northern Melbourne suburb Fawkner, said.
"I was really chuffed."

Joe played CMC Rocks The Hunter in March and returned in May for an east coast tour including a concert with Jasmine at the historic Forum in Melbourne CBD.

Nichols, now 34, was only 20 when he landed his first indie deal in 1996 - he is now recording a follow-up to eighth album Old Things New.

Joe, son of truckie bassist Mike, was born in Arkansas and decamped Nashville to live in Texas with second wife Heather Singleton after they wed in Savannah, Georgia, on September 9, 2007.

CLICK HERE for a Jasmine interview in the Diary on March 5, 2011.
CLICK HERE for a Nichols interview from the Diary on November 18, 2009.
CLICK HERE for a Nichols concert review on May 7, 2011.
JANE DEAR GIRLS - SHOTGUN GIRL
The Jane Dear Girls perform in a colourful narrative video for recent hit Shotgun Girl.

It had all the good oil - pick-up trucks, a boxcar, sports cars, a diner and even a sturdy wheat silo.

It's on the Jane Dear Girls self-titled disc, produced by John Rich of Big & Rich.

Susie Brown and Danelle Leverett play banjo, fiddle & guitar in the video - among the eight instruments in their vast repertoire.

The girls are prolific writers.

"Literally on our first day we wrote a song together our co-writer noticed that we were a duo," Amarillo born Danelle revealed.
"He said 'You play alike, sing alike and talk alike.' I know that sounds weird, but really the first day that we even hung out we both knew this was what we were going to end up doing."

"From there we started knocking on publishers doors and five-and-a-half years later we're sitting here" says Alpine born Susie raised in her family bluegrass band.

"I started violin when I was 4 then I switched over to fiddling when I was 8. I played with my family band for about 10 years or so."

Further info - www.thejanedeargirls.com

PETER MCWHIRTER - DEVIL'S DAUGHTER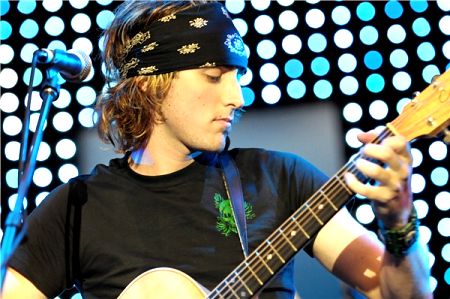 Former Campbelltown High school singer Peter McWhirter shared expat Australian producer Mark Moffatt with Jasmine Rae.

McWhirter recorded his debut album Lucky As A Se7en in Nashville with the pedal steel guitarist for pioneer Melbourne outlaw band Saltbush.

This week the Harrington Park singer performs his video for the late Dennis Linde's song The Devil's Daughter.

McWhirter, some time touring partner of Jasmine, proved bales of hay are safer than silage sandwiches with a vampire.

Moral of his song - don't be tempted by a roll in the hay unless you know the lay of the land.

The singer's character paid the price of falling for the charms of a satanic sweetheart of the rodeo.

Peter's secondary school, replete with campus recording studio, was the launch pad for Starmaker winner Travis Collins and Christie Lamb.

McWhirter has become a big fan of recently deceased icon Dennis Linde - also writer of Burning Love and Goodbye Earl.

"I first heard The Devil's Daughter in Nashville," the singer said.

"Mark said 'what do you think of that?' I liked it when I first heard it - it was his demo (not the recorded version by Fiddlin' Frenchie Burke.) It's one of my favourite songs on the album."

CLICK HERE for a McWhirter feature from the Diary on September 26, 2010.
MCALISTER KEMP HARD WORK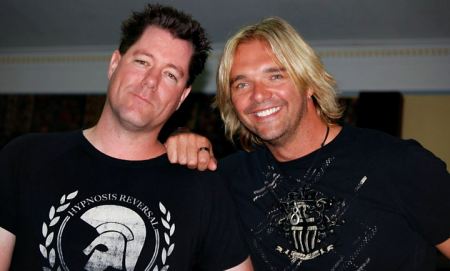 Golden Guitar winning NSW duo McAlister Kemp returns to Nu Country with a video for latest single Hard Work.

Drew McAlister and Troy Kemp share spoils of their toils with a young blue-collar blonde.

The song, penned by Drew and Michael Carr, recalls a struggle of pulling beers to save money to buy a new truck.

It's on McAlister Kemp's debut album All Kinds Of Tough.

McAlister, son of a farmer turned meat worker, was born in Narrabri and raised in Moree, Casino and Dubbo before moving to Sydney.

Kemp, whose dad is a physiotherapist, hails from Slim Dusty hometown Kempsey and met McAlister in the Australian stage production of 2008 Johnny Cash musical Walk The Line.

But it was fellow singer-songwriter-musician Carr who co-wrote two songs on their debut disc and suggested they write and perform as a duo.

That was after they performed in Johnny Cash stage musical Walk The Line.

They overcame the tyranny of distance by writing some songs on skype.

The duo wrote 11 originals on a 13-track disc that enjoyed production of Matt Fell.

CLICK HERE for a McAlister Kemp feature from the Diary on May 9, 2011.

WOLVERINES - GOOD OLD BOYS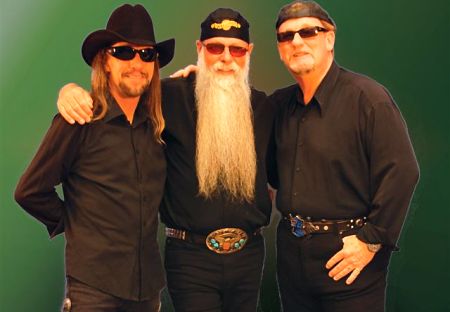 The Wolverines depict good old boys with brand new toys in their video for new single Good Times And Good Old Boys.

They trio, recently resurrected from premature retirement also serenade the girls on the boat - the Holy Cow.

Good Times And Good Old Boys is on the trio's seventh album Good Old Boys and ABC compilation CD-DVD The Very Best Of The Wolverines.

The Wolverines, who also released a concert DVD, retired briefly after headlining a recent Wandong Country Music Festival.

The Golden Guitar winning trio previously appeared on Nu Country with a video of Up & Done Died from fourth album Good Times on ACMEC Records.

Expatriate Kiwi singer-songwriter and guitarist Darcy LeYear, pianist Chris Doyle and drummer John Clinton are best known for their country boogie.

But the band, formed in 1994, broke on TV, radio and print media with evocative Lee J Collier cystic fibrosis awareness song 65 Roses.

The band is touring nationally before the Rhapsody of The Seas Cruise from November 4-11.

CLICK HERE for a Wolverines feature from the Diary on June 19, 2003.

JACKSON AND LAMBERT PRIZES FOR TOURS
There's great news for fans of Georgian born superstar Alan Jackson and quadruple CMA Award winning Texan star Miranda Lambert.

We have the duo's latest CDS as prizes for viewers who renew Nu Country TV memberships or become members.

Sony-BMG promotions chief Emma Smith also gave us Miranda's new DVD - Revolution: Live By Candlelight.

Alan's 34 Number Ones features his biggest hits including his duet with Zac Brown Band - As She's Walking Away.

The bonus tracks also include his cut of the late June Carter Cash-Merle Kilgore written Johnny Cash hit Ring Of Fire and rare track Look At Me.

Emma also donated the newly wed Miranda's huge selling 4th CD Revolution.

And as a bonus there is Miranda's new DVD featuring rare acoustic performances of six songs White Liar, The House That Built Me, Love Song, Heart Like Mine, Love Is Looking At You and Rolling Stones country classic Dead Flowers.

Jackson played Rod Laver Arena on Friday March 4 before headlining CMC Rocks The Hunter on March 5 and 6.
WIN KEITH URBAN CDS ALSO
Expatriate Australasian superstar Keith Urban returned for a triumphant tour with chart-topping mates Lady Antebellum in April.

And Keith's long time record company EMI-Capitol has great news for Nu Country TV viewers.

Promotions ace Bianca O'Neill donated autographed copies of his huge selling ninth album Get Closer.

She has also donated new compilation The Very Best Of Slim Dusty and CMAA Winners - 2011.

All you have to do to win Jackson, Lambert, Urban and Dusty CDS or the Lambert DVD is become a member of Nu Country or renew membership.

It costs just $20.

Please send a cheque or money order made out to Nu Country Music to us at P O Box 625 - Northcote - 3070.

We also now have electronic banking for membership payment and renewal.

But email us first at music@nucountry.com.au as stocks are limited.

Other prizes on offer include -
Taylor Swift - 2ND CD Fearless.
Tim McGraw Southern Voice Tour CD with 11-bonus video clips.
Dierks Bentley - Feel The Fire.
Felicity - Landing Lights
Slim Dusty Sittin' On 80 Boxed Set
The Very Best Of Slim Dusty
Steve Forde - Guns & Guitars
Catherine Britt - Little Wildflowers.
Mike Brady - Country To Country.
CMAA Winners 2011 and other compilation CDS.