DAVE'S DIARY - 26/9/2010 - PETER MCWHIRTER INTERVIEW
MCWHIRTER HUMS A HOT TUNE
BY A FULL MOON ON WOLLONGONG BEACH
"Sitting on the yellow sand/ watching the ocean swallow up the sun/ the cool wind blows through my guitar/ and the strings begin to hum." - Humm - Peter McWhirter.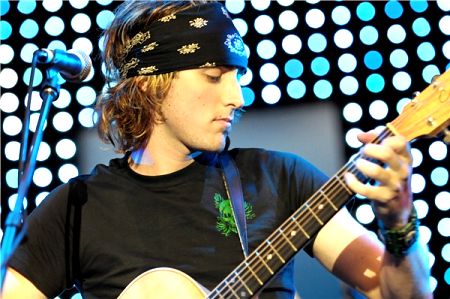 Peter McWhirter is a firm believer in the power of the ocean - and also the sand.

The singer-songwriter also credits a full moon on a deserted Wollongong beach for his first big break - as a teenage schoolboy.

McWhirter wrote his debut single Humm by moonlight during his solitary sleepless night in the sand.

"I headed to Wollongong with some mates," McWhirter, now 21, told Nu Country TV.

"They left me about 11 p m. I was on the beach about eight hours. I had a book, a pen and pocket full of sand. It was a full moon. I couldn't think of the idea for the song so I waited and waited in the sand. It was sand more than anything - sand gets warm during day. At night it's cold on top but still warm underneath. That's where I got the idea. I was covered in sand to keep myself warm. In the early hours of morning I had the song written so I headed back into Sydney to show people."

The Harrington Park singer was a student in the performing arts faculty at Campbelltown High School when the song was born.

The school, replete with campus recording studio, was also a launch pad for Tamworth Starmaker winner Travis Collins and fellow young singer Christie Lamb.

McWhirter and fellow students wrote songs and recorded demos of songs at the studio as part of their secondary education.

But the singer chose a different beach to film the video for the song from his debut CD Lucky As A Se7en.

"We went to Warriewood beach, close to Manly," McWhirter recalled.

"We wanted sunset but the sun sets on other side. We said why not film in the early morning. We were there from six in the morning to 12. It would have been nice to have a well-known actress in that."

He scored his deal by winning the 2009 Telstra Road To Tamworth quest, performing originals including Chasing Girls and Not Gonna Happen.

But, alas, those embryonic originals hit the cutting room floor when the boy from the wild south west of Sydney flew north to Nashville to cut his debut album.

But first McWhirter performed at a major music festival on the banks of the Cumberland River.

"I played the Riverfront Stage," McWhirter recalled.

"It was scorching hot, it scorched my eyebrows. When I went on stage there was a big roar from about 5,000 people. I didn't think anyone would know me. But I was signing stuff through the fence. I didn't even have a CD out then but people had photos of me in the CMA Magazine. Little Big Town also played there."


MARK MOFFATT - OUT OF THE SALTBUSH
"When it comes to making good decisions/ I'm the type of guy who listens to his head, and not his heart every time/ lately I've been thinking how did I get in this position, wrapped around her little finger so tight." Crazy Is What Crazy Does - Peter McWhirter-Michael Carr-Drew McAlister
Expatriate Australian Mark Moffatt - pedal steel guitarist in Melbourne outlaw country band Saltbush - produced the visiting singer's album shortly afterwards.

Moffatt hit Nashville in 1996 as a producer for expatriate Australasian publishers Barry and Jewel Coburn and clients diverse as Keith Urban & The Ranch and Stacey Earle - sister of seven times wed warrior Steve.

The long tall Queenslander earlier scored Australian pop chart success with his band The Monitors.

He has also produced Tony Joe White, Deana Carter, Rachael Warwick, Jasmine Rae, Mark O'Shea, Morgan Evans and a brace of other artists diverse as Slim Dusty, Tim Finn, Nick Cave, The Saints, Divinyls, Split Enz and Yothu Yindi.

Moffatt recruited Music City session players for the disc that featured just two McWhirter originals and eight American covers after a collective cull by producer, artist and management.

"We had about 40 songs to pick from," McWhirter revealed.

"As much as I would love to have my own originals on there I wanted to look back on this album and say this is my favourite album - my debut.

We chose songs that fitted the idea - wouldn't say it was a theme as it hasn't actually got one. They're the ones we came up with. I took eight of my songs to the meeting. I'll hang onto those songs but I would love to have someone else to record them."

McWhirter wrote Crazy Is What Crazy Does with Michael Carr and Drew McAllister.

The singer thanks a fellow student and coming of age girlfriend for the song that survived the cull and made the album.

"I didn't know how to get to Mike's house so we wrote it at my home," McWhirter confessed.

"We were sitting around staring into space, strumming guitars and started playing. It's actually about a girl."

So how did his sweetheart subject respond to the song?

"She hasn't heard it, I think she refuses to hear it," McWhirter confided.

"She is a friend from high school. We went out for three years. That's my luck."
ROBERT ELLIS ORRALL
"I will never back down from a good fair fight/I will find my way through the darkest night/ and I'll never be wrong for doing what's right." - I Will Stand By You - Robert Ellis Orrall-Angelo Petraglia-Steven Lee Olsen
So how quick was the recording?

"We tracked 10 songs in one day," McWhirter confessed.

"My vocals were recorded in Mark's basement studio. I went from staying at Holiday Inn to sleeping on my producer's couch."

Although McWhirter only recorded two originals he earns royalties for his expat publishers - their Massachusetts born writer Robert Ellis Orrall landed three songs on the disc.

They include new single I Will Stand By You, since cut by The Judds for their reunion album.
So did Moffatt pitch him the Orrall songs?

"No, he made the approach to me in person," McWhirter said, "the writer got to pitch his own songs."

And where was the video for that song filmed?
"We shot the video for that in a warehouse in Rockdale," McWhirter said. "There was a projector screen behind me. They put sand on the floor to get that walking effect and filled up a kiddy pool full of water. I had to hop in, stand in water and get guitar wet. It was eight at night and freezing."

The other Orrall songs were Girls In The Summertime and Now.
DENNIS LINDE - DEVIL'S DAUGHTER
"She's the devil's daughter/ she gave me hell all through the night/ one part fire, one part water/ one who can leave you paralysed." - The Devil's Daughter - Dennis Linde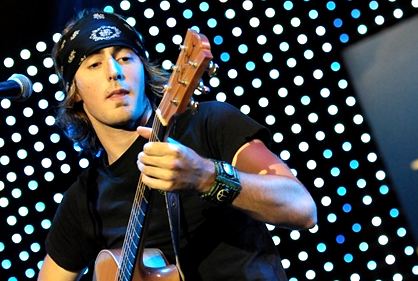 McWhirter also recorded a lesser-known song by recently deceased icon Dennis Linde - writer of Burning Love and Goodbye Earl.

"I first heard The Devil's Daughter in Nashville," he said.

"Mark said 'what do you think of that?' I liked it when I first heard it - it was his demo (not the recorded version by Fiddlin' Frenchie Burke.) It's one of my favourite songs on the album."

So is Someday Soon - a tune penned by expat Australasian mentor Keith Urban, Texan Radney Foster and Darrell Brown.

"It's an absolute honour to have that song on my album," he added.

The singer, busy with touring and interviews, has had no recent luck with his writing.

"I'm going through a dry spell at the moment," McWhirter joked.

"Sinead Burgess has my magic song writing capo - she won't give it back. I'm not courting her - just trying to get it back."
LUCKY AS A SE7EN
It's a far cry from his embryonic era when he got his first guitar at 10 and was just 13 when he wrote The Christmas Beatle.

"It was a novelty Christmas song," said McWhirter who sang around the campfire with his harmonica-playing father.

"They only come out at Christmas time, you never see them with bright colours. They're all brown ones."

The singer performed it in a school spectacular on ABC-TV and Foxtel.

Now his videos are staples on Pay-TV channel CMC and Nu Country TV and his music adorns ABC and community radio.
"My first concert was in Canley Heights doing Uptown Girl," he recalled. "My dad would drive me to venues as I was too young for a licence. He's an architectural draughtsman who plays harmonica. I first played music when I went camping with my dad and his musician mates. We went to the Wambie camp. They would crank out their guitars around the camp- fire and play all sorts of songs - The Eagles, Cold Chisel. I started writing at 12."

McWhirter is now touring nationally to promote his album with former Canadian rodeo rider Corb Lund on his fifth visit down under.

They met at the CMC Rocks The Snowys Festival at Thredbo in March.

"Corb is a real inspiration," McWhirter added.

"I remember meeting Corb and his manager. We got on like a house on fire. I love his stuff - he has his roots in the rodeo scene."

So will the singer follow in the slipstream of Adam Harvey who toured Canada with Jason McCoy?

"I have no plans to tour Canada with Corb at the moment," McWhirter said.

"I want to make the most out of touring here with him and his band."

Lucky As A Se7en is out on ABC-Universal.