DAVE'S DIARY 11/1/11 - PREVIEW OF EPISODE 6 - SERIES 15
CAMERON CUSACK HOSTS NU COUNTRY TV
Sapphire Coast singer-songwriter Cameron Cusack hosts Nu Country TV this Saturday - January 15 - 9.30 pm - on C 31 in Victoria.

The Tura Beach teenage troubadour's hosting role is the night before he performs in the Toyota Starmaker Quest final in Tamworth.

Georgian superstar Alan Jackson, whose debut Australian tour begins on Friday March 4 at Rod Laver Arena with Texan Miranda Lambert, heads Cameron's cast.

Arkansas born Joe Nichols, Canadian band Emerson Drive and Sydney singer Peter McWhirter also perform on this week's show on the eve of their appearance at CMC Rocks The Hunter on March 5 and 6.

Cusack's other guests are Alabama born young guns The Band Perry and expatriate Texan Doug Bruce who played Red Hill festival last week and performs Whittlesea in February and Terang in March.

Nu Country TV is repeated Tuesdays at 4.30 p m in Victoria and returns to C 31 in South Australia this month and Briz 31 in February.

Click Here for a Cameron Cusack interview in our Diary.

ALAN JACKSON - NO INDIAN GIVER
Being a superstar hasn't divorced Alan Jackson from his humble roots in Newnan - the Georgian town that was also birthplace of frequent Aussie tourist Steve Young.

But it was a different Georgian chart-topper who was beneficiary of his altruism on the eve of his Australian tour.

Jackson, 51, gave predicted 2011 tourist Zac Brown a 1966 Cadillac at a concert in Nashville on December 29.

Alan gave his burly barroom buddy the Caddie as a reward for their duet on their #1 hit As She's Walking Away.

Jackson earlier passed on recording Chicken Fried a few moons ago and gave Brown his first #1 hit.

Zac says he noticed the Caddie before the gig and thought, "That's Alan's car. It's gotta be. That's bad-ass. Then Alan said, 'That's your car.' Man, that's unbelievable - it's unreal."
Zac adds, "I will pay it forward. What an amazing night, amazing friend, amazing car and if I want to pull a Hank Sr, I now have the ride to do it in."
Luckily the 58th anniversary of Hank's death at 29 in the back of his Caddie has passed and Zac hasn't.

While we await the arrival of a new Jackson video we reprise A Hard Hat & A Hammer from his 18th CD Freight Train.

Jackson also topped charts with Alabama born Floridian Jimmy Buffett on It's Five O'Clock Somewhere.

Buffett and his Coral Reefer Band play Sydney Opera House on January 23 and 24.

CLICK HERE for our membership page to win Alan's 34 Number Ones CD that includes his duets with Zac and Buffett who plays Sydney Opera House on January 23 and 24.

CLICK HERE for a Jackson interview in the Diary on October 24, 2010.
JOE NICHOLS - GEORGIAN GIFT
The Georgian thread continues in Jackson's fellow stone country CMC Rocks The Hunter headliner Joe Nichols.

Joe Nichols live - photo by Carol Taylor

Nichols, son of truckie bassist Mike, was born in Arkansas and decamped Nashville to live in Texas with second wife Heather Singleton.

The couple wed in Savannah, Georgia, on September 9, 2007 shortly before Joe emulated expatriate Australasian superstar Keith Urban by entering rehab.

And the writers of the tune Nichols performs on Nu Country this week are all Georgians.

Ben Hayslip, Rhett Akins and Dallas Davidson call themselves the Peach Pickers - they earned healthy mailbox money from writing Gimmie That Girl that topped Billboard charts for two weeks for Nichols.

Akins' big hit as a solo artist was That Ain't My Truck but he landed on his feet as a writer after losing his recording deal.

Nichols passed on an offer to star with six times wed Lorrie Morgan in the Broadway version of Texan George Strait's 1992 hit movie Pure Country.

Instead he reprises his starring role from 2009 CMC Rocks The Snowys festival at Threbdo to CMC Rocks The Hunter.

Tim DuBois operates publisher ASCAP's Nashville HQ and presented Hayslip a guitar and a plaque.

Ironically, DuBois gave Nichols his first major label deal by signing him to Universal South Records in 2002.

At that time, DuBois was managing partner of the label.

In 2009 Universal South combined with Toby Keith's Show Dog Records to become Show Dog-Universal Music.

Mark Wright heads the label and also produced Gimmie That Girl.

Nichols, now 34, was only 20 when he first landed his first indie deal in 1996 and is touring here to promote his Greatest Hits disc out this month - successor to eighth album Old Things New.

CLICK HERE for a Nichols interview from the Diary on November 18, 2009.
EMERSON DRIVE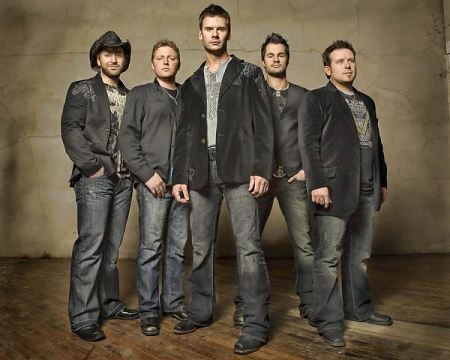 Popular Canadian band Emerson Drive returns to the show with the video for their hit I Love This Road.

Lead singer Brad Mates may have a good reason for loving the road - not the sky.

Mates and wife Jana's plane carrying them to Nashville shortly after their wedding was diverted to Ronald Reagan Washington National Airport on a return trip from Maine.

As the plane began descent the captain told passengers they were going to make a change in airports because they needed a longer runway.

Ten minutes before touchdown the captain made a second announcement - all passengers should expect a rough landing.

Flight attendants went over emergency crash positions with everyone on the plane, asking a few people to be in charge of opening the doors and getting people to jump down on the inflatable slides if needed when the plane came to a stop.

"As we descended toward the airport, the flight attendants made repeated announcements to 'duck and brace, duck and brace,'" Mates revealed.

"When we touched down, you could feel the plane was moving faster than it usually does for a normal landing. When the pilots pushed on the brakes the plane vibrated, and then we finally came to a stop. I lifted my head from the crash position and looked out of the window to see several fire trucks, ambulances and other safety vehicles."

The tourists recovered from the death of their bassist Patrick Borque three years ago.

Patrick replaced their original bassist Jeff Loberg in 2003.

They say their friend's death served as inspiration for song selection on their fourth CD.

Emerson Drive began life as 12 Gauge in 1995 and recorded 2 CDS under that name.

Further info - http://emersondrive.musiccitynetworks.com/

THE BAND PERRY HIP TO HEART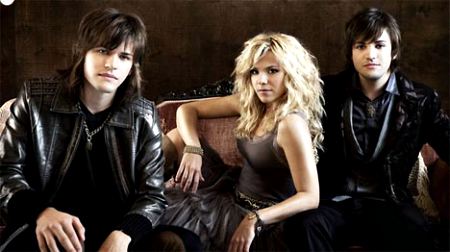 Alabama born trio The Band Perry returns to Nu Country with the video for its first hit Hip To My Heart.

"We shot the Hip To My Heart video in a Nashville sound studio," says lead singer Kimberly Perry.

"It's a live performance video that showcases our personalities."

It was a complete contrast to the video for If I Die Young that was shot at the Two Rivers Mansion near Nashville.

Perry, a soul mate of Novocastrian Catherine Britt during her Music City era, plans to tour here with her younger brothers Reid and Neil.

The Perry siblings wrote Hip To My Heart with Brett Beavers - a prolific writer and producer of Dierks Bentley and Britt.

"We were a big fan of him as producer," Kimberly confessed.

"He was one of the first creative souls we met in town - he's our favourite red headed cowboy.

We really gelled with him creatively. He played us the album he produced for Catherine Britt.

We adore Catherine and love her music - we actually sat around and listened to the whole album. It was the start of our creative relationship with her. She's amazing - we loved her record of Dirt Cheap. Her version of Dirt Cheap is amazing - I love it."

CLICK HERE for a interview with Kimberly in the Diary on October 31, 2010.
PETER MCWHIRTER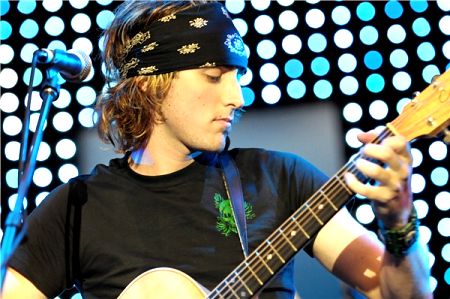 Telstra Road To Tamworth talent quest winner Peter McWhirter returns to Nu Country with his video for his single I Will Stand By You.

The Campbelltown singer, now 21, filmed the video for the Robert Ellis Orral song in a Rockdale warehouse with a bunch of friends.

"We shot the video for that in a warehouse in Rockdale," McWhirter said. "There was a projector screen behind me. They put sand on the floor to get that walking effect and filled up a kiddy pool full of water. I had to hop in, stand in water and get guitar wet. It eight at night and freezing."

Expatriate Australian Mark Moffatt - pedal steel guitarist in outlaw band Saltbush - produced the McWhirter album Lucky As A Se7en in Nashville.

Nashville mother and daughter star duo The Judds - who have their own reality show on the new Oprah Winfrey network - have since cut I Will Stand By You for their reunion album.

Moffatt also produced Peter's fellow CMC Rocks The Hunter peer and Jackson-Lambert touring partner Jasmine Rae's second album Look It Up released here on March 4.

Click Here for a McWhirter feature interview in the Diary on September 26, 2010.

DOUG BRUCE HONKY TONK SHOES
Expatriate Texan Doug Bruce returns to Nu Country TV with the video for new single Honky Tonk Shoes from his 2010 album A Good Place.

Bruce, who now calls Bendigo home, filmed the clip at the Dragon City Lanes bowling alley in his adoptive hometown.

The gold mining city dancers were from the Cowboys & Angels Dance Academy - their support was a V 8 Grid Gal Danielle Ruth.

Doug was raised in Aubrey, Texas, before the charms of a Bendigo belle Jodie Doyle lured him down under.
He and his hot band The Tailgators play Whittlesea country festival in February and the inaugural Terang country festival on March 19.

We previously exposed Doug's video clip for I Know About Lonesome from his debut album All I Need.

Bruce filmed his video at the Huha club in Bendigo - Doug's love interest in that video was Kew actress Camille Hayton.

Camille made international news on a New York subway when a man smitten by her posted an Internet sketch and plea to identify herself.

Camille responded to Patrick Moberg and ignited a flood of TV and print media exposure that swept the world.

We also ran another clip filmed at the Dederang Hotel in the Kiewa Valley for What I'm Drinking About.

Doug joined Dallas band Cheyenne who played Fort Worth venue Billy Bob's - largest honky tonk in Texas - before a Nashville stint.

They opened for Travis Tritt, Jerry Jeff Walker and Rascal Flatts but split in 2001 as Doug moved to Nashville with singer-songwriter Brit Stokes.

They played Douglas Corner, French Quarter and other gigs while Doug freelanced with diverse bands and studio sessions.

Bruce expanded writing and joined Billy Yates' band before meeting wife Jodie in Guitar Town and following her back to Australia.

He has returned to Nashville for tours.

Further info - www.dougbruce.com.au

JACKSON AND LAMBERT PRIZES FOR TOURS
There's great news for fans of Georgian born superstar Alan Jackson and quadruple CMA Award winning Texan star Miranda Lambert.

We have the March tourists latest CDS as prizes for viewers who renew Nu Country TV memberships or become members.

Sony-BMG promotions chief Emma Smith has also given us Miranda's new DVD - Revolution: Live By Candlelight.

Alan's 34 Number Ones features his biggest hits including his duet with Zac Brown Band - As She's Walking Away.

The bonus tracks also include his version of the late June Carter Cash-Merle Kilgore written Johnny Cash hit Ring Of Fire and the rare track Look At Me.

Emma also donated Miranda's huge selling 4th CD Revolution.

And as a bonus there is Miranda's brand new DVD featuring rare acoustic performances of six songs White Liar, The House That Built Me, Love Song, Heart Like Mine, Love Is Looking At You and Rolling Stones country classic Dead Flowers.

Jackson and Lambert perform their hits at Rod Laver Arena on Friday March 4 before headlining CMC Rocks The Hunter on March 5 and 6.
WIN KEITH URBAN CDS ALSO
Expatriate Australasian superstar Keith Urban returns for a triumphant tour with chart-topping mates Lady Antebellum in April.

And Keith's long time record company EMI-Capitol has great news for Nu Country TV viewers.

Promotions ace Bianca O'Neill has donated autographed copies of his huge selling ninth album Get Closer to You.

All you have to do to win the Jackson, Lambert and Urban CDS of the Lambert DVD is become a member of Nu Country TV or renew your membership.

It costs just $20.

Please send a cheque or money order made out to Nu Country Music to us at P O Box 625 - Northcote - 3070.

We also now have electronic banking for membership payment and renewal.

But email us first at music@nucountry.com.au as stocks are limited.
Other prizes on offer include -
Taylor Swift - 2ND CD Fearless.
Tim McGraw Southern Voice Tour CD with 11-bonus video clips.
Dierks Bentley - Feel The Fire. CD
Felicity - Landing Lights
Slim Dusty Sittin' On 80 Boxed Set
Twin CD-DVD pack - The Best Of The Country Music Channel 2010.
Steve Forde - Guns & Guitars
Catherine Britt - Little Wildflowers.
Mike Brady - Country To Country.
A variety of compilation CDS.