DAVE'S DIARY - 28/2/11 - PREVIEW OF EPISODE 13 - SERIES 15
TOURISTS HEADLINE NU COUNTRY TV
Georgian trio Lady Antebellum headlines Nu Country TV this Saturday -March 5 - at 9. 30
pm - on the eve of its debut Australian tour in April with expat superstar Keith Urban.

The huge selling stars picked an opportune time to tour - it upstaged rock and pop artists by winning five Grammys in February.

Shane Nicholson also returns to Nu Country on the eve of his appearance at the 35th Port Fairy folk festival.

And Melbourne band The Wildes also appear as a prelude to a major role at Apollo Bay Music Festival.

Hunter Valley singer Melissa Barjic and Queensland duet partner Lindsay Waddington honour the genre's rich past.

We also feature Mt Waverley documentary maker and singer-songwriter Twyce Daily in a triple role.

The Welsh born multi-media maestro showcases one of his video clips - inspired by the late Slim Dusty - and is also featured in interview on an episode he filmed.
LADY ANTEBELLUM
It was suffice to melt down every twitterer, rapper, mobile-phone freak and dance dude north of the Mason Dixon line and way down south.

Lady Antebellum won five Grammy awards during the prestigious music ceremony on February 13 in Los Angeles.

Its huge selling second album Need You Now produced all-genre record and songs of year and best country album and song.

Lady Antebellum also won best country performance by a duo or group for the same song illustrated by a video on this week's show.

The band hails from the city of Augusta, took its name from Pre-Civil architecture and has re-shaped the music landscape with Need You Now.

Not only did sales dwarf rockers and poppies it stole away the accolades.

Lady Antebellum accepted the Grammies after a medley of classic If You Don't Know Me by Now - tribute to the late Teddy Pendergrass - blended with American Honey and Need You Now.

These wins bring its career Grammy total to six after winning last year for best country performance by a duo or group for I Run to You.

It also surpassed platinum sales in Australia after it's Grammy flood.

The band, formed in 2006, shares its home state with fellow Georgian Grammy winners Alan Jackson and Zac Brown Band and tours here a month after Jackson and yet another Grammy winner - Texan Miranda Lambert.

Lady Antebellum also upstaged local touring partner Keith Urban whose Grammy for best male vocal took his tally to four.

The trio's album topped the Billboard Top 200 all genre on debut and has sold more than three million units and four million downloads.

Ironically, the title track was written as an after thought.

Charles Kelley was at Big Yellow Dog Music Publishing at the end of a long session - his wife's birthday.

Bandmates Hillary Scott and Dave Haywood had written an up-tempo song for their next album.

Kelley eyed the office door but kept fiddling with the acoustic guitar he was learning to play.

He knew only about six chords but began strumming a simple, moody progression: an F chord to a C6.

Kelley had a lyrical line that went with it, too: "Picture-perfect memories, scattered all around the floor."

Haywood picked up on that and Nashville songsmith Josh Kear, who was writing with the trio that day, altered the chords a bit.

Then the quartet all chimed in with lines about a desperate, early morning phone call.

Ninety minutes later, they were finished - and gave it little extra thought.

The rest is history for the trio, formed in 2006, and touring here in April with expat superstar Keith Urban.

It cracked Top 5 in 13 countries and invaded decidedly non-traditional country music formats including The Sims 3 video game and Brazilian soap opera Ti Ti Ti.

The smash hit was also a surprise for co-writer Kear.

"I was on vacation, in Vermont," says Kear who won a best country song Grammy in 2008 for co-writing Carrie Underwood's Before He Cheats. "I didn't even know Need You Now was in their pile of songs."

Click Here for a Lady Antebellum review in the Diary on June 21, 2010.
SHANE NICHOLSON - BAD MACHINES
Queensland born Shane Nicholson returns to the show with the video for the animated title track of his fourth solo album Bad Machines.

Nicholson previewed Rattlin Bones - his duet CD with singing spouse Kasey Chambers - at the 2008 Port Fairy Folk festival.

This time he returns for the 35th festival with his own band to showcase Bad Machines.

The latter day NSW Central Coast resident also does a gig in the big smoke at the Moomba festival en route to the Shipwreck Coast.

Nicholson joins fellow Nu Country guests Shane and Damian Howard, and Justin Townes Earle on the Port Fairy bill that also features Rosie Flores, Tim O'Brien and Crooked Still.

Nicholson also plays East Brunswick Club and Williamstown Substation on March 24 and 25 before an east coast tour with singing spouse Kasey Chambers.

Click Here for a Nicholson interview in the Diary on July 19, 2008.


THE WILDES APOLLO BAY BOUND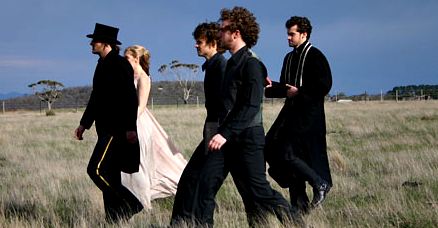 Melbourne band, The Wildes, return to Nu Country on the eve of its appearance at the Apollo Bay music festival from April 8-10.

The Wildes join California rockabilly filly Rosie Flores, making her third Australian tour,
bluegrass veteran Pete Rowan, Shane Howard, Scared Weird Little Guys, James Blundell, Pete Denahy, Van Walker, Sarah Carroll, Chris Wilson and many more at the gateway to the Shipwreck Coast festival.

The band reprises the video for the title track of debut CD Ballad Of A Young Married Man.

We will have the video for new single Nothing in our next series in June.

Click Here for The Wildes CD review in the Diary on July 12, 2010.
TWYCE DAILY - MAN OF MANY TALENTS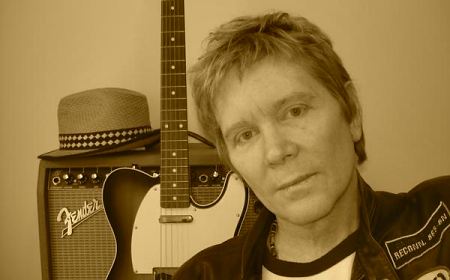 Welsh born singer-songwriter is a man with a CV as broad and deep as a Shipwreck Coast mariner's tale.

The videographer sailed into South Australia as a teenager before trying his hand at carpentry and other timber trades before an injury prompted a career change.

Like Texan outlaw Billy Joe Shaver he found the loss of fingertips was not a barrier to singing, writing and filming.

Or, even, hitting the outback road as a documentary and filmmaker.

It was there he captured some of the images that adorn his creative video clips.

This week we feature his video for Gypsy Heart that was inspired by a docco on the legend Slim Dusty who made a movie in Alice Springs in the eighties.

That was an era when the Todd River bed was a dry as a Willie Nelson movie gag.

Twyce is also keen to film peers in local venues for our live segment in our winter series.

Tune in this week to see how you can score exposure on Nu Country.

We'll have many more details on our web page soon so you too can do it Twyce Daily.
SILVER WINGS FLY AGAIN
Hunter Valley singer Melissa Bajric and Lindsay Waddington have kept the traditional country flame burning their colourful careers.
Melissa, 26 and raised in a vineyard village, returns to Nu Country with debutante Waddington in their revamp of Merle Haggard classic Silver Wings.

Waddington produced the song for a new album - the latest in a career that started in 2001 with her Drover Music debut disc Believe In Me.

Prolific video clip director Ross Wood filmed it at Camden airport south of Sydney where sheep roamed the plains in days of yore.
Some was also filmed at Mascot aerodrome where big silver birds replace the joy flight siblings.

The light planes in the video are all still operational and a vivid portrayal of the aircraft that inspired the song by Haggard, 74, who also exhibits his love of trains.

Melissa shares geographical roots with 2007 Starmaker winner and 2008 best new talent Golden Guitars winner Kristy Lee Akers, now 20.

Both singers earned their stripes in talent quest in towns in the former coalfields and way beyond.

In 2003, with Bob Easter and Graham Rodger, she released duets album Drovin' All Over.

All Melissa's albums have been produced by multi award winning music producer Lindsay Butler.

Further info - www.melissabajric.com

This is the first video for the six-time Queensland country musician of the year Waddington who established Kross Kut Records on the Gold Coast in 2003.

Waddington released third album True Blue in 2010 and has produced 40 albums for other artists.

He also used a string section in Silver Wings

Further info - www.lindsaywaddington.com
JACKSON AND LAMBERT PRIZES FOR TOURS
There's great news for fans of Georgian born superstar Alan Jackson and quadruple CMA Award winning Texan star Miranda Lambert.

We have the March tourists latest CDS as prizes for viewers who renew Nu Country TV memberships or become members.

Sony-BMG promotions chief Emma Smith has also given us Miranda's new DVD - Revolution: Live By Candlelight.

Alan's 34 Number Ones features his biggest hits including his duet with Zac Brown Band - As She's Walking Away.

The bonus tracks also include his version of the late June Carter Cash-Merle Kilgore written Johnny Cash hit Ring Of Fire and the rare track Look At Me.

Emma also donated Miranda's huge selling 4th CD Revolution.

And as a bonus there is Miranda's brand new DVD featuring rare acoustic performances of six songs White Liar, The House That Built Me, Love Song, Heart Like Mine, Love Is Looking At You and Rolling Stones country classic Dead Flowers.

Jackson and Lambert perform their hits at Rod Laver Arena on Friday March 4 before headlining CMC Rocks The Hunter on March 5 and 6.
WIN KEITH URBAN CDS ALSO
Expatriate Australasian superstar Keith Urban returns for a triumphant tour with chart-topping mates Lady Antebellum in April.

And Keith's long time record company EMI-Capitol has great news for Nu Country TV viewers.

Promotions ace Bianca O'Neill has donated autographed copies of his huge selling ninth album Get Closer to You.

All you have to do to win the Jackson, Lambert and Urban CDS of the Lambert DVD is become a member of Nu Country TV or renew your membership.

It costs just $20.

Please send a cheque or money order made out to Nu Country Music to us at P O Box 625 - Northcote - 3070.

We also now have electronic banking for membership payment and renewal.

But email us first at music@nucountry.com.au as stocks are limited.
Other prizes on offer include -
Taylor Swift - 2ND CD Fearless.
Tim McGraw Southern Voice Tour CD with 11-bonus video clips.
Dierks Bentley - Feel The Fire.
Felicity - Landing Lights
Slim Dusty Sittin' On 80 Boxed Set
The Very Best Of Slim Dusty
Steve Forde - Guns & Guitars
Catherine Britt - Little Wildflowers.
Mike Brady - Country To Country.
CMAA Winners 2011 and other compilation CDS.