DAVE'S DIARY - 21 JUNE 2010 - LADY ANTEBELLUM CD REVIEW
2010 CD REVIEW
LADY ANTEBELLUM
NEED YOU NOW (CAPITOL-EMI)
ARCHITECTURAL AMORE
"I run from hate, I run from prejudice/I run from pessimists, but I run too late."- I Run To You - Dave Haywood-Charles Kelley-Hilary Scott-Tom Douglas.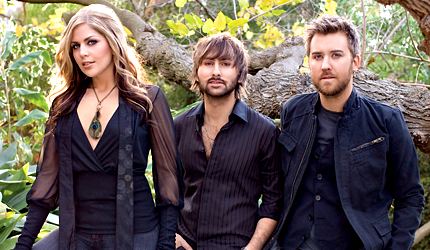 Imagery has long been the marketing vehicle of most musical genres.

So what's a good way to ensure your band invades the psyche as well as the charts?
Well, you could feminise your name with a slice of ornate pre-Civil War architecture - that dominant domicile of the old Deep South.

But you must be careful none of that is gone with the wayward winds of cultural change as they howl across the new Dixie landscape.

Well, you get the drift.

Now, the next trick is the music.

This young Georgian trio pricked a super sales balloon with a calculated visual and aural hybrid aimed at younger demographics both sides of the Mason Dixon line.

And, now of course, the band is setting sail on a furious flight path across the Atlantic and Pacific.

First it galloped to the top of the Billboard all genre Top 200 charts on its debut with country airplay spreading to its pop sibling.

Now the trio soars the cyber sales stratosphere - 2.8 million downloads - with Taylor Swift style strategies and made for radio melodies.

Add teen romance requiems, fuelled by sweet harmonies, and its second album sales leaped beyond a cool two million in a New York minute.

Hang on - let's check out Isaac Newton's inertia theory about equal and opposite reaction.

This infuriated rap and rock cheerleaders, country purists and left a rash worse than the Cyrus virus.

It also lanced the boil of Australian rock writers caught trying to circle the wagons around foreign invaders of the shrinking local pop market.

So why are Hilary Scott, daughter of Grammy Award winning nineties country singer Linda Davis, and sidekicks Dave Heywood guitar, piano and mandolin and vocalist Charles Kelley moving into his older brother Josh's pop domain?

Well, this is country pop shamelessly aimed at the rural and urban youth who prefer idyllic bliss to angst and heartbreak.

Sure, there are losers in love in some of the 10 originals but it's an aural opiate for audiences sated by label mates Rascal Flatts, Keith Urban and peers Sugarland and Little Big Town.

CAJUN WITH A RED GUITAR
"I saw a Cajun man with a red guitar, singing on the side of the street/ I threw a handful of change in his beat up case and said play me a country beat." - Perfect Day - Dave Haywood-Charles Kelley-Hillary Scott-Jerry Flowers.
Let's check out the combatants in the engine room.

Well, first up there's co-producer Paul Worley - yes the studio Svengali who propelled Dixie Chicks atop charts.

The trio's co-writers also help fill out the dots.

Urban's long time bassist Jerry Flowers - a member of The Ranch in the era they visited the Nu Country FM studio at the top of Beer Can Hill - is the collaborator on Perfect Day.

"What I'd give if I could find a way to stay lost in this moment now," Scott wishes in Perfect Day.
Next, another frequent Urban collaborator Monty Powell dipped his quill into Stars Tonight - replete with a mama but unlike Merle Haggard's who never tried or cried, and If I Knew Then.

"Momma says why you wanna play in a silly rock n' roll band/ well, if you stood here, Momma, I know you'd understand/ yeah! It's the lights. It's the high, it's the roar of a crowd on a Friday night."

Definitely music for the summer and spring weekends not those long cold winter workdays.

And, for good measure Tom Douglas, first call writer for actor and mega star singer Tim McGraw, earns credit on strings laced Hello World.

You won't find much cheating, murder, war woes, natural disasters, death or protest here.
NEED YOU NOW - AND THEN

"Another shot of whiskey, can't stop looking at the door/ wishing you'd come sweeping in the way you did before/ and I wonder if I ever cross your mind/ for me it happens all the time." - Need You Now - Dave Haywood-Charles Kelley-Hillary Scott-Tom Kear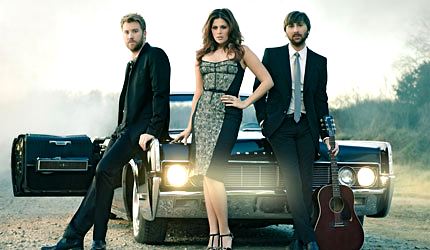 Song titles reveal nothing to frighten fillies or raise radio's Horse Of Troy drawbridge.

Sure there's the bar hopping beau ringing an ex belle in her boudoir with a nocturnal time stamp - "a quarter after one" - in Need You Now.

Scott and Kelley connect, without raising a tear, as they harmonise - "I'd rather hurt than feel nothing at all."

Both the melancholic If I Knew Then and Ready To Love Again tickle the outer extremities of heartbreak.

But nothing reaches wrist-slashing pain of He Stopped Loving Her Today style anthems, long ago driven by George Jones aching vocal vehicle.

That was then and this is now as rap chappies touting various shades of matricide and partner abuse vie with honey voiced vamps and brothers in rhyme frocking up soft rock as country.

When You Got A Good Thing is more credible country than most of the generic good vibe off-cuts.

Don't expect too many of these tunes will be deposited deep in the vaults of your memory bank as winter turns to spring but you won't be crying in your broth either.

But if you need something light to get you through the traffic to the coast or bush this will be the perfect potion.