DAVE'S DIARY - 12 JULY 2010 - THE WILDES CD REVIEW
2010 CD REVIEW
THE WILDES
BALLAD OF A YOUNG MARRIED MAN (SELECT GLOBAL)
CHEATING AND MURDER
"I took a bullet in my chest, they found me buried in a landfill/ seven hours from my home/ they picked her up a few days later/ once her heart had turned to stone." - Ballad Of A Young Married Man - Lachlan Bryan.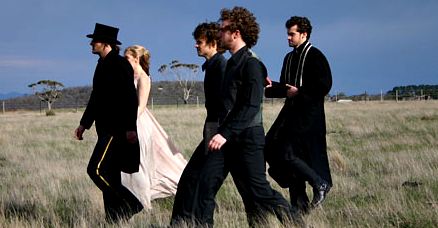 Starting off your debut disc with a cheating tune, replete with murder climax when the adulterous narrator takes a bullet in the chest from his widow, is smart marketing.

It worked for a plethora of outlaws such as former convict country stars David Allan Coe, Merle Haggard and the late Johnny Paycheck.

But one bullet doesn't make an armoury although Danny Dill-Marijohn Wilkin tune Long Black Veil tests that theory.

So what else do we have here from a Melbourne quartet, augmented by famed in-demand Texan lap steel player Tommy Detamore at his Cherry Ridge Studio in Floresville?

Well, plenty actually.

Lead singer-songwriter Lachlan Bryan and producer Jonathan Burnside ensure Bryan's narratives are not buried in the drums and guitar grunge of so many peers.

It would appear that Bryan aspires to the stone country college of writers who massage their message without strangling it in Jack The Blacksmith.

"You burned an effigy and set my soul alight" precedes the seasonal chill of the ruptured romance of Nothing.

But in Streets Of My Hometown two country staples - mama and Jesus - are the crutch for a young man trying to escape his tortured past.

The Wildes don't pillage the positive love song tree or emit faux political apologies in regret free If I've Done You Wrong and the Lothario fuelled Loverman.
SUE ELLEN
"I once thought I'd have lots of lovers lining up to get me outta here/ but looks like you're the only I got/ and that's not bad because you're the best I've ever had." - Sue-Ellen - Lachlan Bryan
Bryan also masters personalising love songs in the self-deprecation of Sweet Teresa.

That's reprised in the surrender to Sue-Ellen - reminiscent of a tune by Texan Charlie Robison - the band's latest single.

The object of the narrator's affections is trapped in a wheelchair. Robison's ex-wife Emily - now touring with sister Martie in the Court Yard Hounds - was in the Dixie Chicks when he wrote You're Not The Best (But You're The Best I Can Do).

But this is not all fear and vittles - the malevolent male in Bare Bones is a carnal carnivore bursting the moat of a bucolic belle's boudoir.

They soar in bluesy Slap Back Mary - one of few country songs in recent times about a serial killer who buries her victims on site and takes secrets to the grave in noose standard time.
Well, it's the only song in which Bryan needed a co-writer - the band's other guitarist Andrew Wrigglesworth who also adds lap steel and dobro.

It's fitting the bleak Broken Blossoms is the finale of a disc that blooms on repeated playing.

Deft use of banjo, mandolin, lap steel and dobro by Bryan, drummer Mat Duniam and bassist Shaun Ryan give this country soul.

Fiddler Michael McClintock, producer Burnside on mandolin-guitar and upright bassist Steve Hadley fill in aural dots at the Eastern Bloc Studios in leafy eastern suburb Hawthorn.

Yes, it's well worth the trip to catch The Wildes on their national tour that brings them home to Victoria - replete with regional and coastal gigs and even a winery south of Adelaide - in August.

CLICK HERE for tour dates in Tonkgirl's Gig Guide.