DAVE'S DIARY - 19 /7/08 - KASEYCHAMBERS & SHANE NICHOLSON
KASEY RATTLES BONES FOR BINGHAM
"Smoke don't rise, fuel don't burn, sun don't shine no more/ late one night sorrow came around scratching at my door." - Rattlin' Bones - Kasey Chambers-Shane Nicholson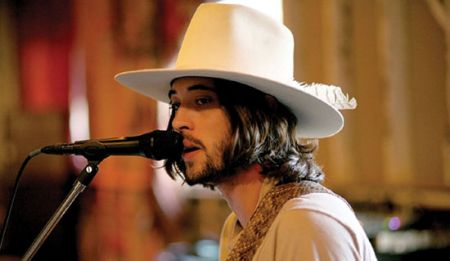 Ryan Bingham
Kasey Chambers and singing spouse Shane Nicholson have never played the famed Iguana restaurant near their Copacabana home on the NSW Central Coast.

Not even in their era as The Lost Dogs but they have eaten there and there was not a politician in cooee.

"We have been there for dinner and we loved the food," Nicholson told Nu Country TV on the eve of returning to Melbourne for a Hamer Hall concert with former New Mexico and Texas rodeo rider Ryan Bingham on August 14.

TV footage for the Iguana Gate furore featured a Neon sign advertising at Bluesfest but none of the artists, unlike the ALP duo, scored a mention.

That's despite the coast being a country and blues musicians enclave.

So how did Chambers and Nicholson hook up with roots country rebel Ryan Bingham for their joint Australian tour?

"Michael Gudinski gave us Ryan's new CD Mescalito," Kasey revealed.

"I had never heard of him. Now we have been listening to his record a lot and we're looking to hearing him on the tour. We listened to it and loved it and said - 'get him out for some shows if that's at all possible.'"

Rattlin' Bones is the first Australian country disc released by Liberation Records boss Gudinski since Gary Young's Rockin' Emus in 1982.

The Daddy Cool drummer and frequent sticks man for fellow Nu Country FM DJ Leslie Avril featured his tune Running Late For Wandong on his historic vinyl disc.

It just seems like yesterday I interviewed Gazza about that disc for Rock Around The World - a music show on the public network that became SBS.

That was about the time Gudinski had a close brush with country music when Texan troubadour Joe Ely toured here with Jimmy Barnes.

Barnes band, then featuring Dingoes guitarist Chris Stockley, laid down a bunch of country tunes as out-takes at sessions for Barnes new album.

Knowing that Gudinski then feared country music as his kryptonite the lads presented the country tunes to the label boss as their finished album.

But I digress.

Gudinski, a long-suffering St Kilda supporter, subsequently recovered to take a punt on Chambers and Nicholson.
FOOTY STARS FLOCK TO GIGS
The duo's acclaimed roots country disc topped ARIA pop charts on debut and ensured capacity crowds on their tour of the bush and coast.

It would that AFL footballers - not politicians - are drawn like moths to a flame to the gigs that also feature Bill Chambers.

Jimmy Barnes, whose home studio was scene of their recording rhyme, has been to some but not even Peter Garrett incognito.

"I still reckon Peter Garrett would be recognised in a wig," Kasey joked.
"Matty Lappin (a former St Kilda and latter day Carlton footballer born in Chiltern north of Wangaratta) came along to a couple of shows. I'm a Carlton supporter. Last time we saw Lee Kernaghan he made a phone call to Andrew Walker (another Carlton player from the bush) and we said hello. It's amazing Lee can ring Andrew Walker whenever he wants to."

Country music, with its memorable narratives, has long been the genre of the bush - and also the big smoke.

Those story songs have been a cool conduit to a lucrative world of TV shows, movies and soundtracks.

But Kasey's last national exposure on national TV was an ARIA show duet with Max Merritt on Slippin' Away.

Ironically, Chambers protégé Catherine Britt will follow in her slipstream by doing a duet on the same song with the expatriate Kiwi legend on the AFL Grand Final night edition of SBS show Rock Wiz on September 27.
MUSIC FOR MOVIES AND TV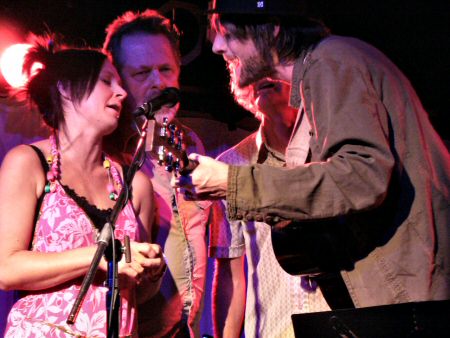 Chambers' song I Still Pray was recently used in top rating crime drama Underbelly.

That was long after The Captain featured prominently in The Sopranos that starred Drea De Mattea - wife of rising star Shooter Jennings, son of the late legend Waylon.

"They played The Captain on The Sopranos," Chambers recalled.

"It was a good stepping stone. It was at the time The Sopranos was the No I show in America - they played it towards the end in the last scene and let the song run over the credits. I've never seen it funnily enough - a lot of my friends really love the show and say it's fantastic When I first heard the song was on there I thought it was in some horrible violent scene when someone was getting kneecapped. I started thinking does my music really lend itself to these underworld violent TV shows? But I'll take what I can get. I also had a song played in Days Of Our Lives. I think it was A Million Tears. It doesn't sound very much like a Days Of Our Lives song. The same song was also in Dawson's Creek."

Nicholson, no slouch at landing songs in movies in cities diverse as Austin, Texas, and Brisbane, believes there are several tales on Rattlin' Bones, ideal for movies and TV.

But he doesn't expect that to happen until he tours the U.S. in September with Kasey and Bill.
U.S. RELEASE AND TOUR
Sugar Hill releases Rattlin Bones on September 16 as an entrée to their tour of cities diverse as Austin, Nashville, L.A. New York and Chicago.

"We're doing a preliminary tour of select cities in the U.S.," Nicholson added.

"We're going to pack a bunch of shows into 10 days and also do radio promotion to set the ball rolling. We'll see how it goes from there. We're doing our own tour of smaller venues."

The venues may be smaller than on previous Chambers U.S. tour when her albums won release on Warner but it could be a catalyst for a return tour with a major act.

And, of course, this whirlwind trip may attract movie and TV show music directors to pick up songs such as The Devil's Inside My Head, Sweetest Waste Of Time, Woe Is Mine, One More Year and The House That Never Was.

"So far none have been picked up but there's definitely songs on the new album that would really work on TV and movies," Nicholson explained.

"I think it's really cool. I really enjoy hearing our own music put to visual things, like the different meaning a song can take on. I've been pretty lucky. I've had some songs on movies here and in the U.S. and TV shows use my songs. That's when I realised it brought a whole new element to your songs and music. I quite enjoy that side - one was in a movie called Chalk made in Austin that played a lot of film festivals. Josh Rouse also had songs on it. I have also had songs on films in Australia. One was in 48 Shades - a really cool movie made in Brisbane. They used a couple of songs in that. I did a song for Mullet a couple of years ago. I did a cover of Dragon's song Still In Love With You - I did a video that had footage of the film cut in. I really like having songs in Australian movies set in Queensland and Brisbane because that's where I'm from. The Best Day Of The Year had a bit of a buzz going. People must have got to see it - I had a whole bunch of queries from people in the states about that song."

Meanwhile the extended Chambers clan is burning up the skies and bitumen with a national tour that features capital cities.

Shane Nicholson, Kasey & Bill Chambers, supported by Bingham, play Hamer Hall
on August 14.

CLICK HERE for TonkGirl's Gig Guide for extra dates.