DAVE'S DIARY - 21/2/11 - PREVIEW OF EPISODE 12 - SERIES 15
BLAKE TAKES THE NU COUNTRY CAKE
Oklahoma country star Blake Shelton follows his high profile Grammy role to headline Nu Country TV this Saturday - February 26 - at 9.30 pm on C 31.

Shelton introduced Texan Grammy winner and fiancé Miranda Lambert when she performed The House That Built Me.

Blake performs latest hit Who Are You When I'm Not Looking on the eve of Lambert's Australian tour with fellow Grammy winner - Georgian superstar Alan Jackson.

Local country queen Kasey Chambers also appears on the eve of her role with Lambert, Jackson and many more at CMC rocks The Hunter on March 5 and 6.

Lee Kernaghan's guitarist Markus Meier, also playing the festival, returns with his new video.

Londonderry lass Jayne Denham, Darwin diva Tracey Bunn and Ruckus founder Michael Abrey also perform on the show, repeated Tuesday at 4.30 pm and Monday at 3.30 am.

We also reprise Catherine Britt's latest video Sweet Emmylou on the eve of her appearance at Wandong Country Music festival on March 6.
OKIE FROM ADA AND TISHOMINGO
Blake Shelton has two women to thank for his country career - his mother who entered him in talent quests as an eight year-old in rural south central Oklahoma.

The other was Mae Boren Axton - mother of late singing actor Hoyt - who lured him to Nashville at 17 after hearing him sing at a tribute show to her.

Axton, writer of Elvis hit Heartbreak Hotel, hired Shelton to paint her house before he landed a recording deal through writer-producer Bobby Braddock.

But it's a third woman - his Grammy winning fiancé Miranda Lambert - who will sing his praises on her March tour.
Shelton, 34, won his first CMA award for male vocalist in November on the eve of the launch of his Loaded - The Best of Blake Shelton CD in Australia.

The album features 15 of Blake's biggest career hits - seven #1 smashes starting with Austin and including She Wouldn't Be Gone and Home.

It also includes latest single, Who Are You When I'm Not Looking - the video we play this week.

Shelton also topped charts last year with two EP's - Hillbilly Bone (with Trace Adkins guesting on the title track) and All About Tonight.

It's a far cry from Shelton's debut single Austin penned by David Kent-and Kirsti Manna.

His record label - Giant folded the week Austin was launched.

"I signed with Giant Records in 1998," Shelton revealed.

"It wasn't until 2001 that they released Austin, and two weeks later, they closed, and I ended up as Warner Brothers stepchild. I was ready to move home. Then a funny thing happened. The song started getting airplay."

Warner Brothers noticed and signed Shelton to a contract.

Austin eventually spent five weeks at No. 1 and Shelton, then 24, was an overnight success.

CLICK HERE for a Shelton feature from the Diary.
KASEY CHAMBERS
South Australian born Kasey Chambers has postponed her Queensland tour - because of the horrific floods.

But the mother of two frolics in a sunflower maze in the video for her new single Beautiful Mess on Nu Country TV this week.

The singer, 34, shares the spotlight with a scarecrow in the song from her fifth solo album Little Bird.

Chambers heads a stellar Australian cast on the CMC Rocks The Hunter festival at the Hope Estate on March 5 and 6.

The singer is now competing for airplay with singing spouse-duet partner Shane Nicholson who appears on Nu Country next week to promote his fourth solo album Bad Machines.

Click Here for a Chambers feature in the Diary on September 22, 2010.
TRIBUTE TO SMILEY AND SHIRLEY
Ruckus singer Michael Abrey performs in the video for his personalised story about resurrection after the Black Saturday bushfires.

Abrey, who lives at Lilydale, released video of his evocative song Smiley - What About The Roses on the second anniversary of the Black Saturday bushfires.

Smiley Grahame, whose nickname was bestowed on him by the late Slim Dusty and Tex Morton, and wife Shirley, survived the fires on their farm at Labertouche east of Bunyip.

They not only survived the fire but saved their farmhouse and all but six of their 120 roses.

"They lost everything else - barns, sheds, fences and machinery," Abrey said.
"But they're nearly back to normal now. Smiley and Macca (Jamie McLean) both members of the CFA contributed greatly to not only saving Smiley and Janine's farm but also a couple of adjacent properties which came under threat."

Actor-director Richard Do Gregorio from Peregrine Productions shot the video near majestic Marysville and Labertouche.

The CFA donated the fire footage - Abrey says he is donating 20% of the proceeds from the video and song download to the CFA.

Ruckus previously performed on Nu Country showcases and will later release his song as a bonus track with new single We Are Australian.

Visit here for full details www.ruckus.net.au - WJO DISTRIBUTION

TOE SUCKING COWGIRL SOLO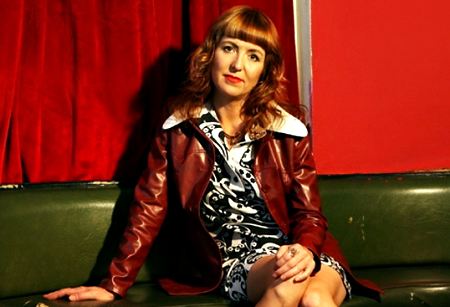 Darwin diva Tracey Bunn performs the video for her single Shut Up And Let Me Breathe from her solo album By The Wayside.

The former Toe Sucking Cowgirls singer recorded her album with expat Sydney singer Anne McCue in Nashville.

McCue not only produced the disc but organised the musicians and guest singers during Bunn's U.S. search and destroy mission last year.

Both Tracey and Anne, youngest of eight children of a Campbelltown milkman, toured here over summer.

Tracey has also performed on a Nu Country showcase at Hotel Kew.

Click Here for a Bunn CD review from the Diary.
MARKUS MEIER
Fellow Norther Territory born guitarist and singer-songwriter Markus Meier returns to Nu Country with the video clip of My Own Patch Of Dirt from his second CD A Different Land.
Meier, who performs CMC Rocks The Hunter on March 5 and 6, had a little help from former Australian of The Year Lee Kernaghan.

Markus joined Kernaghan's band after the Black Saturday bushfires.

He also pays homage to his wife and two children on his album produced by Garth Porter.

"It's been an interesting few years. I got married, we've had two children, we've taken over the management of my career after a pretty tough time, I've signed to a new agent, and I've had to find a way to earn a living and still build my music career," says Markus who was raised at Halls Creek in the Kimberleys.
Meier says his album reaches deep.

"This is a pretty personal album, but I figure the truthfulness of the songs is what makes them connect with people," he says.

"I'm glad I can put my experiences into music and turn them into something more universal. You look at all those images of Australia being the lucky country, living off the sheep's back. But life's not like that for a lot of people these days, and all they can do is their best - and sometimes even than can be really tough."

Markus takes a different approach to that subject on My Own Patch Of Dirt.

"I think this is a really important song. It's about being proud of what you have, even though it might not seem much to someone else," he said.

The autobiographical One Of These Days was inspired by his life and dreams after decamping to the Queensland hometown of prolific Golden Guitar winner Graeme Connors.

"I live in Mackay, and there are a lot of people in this town who will relate to this song. I wanted to tell their story, as well as my own," he said.

"I spend the part of my life when I'm not on stage underneath the big trucks they use at the mines - with two kids, I have a really good reason to be earning a living."

Further Info - www.markusmeier.com.au
JAYNE DENHAM GETS FERAL
Londonderry singer Jayne Denham exploits her healthy fascination with Ute jockeys on her new video Feral Kev And General Leeroy.

Feral Kev is not the Foreign Affairs minister and General Lee Roy is not related to thrice wed Texan Lee Roy Parnell - former guitarist in singing crime novelist Kinky Friedman's Texas Jewboys.

Unlike The Kinkster they're not in the Lone Star state Gubernatorial race - instead it's a Ute challenge at Cessnock in the Hunter Valley.

It starts with a toss of the coin and ends with grit, grime and dust duel to the bitter end.
The song is from Jayne's second album Shake This Town.
Click Here for a Denham story from the Diary on August 17, 2009.
TRUE BRITT
Novocastrian Catherine Britt returns to Victoria for a headlining role at the Wandong Country Music festival on March 6.

She also returns to Nu Country TV this week with a reprise of latest single Sweet Emmylou - her homage to Alabama born icon Emmylou Harris.

Click Here for a Catherine feature in the Diary on May 2, 2010.

JACKSON AND LAMBERT PRIZES FOR TOURS
There's great news for fans of Georgian born superstar Alan Jackson and quadruple CMA Award winning Texan star Miranda Lambert.

We have the March tourists latest CDS as prizes for viewers who renew Nu Country TV memberships or become members.

Sony-BMG promotions chief Emma Smith has also given us Miranda's new DVD - Revolution: Live By Candlelight.

Alan's 34 Number Ones features his biggest hits including his duet with Zac Brown Band - As She's Walking Away.

The bonus tracks also include his version of the late June Carter Cash-Merle Kilgore written Johnny Cash hit Ring Of Fire and the rare track Look At Me.

Emma also donated Miranda's huge selling 4th CD Revolution.

And as a bonus there is Miranda's brand new DVD featuring rare acoustic performances of six songs White Liar, The House That Built Me, Love Song, Heart Like Mine, Love Is Looking At You and Rolling Stones country classic Dead Flowers.

Jackson and Lambert perform their hits at Rod Laver Arena on Friday March 4 before headlining CMC Rocks The Hunter on March 5 and 6.
WIN KEITH URBAN CDS ALSO
Expatriate Australasian superstar Keith Urban returns for a triumphant tour with chart-topping mates Lady Antebellum in April.

And Keith's long time record company EMI-Capitol has great news for Nu Country TV viewers.

Promotions ace Bianca O'Neill has donated autographed copies of his huge selling ninth album Get Closer to You.

All you have to do to win the Jackson, Lambert and Urban CDS of the Lambert DVD is become a member of Nu Country TV or renew your membership.

It costs just $20.

Please send a cheque or money order made out to Nu Country Music to us at P O Box 625 - Northcote - 3070.

We also now have electronic banking for membership payment and renewal.

But email us first at music@nucountry.com.au as stocks are limited.
Other prizes on offer include -
Taylor Swift - 2ND CD Fearless.
Tim McGraw Southern Voice Tour CD with 11-bonus video clips.
Dierks Bentley - Feel The Fire.
Felicity - Landing Lights
Slim Dusty Sittin' On 80 Boxed Set
The Very Best Of Slim Dusty
Steve Forde - Guns & Guitars
Catherine Britt - Little Wildflowers.
Mike Brady - Country To Country.
CMAA Winners 2011 and other compilation CDS.