DAVE'S DIARY - 2 MAY 2010 - CATHERINE BRITT INTERVIEW
BRITT EXITS CALL YOU BACK TOWN
"They pour on lies/ just to watch you drown/ in this call you back town/ in this counterfeit city/ they don't look if you ain't pretty/ and it's such a damn pity/ this counterfeit city."- Call You Back Town - Catherine Britt-Ashley Monroe.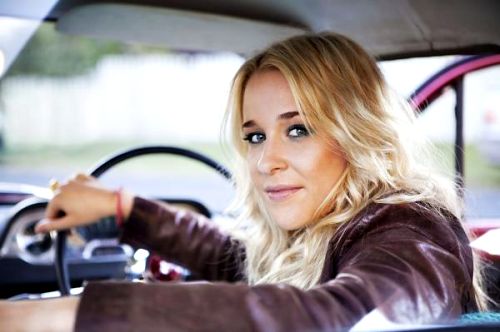 When mainstream radio moguls burned the wings of expat Novocastrian Catherine Britt in the richest country music market in the free world she harvested hay from the heartbreak.

Now she is fast becoming a poster girl for all those talented troubadours spat out as the fruits of their labour withered on the sales vine.

Britt, 25, and fully energised after a six-year struggle for success in the U.S. didn't get angry.

She and fellow spurned singer-songwriter Ashley Monroe collaborated on a brace of songs as sweet solace.

Call You Back Town, the pick of their literary litter, follows in the satiric slipstream of Nashville parodies by Texan Dale Watson, Chicago champ Robbie Fulks, Becky Hobbs and a posse of Lone Star State survivors.

Britt split with multi-national label BMG-RCA in Nashville after flirting with country charts without consummating commercial nuptials.

She included their song on her self-titled fourth album, released here in May on ABC-Universal.

Her bonding with Knoxville girl Monroe - descendant of famed Monroe and Carter families - created three songs on her new disc.

The hard-edged country roars to life under tutelage of Britt's embryonic producer Bill Chambers and son-in-law Shane Nicholson at famed Sing Sing Studio in Melbourne inner suburb Richmond.

Monroe, 24 and dumped by RCA sibling label Sony without releasing her debut album, is an apt surrogate sister in song.

The prolific pair's music may not have been pretty enough for the narrow play-lists of commercial radio but artists diverse as Carrie Underwood, Kellie Pickler, Jason Aldean, Miranda Lambert and Ricky Skaggs have covered their songs.

"Nashville can be a very harsh place at times, wonderful place too," Britt told Nu Country TV and Stereo 974 FM.

"A lot of great music comes out of Nashville and a lot of my heroes live there. It's a harsh place, that's the reality and I saw both sides of it. This song was a result of seeing that side at certain stages and how I felt about that. No, they never call you back - you call and leave a message and they never get back to you. That's what the town is seriously all about and you are genuinely surprised when someone actually answers the phone."
ASHLEY MONROE - SATISFIED SONGSMITH
"Well I'll go down good lord/ I'll go down good lord/ down to that holy water and stay/ I'm gonna stay/ well I'm gonna bathe my sins/ I'm gonna bathe those sins/ bathe all those dirty sins away/ well I can see that light/ I can see that big ol' light." - Holy River - Catherine Britt.
There was no such problem when then teenager Britt was lured to Music City with help from Sir Elton John and a cattle call of competing labels.

But radio chose reality show graduates Underwood, Pickler and latter day superstar Taylor Swift, who later poached Britt's fiddler Caitlin Evanson, to fill their female quota.

"RCA and I worked together for six years," Britt revealed.

"Dumped is a harsh word but there came a time when we both had to stop working together for many reasons. There were a lot of changes at the label and we had to part ways. It was best for everybody. We're all still very good friends, thank goodness. A lot of times in those situations it ends up being quite messy."

But not Britt - ABC Music released her two stillborn Nashville albums here.
Monroe was not so lucky.

Sony released two Monroe singles and canned the album Satisfied that that was released digitally only - without any promotion.

"I think Ashley is related to the late Bill Monroe, a cousin," Britt said.

"She's also related to the famed Carter Family. She's got quite a cool bloodstream going through her family line. She always makes a joke about Knoxville - everybody's related to everybody."

Monroe co-wrote the recent Jason Aldean No 1 hit The Truth and landed two songs on Texan fireball Miranda Lambert's huge selling ACM award winning fourth album Revolution.

Meanwhile Britt is on the road again with Troy Cassar-Daley - the dual ARIA Award winner with a lazy 20 Golden Guitars in his swag.
She is showcasing her 14 original songs penned solo and with Monroe, Evanson, bluegrass singer Chris Stapleton, Rory Lee Feek, expatriate Australian Jedd Hughes, Bill Chambers, Melanie Horsnell and fellow Novocastrians Morgan Evans and Mark Wells.
SWEET EMMYLOU
"As the needle runs through you/ the way the pain cuts through/ I know you've been there too/ those sad melodies/ oh how they comfort me." Sweet Emmylou - Catherine Britt-Rory Lee Feek.
Ironically, Catherine doesn't know if country-folk icon Emmylou Harris heard her collaboration with Rory Lee Feek on their thrice recorded tune Sweet Emmylou.

Sweet Emmylou adorned debut Joey & Rory album The Life Of A Song in between two recordings by Britt.
Feek and singing spouse Joey Martin released their version in Australia on Sugar Hill-Vanguard through Shock.

"I was watching that movie, not the greatest movie in the world the other day, Julie & Julia, and Julia saw this person blogging about her as a chef and all this stuff and was freaking out. She didn't think it was respectful -you are just worried when the artist hears this tribute song, how they're going to react, and how they're going to feel about it. I'm not sure if she has heard it at this stage. I'm very nervous about when she does hear it - maybe I don't want to know what she thinks."
So why did Britt cut the tune twice.

"I did it on my last album Little Wildflowers as a hidden track," Britt recalled.
"We sat down in a little kitchen and recorded it on our lap top. I always loved the song. I never could I really recreate it and do it properly. I thought I was trying too hard to make it sound good. It wasn't until we recorded it on this album it came out really naturally and flowed out like it did. We ended up keeping it for this record. It came out great - it's one of my favourite songs. I'm stoked."

Feek, a prolific writer, wrote Easton Corbin's 2010 #1 hit A Little More Country Than That.

He scored in 1998 with Texan Collin Raye's hit of his song, Someone You Used to Know - it was his first cut and peaked at #3 on Billboard.

The following year he another Texan Clay Walker had a smash with his Chain of Love.

He also had cuts for Kenny Chesney, Randy Travis, Charley Pride, Reba McEntire, Terri Clark, Lorrie Morgan, the late Waylon Jennings, Buck Owens and others.

Oklahoma singer Blake Shelton - latter day partner of Miranda Lambert - cracked #1 in 2004 with Feek song Some Beach.

Feek also produced the Blaine Larsen album that year and co-wrote his biggest hit, How Do You Get That Lonely?
DOWN - NOT JAMEY JOHNSON
"Well you dressed me up with diamonds/ held me up so I could fly/ then like a fallen star/ you shot me right out of the sky." Down - Catherine Britt-Ashley Monroe.
Luckily Britt, Monroe and Evanson used songwriting as lucrative therapy for ruptured romances - especially Down.
"I don't write many happy songs, it's another of my depressing songs," Britt added.

"Ashley and I share a lot of emotions - she has been through a lot in her life. Her father passed away from cancer when she was only 13. That was decisive of her move to Nashville in the end. We used to sit around and talk about the most amazing things, from that we shared these harsh things in our lives and these songs they came out of nowhere. We had both been through a lot of harsh times and lost loves - we just sit there and pour our hearts out. We literally lived next door to each other, go around to each other's houses and have a cry and pull out our guitars and write these great songs.

Down is just another of those break-up songs."
So was Down inspired by former boyfriend and fellow BMG-Sony artist and latter day star Jamey Johnson?

"I think was before Jamey actually," Britt confessed.

"Jamey was a short part of my life but nonetheless important - that was a passing moment in my life and it did affect me. I definitely got some songs out of it but I don't think this is one of them."

So will Britt be sharing royalties with Johnson for that?

"No, I wish, that would be great," she joked. "I would love to get half his royalties."
JEDD HUGHES
"Now I'm building walls and closing doors and leaving you behind/
shutting out the hurt inside and taking back my mind/ the blood you drew it hurt you too now we both have to pay/since you slipped away since you slipped away/it's colder than the winter now and quiet all the time/I tell myself you're still around just to ease my mind." - Since You Slipped Away - Catherine Britt-Jedd Hughes
Britt enjoyed creative shelter from the Guitar Town storm with expat Jedd Hughes when she arrived in Nashville as a teenager.

Hughes, born in the tiny town of Quorn north of Adelaide in the Flinders Ranges and raised in Tamworth, and Britt both left here as teenagers.

Texan Terry McBride discovered Jedd studying music at the famed South Plains College at Levelland near Lubbock in the West Texas panhandle.

Hughes scored a gig as a guitarist for the other Kentucky Coalminer's Daughter Patty Loveless.

He then releasing his solo album Transcontinental and became an in demand guitarist for Texans Rodney Crowell and Jack Ingram while writing with Ingram and Guy Clark, expat Australians The Greencards and Felicity.

"We hung out on and off in Nashville, lived literally around the corner from each other," Britt recalled.

"When I first went over there I hooked up with him. He was one of the only people I knew over there - it gave me a chance to hang out with an Aussie. Every time we could write together we did. We were so busy all the time, both trying to get our careers off the ground. Since You Slipped Away was one of the many songs we have written together. I have always loved it - it was the first song we wrote together."
CAITLIN EVANSON
"Where do you go when the lights go out/ when the music stops, the curtain falls/ the people all leave nothing but empty seats/ it's just you the piano and four walls." Where Do You Go - Catherine Britt-Caitlin Evanson-James Slater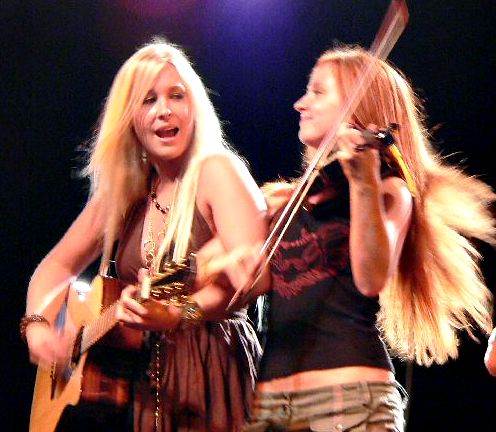 But it was Nashville fiddler Caitlin Evanson who Britt credits for Where Do You Go - the song that kick started her album.

"Caitlin and myself became really great friends, best friends," Britt said.

"We lived together in a house with other girls - she also played fiddle in my band. We travelled all around America together. She's a very talented singer songwriter. We had this song a long time. When I came back from America I was ready to make music again. I got my head straight and knew what I wanted to do. I played this song for Shane and Bill and it was the grounding of the record. It was the first step - we knew we were going down this route and based the record on that song."

Britt thanks Evanson for having the time to share her talent.

"She went on to other things when I left the states, she started working with Taylor Swift," Britt quipped of the multi-instrumentalist who has toured here with both blonde singers.

"She sure doesn't have many days off these days."
MELANIE HORSNELL
"I can't change a thing/ so there are things, I may have done, I'm not proud of every one/ but every one, is who I am/ I'll never take it back again/ wherever I go, there I am/ wherever I've been so I've been/ I turn around and I grin." - Can't Change A Thing - Catherine Britt-Melanie Horsnell.
Britt wrote three tunes for her album with Sydney songsmith Melanie Horsnell - another artist better known overseas than her homeland.

They include the first single Can't Change A Thing, released in late April.

The song was ignited, like many of the car and truck crashes, while on the M3 Motorway that has also claimed a few other scalps on the eve of the NSW election.

"I wrote it on M3 driving from Newcastle to Sydney," Britt recalled.
"It was on that two hour drive that I do so often - I had all that time to think. That melody came out of nowhere and I just started singing it. I sang it for two hours straight. I just walked in there to Melanie's home, picked up my guitar and played it to her and said 'what do you think about this?' The lyrics fell out within 30 minutes - it was one of those lucky things where the song falls out and it's meant to be and it ends up as a really catchy tune - we're really happy with it. It's always a pleasure to write with Melanie. I always get so inspired by her poppy melodies - she's very good with that. She's so brilliant with that."

It was so brilliant that Britt and Horsnell also wrote More Than You Are and Saved for the album.
CHRIS STAPLETON
"Train cry on, you're lonely just like me/ well I pray that this whistle/ can drown out my blues/ our love was a lie/ and that's the cold truth/ when two hearts are empty/ nothing is nothing to lose." - Lonely - Catherine Britt-Chris Stapleton.
Britt also wrote a new tune with Kieran Kane and Kevin Welch sidekick Chris Stapleton who recently decamped power Nashville bluegrass band The Steeldrivers.

"They were one of the great new bluegrass bands, they were just starting up when I was over there," Britt added.

"Chris is one of the most talented singers. Oh my God, he's got this really cool graded voice. It was so great to work with him - the times we did. It's sad he left the band. I guess he will go on and do other things as he's an incredible songwriter. We wrote this song and hung out together and wrote many songs."
MORE NOVOCASTRIANS
"You can get on top, but it won't take long/ I'll mess you up like a wrecking ball/ you're a love struck junkie trying to run/ you be the user I'll be the drug/ hey, there's no where to run/ I hate to tell you honey, but you're under my thumb/ like a travelling preacher, door to door." - Under My Thumb - Catherine Britt-Morgan Evans-Mark Wells
Britt helped keep the publishing royalties in her hometown when she penned Under My Thumb.

"I wrote the song recently with Mark Wells and Morgan Evans," Britt said.

"They're Newcastle singer-songwriters and country rockers. I was being silly. I had been listening to Lucinda Williams all day. I had these rocking melodies in my head. I started messing around on the guitar and came out with that. I was messing around with Morgan, saying how he was under my thumb. I'm not sure how impressed he was with that."

Britt also included other songs that she held onto for many moons.

"There was a compilation of songs that I have been writing over time that never really fitted records for whatever reason," Britt explained.

"People didn't feel they were right, I guess at the time for the records I was making. Like the first record I made this was done independently without a label. Once again it's been picked up by ABC and Universal to be distributed. I just went in with a bunch of songs that I have always loved but no-one felt fitted anything else. It's funny this time they all fitted together - the bunch of misfit songs. I've been wanting to record these songs for a long time and there's plenty of Ashley Monroe songs that we have written and are similar and in that vein - I'm really glad we got these songs down and got them out there."
MAMA AND STEVE
"My mother and father were buried here/ beneath the cold and lonely hills/ so carry me home and lay me down/ so when it's time, I'll come around/ sleepy town, oh sleepy town/ don't you change where I am bound/ lay me down oh lay me down/ in sleepy town, is where I'll be found/ somewhere high up in those hills." - Sleepy Town - Catherine Britt.
Britt, born in the Newcastle suburb Kahiba, has had life long support for her music from her psychologist father Steve and mother Sue.

They took her to talent quests as a pre-pubescent schoolgirl, encouraged her writing when she was a sales serf for JB Hi-Fi and recently doubled as roadies during her performance at the resurrected Whittlesea Country Music Festival.

So it's fitting that she sings of being with them in the after life on her new tune Sleepy Town.

And she confessed she had not bumped them off for the soft gospel tune - one of two she wrote solo on this disc.
"No, I'm speaking from an old woman's point of view," Britt reassured the interviewer.

"I'm talking about how I'm about to die and please take me home to my hometown - bury me with my parents under those Blue Mountains. It's about Newcastle - my hometown that I love very much."
BILL CHAMBERS
"It takes a fool to learn, it makes a fool to cry/ it takes a lot to lose and a love to die/ you came at me like a freight train/ then you left a mess like a hurricane." - I Want You Back - Catherine Britt-Bill Chambers
She also wrote her album entrée track I Want You Back with mentor-producer Chambers.

It was a fitting reunion for the duo that dated back to Britt's talent quest era.

"I've known Bill since I was 11 years old, I guess," the singer recalled.

"We have been talking about writing this song for so long. It never happened so I said 'I'm going to make a day and come up to your studio on the Central Coast and write a bloody song.' We came out with this track. Bill produced this record with Shane Nicholson. I really enjoyed working with him. It was such a pleasure to work with him again. He produced my first two records. I really missed working with him - he is such a big part of my life. I don't think anyone else in the world gets me as much as he does."

Chambers produced Britt's acclaimed stone country debut disc Dusty Smiles & Heartbreak Cures.

And, he also co-produced her first Nashville recorded disc Too Far Gone with hit writer and seasoned producer Keith Stegall - the man behind Georgian superstar Alan Jackson's huge selling albums.

When Britt arrived in Nashville she requested Chambers as her studio angel in waiting.

"I had to go in and explain if they (BMG-RCA) loved me and what they heard on Dusty Smiles and Heartbreak Cures that was Bill. That was really Bill they were hearing. It as my singing and my songwriting but that was him - production, instrumentation - that was Bill, everything sonically that was Bill. I wanted him to be part of Too Far Gone. He walked me through that. It was really scary for me, out on a limb giving it a go. I didn't really know what I was doing. Fortunately for me in those early days in Nashville he walked me through that. It was really good to have someone familiar and part of the creative process."
SINGING AT SING SING
So why did Britt choose acclaimed Richmond studio Sing, Sing as her recording font?

"That was Nash Chambers idea, he was project manager and engineer on this record," Britt explained.

"I love Melbourne - I adore Melbourne. It's one of my favourite cities. I go there all the time - it's just got a really good musical vibe there. Every time I play in Melbourne they want to hear the singer-songwriter real music stuff - they really appreciate the good music. One of the guys in my band lives there. We spent a week recording. My brother, his wife and their kids are now living in Melbourne. I'll be back down there soon - I'm touring Victoria in May with Troy Cassar-Daley. Hopefully there will be some inner city gigs."
But it was a retreat on the NSW Central Coast that was the locale for the CD slick photos.

"Patonga is a little peninsula in the middle of nowhere," Britt said.

"It's really hard to get to but once we got there it proved to be one of the most beautiful places I've ever seen - a fantastic place to shoot photos. Not a lot of people have been there before - it was really fantastic."

The results are on the ABC-Universal album released in May.

CLICK HERE for a previous Britt feature interview in the Diary on February 20, 2008.
CLICK HERE for another on February 12, 2006.
CLICK HERE for earlier feature on October 21, 2004

This interview was broadcast live on Bob Taylor's top rating morning show on Melbourne country music HQ - Stereo 974 FM - in the bowels of Brooklyn in the city's western suburbs on Wednesday April 28.