DAVE'S DIARY - 20 FEBRUARY 2008 - CATHERINE BRITT
BRITT BOOMERANGS FROM HURDLES
"It's another day after another night/ another sun I never thought I'd see rise/ high heel hopes and whiskey lies/ feels like a freight train is running right though my head/ my little black dress smells like cigarettes/ napkin with no name, just an address/ had me a good time, I guess." - What I Did Last Night - Catherine Britt-Bobby Pinson.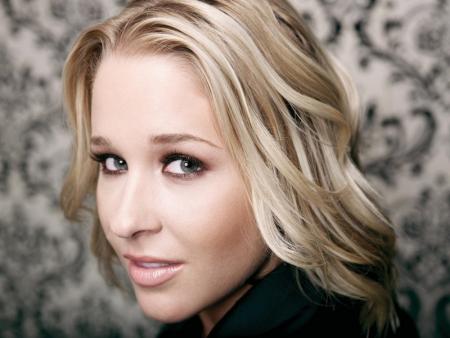 Newcastle novitiate Catherine Britt has hit more hurdles than most fillies in her brave battle to make it in the highly competitive American market.

She released her debut indie album Dusty Smiles and Heartbreak Cures - successor to EP In The Pines - here when she was just 17.

In The Pines included That Don't Bother Me - her co-write with Kasey Chambers - when Britt was 14.

The album, produced by Bill Chambers, was snapped up by ABC Music in 2002 and landed her a deal in the U.S. but was not destined for American release.

Her second album Too Far Gone never made it out of the barrier in the U.S. despite being produced by acclaimed hit producer-composer Keith Stegall and Chambers.

Sure, it produced a pair of singles that kissed the Top 40 of the charts.

The Upside Of Being Down and When We Say Goodbye (her duet with Elton John, never released in Australia), reached Top 40.

Swingin Door, a late addition to Too Far Gone, was released as a single but did not impact in the U.S. but charted here.

So, with a score plus songs in the can, a new single What I Did Last Night, was lifted from new CD Little Wildflower and released onto the voracious market.

It peaked at #30.
BRETT BEAVERS

But that wasn't enough - Britt was competing with many young femme fatales such as American Idol winner Carrie Underwood and new teen sensation Taylor Swift.

So, with the radio in her radar, more than enough songs were recorded for an entirely new album with yet another producer Brett Beavers.

Beavers, producer for bluegrass rooted Arizona born mainstream chart topper Dierks Bentley, hired top session serfs for Little Wildflower.

They included revered Buddy Miller, Jon Randall and Hillary Lindsay on vocals and expatriate guitarist Tommy Emmanuel and Australasian superstar Keith Urban.

It was déjà vu all over again as John Fogerty would say.

Despite opening for label mate superstars Brooks & Dunn and Alan Jackson in huge arena concerts, Britt again walked the plank at radio.

So, with BMG's huge investment in her recording and promotion, she was cut adrift and dumped from the multi-national label.

But she was thrown a life raft here - summer release of Little Wildflower and support roles on the Brooks & Dunn tour and the CMC Rocks The Snowy Mountains Country festival at Thredbo on March 14 and 15.

Britt, just 23, launched the CD in Tamworth and won positive reviews in The Sunday Age and music magazines.
SIN CITY BACKLASH
But there was another fly in the ointment or rodent in the broadsheet pantry.

A critic for the Sydney Morning Herald, an organ that praised Britt in her embryonic pure country era and toxic foe of nearly everything riding in the country mainstream, took aim.

The salvo, that accused Britt of abandoning her pure country roots, decreed she was copping out by going commercial.

The city critics' cabal - renowned for perfecting inner suburban sneers - oft distances itself from this century by describing the genre as country and western.

Not this time - instead a rhinestone reference was used to denigrate the diva.
"It was perhaps inevitable that Newcastle's Catherine Britt, who began her career as a teenage old-school purist with voice, songs and attitude from days before rhinestone invaded country music, would be tempted to cross eventually to the end of country music that actually sells," Bernard Zuel wrote.

It's ironic the same chappies and chappettes praised rhinestone king the late Porter Wagoner, in his twilight years while ignoring him at his peak, and his protégé Marty Stuart.

The cheer leaders for the vocally challenged faux country crowd are adept at carpet bombing of our best talent so Britt was banished as a clone of chart topping peers.

"Her first Nashville album in 2006 walked between her roots and the market," Zuel added.

"Little Wildflower plants its feet firmly in the commercial world. Is that bad? Not necessarily, though it's rarely a musical triumph.

Here Britt sounds polished, utterly marketable and ready to step into, at various times, Faith Hill's heels, the Dixie Chicks' boots or Carrie Underwood's shoes. It's just a shame you can't tell where Britt begins or ends in the songs because as personal as the album is claimed to be, the lyrics are so shop-worn, so Music Row-familiar that it only emphasises how commonplace, rounded-to-the-mean her voice is now.

The deep, rich-in-character tone we heard on her 2002 debut has been replaced by something as interchangeable as these songs."

So that's one opinion - a stark contrast to SMH broadsheet sibling the Sunday Age.

Melissa Kent gave the CD 3 stars.

"Britt sings the blues with the throaty angst of a woman who's spent many a night propping up the bar in two horse towns and nursing a broken heart in lonely hotel rooms," Kent wrote.

"That early promise is fulfilled with vivid pictures of cheatin' men, hearts broken and illicit love affairs, daubed with the classical influences of Hank Williams and Loretta Lynn."

WHAT CATHERINE DID LAST NIGHT
"How am I gonna get my life together/ as old as it's getting it ain't getting any better/
I dunno where to start, I've fallen so far behind/ Momma says I've got to start acting like a lady/ Daddy's just worried about his baby/ how am I supposed to straighten up and fly right/ when I don't even remember what I did last night." - What I Did Last Night - Catherine Britt-Bobby Pinson.
Britt's ascent from pure country princess to a produced for radio artist is apparent on her new disc.

The singer's original songs reflect rough and rocky travelling and ruptured romance in her U.S. launch pad.

It's the story of an expatriate teenager becoming a worldly woman in a market where new artists are thrown against the radio wall with disastrous results.

Some soar and succeed for varying periods - others fly high and flicker and then fall to earth, bruised and battered from radio rejection.

Britt's handlers hitched her star to diverse power wagons with extensive personalised radio forays and selective tours with major artists.

Although that elusive hit record - the chart catalyst for launching and selling an album has eluded her - she has not crashed and burned.

Instead, after being dumped by BMG, she has found shelter from the storm by beating a retreat here to spend the summer promoting her albums.

ABC Music fuelled her wagon by releasing Little Wildflower.

This has enabled her to split her time between her homeland and the nation she is yet to conquer.

"I heard Kenny Chesney say a while back that if he'd known how hard the first 10 years of his career would be, he'd never have done it," Britt recently revealed.

"And Australians know how hard those 10 years were for Keith Urban. But I realise what it's going to take, and I'm really happy and prepared to do what it takes to make a go of it in this industry."

And now, aided by booking agent Rob Potts, she is out priming the sales pump with support roles on the Brooks & Dunn tour and the CMC Rocks The Snowy Mountains Country & Roots festival.

So what about the artistic merits of this disc?

Well, the singer co-wrote nine of the 12 tracks - this enabled her to be judged on her ability to turn her turbulent life into song.

So Britt's songs are a powerful vehicle driving her passion with unbridled optimism that is tempered by riveting reality and vast vats of vitriol.
LITTLE WILDFLOWER
"I've been the pretty from some big city/ I've been the hothouse rose/ I've heard the jangle, I've had the jangle/ had diamonds on my toes/ all that material stuff is dandelion fluff/ I think that I've had enough sweet baby." - Little Wildflower - Catherine Britt-Steve Bogard-Brett Beavers.
Britt paints a picture of a weary woman, disenchanted with the material riches of a relationship, seeking a romantic idealism.

The character is chasing a deeper love and Britt daubs the palate with a surreal aching for a wistful release.

"We'll make this tired world over spinnin' in a melody/ and when the morning comes baby we'll kiss the sun/ just you and me."

Yes, a romantic retreat from reality reprised in another verse.

"Clouds for a pillow beneath a willow/ a jigsaw puzzle sky/ we'll drink the raindrops until the rain stops/ the wind'll blow us dry/ and when the sky falls dark we'll catch a runaway star/ holdin' on with our hearts sweet baby."
Now that may not resonate with male critics in the cities but it's the work of a young woman, albeit with male collaborators.
NOT YOUR CINDERELLA

"Not your Cinderella/ you're not the one in a million fella/ the slipper ain't gonna fit me/ give my regards to Mr Disney/ I'm no Sleeping Beauty/ one kiss alone won't do it to me." - Not Your Cinderella - Catherine Britt-Steve Bogard-Brett Beavers.
Britt injects a little assertion into the character in Not Your Cinderella.

This femme fatale is not going to fall at the feet of a paramour on their first meeting - her fierce pride will ensure that.

But the character goes on a bender and then reflects on the collateral damage on the morning after in the single What I Did Last Night.

With Keith Urban playing guitar and Jon Randall harmonising this was Britt's lunge at radio.

It had all the ingredients of a hedonistic honky tonker, cushioned by fears of parental regret.

"Momma says I've got to start acting like a lady/ Daddy's just worried about his baby.
How am I supposed to straighten up and fly right/ when I don't even remember what I did last night."

Despite those attributes it withered on the wireless vine but was a perfect segue to her impassioned delivery of the fiery Dirt Cheap, penned by Luke Bryan, Hillary Lindsey and Dallas Davidson and featuring Buddy Miller on backing vocals.

Britt's character here, once the precious diamond in her lover's eyes, fears she has lost her allure and stature but she is not going to be discounted.

"I'm not a yard sale special on a dead end street/ I'll never be a buy one get one free/ no my love ain't dirt cheap/ no my love ain't dirt cheap."
THE ONES THAT GOT AWAY
"I've been watching you/I've been watching you run/I've been standing here, standing here undone/ Gypsy soul you'll never settle down/oh like water down a raging stream/ like an old time reel on a movie screen." - Watch You Run - Catherine Britt-Ashley Monroe.
It's smart sequencing to have a role reversal in the next song Watch You Run - penned by Britt and long time pal Ashley Monroe, from the famed bluegrass clan.

Yes, the character's elusive lover escapes and rides off into the distance.

It's a sibling of sorts to If Only He Were You by Britt, Beavers and Stokes Nielson.

Here a Romeo in a pick-up truck pursues Britt's reluctant heroine.

"He looked like a magazine model leaning there on the hood of his truck/ he had a deep south tan and a pearl snap shirt with the sleeves rolled up."
Well, the character admits she would have ridden away - if the truck driver was the man of her dreams.

But he wasn't.
"Later that night he pulled into my drive and walked to my door/ and he rang that bell with a fist full of flowers like all the times before/but I kept all the lights low, watched out the window/ waiting till he drove away."

Britt is more personalised on That Ain't Me, penned with Beavers and John Bettis.

Here she reverses escape roles by using a hometown metaphor to unleash her desire to be free to follow her dreams.

"I ain't got nothing against my hometown/ there just ain't enough room to breathe/ everybody is settling, settling down/ that's alright for them but that ain't me."

Britt reveals more of herself in her character's ambitions - "in this world there's just two kinds of people/ some just dream and others chase them down."

And to illustrate her actions she excels in her wanderlust fuelled imagery.

"I'm a rainbow, I'm a butterfly/ I'm a feather whenever the wind blows by/ I'm a note in a bottle out on the deep blue sea/ so if you want me to be your rock where you can lean/ Oh that ain't me."

She punctuates her originals with a cover of Over The Rainbow, designed as a tribute to the late Billy Thorpe, and featuring Tommy Emmanuel on guitar.

It may be designed to sate the familiarity fetish of Australian radio but seems out of place on this disc.
JOYOUS LOVE WITH A CAVEAT
"Lucky girl, she got the diamond but I got the world/ it's my oyster and it's full of pearls/ so honey tell me who's the lucky girl/ you lucky boy, did you tell her she's your second choice/ cause I wouldn't be your little toy/ ain't no man inside her lucky boy." - Lucky Girl - Catherine Britt-Tony Martin-Brett Beavers.
Britt finishes her album with a string of positive love songs where her character uses a sardonic slash and burn technique to signal victory and inner peace.

The woman unleashes vitriol as she revels in the knowledge that the new woman in a rejected ex-lover's arms is a surrogate.

And Britt reaches deep back into her catalogue to reprise a Haggard reference as she plunges the knife into her ex and his new belle of the wrecking ball.

"Lucky girl, she got the Gucci gown the veil and curls/ I got your precious box set of Merle/ so honey tell me who's the lucky girl."

Yes, very clever and perfect companion to the next song where the roles are reversed again.

Happiness is a double-edged sword, drenched with guilt, when Britt's character finds love in the arms of a genuine good-hearted man in You're The One I Love - penned with Hillary Lindsey, Aimee Mayo and Chris Lindsey.

"I go to sleep in this bed every night/ he's lying next to me/ Lord knows he treats me so right/ he's everything I'll ever need/ he's so good to me/ I can't help feeling guilty
every time he touches me/ cos you're the one I love/ you're the one I love."

Britt lances a credible but vulnerable vein here - so many people end up with partners who may not their first choice.

Despite that it may prove to be a perfect result with this creative caveat - "If lies were fire this house would be burning down/ if a river was desire I'd be drowning now."

Here the punctuation of Britt's original tunes is far more credible cover - her rendition of Canadian singer-songwriter Fred Eaglesmith's classic Drive-In Movie with Randall again harmonising.

It's a superb version of a song that Britt previously recorded on her 2002 album Dusty Smiles and Heartbreak Cures.

Hopefully airplay and sales will swell royalties' coffers of Eaglesmith who also has Toby Keith cutting his songs.

BRUISED FINALE
"Who's that with him, no I don't care/ but I hate the way she fixes her hair/ well that smile she's wearing won't last too long/ he'll have it in his pocket when he leaves at dawn/ his crazy heart is a patch of bad road/ glad I made it through in one piece." - Bruised - Catherine Britt-John Bettis-Brett Beavers.
Britt closes on a joyous and equally sardonic note with Bruised - a song where her character again escapes, this time from an ex-lover with another surrogate.

It seems that Britt has either lost in love or relished in the escape many times in her short but colourful career.

Or maybe she has plenty of friends whom she has drawn upon for her material.

But it's clear the character in this hard driving country rocker is happy and lucky to be free again.

"Let's pay the cheque cause I can't watch/as he turns his Casanova up another notch/ it's like seeing a hangman knotting a rope/ that I just got off my throat."
SWEET EMMYLOU
"Sweet Emmylou I blew the dust off you/ you're the only one who knows what I'm going through/ it's like the hickory wind - he's gone again/ Sweet Emmylou. - Sweet Emmylou - Catherine Britt-Rory Lee Feek.
But, like many albums, Britt ends with a hidden track Sweet Emmylou - penned with Rory Lee Feek.

The evocative acoustic tune, featuring Feek on guitar, is an existential exit and maybe a reality rooted slice of heartbreak.

It doesn't matter if art imitates life or vice versa but it's fertile fodder for this artistic triumph.

Little Wildflower may been fertilized with raw phosphate but Beavers radio friendly production makes it more accessible - except for purists, pedants and city critics.

Now, I admit I have a preference for the organic roots country of Britt's embryonic era but I can also accept her roughage free staple aimed at radio.

Buy this disc and judge for yourself - ignore criticism from the urban tribes, prisoner to precious peer and focus groups.