DAVE'S DIARY - 21 FEBRUARY 2011 - TRACEY BUNN CD REVIEW
2011 CD REVIEW
TRACEY BUNN
BY THE WAYSIDE (Laughing Outlaw)

GLENELG - NOT THE END OF THE WORLD
"I'm on the sidewalk at Zuma Café waiting on a friend/ the smell of coffee takes me back to that weekend/ of a lazy afternoon sipping on lattes/ I remember when we talked for hours/ now I'm here again."- Adelaide - Tracey Bunn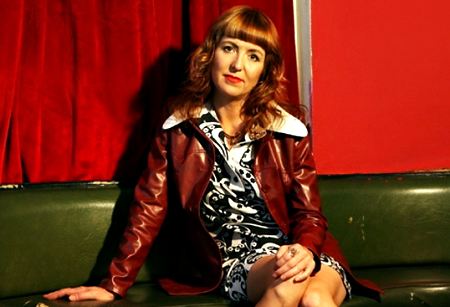 Darwin diva Tracey Bunn bit the bullet to join the huge expatriate Aussie posse in Nashville and beyond in Austin, Texas.

The former Toe Sucking Cowgirl enlisted another expat Anne McCue to produce her latest 10-song disc in Music City after a New York, New Orleans and Mexico sojourns.

She also performed showcases at revered Nashville songwriter venues such as the Second Fiddle and Douglas Corner Café.

Although the disc has its song and production embryo in steamy Darwin the nuptials were consummated in Guitar Town.

McCue, youngest of eight children of a Campbelltown milkman, uses her contacts to flesh out the sound.

Yes, former Midnight Oil bassist Bones Hillman and Saltbush pedal steel guitarist and latter day hot shot producer Mark Moffatt guesting on guitar on Wishes.

The scene of the rhyme was the 16 Ton Studios and McCue's own Flying Machine studio in Nashville.

Bunn's two decade deep CV includes stints with other well-travelled territory bands Doreen, Bareback Riders and Red Hot Bass Chakras.

So she kicks off with nostalgia-fuelled Adelaide - idyllic imagery is her strong suit but a sidewalk replaces a footpath in the first verse.

Her memories of past loves graduate from coffee and lattes to a morning beer in the Glenelg sand.

There's no need for intoxication - just former Greencards fiddler Eamon McLoughlin and McCue's mandolin - to resurrect another journey of the heart to Galway in Ballyreen as the "Burren meets the wild green sea."
GYPSY WISHES
"Gypsy girl's been travelling with all her 30 years/ some times she wished for the road to up and disappear/ and in its place a stable home built of bricks and tin/ somewhere she can settle down and grow roses in spring." - Wishes - Tracey Bunn
Bunn's gypsy wanderlust, pain of found and lost again love, is echoed in biographical Wishes while a ferry captain's horn blows the mood swings of Melancholy Mood.

The string-laden cry for independence with McLoughlin on viola, violin and cello in Shut Up And Let Me Breathe earned the singer a video clip to illustrate her plight.

That may be videogenic but the peak of this disc is the riveting However Long where the singer urges her beau to drive the relationship by reading her desires.

OK she's a demanding divorcee but says she will wait for her lover to dip into her psyche.

That may be too late for the passionate pleas of a battered belle of the ball whose flaxen wings are scorched by the cyclonic storms of love.
RUNNING ON EMPTY
"We had a love that set the night on fire/ tight as a drum, as strong as fencing wire." - Running - Tracey Bunn.
Running - the salient signpost to the damsel's demise - drips with rural roughage as her beau flees.

"We had a love that set the night on fire/ tight as a drum, as strong as fencing wire."

Not even fencing wire can withstand nature or human desire to flee as our floods and fires remind us.

Bunn's imagery reigns as her character primes her pathos with lovelorn lava as she reaches her finale - the title track.

The only blip on the radar here is Richard Thompson's oft-covered Keep Your Distance.

No need to resurrect the rivers of royalties trove of an already rich folk rock guitarist and singer-songwriter.

Better to dip into the artist's catalogue - no chance of warfare by breaking the Fairport Convention.
TRACEY TRACES DISC HISTORY
Let's go to the artist - Tracey - for her impetus.

"By The Wayside is a collection of mostly introspective songs inspired predominately by my divorce and the demise of the Cowgirls three years ago, but hopefully most of them come across with a positive message," the singer told Caine Edwards in an interview in the still creative frontier Northern Territory Daily News.

"It was just a matter of having the songs and finding the right person to record them and having the confidence to do it. I left music for two years after the divorce, my confidence was shattered and I needed time to find out who I was and what was important to me. And when I did wake up I realized music was the most important thing for my sanity and my soul. Kind of like the phoenix rising from the ashes!"
And there is a difference from her previous combos?

"This album is a collection of songs that I wrote just for me," Bunn said. "The songs I wrote for the Cowgirls had to suit the band, the characters and the life that we were living.

People expected songs about drinking, sex and partying. There was no room for anything introspective. With this latest batch of songs I wasn't concerned with the songs commerciality or whether anyone else liked them. They were songs I had to write to release emotional stuff I'd been carrying around for some time."
So why did she choose McCue as her producer?

"I met Anne in 2008 at Darwin Festival where we had brief conversation about producing," Bunn recalled.

"I mentioned I was looking to do an album where she replied, "come to Nashville and record in my living room!" We met officially at the airport in Nashville and I started an amazing friendship with her from that day on. We have a lot of things in common and share a lot of the same loves: music, beer, fish and chips, beer."