DAVE'S DIARY - 7/12/09 - PREVIEW OF EPISODE 1 - SERIES 13
BRAD AND KEITH - HEADLINERS
International stars Brad Paisley and Keith Urban headline the premiere of Series #13 of Nu Country TV this Saturday - December 12 - on C 31.

The duo recently won a CMA award for their duet on the Start The Band.

And expatriate Australasian Urban, 42, reprises recent hit Kiss The Girl to promote his Australian tour on the show at 9.30 p m.

Former Qantas accountant Amber Lawrence also returns with the video for her new single Don't Do Lonely Well.

Expatriate Texan Doug Bruce returns to the show as a preview to his live debut at Red Hill Country Music festival on Sunday January 3.

Sunraysia singer Paul Costa performs the title track of his third album In This Time.

Florida singer Jake Owen also features his latest video clip on the show that will be repeated during the week.
PAISLEY PRIMED
Brad Paisley, like Urban, is renowned for his lightning dexterity on guitar and songwriting.

The West Virginia born singer has frequently spoken about his desire to follow Urban on tour here.

This could be the creative catalyst for the tour for the father of two and singing spouse of actress Kimberley Williams.

The singer reprises the video for his seasonal hit Alcohol.

He also strikes a blow for racial and social equality in Welcome To The Future from his acclaimed seventh album American Saturday Night.


That song promotes modern multiculturalism and tolerance in a society torn apart in previous eras.
It's a sequel of sorts to Janis Ian's embryonic breakthrough sixties hit Society's Child.

That song, to be aired later in the series, name checks Martin Luther King and video, featuring Asian children, illustrates changes in society.
It's no surprise Paisley, 37, and Alison Krauss strutted their stuff for U.S. President Barack Obama at the White House last year.

And, unlike Urban and peers diverse as Darryl Worley and Aaron Tippin, Brad recently rejected an offer to pose for Playgirl Magazine.

"I've actually turned that down," Brad revealed.

"They've asked a few times and no. They can forget it. They ask everybody. They ask every male country singer. Trust me. No way. Not in a million years. That's just not what I'm about."

CLICK HERE for a previous Paisley CD review in the Diary - December 15, 2008.
URBAN COWGIRLS
Keith Urban continued his penetration of the Australian pop market with his celebrated cameo at the recent ARIA Awards to promote ninth album Defying Gravity.

It was also an appetiser for the Australian leg of his international Escape Together tour that begins at Rod Laver Arena with Bob Evans on Saturday.

Urban won major CMA and American Music Awards last month and performs the video for Kiss The Girl on Nu Country.

He has been nominated for four Grammy Awards and has long used Australian TV as his surrogate radio to overcome the paucity of commercial airplay.

It's a vast contrast to the U.S. where he organised headlined a concert to raise funds for the Country Music Hall Of Fame in Nashville.
Urban and thespian wife Nicole live on their farm outside Nashville when not on the road and movie set or their hideaways in Sydney and Sutton Forest in the NSW Southern Highlands.
Click Here for an Urban DVD review from the Diary - February 23, 2009.
EXPAT TEXAN DOUG BRUCE
Expatriate Texan Doug Bruce's dad Dale toured here with Red Steagall & The Coleman Cowboys in the seventies.

Doug followed in his footsteps by moving to Victoria permanently after marrying an Australian woman he met in the U.S.

Bruce and his wife Jodie live near Bendigo but the Dederang Hotel was the scenic Kiewa Valley locale for the video for his song What Am I Drinking About.

The song is from his debut Australian album All I Need.

Doug hails from small Texan horse town Aubrey and joined Dallas band Cheyenne who played Fort Worth venue Billy Bob's - the largest honky tonk in Texas.

They opened for Travis Tritt, Jerry Jeff Walker and Rascal Flatts but split in 2001 as Doug moved to Nashville with singer-songwriter Brit Stokes.
They played Douglas Corner, French Quarter and other gigs while Doug freelanced with diverse bands and worked sessions.
Bruce expanded his writing and joined Billy Yates' band before meeting wife Jodie in Guitar Town and following her back to Australia.

He then returned to Nashville for a tour earlier this year.

Further info - www.dougbruce.com.au

Doug is one of the headliners of the Red Hill festival on the Mornington Peninsula on Sunday January 3.

CLICK HERE for full details in Tonkgirl's Gig Guide

PAUL COSTA - SUNRAYSIA SMOOTHIE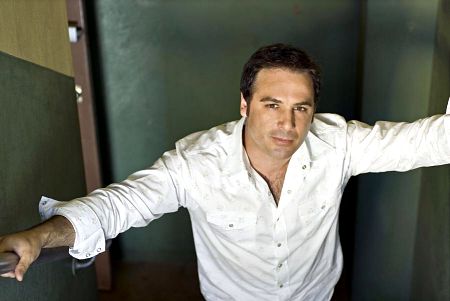 Robinvale singer Paul Costa was one of many artists who donated their time and talent to the Black Saturday bushfire festival at Whittlesea on April 4.

The singer is well qualified to write and sing about the ravages of the bush and nature.

Paul and his three siblings grew up in the fertile Murray River citrus belt where they performed and recorded six albums as the Costa Brothers.

Those experiences inspired a new song Band Of Brothers.

One of those brothers, Noel, also read a book about the great depression and provided the soul of the song Survivor 1932 - that video will air later in the series.

Noel collaborated with Paul and producer Rod McCormack on the song - a highlight of Paul's third album In This Life.

This week we feature the video for Paul's title track, featuring his smooth vocals in a style reminiscent of the late Marty Robbins.

Paul also collaborated with fellow Sunraysia raised singer Sara Storer on the song Big Circle.

CLICK HERE for a Paul Costa CD review from the Diary.

AMBER LAWRENCE
Mascot minstrel Amber Lawrence returns to the Whittlesea fire zone in February to promote her second album When It All Comes Down.

The singer showcases a vast array of frocks and phones in the video clip for Don't Do Lonely Well.

It's sweet solace for Lawrence who suffered family tragedy on the eve of her second album when her father died from leukaemia.

The singer, 24, exorcised grief by writing her second album title track and Always Kiss Me Goodnight about her patriarch - replete with paternal nod in The Good Men.

Lawrence's song When It All Comes Down made the finals of Tamworth Golden Guitar Awards for best female vocal and APRA song of the year. The video for Don't Do Lonely Well is also a finalist.
Her bubbly exterior belies soulful compassion - she wrote The Mile on her debut disc about the tragic death of a teenage jockey.

Amber also joins Texans Jack Ingram and Nanci Griffith on the third CMC Rocks The Snowy festival at Thredbo on March 5 and 6.

Further info - http://www.amberlawrence.com/
JAKE OWEN
Florida singer Jake Owen performs the video for his song Eight Second Ride from his second album Easy Does It

Owen, 28, wrote eight songs on his second album, recorded in the home studio of his producer.

The singer admits the video, replete with bayou gator and other critters, reflects the flippant nature of the song.

"I don't spit dip and I used to have a big truck," revealed Owen who was at Florida State University with his twin brother Jarrod.

"I wrote that song in college for the feel of it. I've learned that you can't preach at people all the time. You can't try to get them to understand what you want them to know.
Sometimes you have to feed the people what they want to have - a good time - and that's what that song is. Lyrically it's the most shallow thing on both my records."

Owen, born Joshua Ryan Owen at Vero Beach, has had five solo hits and reached Top 30 with Sugarland and Little Big Town on Life In a Northern Town.

It's a far cry from his teenage passion for golf.

The singer received multiple golf scholarships but chose Florida State University, so he could be close to his brother.

His plans quickly changed after a wake-boarding accident pulled his arm and shoulder out of socket leaving him unable to swing a club for a year.

"I was depressed. I never really had a Plan B because I feel like if you set yourself up for Plan B, you set yourself up to fail," he recalled.

Instead he borrowed a neighbour's guitar in 2000 and dedicated himself to music.
More info - www.jakeowen.net
WIN ROSANNE CASH CD
We also have Rosanne Cash's acclaimed new EMI CD The List - new versions of classics from a list given to her by late father Johnny when she was 18 in 1973.

Guests on the Cash collection include Bruce Springsteen, Elvis Costello, Jeff Tweedy and Rufus Wainwright.

Cash's second husband John Leventhal produced the CD for Manhattan Records.

It features songs dating back to the Carter Family, the Hanks - Williams, Snow and Cochran - Harlan Howard, Merle Haggard and Bob Dylan.

We'll reward your new membership or membership renewal with a copy of the CD - please send us a cheque or money order for $20.

Please email us first at music@nucountry.com.au as stocks are limited.
WIN DIERKS BENTLEY CD

EMI Records has provided Nu Country TV with Arizona born Dierks Bentley's fifth chart topping CD Feel The Fire.

Bentley won an enthusiastic following on his debut Australian tour in May with superstars Brooks & Dunn.

Dierks, 33, has scored seven #1 hits since leaving Phoenix for Nashville as a teenager.

The singer has broadened his music by including bluegrass - featuring the famed McCoury family - on albums dating back to his indie debut Danglin' Rope.

He has also recorded duets with prolific Grammy winner Alison Krauss and Texan chanteuse Patty Griffin.

Win Feel The Fire by becoming a member of Nu Country or renewing membership.

It only costs $20 including postage.

Please email us first at music@nucountry.com.au

We will then send you the CD on receipt of your cheque or money order made out to Nu Country Music.
WIN SLIM DUSTY CLASSIC BOX SET
We have more good news for viewers - EMI Records has given us an invaluable collectors' item - a brace of the 4 Box sets by late Australian country legend Slim Dusty.

Sittin' On 80 features a lost, classic track discovered by Slim's widow Joy McKean.

Joy found Give Me Room from a 1997 recording at their home studio Columbia Lane.

It was written by one of Slim's favourite writers John Dohling - outback station hand and good mate who passed away in November last year.

Sadly he never heard the final version of Slim's recording of his classic trucking song.

It has now been released as a single and included on Sittin' On 80.

Slim's legendary Travelling Country Band played on the song that has been digitally re-mastered by Australia's mastering guru Don Bartley.

All you have to do to win Slim's 4 CD Box set is become a member of Nu Country TV or renew your membership.

It only costs $20 and includes postage.

Please email us first at music@nucountry.com.au

We will then send you the CD on receipt of your cheque or money order made out to Nu Country Music.
WIN BROOKS & DUNN CDS
Sony-BMG has also given us extra copies of the Cowboy Town tour souvenir CD and bonus Greatest Hits CD.

Viewers who become members or renew their membership for just $20 including postage can win the double CDs.

Please email us at music@nucountry.com.au with your pledge.

Important note - please email first - don't send your membership until you have been confirmed as a winner.

Brooks & Dunn have sold more than 30 million album since releasing their debut disc in 1991.

TAYLOR SWIFT FEARLESS CD OFFER
Universal Music has donated copies of teen sensation Taylor Swift's huge selling second album Fearless to Nu Country TV.

Viewers who become members or renew their membership for just $20 can win the Fearless CD.

Swift, 19, played capacity audiences on her Australian tour in March and returns here in February.

Please email us at music@nucountry.com.au with your pledge.

Important note - please email us first.

Don't send membership cheque until you have been confirmed as the winner.
WIN FELICITY CD
Multiple Golden Guitarist winner Felicity Urquhart returned to Nu Country TV as hosts during Series #12, beginning in June.

You can win autographed copies of Felicity's sixth album Landing Lights, available here in shops on Shock.

All you have to do is become a member of Nu Country TV or renew membership.

It only costs $20 including postage.

Please email us first at music@nucountry.com.au and let us know which CD you would like.

We will then send you the CD on receipt of your cheque or money order made out to Nu Country Music.
WIN CATHERINE BRITT CDS
MIKE BRADY TOO
We have Catherine Britt's third CD Little Wildflower for viewers who wish to become members or renew membership.

Catherine, Adam Brand and Mike Brady were among artists who donated their talent to the Whittlesea Bushfire benefit on Saturday April 4.

Brady donated autographed copies of his Country To Country CD to viewers who become members or current members who renew their membership.

Mike was also a VIP guest host of Nu Country TV during our eighth series.

So for your $20 membership you can win Mike's CD Country To Country or Catherine Britt's Little Wildflower CD.
WIN JASMINE RAE & STEVE FORDE CDS
We also have the following CDS for viewers who email our web page and pledge $20 membership at music@nucountry.com.au

Telstra Road To Tamworth winner Jasmine Rae's debut CD Look It Up.

We also have Steve Forde's fifth album Guns & Guitars.