DAVE'S DIARY - 23/2/10 - PREVIEW OF EPISODE 11 - SERIES 13
CRAZY HEARTS AND ALIENS
Golden Globe winning former rodeo rider Ryan Bingham debuts on Nu Country TV this Saturday - February 27 - at 9.30 p m on C 31.

West Virginia born star and hotshot guitarist Brad Paisley returns with the video for his 12th No 1 hit American Saturday Night.

And we also feature the debut of high country minstrel Carmen Fraser - granddaughter of former Western District Prime Minister Malcolm.

Far North Queensland singer-songwriter 8 Ball Aitken returns with his video of a swampy alien on the eve of his headlining role at Wandong Country Music Festival.

The show also features new duo McAlister Kemp and Fawkner born Jasmine Rae and is repeated Tuesday at 3 p m, Wednesday - 3.30 am and online at the C 31 web page.

Fraser, Aitken, Rae and McAlister Kemp perform before major roles at Wandong, CMC Rocks The Snowys at Thredbo and the Bunyip Country festivals.

CLICK HERE for full details in Tonkgirl's Gig Guide.
BINGHAM STAKES FAME CLAIM WITH T BONE BURNETT
When Ryan Bingham toured here in 2008 with Kasey Chambers and Shane Nicholson he was on the verge of international recognition.

Now, with a Golden Globe in his saddlebag and an Oscar in the wind the New Mexico born rodeo refugee is riding high in the saddle.

Bingham wrote the Crazy Heart award winning song The Weary Kind with Texan T Bone Burnett.

It's one of two Bingham songs on the movie soundtrack featuring lead actor Jeff Bridges and co-star Colin Farrell in major singing roles.

Bingham, whose name was borrowed by George Clooney's character in Up In The Air, performs in his video on Nu Country this week.

When Bridges was cast as Bad Blake in the movie the character became a hybrid of Billy Joe Shaver, Waylon Jennings, George Jones, David Allan Coe and Kris Kristofferson.

But that saga has been dwarfed by life imitating art.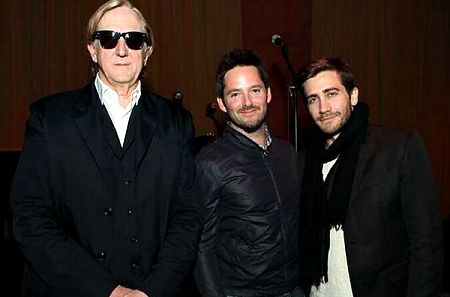 T Bone Burnett, Jake Gyllenhaal & Ryan Bingham
Burnett hired his Fort Worth schoolmate, guitarist and singer-songwriter Stephen Bruton to collaborate on the soundtrack and write seven songs - including one with Bingham.

But after being flown to L A to work on the New West-Shock soundtrack while fighting serious illness he died in May at 63.

Bruton made one major decision before going to God - he changed his will in favour of his brother Sumner.

Now the singer's ex-wife - former model Mary - has taken legal action to challenge his will.

This may be great publicity for the box office smash but it could be years before the movie publishing royalties reach the songwriters.

Even better publicity was a recent gig at Herb Alpert's Vibrato Grill & Jazz supper club near Mulholland Drive in L A attended by Hollywood glitterati.

Bingham opened a show that featured Bridges performing soundtrack songs and more with cameos by Elton John, T Bone Burnett and fellow singing actors Harry Dean Stanton and Robert Duvall.

Duvall, star of Tender Mercies (a forerunner with Rip Torn's Payday of Crazy Heart) performed Shaver song Live Forever that he sings in the new movie.

CLICK HERE for a Bingham story in the Diary on July 11,2008.
CLICK HERE for Anne Sydenham's concert review of Ryan on August 14, 2008.

BRAD PAISLEY RESURRECTS LITTLE JIMMY DICKENS
West Virginia born guitarist-chart topper Brad Paisley shares something with Burnett - he gave new life to a dying legend.

But there's unlikely to be legal action against Paisley over hiring Grand Ole Opry star Little Jimmy Dickens for his latest video clip.

Dickens, 88 and recovering from brain surgery in February, is a regular in Paisley clips.

And the little lad with big smile is easy to spot in American Saturday Night - title track of Paisley's seventh album and his 12th No 1 hit.

It's no surprise Paisley, 37, and Alison Krauss strutted their stuff for U.S. President Barack Obama at the White House last year.

Paisley has been bugging little mate - expat Aussie superstar Keith Urban to bring him here on a joint tour.
CLICK HERE for a previous Paisley CD review in the Diary - December 15, 2008.

8 BALL AITKEN - WANDONG WARRIOR
It's a long way from the swamps of the Atherton Tablelands in far North Queensland to the parched plains of Wandong.

But that's the trip 8 Ball Aitken makes on Sunday March 7 to be one of the headliners at the legendary country festival.

Aitken previews the festival this week in the video for new single Black Swamp Creek from third album Rebel With A Cause.

The multi-instrumentalist singer exudes massive energy in imaginative and diverse clips - a valuable marketing tool.
It's not clear if 8 Ball's dad Cue Ball will accompany him to Wandong on a bill that also features Lianna Rose, Carmen Fraser, Jasmine Rae, Doug Bruce, Sunny Cowgirls and many more.

8 Ball made finals of 2009 Tamworth Starmaker quest at the ripe young age of 26.

The singer is unique - one of 12 children from a family at Mareeba on the Atherton Tablelands.

And he plays slide, lap and pedal steel, dobro, banjo and mandolin.

With flaming red hair cascading down his shoulders, the singer looks like a latter day incarnation of country comic Rev Billy C Wirtz - a staple on Nu Country FM.

His family came from Scotland several generations ago, and Aitkenvale near Townsville, is named after them.

The albums 8 Ball (2004) and Odd Ball In (2006) are available on MGM which also has Rebel With A Cause, produced by Garth Porter.

Aitken says his stage name dates back to a night in a Cairns pub when a snooker ball (an 8 ball) landed on stage close to him.

8-Ball is a well-travelled troubadour, performing three times in Fiji for Department of Foreign Affairs and Trade, and in Japan.

He has toured United States, Singapore and performed The Cavern Club in Liverpool - launch pad for the Beatles - during a 2008 European tour that included BBC exposure before concerts in Finland, Poland and Japan.

Further info - www.8ballaitken.com
CARMEN - HIGH ON A TIMBER TOP
Mansfield minstrel Carmen Fraser didn't need a squattocracy pedigree to earn country credibility.

The singer-songwriter wasn't strumming in the shadows of her Prime Ministerial grandfather Malcolm - she wrote all the tunes on her indie debut album Silhouette.

She performs in the video for 32 Days - not an election promise - on Nu Country.

Fraser, 24 and raised on her folks' farm at Mansfield, was still at school when her grandparents Malcolm and Tammy disposed of their property at Nareen near Dunkeld where the Sunny Cowgirls were raised.

She graduated from school with the International Baccalaureate Diploma and a TER of 97.45.
But she didn't immediately gravitate to university or suburbia.
Instead she spent a year as a gappy music-running assistant at Timbertop - Year 9 campus of Geelong Grammar.

Fraser turned the gruelling lifestyle into songs she sang in the snowfields resorts and Jimmy Little Foundation in the outback.

She now mixes her music with her Politics and Creative Writing course at Melbourne University.

"I tend to write songs whenever I feel an emotion strongly - whether it be love, excitement, regret or hope and I often think those songs just about write themselves," says Fraser.

"I've always thought that music is so powerful in that it can uplift people, be thought-provoking and inspiring, and it really excites me I'm lucky enough to continually listen to, create, explore and practise it."

Carmen performs Wandong Country Festival - Sunday March 7.

More info - carmenfraser.com.au

JASMINE RAE BUNYIP BOUND
Fawkner fraulein Jasmine Rae returns to Nu Country on the eve of her Bunyip festival debut on Sunday February 28.

Jasmine performs in the video of new single Can't A Girl Change Her Mind from debut CD Look lt Up.

The singer had a rare choice that peers would kill for on the eve of her 21st birthday.

She was forced to quit her day job as a music teacher in Tullamarine to go on the road to promote her Nashville debut CD - a prize in her 2008 Telstra Road To Tamworth victory.

So, unlike, older colleagues she didn't have to report to work each day to support her labour of love in the pub and club circuit.

"I've just stopped teaching, I was teaching in Tullamarine, it was a little music school and so lovely," Rae 21 told Nu Country TV.


CLICK HERE for a Rae story from the Diary on September 20, 2008.
MCALISTER KEMP - ALL KINDS OF JOY
Sydney duo McAlister Kemp debuts on Nu Country in a video for All Kinds Of Joy from its first album All Kinds Of Tough.

Drew McAlister and Troy Kemp had successful solo careers before they jammed together in 2008 Johnny Cash tribute stage show Walk The Line.

"We had a bit of spare time when we were rehearsing and performing and did a bit of playing and a bit of singing together," Kemp recalled.

"We were amazed at how well our voices blended - without any effort at all. Then we thought we'd do some songwriting, and that worked just as well. We were coming from the same place, and had similar ideas. It just happened so easily for us."

Singer/songwriter Mike Carr hired them for Walk the Line - that led to a support with Colac and Wallington raised Adam Brand and a deal with ABC Music.

Brand, now signed to BMG in Nashville, sings on their album that was released at Tamworth.
The duo's first single was Blue Collar Night.

More Info - www.mcalisterkemp.com.au
WIN DOUBLE PASS TO CMC ROCKS THE SNOWY
We have a double pass to the third CMC Rocks The Snowy festival at Thredbo on March
5 and 6.

All you have to do is become a family member for just $40.

This entitles you to a pair of passes to both days to the festival - a saving of $200.

We'll also give you a CD by Jasmine Rae, who returns to the festival this year, and U.S. superstar Taylor Swift who performed Thredbo last year.

Please email us at music@nucountry.com.au so we can confirm you as the winner before you send a cheque or money order for $40.

Click Here for full details at our membership page.
WIN ROSANNE CASH CD
We also have Rosanne Cash's acclaimed new EMI CD The List - new versions of classics from a list given to her by late father Johnny when she was 18 in 1973.

Guests on the Cash collection include Bruce Springsteen, Elvis Costello, Jeff Tweedy and Rufus Wainwright.

Cash's second husband John Leventhal produced the CD for Manhattan Records.

It features songs dating back to the Carter Family, the Hanks - Williams, Snow and Cochran - Harlan Howard, Merle Haggard and Bob Dylan.

We'll reward your new membership or membership renewal with a copy of the CD - please send us a cheque or money order for $20.

Please email us first at music@nucountry.com.au as stocks are limited.
WIN DIERKS BENTLEY CD

EMI Records has provided Nu Country TV with Arizona born Dierks Bentley's fifth chart topping CD Feel The Fire.

Bentley won an enthusiastic following on his debut Australian tour in May with superstars Brooks & Dunn.

Dierks, 33, has scored seven #1 hits since leaving Phoenix for Nashville as a teenager.

The singer has broadened his music by including bluegrass - featuring the famed McCoury family - on albums dating back to his indie debut Danglin' Rope.

He has also recorded duets with prolific Grammy winner Alison Krauss and Texan chanteuse Patty Griffin.

Win Feel The Fire by becoming a member of Nu Country or renewing membership.

It only costs $20 including postage.

Please email us first at music@nucountry.com.au

We will then send you the CD on receipt of your cheque or money order made out to Nu Country Music.
WIN SLIM DUSTY CLASSIC BOX SET
We have more good news for viewers - EMI Records has given us an invaluable collectors' item - a brace of the 4 Box sets by late Australian country legend Slim Dusty.

Sittin' On 80 features a lost, classic track discovered by Slim's widow Joy McKean.

Joy found Give Me Room from a 1997 recording at their home studio Columbia Lane.

It was written by one of Slim's favourite writers John Dohling - outback station hand and good mate who passed away in November last year.

Sadly he never heard the final version of Slim's recording of his classic trucking song.

It has now been released as a single and included on Sittin' On 80.

Slim's legendary Travelling Country Band played on the song that has been digitally re-mastered by Australia's mastering guru Don Bartley.

All you have to do to win Slim's 4 CD Box set is become a member of Nu Country TV or renew your membership.

It only costs $20 and includes postage.

Please email us first at music@nucountry.com.au

We will then send you the CD on receipt of your cheque or money order made out to Nu Country Music.

TAYLOR SWIFT FEARLESS CD OFFER
Universal Music has donated copies of teen sensation Taylor Swift's huge selling second album Fearless to Nu Country TV.

Viewers who become members or renew their membership for just $20 can win the Fearless CD.

Swift, 19, played capacity audiences on her Australian tour in March and returns here in February.

Please email us at music@nucountry.com.au with your pledge.

Important note - please email us first.

Don't send membership cheque until you have been confirmed as the winner.
WIN FELICITY CD
Multiple Golden Guitarist winner Felicity Urquhart returned to Nu Country TV as hosts during Series #12, beginning in June.

You can win autographed copies of Felicity's sixth album Landing Lights, available here in shops on Shock.

All you have to do is become a member of Nu Country TV or renew membership.

It only costs $20 including postage.

Please email us first at music@nucountry.com.au and let us know which CD you would like.

We will then send you the CD on receipt of your cheque or money order made out to Nu Country Music.
WIN CATHERINE BRITT CDS
MIKE BRADY TOO
We have Catherine Britt's third CD Little Wildflower for viewers who wish to become members or renew membership.

Catherine, Adam Brand and Mike Brady were among artists who donated their talent to the Whittlesea Bushfire benefit on Saturday April 4.

Brady donated autographed copies of his Country To Country CD to viewers who become members or current members who renew their membership.

Mike was also a VIP guest host of Nu Country TV during our eighth series.

So for your $20 membership you can win Mike's CD Country To Country or Catherine Britt's Little Wildflower CD.
WIN JASMINE RAE & STEVE FORDE CDS
We also have the following CDS for viewers who email our web page and pledge $20 membership at music@nucountry.com.au

Telstra Road To Tamworth winner Jasmine Rae's debut CD Look It Up.

We also have Steve Forde's fifth album Guns & Guitars.