DAVE'S DIARY - 11 JULY 2008 - RYAN BINGHAM
RYAN BINGAM - RODEOS AND RATTLIN' BONES
"I've been to California and North Carolina/ hung with the hippies in Austin and the cowboys in Mexico/ I've laid up in Fort Worth with beautiful ladies/ hitch hiked on down 281 and the rodeo in San Antone." - Bread And Water - Ryan Bingham.

The CD slick for Ryan Bingham's fourth album Mescalito depicts him sitting on the white line in the middle of a badlands road.

But the former rodeo rider, who spent a decade on circuit in Texas and New Mexico, is more a frenetic white liner than some MOR maverick.

At just 26 the singer-songwriter, unlike many peers, didn't google his geographic and historical roots.

Bingham is well qualified to write and sing about life in the badlands north and south of the border.

He hit the rodeo circuit early in his teens after moving from town to town.

Bingham was born across the New Mexico border from Texas in the boom-and-bust oil town Hobbs.

His grandfather was a cattle rancher and once owned 72 square miles, stark as a Coen Brothers movie set, between Hobbs and Carlsbad.

Bingham's family lost the ranch amid a money dispute and would soon see more bust than boom.

His father became a roughneck, an old-fashioned oilfield worker who chased work, first to Bakersfield, California, then to Texas - to Midland, Odessa, Laredo.

So it's no surprise Ryan mined the motherlode of music from way beyond the famed limestone and phosphate caves of Carlsbad to arid unforgiving dirt plains of the West Texas Panhandle.

"I grew up listening pretty much only to the older stuff," Bingham revealed in a recent interview on the eve of his August tour of Australia with Kasey Chambers and Shane Nicholson.

"My family had a ranch between Hobbs and Carlsbad, and on the side my uncle had a bar called The Halfway Bar, and I'd listen to all these old records from the 60s and 70s on the jukebox there. I lived with him for a while when I was little, and all he did was listen to those old records - Bob Dylan, Bob Wills, Marshall Tucker. I never related to anything that was on the radio when I was a kid back in the '90s."

But it was the rigors of the road with his dad that fuelled his wanderlust and writing.

"We lived in so many different towns and even when we stayed in one town, we'd move to different houses," Bingham added.

"Something would happen, the bills wouldn't get paid and we'd get evicted. After a while, I'd get to where I wouldn't even unpack my stuff. My parents were great people, but they lost control, lost their grip on the world and went spiralling down and crashed. Me and my sister either had to go down with 'em or we had to get up on our own feet and make our own way."
DOLLAR A DAY
"And all of my brothers are jumping on planes/ and going off fighting in wars/ over on desert shore/ fighting for my freedom and a little bit of oil/ and it sure does cost a lot of money to live in the land of the free/ I think I'll go plant me a seed/ and grow a marijuana money tree." - Dollar A Day - Ryan Bingham
Bingham says his parents "were not mean people. They just couldn't get it together."

One day, he came home and slumped on the couch.

The TV wasn't working but something underneath the set caught his eye. It was a mirror topped with a pile of cocaine.

"I thought: 'Well, no wonder the electricity got turned off again,' " he said.

Before his 17th birthday, he dropped out of school, where he'd grown tired of being the new kid in a small town, and left home for good.

"It just wasn't working out," he recalled.
He was befriended by a group of Mexican boys who introduced him to jackpot bull rides.
His uncle had ridden bulls professionally and imparted tricks of the trade, including the ability to sense how close he could get to the edge before he had to jump free of an animal.

Until then, Bingham had ridden only smaller steers in the bull-riding equivalent of Little League.

Now he was graduating to the real thing, bulls that could easily weigh more than 2,000 pounds - "beasts," Bingham quipped, "who will stalk you down."

In the next few years, he rode hundreds of bulls in Mexico and Texas.

Ryan broke both legs, one wrist and the big toe on his right foot three times.

He broke his right hand at least once just hanging onto just hanging onto the rope, leaving him with a permanent growth on the back of his hand.

One night in Weatherford, Texas, a menacing Black Angus named Spanky reared his head violently and crushed Bingham in the face, leaving his top lip hanging from his face and knocking out most of his upper teeth, now replaced with fakes.

Bingham's friends - particularly his prom date, as he had put himself back in high school and the dance was just a few days after the incident - nearly fainted when they saw his face.

He got a kick out of the whole thing.

"It gave me a purpose - something," Bingham said. "Something to drive for."

Still he was often homeless, working odd jobs - shoeing horses, pouring concrete - and sleeping on friend's couches and in the bed of his truck.
LONG WAY FROM GEORGIA
"Sitting in a truck stop/ with my cowboy boots and my guitar/ and I'm living on a tip box/ it was made from cigars/ a long way from Georgia." - Long Way From Georgia - Ryan Bingham.
Bingham's only constant companion was a guitar he could barely play.

His mother, who died recently, had given it to him for his 16th birthday.

It was a little classical guitar with gut strings. Bingham knew one song, taught to him by a crackhead who lived next door at a seedy apartment complex in Laredo.

It was a mariachi-style folk song called La Malaguena: "Que bonitos ojos tienes/ Ellos me quieren mirar." "What pretty eyes you have/ They want to look at me."

Bingham got himself a chord book.

Untrained, he could not pick up the keys or the chord progressions of other people's songs.

So, unlike most musicians, the first songs he played - other than La Malaguena - were his own.

He included the mariachi laced Boracho Station on Mescalito.

Bingham punctuates his parables with diverse shades of love from maternal pull of Other Side and Take It Easy Mama and ruptured romance of Ever Wonder Why.

But the journey ends with desolation in Sunrise and grifters wrenching rural families from their land in For What It's Worth, replete with hidden track.

Ryan and his band - Living Dead Horses, augmented by studio guests - inject suffice mandolin, harmonica, fiddles, banjo, lap steel and cello to ensure his vocals surface without aural distraction.

DESPERADO ON A COCAINE TRAIN

"I've been a desperado in West Texas for so long/ I need a change/ for ten long years this old place ain't seen a drop of rain/ and that wind blows every day cold like a desert snow/ like a lost bound train, running on cocaine/ and out of control." - South Side Of Heaven - Ryan Bingham
Bingham's ascension to the rodeo circuit followed in the dusty slipstream of fellow singers diverse as the late Chris LeDoux, Moe Bandy and Red Steagall.

It was on the circuit that he wrote South Side of Heaven.

"I was still rodeoing, living in this trailer house with a couple of roommates, sitting in the living room one afternoon and kind of just reflecting on my life a little bit and the song came out," Bingham recalled.

The song was born of anger and abandonment and solitude - the very authenticity that those who don't know better have called into question.

It was uncommonly revealing and personal: "Money can't buy my soul, 'cause it comes from a hard-earned place. Losing faith in my family has driven me out of my damn mind."
"I couldn't sing. I couldn't play guitar," he said.

"But that day, it damn near made me cry."

Bingham, still riding bulls, recorded some of his songs in a friend's garage and began hawking recordings while playing on tailgates before rodeos.

Soon, he was booking himself at roadhouses and beer halls, wherever the rodeo circuit took him. He developed a small local following; a couple of his songs even made it on the radio.

Then came a fateful night five years ago, when he mistakenly booked a rodeo in Brownwood and a bar in Dallas - almost 200 miles apart. The choice, he said, was evident.

"I was lost. Broke. Playing guitar was my way out," he said.

"When I wrote these songs, I was just venting. And then when I played and people liked it? And wanted to pay me money to do it? Well."

Bingham dived into his music, studying his guitar, playing small clubs across the West, busking for tips and recording several versions of his songs.

Bingham put some of his growing backlog of compositions on tape - which led to the release of three self-released, no-budget CDs including 2005's Wishbone Saloon and Dead Horses.

He scraped together enough money to cut a polished album in Nashville - a little too polished, though a small label began to distribute it in 2006.

Bingham hated the recording. So did his band.

"It didn't sound like Ryan," said Matthew Smith, his drummer.

"It sounded like what somebody thought Ryan should sound like."
FROM COWTOWN TO CALIFORNIA
"Here I go again straight up out the motel/ hocked my guitar out of a pawnshop jail/ but if I quit I'd miss rolling the dice/ I couldn't pass up the red beans and rice." - Sunrise - Ryan Bingham.
Bingham, now lives in Topanga in California but has fond memories of his days in Cowtown - Fort Worth.

"When I moved up near Fort Worth, there was kind of a local scene with all these bands playing in the local honky tonks and a lot of these guys were young guys, not too much older than I was, and I just kind of related to the lifestyle and the music and started kind of writing songs of my own," Bingham said.
Bingham had written enough songs for an album, a lot of which revealed way more about his life than he ever planned.

"Some of them are a little too personal," he said.

"I didn't realise what I was doing, really putting my entire life out there on a platter, but it's kind of out of my control. It's hard for me to perform songs that I don't care about or feel.

It's cool that I'm doing a few happier songs now because things are coming around in my life. I have kind of a different outlook now."

But he won't forget the bovine bravado of the Lone Star state.

"I was driving all night to ride a bull who'll knock your teeth out on every jump, then sleeping in back of your truck in a dusty arena," Bingham said.

"I remember going into a bar in Stephenville, Texas, where a bunch of friends asked me to play a couple songs for them. I went out and got my guitar and the owner said 'you oughta come on in and play now and then.' So I did - I started playing every Wednesday night and people started showing up to hear me play - it was pretty much an accident, I guess."
TERRY ALLEN MENTOR
"Travellin Jones, I've seen the miles/ I've played in every honky tonkin' bar/ behind that chicken wire/ Travellin' Jones, Travellin' Jones/ tell me the secrets of the endless road." - Ghost Of Travellin' Jones - Ryan Bingham.
Bingham's embryonic tunes graduated to barroom jukeboxes and attracted the ear of singing sculptor Terry Allen and his son Bukka who played piano and accordion and harmonised on Ghost Of Travelin' Jones on Mescalito.

Kansas born but Lubbock raised Allen described Bingham as "the legitimate heir to the hard travelling deep knowing likes of Woody Guthrie and Hank Williams."

It's a shame Allen, now 65, who once sang between exhibitions of his sculpture and other artwork at Sydney Opera House, won't be hitching a ride on the tour.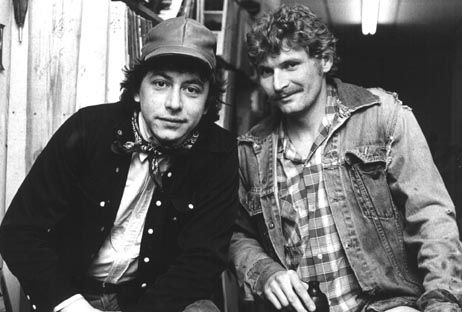 Joe Ely & Butch Hancock
Neither will Joe Ely, who once toured here with Jimmy Barnes when Chris Stockley of Dingoes fame played guitar in his band.

Ely, whose fellow Flatlanders Butch Hancock and Jimmie Dale Gilmore, also toured here last millenium, says Bingham's songs "plant an uppercut to the gut and give a hint that truth is on the run."

Ely, who toured with Bingham, shares similar geographical roots.

"That's a rough-and-tumble world out there in West Texas," said Ely, who grew up in Amarillo and Lubbock.

"It's not a very easy place, even if things are going good. There comes a time when you might either wind up in the pen or you can pick up your guitar and sing your way out.

That's what Ryan did. I could relate to it."

Bingham met mentor Allen when he was invited to play in Marfa, Texas, at a large anniversary party thrown every few years by musician Terry Allen and his wife, Jo Harvey.

Allen had invited Bingham after catching his act at a local club.

It was no ordinary party - Ely, Guy Clark, Butch Hancock, Gilmore and Robert Earl Keen.

David Byrne of Talking Heads, who'd begun collaborating with Ely, was there too.

Everybody had a guitar, and they played until almost 8 the next morning.

Bingham kept pace with his peers.

"It's a pretty serious lineup, and he just kept right up," Ely said.

"That night, we accepted him into the Texas Songwriters Ne'er-Do-Wells - an exclusive club."

Ely, Allen and others took Bingham under their wing, letting him sleep in their guest rooms when he was in town and lobbying for him in the industry.

This helped land Bingham a deal with Lost Highway Records - a Universal Music boutique label also home to Willie Nelson, Lucinda Williams and Ryan Adams.

The first thing Bingham did was buy a new van for his band; the old one had conked out as they had driven into Nashville to sign the contract.
ONE'S ON THE WAY
"It's a crooked man dealing cards to an honest man/ stealing up all his farming land/ it's a damn shame." - For What It's Worth - Ryan Bingham
Bingham is working on the follow-up to Mescalito, scheduled for release early next year.

He hired Marc Ford, who produced Mescalito, for the new disc to maintain the rough-hewn unfinished sound and occasionally imperfect note.

"I didn't want to make the album something it's not," he said.

"Why put something on the record that you can't do live? I didn't want to put expectations way up there in concert only to have people say, 'This doesn't sound anything like the record.' A lot of it was getting songs in one take. It really flowed."

Bingham laughs as he thinks about how similar his concert tours are to travelling on the rodeo circuit. "This is all something I kind of stumbled into," he said. "But touring is kind of like rodeoing - a little less dangerous, I think, but still a lot of time on the road."

Ford, a guitarist known for working with Black Crowes and Ben Harper, first heard Bingham at the King King, a Hollywood Boulevard club.

"I was floored," Ford said. "I believed every single word that he said."

When Bingham walked off stage, Ford was waiting and demanded to take over his recording.

Bingham agreed and they took up residence at the Compound, a recording studio in Long Beach.

Ryan's previous recordings were "Nashvilled out," Ford said.

"By trying to make it better for radio, they were taking something away from it," he said.
Bingham, Ford and the band - also including guitarist-mandolinist Corby Schaub and bassist Elijah Ford, Marc Ford's son - play on the sequel to Mescalito.

"If it's not the best record in the world, well, then that's as good as we are right now," Bingham said.

"It's not going to be anything that it's not. That's the way it should be. Always."
STACY DEAN CAMPBELL BLAZED CARLSBAD-AUSTRALIAN TRAIL
"When I was young my daddy said son/ never be ashamed of where you're from/ there's nothing wrong with your last name/ so don't be looking for people to blame." - Hard Times - Ryan Bingham
But Bingham, who tours Australia in August with Kasey & Bill Chambers and Shane Nicholson, is not the first Carlsbad colt to tour down under.

Stacey Dean Campbell performed in Melbourne with Texan troubadour Hugh Moffatt in the nineties.

Campbell, son of a Carlsbad gospel singer Buddy, scored a publishing contract with Tree and released three albums - Lonesome Wins Again (1992) and Hurt City (1995) on Columbia and Ashes Of Love (1999) on Paladin.

Stacy Dean, 41 on July 27, also released fourth CD Cottonwood, accompanied by a novel of the same name, on Blue Quill in 2004.
The novel is set in Cottonwood, Texas, in 1937 and is the saga of two families bound together by a tragedy and racial injustice.

Stacey scored major airplay on Nu Country FM and recently surfaced on Nu Country TV as director of the Kacey Jones video clips San Francisco Mabel Joy and Lie To Me Darlin' featuring singing Texas born actors Kris Kristofferson and Waylon Payne.

CLICK HERE for Australian tour dates in Tonkgirl's Gig Guide.