DAVE'S DIARY - 20 SEPTEMBER 2008 - JASMINE RAE
JASMINE RAE - FROM FAWKNER TO NASHVILLE
"I'm just a country singer who can't write a country song/ I got my boots and hat like a brush to paint the town/ I got so many great ideas when I go to write them down." -
- Country Singer - Jasmine Rae.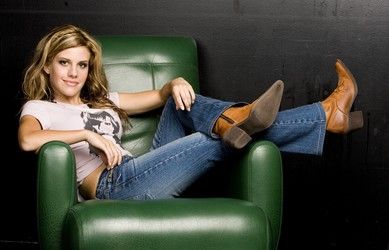 Fawkner singer-songwriter Jasmine Rae had a not so easy decision on the eve of her 21st birthday.

She was forced to quit her day job as a music teacher in Tullamarine to go on the road to promote her Nashville produced debut CD - her prize in her 2008 Telstra Road To Tamworth victory.

So, unlike, local colleagues she didn't have to report to work each day to support her nocturnal labour of love in the pub, club and festival circuit.

"I've just stopped teaching, I was teaching in Tullamarine, it was a little music school and so lovely," Rae 20 told Nu Country TV during a national tour to promote her ABC music CD Look It Up.

"I was mostly teaching singing, I had lots of little students. I recently had to give it up because my schedule was so busy. Before that I did an Advanced Diploma of music at NMIT for two years. It was like a little mini boot camp. It was fantastic. Main teacher was Anthony Schultz who is a great pianist. I met lot of Melbourne musicians during the course.

It was great to get to know them. Now I have a break from teaching."

Rae also has a break from writing songs on piano.

The singer, who began performing at six, finally has a guitar to suit her diminutive stature - 130 cm.

"Most guitars were too big for me," Rae confessed.

"But I got a new guitar yesterday - a mini-Maton - that is perfect for me. It's a travel guitar. It weighs less and is the perfect size. I'm really excited by that - it's my new child.
I did most of writing on piano but I wrote my first song on guitar last week. I was really excited by that."

Rae's album debuted at #3 on the ARIA country chart and #20 on its pop chart despite only scoring ABC and community radio airplay.
BLUEBIRD CAFÉ
"I'm going to write you a love song one day/ but I just don't get my kicks that way." - Country Singer - Jasmine Rae.
Rae was also excited with her trip to Nashville in June that included cutting an album with former Saltbush pedal steel player and expatriate Australian Mark Moffatt and performing at the famed Bluebird Café - locale of the Thing Called Love movie.

The singer took seven of her original songs to the sessions but only included two on her 11-track album.

Country Singer was recorded with Nashville producer Richard Landis in Sydney and Ain't The Same Girl at the Nashville sessions.

She also enjoyed the guest appearance of surfing Californian cowboy singer and chart-topper Gary Allan's pedal steel player C J Udeen on the Sydney sessions.

"We met Gary at the CMC Rocks The Snowy festival at Thredbo and it was organised by Richard Landis," Rae explained.

"He did it on his one day off at the Electric Avenue studio in Sydney."

Most of the recording was with Moffatt at two studios in Nashville.
Moffatt and Danny Parks provided electric guitar and Scot Vestal guested on banjo, Kenny Mims on mandolin and Scotty Sanders on dobro and pedal steel guitar.

"The rest are original songs from these fantastic Nashville writers. Angaleena Presley, who's done some work with Kirsty Lee Akers - wrote the album title track Look It Up with Robert Ellis Orral. She's an amazing writer. I got to meet her and write with her as well on my trip.

I wrote with her in a little publishing room. I thought it would be static but we sat down eating chocolate and writing. It was fantastic but the song is yet to be named."

SHERRIE AUSTIN
"Going 90 miles an hour down a dusty road/ pushing this thing just to see how fast it'll go/ the engine's hot enough to burn up the fuzzy dice/ better put my heart on ice."
- Heart On Ice - Sherrie Austin-Steven Bliss-Will Rambeaux
Rae also organised a writing session with expatriate Australian chart topper Sherrie Austin who penned Heart On Ice for her album.

"She pitched it to me and I fell in love with it," Rae added,

"I'm really excited about it - it was about her heart, a very funny song. She's an idol for other Australians. Writing with her is an inspiration thing. We started the song and you go away and finish it yourself."

Rae performed with Austin and guitarist partner Will Rambeaux, another expatriate Australian hit writer Kylie Sackley (from Port Douglas in Queensland) and Geelong born singer-songwriter Adam Harvey and Mark Wells in an Aussie writers' showcase at the Bluebird.
Austin, a Tasmanian born singing actress reared in Townsville, opened for Slim Dusty and Johnny Cash here at 14.

She found fame under family name Sherrie Krenn as an actress - her roles included female lead to Jason Donovan in mini series Shadows Of The Heart before appearing in the American NBC show The Facts Of Life.

She also appeared in U.S. shows Calls From Space, Exile, Open House, An American Summer and The Fresh Prince of Bel Air.

Austin released one album here before a duo disc as Colorhaus and five solo albums in the U.S.

Former Starmaker winner Sackley has penned a hit for Faith Hill and Leann Rimes top #5 smash Nothing 'Bout Love Makes Sense.

Austin recently returned to the stage for the New York Broadway season of the Ballad of Bonnie & Clyde.
GRETCHEN WILSON COVER
Rae hopes to repeat their success, unheralded in their homeland but well documented in the far more lucrative U.S. market.

She also performed at two other major showcases including Greased Lightning stage at the Riverfront festival and Global Artist Showcase at The Stage on Broadway at the CMA festival.

Rae also caught major stars Marty Stuart at a late night jam and Redneck Woman icon Gretchen Wilson.

She included Wilson tune My Own Thing - penned with frequent David Lee Murphy collaborate Kim Tribble - on her album.

Rae kicks off her disc with the celebratory Pink Guitar - replete with Johnny Cash name check - from the pens of Jamie Murphy, Shaye Smith and Ed Hill.

Other writers include Bekka Bramlett - daughter of legends Bonnie and Delaney and recording partner of Billy Burnett - on As Far As You Know.

Angela Kaset for Did I Just Say That? and Katrina Elam for Can't A Girl Change Her Mind.

Now she is on the road, aided by community and ABC airplay and TV exposure, to promote her album.
CELEBRITY VIDEO
"Never good enough, never good enough/ she's changed everything except her name." - Ain't The Same Girl - Jasmine Rae.
Her first video clip for Country Singer, aired on CMC and soon on Nu Country TV, features a vast cast of TV celebrities.

They include the recently deceased actor Mark Priestly of All Saints, Gyton Grantley (Underbelly), Josh Quong Tart (Home & Away), Abe Forsythe (Always Greener, Tripping Over) Patrick Brammall (Canal Road) and Justin Rosniak (Packed To The Rafters.)

"It was organised by producer Jodie and director Abe Forsyth, also an actor, and set in a Sydney bar. I met all the actors in the bar," Rae revealed.

"We also filmed the video for Look It Up in Sydney but there are no guest artists. It's all me."

It's a far cry from the mean streets of Melbourne where Rae performed with elder brother Matt in her own bands including Jazz Lasso.

At 15 she performed International Womens' Day and in 2004, at 16, performed with the Moreland City Band.
Jasmine sang live with the band in a video of Killing Me Softly and on ABC radio.

Since winning the Telstra Talent quest she also performed the national anthem at the Rugby state of origin match before a 2.2 million TV audience.

She has also been a staple on morning TV shows - a necessity to obviate paucity of commercial airplay.

And, of course, on Pay TV channel CMC and Nu Country TV during Series #11 in summer.