DAVE'S DIARY - 3/6/12 - PREVIEW OF EPISODE 1 - SERIES 18
TOURISTS CARRIE AND DIERKS HEADLINE PREMIERE
Huge selling Oklahoma born Carrie Underwood headlines the Series #18 premiere of Nu Country TV at 10 p m on Wednesday June 6 on the eve of her Australian tour.

Carrie and Arizona raised bluegrass country singer Dierks Bentley, who made his second Australian tour in March, showcase their latest videos on our show - an integral cog in the C 31 winter schedule.

Shooter Jennings, who plans an Australian tour in 2013, also returns with his actress fiancee Drea De Matteo.

And Georgian chart-topper Luke Bryan, being sought for a summer tour, performs his latest video.

Tamworth multi-instrumentalist Lawrie - co-writer of a recent hit by Bentley and local country king Lee Kernaghan - introduces his singing spouse in his new clip.

And former Weddings Parties Anything singer Mick Thomas praised his mother's guitar in a song from his latest album.
CARRIE - GOOD GIRL FOR THE PALAIS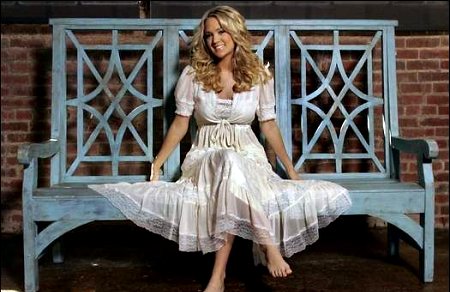 Carrie smashed a raft of records when fourth album Blown Away topped the Billboard all genre Top 200 on debut.

Underwood, 29 become only the second country artist in the 47 year chart history to have her first four albums debut at #1 on the country graph.

Carrie followed Texan born, latter day fellow Okie Miranda Lambert into the record books with sales of 441,000 in three weeks.

Lambert and singing spouse Blake Shelton collaborated on her album but Underwood keeps her expatriate Canadian husband - Nashville Predators hockey star Mike Fisher - on ice.

It's not clear if Fisher will chill out by joining the American Idol winner on her tour that brings her to St Kilda Palais on June 26.

Carrie added a second Sydney Opera House show on July 3 after selling out July 2.

The singer performs the video for latest hit Good Girl - one of eight songs she wrote on Blown Away.

Win Blown Away - featuring three assertive guns and gals' narratives, by clicking here for our membership page.

CLICK HERE for a Carrie feature in the Diary on May 20.

DIERKS - HOME AFTER THE PALAIS
Dierks Bentley and Corryong born tour mate Lee Kernaghan attracted the blues - not just bluegrass and country on their March tour.

Carlton stars Andrew Walker and David Ellard joined the duo and bands backstage at the Palais on March 12.

The AFL stars, injured at the time but now playing key roles in the team's premiership challenge, have openly spoken of their passion for the music of Lee and Dierks in interviews.

They put their words into action by adding offstage praise to their support of a genre ignored by mainstream radio.

Bentley has no trouble scoring massive airplay and exposure at home in the biggest country music market in the world.

The singer performs in the video for the title track of his seventh album Home on this week's TV show.
The song - a major hit - is rooted in reality.

It was the mass murder of six people including Arizona District Court chief judge John Roll and near fatal shooting of U.S. Congresswoman Gabrielle Giffords.

A crazed gunman shot 18 people on January 8, 2011, in a supermarket car park at Casas Adobes near Tucson in Bentley's home-state Arizona.

Jared Lee Loughner allegedly shot Congresswoman Giffords in the head at close range as she chaired a public meeting near a Safeway store.

Home has since been selected as official song of Arizona's Centennial Commission and adopted by President Barack Obama on his play list in the healing process.

Ironically Giffords, who recently retired from congress, underwent rehab in Ashville, North Carolina - same city Bentley recorded his first version of the album including #1 hit single Am I The Only One?

Jon Randall Stewart produced Bentley's bluegrass-Americana album Up On The Ridge and helmed the sessions that created 15 songs.

But, with the exception of the first hit, those sessions were shelved and Bentley cut the album with producers Brett Beavers and Luke Wooten at two studios in Nashville.

CLICK HERE for a Bentley feature in the Diary on February 26.
SHOOTER JENNINGS - DEEDS AND DOLLARS
Shooter Jennings also plans to follow Carrie and Dierks down under in 2013.

So he took a leaf and log from Kermit The Frog's pond to illustrate his latest video clip The Deed & The Dollar.

Jennings, 33, and actress spouse Drea De Matteo starred in the video for the love song on his seventh album Family Man.

Shooter created the song to Drea - star of The Sopranos, Joey and Sons Of Anarchy - from old southern sayings.
But it was a frog - not a dog and snakes - that inspired the video.
"I remembered Kermit The Frog in The Muppets Movie in 1979," Shooter told Nu Country of the movie his father took him to see as a child.

"The very opening scene is Kermit sitting on a log singing The Rainbow Connection - one of my favourite songs of all time."

So director Blake Judd's video starts with Shooter sitting on a log singing a romantic ballad to Drea in the lake at Greensburg, Kentucky.

"I loved that scene sitting on the log. I said to Blake 'I want opening like The Muppets movie with Kermit doing The Rainbow Connection," Shooter revealed of a video that also featured home movies of Drea and Alabama Gypsy Rose.

Shooter played his dad - late outlaw star Waylon - in Johnny Cash movie Walk The Line.

He is also producing a new album for his mother Jessi Colter - fourth wife of Waylon and former spouse of guitarist Duane Eddy.

Shooter first visited here as a 12 year old with his parents during a tour by The Highwaymen.

CLICK HERE for our Shooter interview in the Diary on April 28.
LAWRIE MINSON - RIVERS NOT LAKES
Tamworth singer-songwriter Lawrie Minson was blown away when he heard Bentley and Kernaghan sing his song Scars every night on their March tour.

Dierks and Lee recorded the song - penned by Lawrie, Lee and Matt Scullion - and also made an energised video for it.

And as a guitarist and harmonica player in Lee's band, Lawrie has been performing Scars at every Kernaghan concert for four years after it was included on his eighth album Planet Country.

But Lawrie chose his wife Shelley - not Lee - to join him in the video for his song Rivercat Ride.
Lawrie's aquatic clip is on his third solo album Milestones - released just before the March tour.

The Hired Hands guitarist is no stranger to cameras - with a cameo in 2009 Charlie & Boots movie starring Paul Hogan and Shane Jacobsen.

He also ventured north from Peel St to Wall St in Jason Archer directed video for Too Far Gone on his second solo album Love's Journey.

The four time Golden Guitarist produced Indian singer Bobby Cash - long marketed as "one in a billion"- and has been in Scullion videos.

Their comic clout ensured the clip for their duet on Hard Earned Money was as anthem for young Gigolo gauchos who prey on sugar queens.

It was on Scullion's album Put It Down To Experience.
MICK THOMAS'S MATERNAL GUITAR
Former Weddings Parties Anything singer Michael Thomas is better qualified to sing at the AFL Grand Final than gravy train tosspots from here and overseas.

Thomas's song Monday's Experts is a natural - perhaps in a trilogy with Paul Kelly and Mark Seymour.

The Gippsland born diehard St Kilda fan has bigger magpies, hawks and cats to fry with the release of 20th CD The Last Of The Tourists.

Thomas and Squeezebox Wally with haunting song about his Mother's Guitar - not really a sibling to his big hit Father's Day.

Thomas recorded a brace of albums with Weddings Parties Anything before another five with The Sure Thing.

The singer has also written with country artists diverse as Felicity, James Blundell, Sara Storer and Diana Corcoran.

Thomas and new band The Roving Commission recently did a national tour to promote The Last Of The Tourists they premiered at the 36th Port Fairy Folk Festival in March
CLICK HERE for a Thomas feature in the Diary.
LUKE BRYAN - TAILGATES & TANLINES
Georgian gaucho Luke Bryan returns with the video clip for I Don't Want This Night To End from huge selling third album Tailgates & Tanlines.

The album topped Billboard on debut and has reached platinum status.

In the video Bryan issues safety hints to girls in trays of pick-up trucks - don't come through the back window.

The son of a peanut farmer was raised growing his own groceries and salt curing ham.

He was born in Leesburg and performed in bands at 16 with brother Chris but put college ahead of music after Chris was killed in a car accident.

Bryan remained at home, worked in his family's farming businesses and enrolled at Georgia Southern University, Statesboro.

Luke won acclaim as lead singer in Neyami Road in 1997.

Neyami Road played "two or three nights a week," says Bryan, now 35.

"Everybody split the proceeds at the end of the night. We recorded a CD in Athens and sold two or three thousand copies of it around Georgia Southern. I wrote all the songs on it. It was my first taste at recording."

When he hit Nashville in September 2001 he had his degree in business management and passion for songwriting.

He wrote 10 of 11 songs on his debut CD - his breakthrough as a writer came when Billy Currington recorded his Good Directions and took it to No 1.

Luke recorded the song for his album but dropped it after the Currington smash was a healthy earner.

CLICK HERE for our membership page to win Luke's album Tailgates & Tanlines.
CLICK HERE for a Bryan feature in the Diary.
WIN CAMILLE TE NAHU- STUIE FRENCH CDS AND TICKETS
Acclaimed singer-songwriters Camille Te Nahu and singing spouse Stuie French launch their second CD Big Days & Little Years on their Victorian tour this week.

The duo - key cogs in the careers of peers diverse as Kasey Chambers, Troy Cassar-Daley, Felicity, Beccy Cole and Sara Storey - is making a rare Victorian tour.

And we have copies of the 12 track CD and tickets to their Wesley Ann and Caravan Club Oakleigh concerts on June 8 and 9.

The duo's publicist Leanne Menard offered the prizes to Nu Country TV viewers on the eve of our Series #18 premiere.

All you have to do is email music@nucountry.com.au - stocks are limited so be quick off the draw like Tim McGraw.

CLICK HERE for a feature on Camille and Stuie in the Diary.