DAVE'S DIARY - 20 MAY 2012 - CARRIE UNDERWOOD INTERVIEW
CARRIE CARRIES GUNS IN RHYME
"I pulled out my Remington/ and I loaded up these shells/ he's about to find out/ I'm a dang good shot myself." - Cupid's Got A Shotgun - Carrie Underwood-Josh Kear-Chris Tompkins.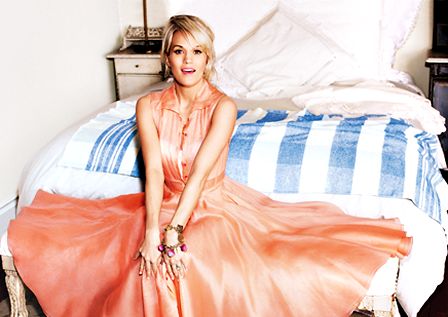 Oklahoma oriole Carrie Underwood is the latest in a long line of country chanteuses to prove power can be blazed in song with a strong arm and aim.

Loretta Lynn used her dukes in Fist City and Martina McBride burned down the domestic abuse villain's home in the Gretchen Peters penned Independence Day.

Texan tearjerker Miranda Lambert turned gun-toting tables in Gunpowder & Lead, Kerosene and Fred Eaglesmith tune Time To Get A Gun.

Fellow Texan Sunny Sweeney and Georgian duo Sugarland also went in to bat for female victims of cheating in Two Tables Away and Stay.

So did Lone Star State trio the Dixie Chicks when they recorded the late Dennis Linde's murderous revenge requiem Goodbye Earl.

Five time Grammy winner Underwood, 29 and happily wed to hockey star Mike Fisher, sourced three songs from guns and the eternal triangle on her fourth album Blown Away.

Carrie's fiery formula worked.

Blown Away uprooted poppies and rappers when it topped the all genre Billboard Top 200 as it sold 267,000 copies on debut.

Carrie become only the second country artist in the 47 year chart history behind Miranda Lambert to have her first four albums debut at #1 on the country graph.

We're overlooking Lambert's first indie album as it had limited release but still sold for more than $300 when floated by retailer Steve Reid at his Yesterday & Today's store in Parramatta.

Sydney is one of the concert locales on the second Australian tour in June by Underwood after a promo visit last year.

Promoters Rob Potts and Michael Chugg and Sony Music are selling the American Idol winner as a crossover artist to leap the myopic mainstream moats of commercial radio and TV.

It seems the superior eclectic taste of morning TV shows, jump started by a hefty advertising budget, might be the catalyst.

Meanwhile back to the music.

Carrie wrote Cupid's Got a Shotgun with Josh Kear and Chris Tompkins and unofficially features Brad Paisley on guitar.

"She texted and said, 'Will you play guitar on a song?' and I said, 'I'll do my best,' " Paisley recalled.

"They came over and I sat there and played a couple of guitar solos in the song. I had a ball and played some really crazy stuff, and I said, 'Well, I just killed this song's chances of being a single.' "
BLOWN AWAY
"Dry lightning cracks across the skies/ those storm clouds gather in her eyes/ her daddy was a mean old mister, mama was an angel in the ground The weatherman called for a twister/ she prayed blow it down/ there's not enough rain in Oklahoma/ to wash the sins out of that house/ there's not enough wind in Oklahoma/ to rip the nails out of the past." - Blown Away - Josh Kear-Chris Thompson.
Underwood is not fazed her title track may be too realistic for U.S. radio.

Carrie was drawn to Blown Away because it tells a compelling story.

"It's so visual and it's such a country story," she says of the lyric that tells of a daughter locking herself in a storm cellar while her alcoholic father is passed out on the couch in the path of a tornado.

"It's such a visual song. You listen to it and you can see everything that is happening.

It's so dramatic. I'm not a drama person, but when you can make a movie in song form in three-and-a-half minutes, it's surreal."
Underwood emulated recent tourist - Arizona born Dierks Bentley - by writing 70 songs for her disc.
But, unlike Bentley, she didn't record and then dump an entire album.

Instead she married in the recording hiatus that almost reached three years and had plenty of time to decide what hit the cutting room floor.

She co-wrote eight of 14 songs on the disc including current single Good Girl and Good in Goodbye that she wrote with Ryan Tedder and Hillary Lindsey.

"I'm the kind of person who needs to switch things up and try new things," Underwood revealed on the eve of her tour.

"So I changed the way I wrote and I changed the way I recorded and took a little time to miss it and hopefully for people to miss me a little, as well. I kept hearing, 'you don't need to be away from radio this long. What are you thinking? Haven't your people told you that this is going to ruin your career?' I was like, 'calm down.' It's nice to not be in a cycle. I had to switch it up. I had to say 'I want to take a little time. I want to be married.'"

Her 2005 debut, Some Hearts, sold 315,000 in its first week, kept out of #1 on Billboard 200 by Madonna's Confessions on a Dance Floor.

Her second album Carnival Ride moved 527,000 units when it debuted in 2007 and Play On sold 318,000 in its first week in 2009.

Blown Away posted best first-week sales of any country album in 2012.

Carrie sold more than 14 million albums, 14 No. 1 singles and earned a vast vat of industry awards since winning the fourth season of American Idol in 2005.
TWO BLACK CADILLACS
"Two black Cadillacs driving in a slow parade/ headlights shining bright in the middle of the day/ one is for his wife, the other for the woman who loved him at night/ two black Cadillacs meeting for the first time." - Two Black Cadillacs - Carrie Underwood-Josh Kear-Hillary Lindsay.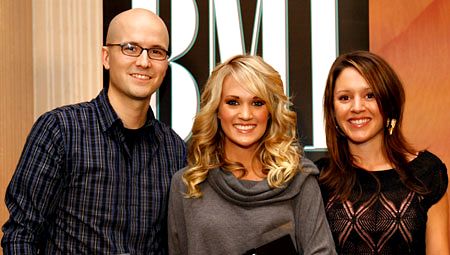 Luke Laird, Carrie Underwood, Hillary Lindsey
Underwood doesn't shy away from her strong suit - jangling the eternal triangle she shook a few moons back in Before He Cheats.

In Two Black Cadillacs the wife contacts the mistress and they secretly conspire revenge by killing the cheater who shares their beds.

It's not a murder ballad so much as a revenge celebration in the vein of Dennis Linde song Goodbye Earl that became a hit because of its video starring NYPD star Dennis Franz.

"Before you knew it, we had this soap opera going on," Carrie recalls of writing the song with Josh Kear and Hillary Lindsey.

"We don't really say how they do it. It still leaves a lot to imagination. And they meet for the first time at the funeral. It was hard. It was like, how do they meet? How do they know about each other? How do they kill him? Working all of that out was really fun. It's just more drama. It was so fun writing that song. Obviously people know it's not my life. I try not to over-think it. If I had a whole album full of songs like that it would be like, 'what is she trying to say here?'"

Carrie has a powerful vocal range that exploits rage and fury in uptempo songs and poignancy in evocative ballads.

And she's indebted to Georgian collaborator Hillary Lindsey, 36, for firing up that vocal vehicle with bio-diesel dream fuelled songs on Blown Away.

"She's got as many as I do on this record," Underwood conceded about Lindsey who has also written #1 hits for Faith Hill, Martina McBride, Taylor Swift, Lady Antebellum and Sara Evans.

"She's got eight, and I have eight. I think we're tied for most cuts on this album."

So what is the conduit between the two writers?

"She's a wonderful person," Underwood said of the singer whose #1 hits for Carrie include Grammy winner Jesus, Take The Wheel, So Small, Wasted and Just A Name.

"She's so much fun to hang out with, and she's fun to write with. She's another strong female writer. There are so many guys that write songs for women, and they do it well but to have another female in there that knows how a female would say something? And to have a range like I have to be able do these melodic things? She knows what I would sound good on. I can hear myself in things that she sings."
THANK GOD FOR HOMETOWNS
"Thank God for hometowns/ first kisses and touchdowns/ thank God for the county lines that welcome you back in/ when you were dying to get out/ thank God for Church pews/ and all the faces that won't forget you."
- Thank God For Hometowns - Luke Laird-Ashley Gorley-Hillary Lindsey.
Thank God for Hometowns may be perceived as a sibling song of sorts of Lambert's Famous In A Small Town but has vastly different roots.

"Well it's one of the songs kind of marks a moment in my life," she said of a tale she heard on a trip back to her tiny hometown Checota where she was born Carrie Marie Underwood.

"I know I heard it before I took this road trip but I was going back to Oklahoma to visit my parents and go to my high school reunion, and I ran off everything we'd been working on onto CDs so I'd have something to do on the nine-hour drive with my dogs. I listened to it and Thank God for Hometowns was really just everything I was feeling at the time. You know, just going back. And my parents still live in my hometown so I get to go back quite a bit, but that one was just making a trip, and I got to roll my windows down and just take it all in and enjoy that song. It marks a time in my life."

Cars have long been cool conduits for road testing songs.

"The car is that place that everybody will hear your stuff," Underwood said.

"Even if they buy your CD or they don't, in the end, somewhere along the way, they're still gonna hear everything in their car. So that's just a great indicator of what something is going to sound like and how it's going to translate. And even after I've recorded stuff, I want to go hear it in my car first before I can really sign off on whatever mix or edit is going on. I get so excited when I hear something that I like, obviously. And even if I hear something on my computer the car's the real test. I get so excited thinking about how it could be mine."
GOOD IN GOODBYE
"As bad as it was, as bad as it hurt/ I thank God I didn't get what I thought that I deserved/ sometimes life leads you down a different road/ when you're holding on to someone that you got to let go/ someday you'll see the reason why/ yeah someday you'll see the reason why there's good in goodbye." - Good In Goodbye - Carrie Underwood-Hillary Lindsey-Ryan Tedder.
Underwood's latest single, Good Girl, cracked the Top 10 with different type of bullets.

The singer warns her subject to dump her dude before he burns her.

It's accompanied by a video that will feature in Series #18 premiere of Nu Country TV on Wednesday June 6 at 10 p m on C 31.

"We just had fun with it, rocked out and had a fun day," Underwood said of the video.

"We had some great shoes. I don't even know who designed them. I was changing my clothes every 20 minutes. We definitely had some good clothing options."

Good in Goodbye utilised the word good in a vast contrast - echoes of So Small her inspirational 2007 hit.

"I feel like everybody can relate to this in some way," Carrie revealed of the song source.
"You have those people in your life that were such a huge part of your life at one point. And you love this guy or this girl or whatever, and at the time, when it all ended, it seemed like the worst thing in the world, like you were never gonna recover. Now my life is wonderful and I have this perfect husband and we have this great life together and if it had worked out the way I wanted it to years ago then I wouldn't be here. I never would want to mess with anyone's life at this point. I feel like as a writer every song is loosely based on somebody or very not loosely based on someone. But I don't know. I would never do that to somebody. The whole point of that song especially is that your non-involvement now is awesome, and they've moved on and I've moved on and thank God we both did because our lives are so much better."
FOREVER CHANGED
"She remembers the nights he'd come calling/ his yellow-silk tie/ in love she saw him falling for her in the fire of July/ then one day as the nights grew longer/ Blackberry winter in a little white church/ stood a young pretty bride." - Forever Changed - Tom Douglas-Hillary Lindsey-James T. Slater
Carrie is more comfortable as a songwriter since her early days on Music Row.

"I definitely feel more confident being able to share my own ideas," she says of collaborating.

"I'm not afraid to sound stupid anymore which is always the biggest hump to overcome in the beginning. I also don't put that much pressure on myself to write everything. I don't think it's necessary. There are the best songwriters in the world right here in Nashville and I feel like I'd be doing myself disservice, my album a disservice, and my fans a disservice to ignore that. It would be easy to sit down and write the whole album by myself, but it wouldn't be the best album that it could be. I feel like we took things in a lot of different directions, things that are new for me, that darker, heavier tone, a little more dramatic. We also do some songs that are really really organic and sweet, Just groovy songs. The only plugged in instrument on a couple of them is the bass guitar. And then we get a little redneck in the end."

So it was easy to choose poignant ballad Forever Changed, written by Tom Douglas, Lindsey and James T. Slater, and inspired by a mother-daughter relationship.

"That is the most wonderfully well-written song I've ever heard in my life. Just thinking about it just gets me emotional," Carrie revealed.

"There's this young girl meeting the love of her life, getting married and having a baby. It takes you back in time and there is something old fashioned about it. I had a hard time recording it. I still have a hard time listening to it. I've listened to it quite a bit and it still gets to me. When I was recording it, it was a fine line in being in the studio pouring my heart into, but still trying to think about what I needed to buy at the grocery store later, because if I really actually listened to myself I'd have to cut out mid-song and we'd have to start all over again. It was hard and we've done rehearsal lately, getting the band to know it and I have not been able to make it through it yet."


GOOD GIRL - BEWARE
"Hey, good girl, you got a heart of gold/ you want a white wedding and a hand you can hold/ just like you should, girl/ like every good girl does/ want a fairytale ending, somebody to love." - Good Girl - Carrie Underwood-Chris DeStefano-Ashley Gorley.
Carrie made the most of her recording hiatus to lay foundations for her offstage family success.

Underwood and Fisher started dating in 2008 and wed at the Ritz Carlton Reynolds Plantation in Georgia on July 10, 2010.

She didn't predict Fisher would lead Nashville Predators to the National Hockey League playoffs just as she was about to release her album.

But she won't complain about their collision of careers and self-support.

"I love to watch him play," she said.

"I want him to be happy. I want him to play as long as he wants to play, and he's the same way with me. He's very supportive, but he's not, like, all up in my business."
Underwood has so much faith in her stick-wielding husband she doesn't even worry about him getting hurt on the ice.

"He doesn't get clobbered," she says.

"It's kind of sexy knowing my husband can beat someone up. He doesn't have to, but I know that he can. We knew what we were getting into."

Hockey fans may not stream to her Australian gigs - especially the Palais in St Kilda on June 26.

But Carlton stars Andrew Walker and David Ellard who topped team goal kicking in their recent loss to St Kilda may return to the bayside scene of the rhyme where they caught Carrie's fellow chart topper Dierks Bentley and Lee Kernaghan in March.

ONE WAY TICKET
"Raise your hands in the air tonight/ raise your hands in the air tonight/
push that clock and call it a day/ say adios to the minimum wage/ tell your boss man where he can stick it/ we got a one way ticket." - One Way Ticket - Carrie Underwood-Josh Kear-Luke Laird.
One Way Ticket is not a sibling of David Allan Coe hit Take This Job & Shove It.

It's more of a hybrid of the format Jimmy Buffett exploited before a long handball to Kenny Chesney and Zac Brown.

But Carrie can afford to let down her hair - she says the fact that both she and Fisher were both well into their careers during their courtship helped make their marriage stronger.

"You see a lot of people that were dating or married someone before they were famous and then go through that together, but you didn't sign up for that," she says.

"Some people make it through and some people don't. Mike and I, we knew what we were getting into."

She says his trade to the Nashville Predators from the Canadian Ottawa Senators the February after their wedding "was a pleasant surprise that certainly made life easier."

They had already pledged to make their marriage work with a country between them.

"We knew he lived in Ottawa and I lived in Nashville," she says.

"We built a house in Ottawa, but it was still his house. I didn't try to throw in much input on what it looked like, because I wasn't the one that was going to be there all the time. I'd throw in, like, 'It'd be great if I had some closet space.'"
2 DOG NIGHT IN CARRIE'S BED
"That first cold September night/ you were the blanket holding me tight/ you were kissing me and the years stood still/ you said we don't have to, I said I will, yeah/ we ran in when the thunder came/ you told me sugar melts in the rain/ don't want to watch our love go to waste/ so we ran inside 'fore it was too late." - Do You Think About Me - Cary Barlowe- Hillary Lindsey-Shane Stevens
Underwood won't be acting out sentiments of American rock band 3 Dog Night who took their name from an outback metaphor for chill when she tours here.

But when Fisher moved into her house he ended up having to adapt to his wife's canine comforts.

For him, that meant no deer heads unless they were wooden on the walls, and he has to share the bed with their dogs, Ace and Penny.

She said Ace was "there before he was," so Fisher understood that Ace's spot on the bed was non-negotiable.

Then the couple got Penny, and Underwood says her husband attempted to put his foot down.

"He's like, 'She's not sleeping in bed with us. We're not going to start that with this one,' " Underwood recalls.
"A month, that lasted. He knows when to concede. He wants to make me happy and if the dogs sleeping in the bed with us makes me happy, then."

Underwood knows her time for compromise is on the horizon.

The couple plan to build a house together and she says they'll "have to find a way to make us both happy."
WINE AFTER WHISKEY
Now everything's after you is like having wine after whiskey/ it went from do anything for you babe to you don't even miss me/ once you've tasted a love that strong you can't go back/ and you can't settle on anything less/ and that's what gets me/ it's like having wine after whiskey." - Wine After Whiskey - Carrie Underwood-Dave Berg-Tom Shapiro.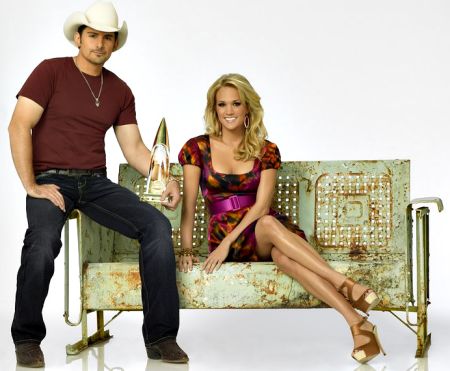 Underwood can afford to chance her arm in Australia and other countries.

She scored a No. 1 country duet hit with West Virginia born Brad Paisley with Remind Me.

"Brad Paisley has always been really great to me, and that's no secret," the singer revealed.

"Being on tour with him is like this is what I want to be like to my people when I'm on tour someday. He's just a great guy and somebody I know right now if I needed advice on something musically or something that's going on in my career or whatever I could call him up and ask him and he'd totally be cool about it and give me good advice."

She sang with iconic octogenarian crooner and recent Australian tourist Tony Bennett on his Duets II album.

That led to a memorable Grammy performance of the classic It Had to Be You.

The singer also proved she and the Twain can meet by ending her disc with Mutt Lange penned Who Are You?

Carrie has also published her memoirs Some Hearts with Nashville writer Vernell Hackett.

CLICK HERE to see how you can win a copy of Carrie's new CD Blown Away on our membership page.

CLICK HERE for Tonkgirl's Gig Guide for all tour dates.

CLICK HERE for a previous Carrie feature in our Diary on January 29, 2007.