DAVE'S DIARY - 27 MAY 2012 - CAMILLLE TE NAHU & STUIE FRENCH
SWEET DREAMS FROM SAMOA
"Tall and tanned they don't get no sweeter/ that picture on the wall tells it all/ Pretty Katalina/ man you should've seen her/ a lavalava and her lei Ukelele she would play/ she had em' beating down the door/ our fafine from Samoa." - Pretty Katalina - Camille Te Nahu-Stuie French.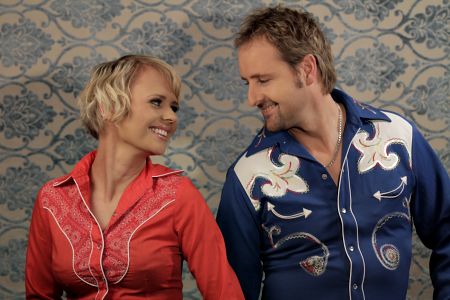 There should be no surprise Camille Te Nahu and singing spouse Stuie French induce idyllic bliss on their second CD Big Days & Little Years.

They both fled islands of different sizes to follow their art.

Polynesian Camille hails from Gisborne on the east coast of the North Island of New Zealand and Stuie from Wynyard on the north west coast of Van Diemen's Land.

Gisborne is on the cliffs of Poverty Bay - first land seen by Captain James Cook when he guided the Endeavour to shelter on October 6, 1769.

Camille, who arrived in Australia in 1999, may not have been there for that momentous occasion.

But she dips her pen into more recent history in the duo's song Pretty Katalina about her grandmother whose ancestors may have waved to the good captain when he passed by Samoa.

It's unlikely French's forebears reached Wynyard until a few centuries later.

But the windswept town did produce former Geelong footy star Scatcher Neal.

It was also home to Warrnambool born country and rock icon and latter day Anakie luthier Dan Robinson of Wild Cherries and Hit & Run fame in his era as a cultural ambassador for the state.

I can vouch for the wind after a stint in 1968 playing for Burnie against Wynyard while running the Burnie bureau of the Launceston Examiner.

Maybe I digress.
BEVERLEY STILL BRINGS JOY
"Beverley Joy/ you looked like a beauty queen/ those ol pictures I've seen
You sure were pretty in your day/ I saw you at the flower shows/ bringing the prizes home/ and you had six kids along the way." - Beverley Joy - Camille Te Nahu-Stuie French.
Stuie and Camille wrote Beverley Joy about his family matriarch and mother of six.

Although Camille never met the song's subject she has plenty of visual memories in the duo's video clip includes homegrown footage in the French family home.

We'll share that Duncan Tombs directed clip with you during our 18th series that begins on Wednesday June 6 on C 31.

"Beverley Joy was the first song we ever wrote together back in 2007," French recalled.
"Camille never got to meet Mum as she passed away before we met."

French captured plenty of video footage of his Mum back in the eighties in their family home.
"So in this song, we're having a conversation with her and saying what a good job she did of raising six kids," French revealed.

The duo recorded its album, with French's production tutelage at Rancom St studio in Botany in June last year.

Session serfs include fiddle Mick Albeck, pianist Bill Risby, bassist Dave Ellis, drummer Doug Gallagher and Garry Steel on piano accordion.

The duo wrote 10 of the 12 songs that permeate South seas flavour with a little help from Chuck Morgan on ukulele and executive producer Michel Rose on pedal steel.

They do a cover of Texan troubadour Sam Baker's Waves.

And they resurrect The First Time - penned by Fred Koller who wrote Pinkard & Bowden parody Guns Made America Great - and recent Aussie tourist Danny O'Keefe.

Camille enjoyed a dose of Texas culture when she performed on Austin City Limits with Kasey Chambers and also toured the U.S. with famed Feral Swing Katz.

And she cut a self-titled indie solo album in 2002 after touring with Gina Jeffreys and Rick Price.

She also performed on Kasey ARIA chart topping hit Not Pretty Enough and sang backing vocals for multi-award winning artists, Troy Cassar-Daley, Beccy Cole and Sara Storer.

Camille graduated to cutting her debut duet disc with French - Not Without You.

That included a powerful version of Texan Eliza Gilkyson tune Walk Away From Love and Love You Like The Earth by another expat Van Diemen's Land export mentor Audrey Auld Mezera.

French, who supported Merle Haggard on his 1996 Australian tour with Troy Cassar-Daley, wrote Ode To Roy and Chet as tribute to Haggard's late guitarist Roy Nicholls who died @ 68 in 2001, and Chet Atkins.
FAMILY TREE SPROUTS
"Like a drooling puppy he follows me round/ if the nappy needs changing he can't be found/ he never puts the toilet seat down/ but he's learning/ she drives the car like it's a rocket/ whatever she needs Ebay will stock it/ And money burns a hole in her pocket/ but she's learning." - Learning - Camille Te Nahu-Stuie French.
That's all history - how about the next generation?

Well, they named their son Chet after the late legend Atkins.

And, on this disc they wrote several songs including first single Things Change about the challenges facing Chet and other children.

"It feels like yesterday when we had our first son Chet, and now he's seven years old," they reveal.

"This song is a reminder to make the most of every day with your loved ones because life can change so quickly."

They reached back a little further for Little Years.

"It was the night before Chet's fourth birthday and we were reflecting on what a great year we'd had with him and how much we were enjoying this time in our lives," Camille said.

"Stuie, being the sentimentalist jotted down these words, and two years later we wrote the bridge to finish the song. Every day the words in this song become truer. We might get a Kleenex tissues endorsement out of this one!"

But it was a pre-marriage think tank that inspired Learning.

"It's a tongue in cheek standard hillbilly issue - a fun look at the trials and tribulations of a relationship, and this time it's ours," Camille said.

"The idea of the song came after a pre-marriage counseling session. In that session we had to find three things that we did not like about each other. The results were quite amusing, and that night we wrote this song. Thank you Minister!"
GONE FOR ALL MONEY
"Her Daddy's gone, gone for all money/ Cos' that little baby girl she's sweeter than honey/ from her big brown eyes down to her little boots/ She's not quite one but she's ruling the roost/ I wonder if our baby thinks it's funny/ her Daddy's gone, gone for all money." - Gone For All Money - Camille Te Nahu-Stuie French.
French changes gears from South Pacific to western swing for Gone For All Money.

It's a reflection of his era with the Feral Swing Katz when he started his own studio Swingin' Doors.

A phase where he co-produced Felicity's swing driven New Shadow disc and Camille's 12 track self-titled disc.
"Two boys and then a baby girl - say no more," Camille says of the gender balance in their family.

"Daddy got his little wish and our daughter has him right where she wants him."

Such parental bliss also fuelled the lullaby New Day but not Choices - a vastly different theme to the Billy Yates song that became a big hit for ailing Texan legend George Jones.

"A friend's son tried to take his own life and it really hit home for us," they both reveal.

"Who knows, one day we could be in the same situation. So now is the time to help your children build the strength and confidence to tackle this big world."

Time and money constraints and radio hostile wasteland in this carbon tax challenged era means few chances for the couple to perform as a duo south of the Murray Dixon Line.

But they have made an exception when they showcase their album at the Wesley Anne hall on Beer Can Hill in Northcote on June 8, Caravan Club Oakleigh June 9 and Harvester Moon Cafe at Bellarine next to Bellarine Estate south of Geelong on June 10.

CLICK HERE for our membership page to see how to win Big Days & Little Years and double passes to the Melbourne concerts.