DAVE'S DIARY - 26/1/09 - PREVIEW OF EPISODE 8 - SERIES 11
TOURISTS HEADLINE NU COUNTRY TV
Nashville superstars Brooks & Dunn and fellow chart topper Dierks Bentley headline Nu Country TV this Saturday - January 31- at 8 p m on C 31.

The duo is making its return tour of Australia in May with Arizona born singer Dierks Bentley.
Former Canadian rodeo rider Corb Lund also performs on Nu Country on the eve of his performance at the CMC Rocks The Snowy Festival at Thredbo on March 6 and 7.

Expatriate Canadian Wilf Montan debuts with his insight on the Tamworth Country Music Festival.

Explosive Texan singer-songwriter Miranda Lambert also returns with her video clip for her hit Gunpowder & Lead.

Former Mascot accountant-singer Amber Lawrence also returns to the show on which teenage Caboolture singer Sinead Burgess makes her debut.

Lawrence and Burgess also join the bill at the CMC Rocks The Snowy fest.

CLICK HERE for full details on TonkGirl's Gig Guide.
BROOKS & DUNN PUT A PRESIDENT IN IT
"Sun coming up over New York City/ School bus driver in a traffic jam/ Starin' at the faces in her rear view mirror/ Looking at the promise of the Promised Land/ One kid dreams of fame and fortune/ One kid helps pay the rent/ One could end up going to prison/ One just might be president." - Only In America - Kix Brooks-Don Cook-Ronnie Rogers.
Nashville superstars Brooks & Dunn have God and U.S. President Senator Barack Obama on their side on the eve of their second Australian tour in May.

Obama used Only In America, written in Brooks' barn, as the entrée for his historic Democratic National Convention speech in Denver last year.

"Seems ironic that the same song Bush used at Republican Convention last election would be used by the Obama and the Democrats now," Kix Brooks quipped.

"Very flattering to know our song crossed parties and potentially inspires all Americans."

Brooks & Dunn appeared with George Dubya during his 2004 re-election campaign, which used Only in America.
"Bush wasn't the only one who used it," he said. "John Kerry used it too. He played it at the Democratic convention in 2004 also."

The song was inspired by the writers' desire to express their appreciation for America.

Cook said there was no partisan approach to the songwriting process.

But it's a different video for recent hit Put A Girl In It - featured on Nu Country this week.

Brooks & Dunn are touring here in May to promote big selling 10th album Cowboy Town that has pushed career sales beyond 30 million in less than 20 years.

They also released their book The Adventures of Slim & Howdy in May last year.

That was just before cancelling concerts Ronnie Dunn suffered "a severe respiratory condition."

The duo has since made new video Cowgirls Don't Cry with Okalahoma born singing actor and TV-Broadway star Reba McEntire who has also toured here twice.

They topped charts together with former rodeo barrel racer Reba more than a decade ago with their hit If You See Him/If You See Her.

They debuted their cut of Cowgirls Don't Cry live at the 42nd Annual CMA Awards in November.

"I had just spent time writing the song on Reba's Duets record, Does the Wind Still Blow in Oklahoma, and when he sat down with Cowgirls Don't Cry co-writer Terry McBride," Dunn said. "I was thinking of Reba when I wrote it and how she grew up" around cowboys and the rodeo lifestyle."

CLICK HERE for a Brooks & Dunn live review from The Diary on March 5, 2008

DIERKS BENTLEY - EVERY MILE A MEMORY
Arizona born country star Dierks Bentley, touring here with Brooks & Dunn in May, returns to Nu Country TV this week.

But so far the Phoenix born bluegrass rooted singer hasn't sent us any food rations.

Bentley sent more than 2,000 boxes of Cracker Jack snack food to U.S. country radio stations to promote his latest single, Feel That Fire.
The song's lyrics include a line about a "toy in the Cracker Jack."

Feel That Fire is the title track of Bentley's fourth Capitol Nashville studio album that is released on February 3.

Dierks' last album, Long Trip Alone, picked up four Grammy nominations.

Among fellow artists who've helped on Feel That Fire are bluegrass musician Ronnie McCoury, who did a duet with Dierks; and Patty Griffin and Rodney Crowell, both of whom co-wrote songs with Dierks for the first time.

"Just stepping into Rodney Crowell's house, I felt like I should have done the criss-cross across my chest a couple times, because that's sacred ground," Dierks said.

Bentley's wife Cassidy gave birth to their first child, daughter Evalyn Day Bentley, on October 4 at Vanderbilt Medical Centre in Nashville.

She weighed 7 pounds, 10 ounces.

The couple began dating each other in high school in Arizona and wed in December 2005 in Mexico.

Bentley, 33, performs the video for Every Mile A Memory on Nu Country TV this week.

CLICK HERE for a Bentley feature in the Diary on September 17, 2005.
CORB LUND IN THE CAVALRY
Former Canadian rodeo rider Corb Lund returns to Australia as one of many major artists at the CMC Rocks The Snowy festival at Thredbo on March 6 & 7.

Lund and his band The Hurtin' Albertans are touring to promote fifth album Horse Soldier.

Corb and The Hurtin' Albertans appeared in Hollywood horror movie Slither.

James Gunn directs the movie, starring Gregg Henry, Michael Rooker, Elizabeth Banks, Rheagan Wallace, Brenda James, Don Thompson, Haig Sutherland, Lloyd Kaufman and Jennifer Copping.

"It's every songwriter's dream to be in a horror movie," Lund told Nu Country after shooting a bar scene in a Vancouver honky tonk in Slither.

Lund, 44, lives in Edmunton but was raised on the family ranch at Taber, Alberta, by his parents - a fourth generation rodeo family whose ancestral roots were in Montana and Utah.
The singer, making his fifth Australian tour, performs the video for I Want To Be In The Cavalry, on Nu Country.

Lund will mix pleasure with work when he returns to Jan Juc on Victoria's famous Surf Coast in March to play the rustic Rose Café near the homes of several Geelong footballers including captain Tom Harley and the legendary Gary Ablett Jr.

CLICK HERE for a 2008 Lund concert review by Peter O'Keefe at Jan Juc in our concerts section on March 23, 2008.

CLICK HERE for another O'Keefe review of Corb at the Cornish Arms, Brunswick, on January 31, 2004.

CLICK HERE for a feature on Lund from the DIARY on March 9, 2006.

MIRANDA LAMBERT EXPLODES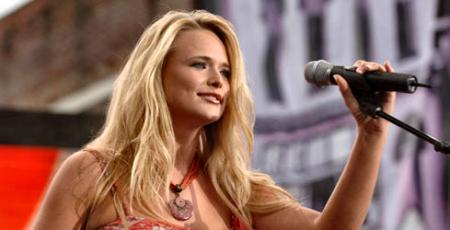 Texan fireball Miranda Lambert is well qualified to earn Hero Of The Year title from the U.S. Field And Stream magazine.

Lambert was cited as a hunter who shares her love of hunting in music and donating game meat to Hunters for the Hungry

So it's fitting she performs a live version of her explosive hit Gunpowder & Lead on Nu Country this week.

The song is from Lambert's award winning third album Crazy Ex-Girlfriend.

We also have the new video for More Like Her that she performed at the 42nd CMA Awards on November 12 in Nashville on the ABC Television Network.

Lambert been writing for her fourth album at home in Lindale, Texas, at boyfriend Blake Shelton's Oklahoma farm and on their joint tour.

"I've been writing for it a lot lately and I'm going into the studio in the wintertime a little bit and finish the record," Lambert recently revealed.

"I'm real excited, but I do feel a little pressure because Crazy Ex-Girlfriend won ACM Album of the Year and got critical acclaim. I try not to think about it, but you can't really help it at some point. I'm not really sure what the next record's going to be like, but so far, it's along the same vein as the other two, which, I guess, is working so far, so I'll stick with it."

Lambert has also received acclaim for dynamic love renditions of her original songs and her recent tour with Shelton.

The singer, just 24, is fiercely proud of her songwriting.

"Songwriting isn't for everybody, I guess, but it comes first and foremost for me," she says.

"It's just always been like that. My dad taught me to play guitar and write songs when I was a teenager, and I do think songwriting is an art."

Miranda cites veteran singer-songwriter-former convict Merle Haggard as her biggest inspiration.

"There are so many talented songwriters in Nashville, and country music in general, so with each record, I try to reach the next level," she said.

"When I hear songs from some of my heroes, like Merle Haggard, I'm still blown away."

Shelton released his fifth CD Startin' Fires on November 18.

The 32-year-old singer/songwriter soared charts last year with a cover of Michael Buble hit Home that features backing vocals from Lambert.

Blake and Miranda also duetted on Bare Skin Rug - a song they recorded at the farm of producer Scott Hendricks.

"He put a couple microphones in front of us at his farm, lit a campfire, and there were crickets. We just played it one time and recorded it," Shelton revealed.

CLICK HERE for a Miranda Lambert feature from the Diary on May 5, 2007.

AMBER LAWRENCE - THE MILE
Mascot accountant Amber Lawrence returns to Nu Country this week with the video of a song inspired by the tragic death three years ago of jockey Sam McCrae at just 16 in a race accident.

Amber, who played the 20th Bunyip country music festival last year, filmed her video clip for The Mile at Randwick Race course.

It was the title track of her debut album

Lawrence returned to Randwick Race Course and performed the national anthem on Melbourne Cup day in November.
The singer has also toured with Chic Frontier - featuring Dianna Corcoran, Kirsty Lee Akers and Aleyce Simmonds.

More info on Amber and the story behind The Mile at www.amberlawrence.com.au

SINEAD BURGESS - CABOOLTURE EXPORT 2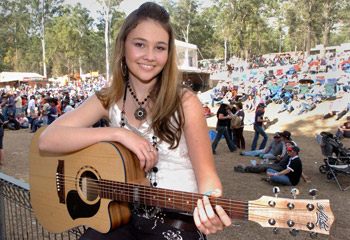 Sinead Burgess has several memorable claims to fame.

She is the second major export from Queensland coastal town Caboolture - launch pad of expatriate Australasian superstar Keith Urban.

"Keith has been one of my biggest influences," confessed Sinead who also performs at the CMC Rocks The Snowy Festival at Thredbo on March 6 and 7.

And, at 17, she was the national support act last year for equally famous U.S. singer-songwriter Don McLean.

Burgess performs the video for debut single You Get Me from an album produced by Garth Porter.

When Sinead graduated from Year 12 at Tullawong High in Caboolture she had to be briefed about Don by her parents, although she knew his signature hit American Pie.

"When I found out I was supporting Don I got the low-down from my mum and dad about him," Sinead said.

"I can name about three of his songs.

"I was learning a little while ago how to play Vincent (Starry, Starry Night) instrumentally."

Sinead, who also plays guitar and piano, won a record deal with ABC Music after being discovered at the 2007 Telstra Road to Tamworth quest.

Burgess has since scored support gigs with fellow Queensland stars James Blundell and Graeme Connors.

Further info - www.myspace.com/sineadburgess
WILF MONTAN - FROM ROCKIES TO TAMWORTH
Expatriate Canadian Wilf Montan was so impressed with the Tamworth Country music festival he wrote a song about his experience.

He also made a video clip for Tamworth Country Music.

Wilf, 68, hails from the Canadian Rockies and is promoting his album Trails Of Tradition on Stardust Nashville.

Other releases include Who Took The Country Out Of Country, Aloha Waikiki, Miss Runaway Girl and Mt Isa Round-Up in 2008.

Montan previously released a video for The Land Down Under.

Further info - http://countrymusic-online.com
WIN NEW CDS BY BEING A NU COUNTRY MEMBER
TAYLOR SWIFT, JASMINE RAE & STEVE FORDE
Nu Country TV celebrates its 11th series with a brace of prizes to celebrate the CMC Rocks The Snowy festival and the national tours by superstars Brooks & Dunn, Dierks Bentley and Taylor Swift.

We have the following CDS for viewers who email our web page and pledge their $22 membership at music@nucountry.com.au

Taylor Swift - huge selling second album Fearless.

Jasmine Rae - debut CD Look It Up by the Telstra Road To Tamworth winner and touring partner of Brooks & Dunn and Bentley.

Steve Forde - fifth album Guns & Guitars by the tour mate of Brooks & Dunn and chart topper Gary Allan.

KACEY JONES CD, DVD, POSTER AND TEE SHIRT PRIZES
Internationally renowned country comedienne, singer-songwriter and producer Kacey Jones has given us a box of autographed merchandise for viewers and members who renew their membership.

A highlight is her acclaimed tribute disc Kacey Jones Sings Mickey Newbury that is scheduled for Australian release in July.

We have autographed collectors' copies of the CD for viewers who want to become members of Nu Country TV.

She also autographed tee shirts and posters for Nu Country members.

For your $22 membership and postage you can take your pick of Kacey memorabilia. We have limited supplies so please email us at music@nucountry.com.au first.

WILLIE NELSON EXCLUSIVE BOOK
We also celebrate Shotgun Willie Nelson's 75th birthday on April 30 with a special giveaway of his collectors' book.

We have limited stock of Willie Nelson - The Collected Writings Of A Living Legend - The Facts Of Life And Other Dirty Jokes.

The book, featuring yarns, jokes and Willie Nelson song lyrics, is the latest addition to out prize treasure trove.

It's available for viewers wanting to become members or current members wishing to renew their membership.

Please email us at music@nucountry.com.au for a chance to win a copy of this book with your membership.

MIKE BRADY MUSIC FOR YOUR MEMBERSHIP
Internationally acclaimed singer-songwriter Mike Brady volunteered to become a VIP guest host of Nu Country TV during our eighth series.

Brady hosted an episode that also featured an exclusive interview about recording the album in Nashville with expatriate Australian producer Mark Moffatt.

Mike has also donated autographed copies of his brand new CD Country To Country to viewers who become members or current members who renew their membership.

The generous singer donated his autographed CDS to attract your membership to ensure our survival.

So for your $22 membership including postage you can win Mike's CD Country To Country.

We have limited supplies so please email us first at music@nucountry.com.au so we can allocate your reward.
TANIA KERNAGHAN AUTOGRAPHED CDS
Tania Kernaghan has offered autographed copies of her fourth album Higher Ground to viewers who either become new members or renew their membership.

The album was produced in Santa Monica, Franklin, Nashville and the Gold Coast with Daniel Kresco.

Tania recorded 11 songs written by younger sister Fiona and producer Kresco on the acclaimed disc.

If you wish to be rewarded for your membership with Tania's new CD please email us at music@nucountry.com.au.

We also have other CDS in our library as rewards for your valued membership - we rely on membership for our survival.