DAVE'S DIARY - 9 MARCH 2006 - CORB LUND
CORB LUND - BUCKED FROM RODEO TO HORROR MOVIE
"The rodeo's over, the folks have gone home/ and the cowboys are all down the road." - The Rodeo's Over - Corb Lund.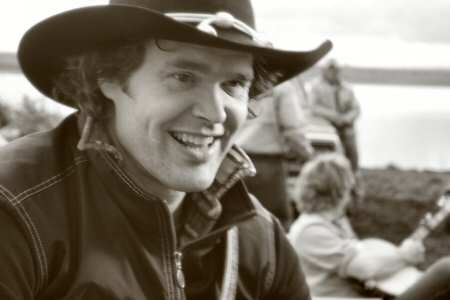 Canadian country singer and rodeo riding refugee Corb Lund has fulfilled one of his dreams on the eve of his third Australian tour.

The singer and his band The Hurtin' Albertans have appeared in Hollywood horror movie Slither.

James Gunn directs the movie, starring Gregg Henry, Michael Rooker, Elizabeth Banks, Rheagan Wallace, Brenda James, Don Thompson, Haig Sutherland, Lloyd Kaufman and Jennifer Copping.

"It's every songwriter's dream to be in a horror movie," Lund said after shooting a bar scene in a Vancouver honky tonk in Slither.

"We had a bit part as the bar band. I get a line when I introduce the mayor and he introduces us. It's a big budget Hollywood movie shot in Vancouver - a real horror picture.

We're filmed in a honky tonk and play a couple of songs. They claim they're going to intercut us with the goriest scene in the movie. We played Shine My Boots and Time To Switch To Whiskey. It's coming out in March here - not sure when in Australia."

Both songs are from Lund's previous disc Five Dollar Bill but he's touring here in April to promote fourth album Hair In My Eyes Like A Highland Steer (Vital.)

Lund, 41, lives in Edmunton but was raised on the family ranch at Taber, Alberta, by his parents - a fourth generation rodeo family whose ancestral roots were in Montana and Utah.
CALGARY STAMPEDE
Corb is the son of veterinarian D.C. Lund, a former bronc rider and steer wrestler, and Patti Ivins - a two-time Calgary Stampede barrel racing champion.

Lund briefly followed the family tradition until the pain of bovine bucks was replaced by a less arduous means of making bucks.

"I did rodeo until I was 15 or 16," Lund recalled.

"I quit in Calgary in 1981. The day before, while practising at the family ranch near Lethbridge, a steer I was riding bucked me off and stomped on my head. I didn't go to the national finals, because I didn't go to enough rodeos to rack up points. I never did enough steer wrestling to do well at it. But some of the guys I competed with became professional rodeo riders. The money was just as bad in music when I started but it's much safer. Now the money is better too."
Instead Lund played in punk band The Smalls and pursued a parallel country career from 1994.

Corb released indie solo cassette album Modern Pain in 1995 and then Unforgiving Mistress in 1999.
FIVE DOLLAR BILL
"I wrote my new song on a five dollar bill/ but I won't be able to sing it until/ I get hot on the trail for to pick up the track/ of the dirty little thief and get my five bucks back." - Five Dollar Bill - Corb Lund
And he toured here in 2003 to promote Five Dollar Bill recorded in 2002 after a five-month stint in Austin, Texas that fuelled many of his songs.

The disc sleeves feature a 1923 U.S. $5 bill and photographs of an 11-year-old Lund steer riding and steer wrestling, and photos of both his mother and father rodeoing.

Lund's song tells of the narrator trying to retrieve a five-dollar bill stolen from him on one of his runs.

"I moved down there to Austin when my old rock band broke up," Lund recalled.

"I played cafes and bars and concentrated on songwriting. I wrote most of Five Dollar Bill down there. There was no co-writing. I was getting my solo career together, just trying to soak up the vibe."

And he also worked on the content of his music.

"One of my observations is country music is generally lacking in rural lyrical content these days," Lund says.

"There's not much lyrical stuff going on with a western flavour. My stuff is quirky but has one foot in the traditional western frontier and one in the present. We play a city like Calgary or Edmonton and half the audience is urban hipsters and for the other half, the cowboys show and the riggers are there and the odd aging punk rocker, and somebody brought their grandma.

"To have it come around full circle where all of a sudden my extended family and people in small towns get it, it's kind of neat. That's one of the things I'm most proud of is the diversity of the audience, cause that speaks to the universality of the themes."
DEAD RECKONERS
Dead Reckoners drummer and vocalist Harry Stinson produced Lund's most recent albums in Nashville.

Lund and his trio - upright bass player, Kurt Ciesla, and drummer Brady Valgardson - are in the engine room.

"Harry came to the Edmunton folk fest with the Dead Reckoners," Lund recalled.

"We recorded a few tunes together and became really good friends. I write the songs and he's really good at the arrangements. He says why don't we have a fiddle here or change the key. He's the master of that. I used my own road band. If you use a studio band you lose a lot of the uniqueness. Harry plays drums in Marty Stuart's band and Kenny Vaughn, who played some guitar on my album, is also in Marty's band."
RAMBLIN' JACK ELLIOTT
Lund has several other guests including the legendary Ramblin' Jack Elliott on The Truck Got Stuck Talkin' Blues.

The song is one of several accompanied by video clips to feature on Nu Country TV.

"I did some shows with Ramblin' Jack as he was my inspiration for writing a talking blues song," Lund revealed.

"He's the living custodian of talking blues. He was living about an hour north of San Francisco so I flew down there and we did it there. He's great - a real living legend."

Stinson also hired Riders In The Sky legends Ranger Doug and Too Slim for Little Foothills Heaven and fiddlers Tammy Rogers and Stuart Duncan.
< Rambling Jack Elliott
"I wrote that song as a nod to western swing," Lund said.

"I had a little yodel and they are the yodellers of the universe."
IAN TYSON DUET
"So burn all the blankets and dry all the tears/ we can always go further out west/ and I'll meet you out there in the vastness somewhere/ I swear it but first I must rest." - The Rodeo's Over - Corb Lund.
Legendary Alberta singing rancher and former folkie Ian Tyson, enjoying a career rebirth, also duets with Lund on The Rodeo's Over.

Tyson's stone western music won hefty exposure on Nu Country FM during its radio era with tunes such as Alcohol In The Bloodstream, Navajo Rug, 18 Inches Of Rain and I Outgrew The Wagon.

Ian and first wife Sylvia Fricker fronted The Great Speckled Bird in the sixties and made a dozen country folk albums.

Tyson, long separated from Sylvia also enjoying a solo career, has since made another 12 albums with western themes.
"It could become a single as it might work well here," Lund says of his Tyson duet.

"Ian is western Canada's equivalent of Slim Dusty. He sings like a bird still - he's 71. It was interesting watching him record. As soon as the tape rolling he was a real pro.


Ian Tyson
He's still playing a lot of gigs. He has had two separate careers - one as Ian and Sylvia in the sixties - and now with his western songs."
The song is a passing of the torch of sorts.

"I didn't write it as a duet," Lund says. "I just wrote it and then we started playing with it and it took on this other dimension almost like a generational thing."
WAYLON JENNINGS
"Well, I partied with some crazy Calgary cowgirls/ we ripped and snorted, kicked our heels and then/ two told me they got old time religion/ one says she'll never barrel race again/ good Copenhagen is better than bad cocaine." - Good Copenhagen - Corb Lund
Lund also dedicated another of the album highlights Good Copenhagen to late Texan Waylon Jennings, who died at 64 on February 13, 2002.

And also to famed Gonzo writer and hell raiser Hunter S Thompson whose ashes were recently fired from a cannon at Woody Creek in Colorado.

The song, detailing the preferences of good chewing tobacco to bad cocaine, had roots in Austin and way beyond.

"It has a kind of a Waylon feel to it," says Lund.
"It was more inspired by his music side than his cocaine. He's got two or three songs about that sort of thing. It was a nod to him - he's one of my favourites. It's also about the collision of traditional values and modern life. One of the characters is an Alberta man who lived until he was 92 after chewing Copenhagen."

So was the cocaine reference a direct result of Lund's five month stint in Austin?

"No, it's not just Austin," Lund explained.

"I happened to know people there and in Canada who have got too far into that kind of life. It's also about the traditional western values, that way of life being impacted by modern life. I saw it through the lens of my family who were straight ahead people not involved in that. I later heard from people in the rodeo scene that cocaine abuse was going on there in certain cases. I had no clue those two worlds collided until then but it happens with baseball too. But I dedicated it to Waylon and Hunter S for other reasons. I was a big fan of Hunter S's writing."
CARDS AND GLOBALISATION
Lund wrote I Wanna Play Cards - a humorous take on delays for his new album.

"It's fun recording but it was the ultimate procrastination song," Lund says.

"I toured so much in last couple of years I just want to sit down and relax instead of writing songs when tours finish. With our following there is less and less time to write but I always get ideas wherever I am. I had germs of ideas in Australia and worked on some of the stuff down there."

What about The Truth Comes Out and Counterfeiter's Blues - social comment tunes on globalisation and the environment?

"It's how humans are infringing on the last wilderness and screwing up the habitat for animals and humans," Lund confessed.

"I'm sure that happens in Australia too. The whole world is becoming over populated and can't handle it."

It's a complete contrast to the historic Always Keep An Edge On Your Knife - a tale steeped in the Wild West.
"That was advice I got from my grandfather - his wisdom," Lund added.

"Alberta is far enough west still a frontier sensibility. You need a sharp knife - more for protection from the critters than the people these days."

Lund toured here with Adam Harvey and done local concerts with artists diverse as Catherine Britt, Bill Chambers, Lee Kernaghan and Adam Brand.

He has become an integral part of the cross fertilisation of Australian-Canadian tours with peers such as Jason McCoy, Fred Eaglesmith, Wailin' Jennys, Kathleen Edwards and Sarah Harmer.

Check him out on Nu Country TV and CLICK HERE for Peter O'Keefe's review of a Corb concert in Melbourne on January 31, 2004.