DAVE'S DIARY - 9/2/09 - PREVIEW OF EPISODE 10 - SERIES 11
J. J CALE DEBUTS ON NU COUNTRY TV

Legendary Oklahoma guitarist and songwriter J. J. Cale debuts on Nu Country TV this Saturday - February 14 - with live footage of one of his famous hits.

Cale, 69, and his band perform the song as the famed Cain's Ballroom in the singer's hometown of Tulsa.

Unsung North Carolina singer-songwriter Eric Church also debuts with his graphic death row video clip for Lightning.

And expatriate American and latter day Queenslander Kimber Sparks showcases her tribute to superstars Alan Jackson and George Strait.

Soulful Georgian singer T Graham Brown performs a duet with David Frizzell on one of his classics.

Former Grenfell rodeo rider Steve Forde and young Fawkner fraulein Jasmine Rae perform their latest clips on the eve of their performance at the CMC Rocks The Snowy festival on March 6 and 7 and Brooks & Dun return tour in May with Dierks Bentley.

CALE AND ABLE IN TULSA
The laid back ambience of the historic Cain's Ballroom in former oil town HQ Tulsa was a bigger magnet for J.J. Cale than the Melbourne Masonic Lodge, once known as Dallas Brooks Hall.

Way back in Cale's drinking and drugging days he turned his back on his audience at the East Melbourne goat-roping corral, our seventies acoustic venue of choice.

Cale, now 69, beat Irish icon Van Morrison to the back turning two-step popular with artists of the era.

But on the acclaimed DVD docco, To Tulsa & Back, released here by AZTEC, Cale struts his stuff front and centre at the Okie venue made famous by late Bob Wills & The Texas Playboys & other western swing and country legends.

Cale also details more of the history of the venue, established in 1924, in anecdotes about the town he was raised in the fifties.
The singer and his veteran band perform Cajun Moon - one of his best-known hits in a five decade career that earned him massive royalties from other artists' covers as well as his radio hits.

Cale musters a roster of fellow legends on stage - Tractors pianist Walt Richmond in Tulsa - and protégée Eric Clapton at his annual Crossroads Festival in Dallas, Texas.

Clapton was a big earner for Cale when he recorded his gems After Midnight, Crazy Mama and Cocaine.

Cale was homeless until Clapton came to the rescue.

"I had a Les Paul guitar I hocked and sold to Marc Benno," Cale confessed.

"I was broke until Eric cut After Midnight."

That song was later used in a Millers Beer TV commercial.

But Cale's most popular song on Nu Country FM during its halcyon days was Brother Phelps version of Any Way The Wind Blows - theme song for sixties rocker and latter day country singer and DJ Bobby Bright.

CLICK HERE for a Cale DVD docco feature from the Diary on August 24, 2008.
ERIC CHURCH EXCELS IN CELL TUNE
Say a prayer for North Carolina country singer Eric Church.

Church, 31, is an unsung singer-songwriter whose debut CD Sinners Like Me was never released here.

But we have obtained the chilling video of the video for death row ballad Lightning where the prisoner flies into the ether after the execution.

It's just a short posthumous cameo but it slams home the message.

Not exactly the same resurrection as the recently deceased character in Tom Pacheco song The Other Side who has his pockets picked by a priest after being murdered by cocaine dealers.

Pacheco organises his victim's resurrection by having him fly back to earth through a hole in the ozone layer - killing more than a few birds with the one stone.
Church, a Baptist by birth, leave his sinner's character's future open ended - just like his career that finds him enjoying the belated release of his second album Carolina in March.

Lightning is one of the many highlights of Church's 2006 debut disc, produced by Jay Joyce who also ignited the career of Patty Griffin who has toured Australia twice.

Church is right up front of the posse of roots' country artists whose narratives are etched deep in the psyche from the first stanza.

And, like three time 2009 Grammy nominee Jamey Johnson, it's Eric's second album that will become a salient signpost to his future.

In Lightning, Church sings of the meditations of a man who is about to be electrocuted for killing a liquor store check out chap in a botched robbery to buy food for his baby daughter.

It was the oldest song on Church's album.

"I wrote that song when I first came to town," Church revealed.

"I was on my first trip back to North Carolina to see my family, and The Green Mile was on DVD or TV, I'm not sure which. I was watching it one night, and there's a line in it where the lead actor said, 'You know, it's been eighty-some years since I let John Coffey ride the lightning.' I just thought that was a very interesting way of looking at the electric chair. It ended up probably being the song that got me my publishing deal, and it's the song that got me my record deal."

CLICK HERE for a Church feature from The Diary
T GRAHAM BROWN IN LOUISIANA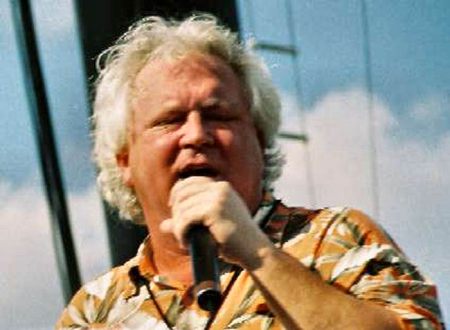 When T Graham Brown emerged in 1982 he was a soulful young oasis in the country pop jungle.

Now, three decades later, Brown is a heritage artist strutting his stuff with peers on our video vault segment.

Brown, 54, and David Frizzell perform their cut of Alex Harvey-Stephen Schuffert tune Got To Get To Louisiana with a star-studded band on radio station KWKH.

Aptly their locale is the famed Louisiana Hayride where Hank Williams started and then retreated after being evicted from the Grand Ole Opry.

The song is from the DVD-CD Frizzell & Friends - This Is Our Time - recorded at the Hayride on KSLA-TV.

Brown, born in Arabi, Georgia, quickly found work as a session singer in Nashville before signing to Capitol Records in the same era as Dean Dillon.

His first single I Tell It Like It Used To Be became a hit and was followed by Hell And High Water, Come As You Were, Darlene and Wine Into Water.

Hell And High Water and Don't Go to Strangers from 1986, and Darlene from 1988 - reached #1 and eight more reached #10.

Brown's memorable band, Rack Of Spam, hit the road to promote hits including the title track of Brilliant Conversationalist with a video that scored airplay on VH-1.

His version of Otis Redding's Dock Of The Bay became a hit in Germany and Rock It, Billy was a success in England.

He was nominated for Country Music Association Awards in 1987, 1989 and 1990 and won in 1992 for the Vocal Event of the Year with George Jones and others on I Don't Need Your Rocking Chair.

Brown has released 13 studio albums and charted more than 20 on Billboard charts. Later chart entries included Never in a Million Tears, Memphis Women & Chicken, and Middle Age Crazy.

His most recent albums included The Next Right Thing (2003), 2004's Live at Billy Bob's Texas, The Present (2006) and Deja Vu All Over Again/The Best of T. Graham Brown in 2007.

Brown's advertising jingles included McDonald's, Disneyland, Budweiser, Coca-Cola, Ford Trucks, Harrah's Casinos and 7-Up.

He earned recognition in the Commercial Hall of fame in Chicago as the face and voice of Taco Bell's Run For The Border campaign for four continuous years.

Further info -http://www.tgrahambrown.com/

CLICK HERE for a David Frizzell feature from the Diary on December 30, 2008.
KIMBER SPARKS FOR STRAIT AND JACKSON
Expatriate American Kimber Sparks debuts on Nu Country with her video of Strait & Jackson - her tribute to Murder On Music Row superstar singers George Strait and Alan Jackson.

Bill Chambers produced her CD It's Her Turn that includes a duet with stone country singer Vern Gosdin on Chiselled In Stone.

Kimber earned her stripes as a bull riding MC and barmaid at Great Western Hotel in Rockhampton.

It was there former owner and Australian of the year Lee Kernaghan discovered her.

The Bachelor in Business & Marketing graduate is now studying for her MBA.

CLICK HERE for a Kimber Sparks CD review from the Diary.
STEVE FORDE SINGS ABOUT HOMELESS
Grenfell wheat-canola farmer Steve Forde returns to Nu Country with a video clip for Life's Got Something Good For Me - his song about the homeless.

It's from Forde's fifth album Guns & Guitars.

The former rodeo rider, who followed his dreams to Texas, Tennessee and Canada, performs at the CMC Rocks The Snowy Festival at Thredbo on March 6 and 7.

Forde wed a NSW south coast teacher he met while recovering from a lost Nowra New Year's Eve as a young guitar slinger.

Forde, father of a son not so cryptically named Harrison, gives more than a few clues to why he is not just another dude singing for his supper.

There's the touring bus and truck company he has long run from the farm - part of the 8,000 acres of local holdings in the Forde family.
And, then there's a little offshore real estate - the house on Old Hickory Lake where Bee Gee Barry Gibb is a distant neighbour in the former Johnny Cash mansion near Nashville in the suburb of Hendersonville.
Forde was astute enough to pick it up, ah, for a song on the eve of recording his new disc with hotshot Nashville producer Richard Landis.

So he was able to take wife Ali and son Harrison with him to their lakeside retreat on his three-month songwriting and recording sojourn in Music City.

CLICK HERE for a Forde feature from the Diary on October 20, 2008.
JASMINE RAE LOOKS UP
Fawkner femme fatale Jasmine Rae also performs the video for the title track of her debut CD Look It Up.

Angaleena Presley, who has been writing for Hunter Valley singer Kirsty Lee Akers,
penned the song with Robert Ellis Orral.

Presley writes for Ten-Ten Music - the publishing company operated by expatriate Australasian Barry Coburn and former Hollywood starlet and Armidale born country singer Jewel Blanch.

Former Saltbush pedal steel guitarist Mark Moffatt, lured to Nashville by Coburn, produced Rae's CD in Nashville.

Jasmine quit as a Tullamarine music teacher after she won the prestige Telstra Road To Tamworth quest.

The singer also tours nationally with Brooks & Dunn on their second national tour in May with Arizona born chart topper Dierks Bentley.

Rae, who began performing at six, finally has a guitar to suit her diminutive stature - 130 cm.
"Most guitars were too big for me," Rae confessed.

"But I got a new guitar yesterday - a mini-Maton - that is perfect for me. It's a travel guitar. It weighs less and is the perfect size. I'm really excited by that - it's my new child. I did most of writing on piano but I wrote my first song on guitar last week - I was really excited by that."

CLICK HERE for a Rae feature from the Diary on September 20, 2008
WIN NEW CDS BY BEING A NU COUNTRY MEMBER
TAYLOR SWIFT, JASMINE RAE & STEVE FORDE
Nu Country TV celebrates its 11th series with a brace of prizes to celebrate the CMC Rocks The Snowy festival and the national tours by superstars Brooks & Dunn, Dierks Bentley and Taylor Swift.

We have the following CDS for viewers who email our web page and pledge their $22 membership at music@nucountry.com.au

Taylor Swift - huge selling second album Fearless.

Jasmine Rae - debut CD Look It Up by the Telstra Road To Tamworth winner and touring partner of Brooks & Dunn and Bentley.

Steve Forde - fifth album Guns & Guitars by the tour mate of Brooks & Dunn and chart topper Gary Allan.

KACEY JONES CD, DVD, POSTER AND TEE SHIRT PRIZES
Internationally renowned country comedienne, singer-songwriter and producer Kacey Jones has given us a box of autographed merchandise for viewers and members who renew their membership.

A highlight is her acclaimed tribute disc Kacey Jones Sings Mickey Newbury that is scheduled for Australian release in July.

We have autographed collectors' copies of the CD for viewers who want to become members of Nu Country TV.

She also autographed tee shirts and posters for Nu Country members.

For your $22 membership and postage you can take your pick of Kacey memorabilia. We have limited supplies so please email us at music@nucountry.com.au first.

WILLIE NELSON EXCLUSIVE BOOK
We also celebrate Shotgun Willie Nelson's 75th birthday on April 30 with a special giveaway of his collectors' book.

We have limited stock of Willie Nelson - The Collected Writings Of A Living Legend - The Facts Of Life And Other Dirty Jokes.

The book, featuring yarns, jokes and Willie Nelson song lyrics, is the latest addition to out prize treasure trove.

It's available for viewers wanting to become members or current members wishing to renew their membership.

Please email us at music@nucountry.com.au for a chance to win a copy of this book with your membership.

MIKE BRADY MUSIC FOR YOUR MEMBERSHIP
Internationally acclaimed singer-songwriter Mike Brady volunteered to become a VIP guest host of Nu Country TV during our eighth series.

Brady hosted an episode that also featured an exclusive interview about recording the album in Nashville with expatriate Australian producer Mark Moffatt.

Mike has also donated autographed copies of his brand new CD Country To Country to viewers who become members or current members who renew their membership.

The generous singer donated his autographed CDS to attract your membership to ensure our survival.

So for your $22 membership including postage you can win Mike's CD Country To Country.

We have limited supplies so please email us first at music@nucountry.com.au so we can allocate your reward.
TANIA KERNAGHAN AUTOGRAPHED CDS
Tania Kernaghan has offered autographed copies of her fourth album Higher Ground to viewers who either become new members or renew their membership.

The album was produced in Santa Monica, Franklin, Nashville and the Gold Coast with Daniel Kresco.

Tania recorded 11 songs written by younger sister Fiona and producer Kresco on the acclaimed disc.

If you wish to be rewarded for your membership with Tania's new CD please email us at music@nucountry.com.au.

We also have other CDS in our library as rewards for your valued membership - we rely on membership for our survival.