DAVE'S DIARY - 20 OCTOBER 2008 - STEVE FORDE
STEVE FORDE - GUNS & GUITARS
"Gas pedal mashed to the floor in my 64'/ V8 brick cruising around town like I own it/ she slides close to me, thank God for no bucket seats/ we're living in a world like a Hollywood dream, like it's 63." - You And Me - Steve Forde.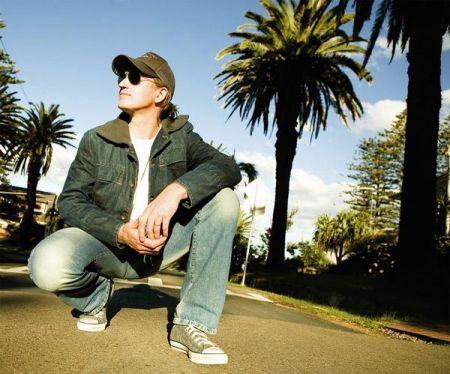 Rodeo riders learn fast how to deal with big bucks.

Many have the painful legacy from a myriad of broken bones for the rest of their lives.
Others like Cowra born but latter day Grenfell singer-songwriter Steve Forde enjoy bigger bucks in off farm income.

Forde chased his rodeo and singing dream to Texas and Canada as a teenager - now he is reaping the rewards of his joyous journey.

Forde is on the talk circuit promoting fifth album Guns & Guitars at the trough of the collapse of the economy with plunging stock market and dollar exacerbated by a long national drought.

"I'm not cluey enough to play around in that old stock market," Forde, 31, tells Nu Country TV in a call from his 2,500-acre wheat and canola farm at Grenfell in NSW.

"I'm an under the mattress kind of guy."

That mattress has strong springs and more bounce than the deflated dollar or the stock exchange.

Don't be fooled by the humility of the son of the soil who wed a south coast teacher he met while recovering from a lost Nowra New Year's Eve as a young guitar slinger.

Forde, father of a son not so cryptically named Harrison, gives more than a few clues to why he is not just another dude singing for his supper.

There's the touring bus and truck company he has long run from the farm - part of the 8,000 acres of local holdings in the Forde family.

And, then there's a little offshore real estate - the house on Old Hickory Lake where Bee Gee Barry Gibb is a distant neighbour in the former Johnny Cash mansion near Nashville in the suburb of Hendersonville.

Forde was astute enough to pick it up, ah, for a song on the eve of recording his new disc with hotshot Nashville producer Richard Landis.

So he was able to take wife Ali and son Harrison with him to their lakeside retreat on his three-month songwriting and recording sojourn in Music City.

Forde doesn't boast about his off farm investments - they are unravelled in questions about his latest musical adventure.
FROM COWRA TO COAL AND BUSES
"Every weekend as sure as the sun beats down in December/ we'd all hang out upstream on the band of that river." - Upstream - Steve Forde.
It all began in Cowra in 1977 - more than three decades after Japanese Prisoners of War decamped from gaol digs in the NSW town and sent their descendants back as tourists for an invasion of a different kind.

Steve and younger brother Dave, born to Martin and Judy Forde, enjoyed a nomadic childhood as their sire worked underground in the coalmines of the Hunter Valley and later operated buses in Nowra, before returning to till the soil at Grenfell - an ancestral family font also explored many moons early by Henry Lawson.

"I was born in Cowra but we weren't on the land there," Forde recalls.

"Dad was chasing work. I did my primary schooling in the Hunter Valley where dad worked in the open cut mines. He then bought a bus run at Nowra south of Sydney on the coast. But he wanted to come back to Grenfell as his parents were from here. So I finished secondary school in Nowra in 1994 and we came back here in 1995. I came with him and pretty much ran the farm with him until the music took off."

This digression gives insight into why Forde believes his career will enjoy longevity despite the genre's boycott by commercial radio and the corporate bullfrogs who pull the sales strings.
GRENFELL TO TEXAS
"He's a different breed and you'll see what I mean/ when the bull blows from that gate/ he's be trying to ride him/ flying high on 2000 pounds of hate." - Rodeo Freak - Steve Forde.
But Forde didn't take a traditional country boy's route to work the bars of Grenfell before heading to the big smoke to do battle with the rockers, rappers and ecstasy bunnies in the killing fields of Sydney.

Instead he jumped on a big bird and exploited his dual talents as a rodeo rider and singer in the wide-open spaces of Texas, Kansas, Tennessee, South Dakota, Missouri, Colorado and Canada.

The year was 1998 and Forde splurged part of his $1,000 savings on a vintage 1963 Dodge Polara.

He hit the road again in a magical mystery tour that included fencing in Lubbock, Texas, harvesting corn in Kansas and lots of bareback bronc riding by day and singing in honky tonks at night.

Ironically, Forde's big break came when his travelling companion - Brisbane rodeo rider Matt Rankin - broke his back and was airlifted back home.
Shortly afterwards Forde's not so trusty Dodge went to God with no last rites and he was back on the road again with two good thumbs.

Forde hitch-hiked across three states to hook up with rodeo legend Lyle Sankey in Branson, Missouri - twilight home for faded, jaded country stars stamped way beyond their use by date by Nashville power brokers.

Barely out of his teens, Forde - despite nursing broken bones, but unlike his steeds -wasn't quite ready for Jacka The Knacker.

With more irony it was another break - a smashed thumb in Tennessee civil war town Franklin - home of David Lee Murphy - that led him to Nashville.

There he met fellow writer Dan Roberts who penned Beaches Of Cheyenne, The Old Stuff and The Fever for former Oklahoma superstar Garth Brooks.

Roberts opened his home to Forde and doors to other Music City writers and producer Mark Moseley.

For the record let's check Forde's inventory of rodeo injuries that are now little more than a painful memory.

"I broke my left leg a couple of times," Forde confessed.

"Also my ribs. They were niggling injuries. I also broke my arm a few times but the thumb was most painful. I broke it down the base towards the wrist. I broke it three or four times. It was most excruciating. I never got hurt too badly on bull riding. It was mainly off bareback horses - saddle broncs. It was on bare back horse in Franklin, Tennessee, that I suffered that thumb break."
THE FLANGE
"There's a lot of things I won't do/ but one day maybe/ I'll do a duet with Kid Rock or Slim Shady/ tell the whole world how they're all crazy." - Another Man - Steve Forde.
Forde returned home and fronted his band The Flange in 2000 and cut two albums in Nashville with Moseley - indie disc Livin' Right in 2002 and Wild Ride in 2003.

Steve co-produced Wild Ride for new Sydney label Vital and toured with his band The Flange to prime the sales pump.

He also recorded his third album Rowdy, replete with high tech hip-hop loops and guest appearances by Texan rapper Vanilla Ice and Doobie.

But it was Forde's current producer Richard Landis who was hired for his self-titled fourth album on ABC Music.
Landis produced big-ticket albums with Vince Gill, Neil Diamond, Kenny Rogers, Eddie Rabbitt and Ronnie Milsap.
The disc, featuring covers of Summer's Little Angel and Metropolis, crashed the sales charts with wide exposure on Pay TV channel CMC and Nu Country TV - surrogate radio ranches.

Forde peaked by collaborating with Australian of the Year Lee Kernaghan and Adam Brand on the 2008 treble Golden Guitar winning single Spirit Of The Bush.

As that song enjoyed protracted success back home Forde and family headed to Music City to record Guns & Guitars with Landis.

The A list session serfs included guitarists Brent Mason and Bobby Terry (also on banjo), bassist Jimmy Carter (not the president), drummer Aaron Sterling, Gordon Mote on keyboards and pedal steel guitarist Paul Franklin.

Guitar Town hit writers Rivers Rutherford and George Teren penned the album title track, first single Life's Got Something Good For Me, Half The Battle and Teren co-wrote Sunburn with Monty Criswell.
OLD HICKORY - WITH DOCK
"I spend most of my money on beer and women/ and the rest I just wasted/ I work hard all day just to earn my pay/ and then I go out at night and waste it." - Beer And Women - Steve Forde.
Forde enjoyed his writing and recording sessions even more by staying in his new home near Nashville.

"I own house on Old Hickory Lake near Hendersonville," Forde confessed.

"I bought it when I was over there. Although there are not many Aussie songwriters who own a house on Hickory Lake I never thought about it until you mentioned it. I guess not. I used to stay with friends. This time we took three months to do the record. It was a great opportunity to take wife and son. When we got there we started looking.

It was a fantastic time to buy in America. I have plenty of trips planned there - a nice break. Australia is always going to be home for me. When I was there to record for two weeks in the past it seemed so busy for me. This time it was more relaxed as we had three months. I was home every night - that was unique for me. My son Harry was in studio with me - he's in vocal booth while I was recording."
TRAVIS MEADOWS
"Take your drink with your umbrella in it and shove it/ same place you can put your speed limit/ while you're at it take your suit tie and jacket/ and your Armani shoes and your cute sunglasses." - I Ain't That Guy - Steve Forde-Travis Meadows.
Forde, a prolific writer, opted for just one original - All Mine - and three co-writes this time around.

Forde wrote humorous social comment tune I Ain't That Guy with Travis Meadows - a latter day writer with his Golden Guitarist trophy partner Adam Brand.

"We wrote it in Nashville right before I made the record," Forde revealed.

"There are more outside songs this times. Some times other writers can say things you want to say better. I had a vision for this record - the title track and single a different direction. They challenge me musically. One Sunday afternoon Travis Meadows came over to my house on the lake and we hung out. We were talking and the song just came to us. We wrote it in an afternoon and I took it into producer Richard Landis the next morning and said want to do it for the album. We did it the next day. I try and keep loose approach. I really liked it - it's one of my favourite songs on the record. We're already doing it live. It would make a good video. That song is so well received I'd like to do a video for it. I have never taken myself too seriously. Even if you are that that guy - if you are metro-sexual - you should be able to have a laugh at yourself about it. I love diversity - it's a complete contrast of that song and the single. Despite being worlds apart the song is relevant in all countries. At the end of the session you spread all songs on a table when you finish recording and still feels a collection that fits together."

Perhaps Steve could hire Sam Kekovich to play the narrator in the video and pluck the suave subjects from any city street corner.

KENNY CHESNEY
"From pedal power to gasoline, cruising the town in one hell of a bad limousine." - That Was Me - Steve Forde-Mat Scullion.
Forde wrote his youthful hedonism exploration tune That Was Me with Australian singer Matt Scullion.

The song, derivative of latter day superstar Kenny Chesney's Jimmy Buffett era, is more rhetorical than revelatory.

So how much does Chesney influence Forde?
"When we wrote it didn't have anyone else in mind," Forde says.

"We were writing the song because the song wanted to be written. Matt and I wrote it in my lounge room. That song came together easily. It's about pushing boundaries. The hardest thing about finding balance - especially in your late teens and twenties - is between partying and having a wild time and who knows what else. I was well into my 20's and had that problem. But I was man enough to admit it that I had a problem with a lot of that stuff and playing up.
There was nothing too bad - just good honest fun. When we were writing the third verse we name checked Chesney because it sounded like a Chesney type thing even though we weren't writing it to be like anyone. It was that good time thing - the Calypso feel like his Buffett era."

NOWRA NEW YEAR
"Words bouncing down a hallway/ the kind you can't change/ the ones you can't take back." - Words - Steve Forde-Reed Nielsen.
Forde penned Words - a song of regret within romance - with hit writer Reed Nielson.

"I was really proud to get to write with Reed Nielsen and I was proud of that song," Forde revealed.

"It was a different style of song for me to write. I'm normally an up guy with up songs - all positive and optimistic. In that song I had first line in my head about words bouncing down the hallway. Words you can't take back - words of regret. He liked it - I was so fortunate to write it with Reed because he brings so much to the table. He has written so many hit songs for artists from Huey Lewis to Montgomery Gentry. Every relationship has that roller-coaster ride - maybe sub consciously there's pieces of my life in it. Essentially it was never written about any particular time - just through pop culture of movies and being married and life in general."
So how did Forde meet his wife?

"We met in 2000 down the coast at Nowra the night after New Year's Eve," Forde confessed.
"I was in a bar in a night club. I had a few too many sherbets - that balance thing. I was struggling with balance. I was 22 or 23 and wearing a seventies safari suit and skidding around the floor like a bloody idiot. Ali was dead cold sober - we have been really good mates since. It feels really good to marry your best friend. She was still at uni. I liked em young back then - she was at Wollongong Uni. She was there the first two years. When she targeted out of uni she got a job at Forbes - that's how we got to get together. She was from Nowra but I never met her when we lived down there when I was at school. Yes, our son Harrison was named after Harrison Forde. We nearly didn't name it that but we both really liked the name. We're black and white about names. We're both far away from each other on names but Harrison was one we could agree upon - we really liked it. We figured by the time he was old enough to cop shit about it the other guy would be long gone. Ali's pregnant again - she's due in January."
Well, if bubba is a gal let's hope Bette is not top of the list - or if another boy perhaps Glenn.
ON THE ROAD AGAIN
"She's so cool man, it's out of control/ got a wild side from her head to toe/ but it's alright, she's all mine/ she's a rebel queen with a rock 'n roll." - All Mine - Steve Forde.
Forde says his other new original All Mine is not about Ali.

"No, it's not about my wife Ali," Forde declared.

"I wrote this on tour bus. I had the first verse - the bits that reflect your relationship sub consciously. I was drawing from experience of meeting girls and chasing girls. Some times you meet people who really rock your boat. We have 12 guys on our tour bus and all younger than me. Some times we're 1,000 miles from home and they're talking about the girls at the gig. It's a funny roller coaster ride of all that stuff - that's what led to me that."

The subject is a far cry from the single that prompted a video clip shot at a warehouse in the inner western Sydney suburb of Marrickville.

"I'm so proud of it," Forde says of the song and video.

"It speaks of where I'm up to in my life. I hope it makes people think about their own lives and puts things in perspective. I'm someone who's always positive. I feel like I was dealt a great hand of cards in life. I know other people have a lot shittier life - it's important in life to look over the fence and see what someone else has. Occasionally it's good to step back and see how good life is. Those people in the video are real homeless people in Sydney. The producer shot people from a Care For Homeless organisation. I wanted to ensure this record had a lot of integrity and depth when I heard it back. I feel we captured many moods and it's a good honest record. I didn't want to have a bunch of stuff in there that made people feel sorry for anyone - it had to be more of a statement than a story. I didn't want to pull any heartstrings. It's important to take out of these songs whatever you can. I'm really proud if it. I like to challenge myself and keep people guessing. I don't want to be formulaic and say I need this type of song for this demographic. I like to go and make music how I feel in that era of my life.

That's why I'm proud of Guns & Guitars. It's really different to Summer's Little Girl."
DAVID LEE MURPHY
"He's a different breed/ and you'll see what I mean/ when you hear that chute gate crack/ he'll be liftin' spurrin' jerkin, hurtin'/ a modern day Bareback Jack." - Rodeo Freak - Steve Forde
Forde hasn't chosen a second single from the album but several have video appeal.

"I don't know which yet, Ain't That Guy and Guns & Guitars are good visually. Many lead themselves to video. I want to be a moving target and give people plenty of stuff to choose from."

Forde writes specifically for his albums but now has a surfeit of songs - many with major Nashville writers that he's keen to have other artists cover.

"I own my publishing but I have written with David Lee Murphy and Terry McBride who wrote Put A Girl In It and some Brooks & Dunn hits. I have also written with Jeffrey Steele and Craig Wiseman. So I have a bunch of songs floating around. But I don't want to be formulaic. I'm writing locally with Matt Scullion and Gary Davies.

It's good business sense to have the Nashville writers pushing those songs but I've got to have fun with the guys I'm writing with. David Lee Murphy was fun to write with at his home near Franklin. He has this redneck house - he's a great hang."
But did the cops pull up Murphy for DUI like they did after a long session with Adam Harvey?

The cops let Murphy go that night but not on a more recent driving foray in the same neck of the woods.

"He was definitely driving but whether he had a licence or not who bloody knows," Forde joked.
"He's a good country lad - he's about as redneck as it gets. He's one of the few guys you meet who's been really successful in the music business that I would have no trouble cruising down to my local pub and having a few beers with. He's just a normal guy."
GRENFELL - GROWING GRAIN AGAIN
"I know a little place set back from the rat race/ faced with eighteen hundred acres/ days spend on occasion/ it's a three day chilled dry scotch vacation." - Captain Good Times - Steve Forde-Doobie.

Meanwhile back on the farm Forde is not stressed by the economic climate.

Especially when he has his trucking and bus fleet.

"We have three buses, two trucks and portable stages we run from here," Forde says.

"People still have entertainment so the buses are booked out. It hasn't really hit us yet - most people using our services are younger people with disposable income. I'm not sure how big an impact it will have."

And the farming - well, at Grenfell there is relief this season.

"We have 2,500 acres of wheat and canola on my farm that my brother Dave runs," Forde adds.

"My dad and Dave have other blocks - about 8,000 acres all up. We got rain this year.
Last year was a total write-off - we hardly even got the header in the paddock. We threw a bit of seed around. You don't have to go far north or west of us to find blokes doing it tough again this year. My family is in a little pocket where we will get grain off. Some paddocks are real good. This year is one of the better ones in the last five years although we got hit by frost. We deliver it to silo at grain handling time and sell to highest buyer. It depends on demand - the prices have gone down but the dollar, also being down, offsets it. It will be interesting to see what happens at harvest time. In 2000 the farm allowed me to go and do the music stuff in that bicycle wheel of life. I hope it's better this year. Last year my dad and brother copped a kick in the pants despite doing all the hard work and making all the right decisions."

And back to the road.

Forde doesn't resile from making music that may sound derivative of the U.S country mainstream.

"If you just keep music that's honest and makes you feel good the rest will take care of itself - especially when you talk of longevity," Forde says.

"I'm making a good living for myself and six to 10 other people who make a living out of our music. Music shouldn't be genre specific - it is at the moment. It's not going to be that way forever."

Forde, who has toured nationally with Californian country star Gary Allan, plans to include Victoria on his trek to promote the disc over spring and summer.

"We might even do a tour with Lee," he added.

And, for those with a penchant for the high country, there's the second CMC Rocks The Snowy festival at Thredbo - March 6 and 7.

Click Here for our web page gig guide for updates.