DAVE'S DIARY - 24 AUGUST 2008 - J J CALE DVD REVIEW
2008 DVD REVIEW
ON TOUR WITH J. J. CALE
TO TULSA AND BACK (AZTEC)
J J.CALE TURNS BACKS - NOT HEADS
AT MELBOURNE MASONIC LODGE
It was the night the Masons dismounted from their tethered goats and failed to perfect their secret handshake.

Yes, some enchanted mid-seventies evening when mist descended on Dallas Brooks Hall - a Masonic Lodge that doubled as preferred east of the city venue by touring roots artists to the cavernous expanses of Festival Hall in West Melbourne.

There was also the acrid aroma of the herb superb when legendary Oklahoma singer-songwriter and guitarist J. J. Cale beat grumpy Irishman Van Morrison to the punch by turning his back on his bemused audience.

Few fans left the hall before Cale signed off but a second tour with late Kingston Trio legend John Stewart was shelved in 1980 after an Air New Zealand DC 10 crashed in Antarctica.
Sydney promoter Norman Taylor - the man behind the first Amazing Rhythm Aces and Leon Russell Newgrass Revival tours that year - flew to the U.S. and visited J.J in his trailer with no phone in a vain bid to convince Cale to return here.

"The only way to get J.J Cale to come is to visit him and assure him our planes are safe," Taylor told me at the time.

But no such luck.

"I took five years off in the eighties," Cale confessed.

Oklahoma City born Cale was not faking it as he turned his back on fame and fortune a time or two in a career that started in high school bands when he lived in the modest family home on the north side of Tulsa.

The prolific, erratic hit writer may have retreated but never faded away in a journey to L.A., back to Tulsa, south to Nashville and now home to his hideout near San Diego in California.

Cale, now 69, lived as a recluse in trailer, replete with recording studio but no phone, due south of Nashville for more than a decade.

Now, more than 30 years later, Cale emerges from the shadows to reveal why he let his music do the talking.

The twice-wed singer is subject of a revealing 90-minute documentary, accompanied by a new CD, filmed by award winning director Jorg Bundschuh.

This is riveting viewing - not just for the music and interviews - but also the artist's baring of his soul against a stunning backdrop of the American heartland.

Cale is filmed in the studio, radio stations, on the mean streets of Tulsa outside his childhood home, historic Cain's Ballroom and on the road and stages in the majestic mountains of Colorado and the guts of Texas.

"I've been married a couple of times and lived in trailers," Cale confesses.

"I like the gypsy lifestyle but it's not conducive to family life. I'm not crazy about telephones. I prefer playing with electronic toys and stuff in my studio."
FROM OIL BOOM TOWN TO AIRFORCE
"Cajun moon, where does your power lie/ as you move across the southern sky/ you took my babe way too soon/ what have you done, Cajun moon/ someday babe, when you want your man/ and you find him gone, just like the wind." - Cajun Moon - J.J. Cale
Cale, drafted into the Air Force as a teenager, returns to his modest childhood crib in north Tulsa to find the lights off and no-one home but still explores his back pages.

"It seems a lot smaller now, it's been painted but the drapes are drawn," he drawls at the camera outside the house with its distinct street number 1612 on the front porch.

"It's the house we used to live in as kids. There used to be cherry trees along here.

That's the old place. No pool - just a birdbath. Dad built a room out the back that became my recording studio. There was me and my sister (Joan Cale Summers.) We had a close relationship. They didn't beat me and I didn't beat them."

There's footage of Cale singing with a bird choir in a vacant square in the former 20's oil boomtown and regaling viewers of his escape to L.A. with mates from 1957 who still play in his band.

"The last three years we were in school we played music together," Cale recalled.

"When I graduated from school in 1956 I had a lot of jobs. I was an elevator operator for $1.25 an hour for three or four months. I also played in bands at night. The only difference now is I wake up every morning and I'm glad I'm still alive. I'm now 65. I wasn't a dreamer - just a songwriter."

Other embryonic jobs included grinding steel for 18 months and cooking hot dogs and hamburgers in a root beer stand.

The song catcher flew his Tulsa nest to bright lights of L.A. after his Air Force stint in San Antonio, Texas, and Champagne, Illinois - hometown of Allison Krauss.
CALIFORNIA AND CAIN'S BALLROOM
"They call me the breeze, I keep blowing down the road/ they call me the breeze, I keep blowing down the road/ I ain`t got me nobody, I ain`t carrying me no load/
Ain`t no change in the weather, ain`t no change in me," - They Call Me The Breeze - J.J. Cale
"There were 15 or 20 Tulsa musicians who migrated to L.A." Cale explained.

"We went with whoever had the car. Leon Russell wrote Shootout On The Plantation about a house where we lived. I loved the whole hippy thing. We were always broke and one step away from being thrown in jail. We did a lot of drugs and whiskey."

The oil boom bust devastated Tulsa.

"They then moved to Houston but with oil pumps and derricks you could smell oil in the air," Cale says.

"There was nobody left downtown."

Cale is also captured singing and picking by the railroad track where he spots a train and deadpans "I could roar and jump on it - it's called hop a freight train."

Equally evocative is return to famed western swing HQ Cain's Ballroom, established 1924, in daylight while empty, and then at night to play his first gig in his hometown for 25 years on J.J. Cale day.

"It was a vibrant scene in the 20's because of prohibition when the cops would bust in," Cale says of a venue evoking the ghost of swing king Bob Wills.

But Cale's music, a laid back hybrid of country, R & B and rock, is an extension of the Wills rootsy dance hall igniters.

"Bob Wills and his two brothers and band played western swing here," Cale tells the camera.

"The ticket counter is still the same. I haven't played here in 25 years.
CROSSROADS AND CLAPTON
"After midnight, were gonna let it all hang out/ after midnight, were gonna chug-a-lug and shout/ were gonna cause talk and suspicion/ give an exhibition/ find out what it is all about/ after midnight, were gonna let it all hang out." - After Midnight - J.J. Cale
Cale musters a roster of fellow legends on stage - Tractors pianist Walt Richmond in Tulsa - and protégée Eric Clapton at his annual Crossroads Festival in Dallas, Texas.

Clapton was a big earner for Cale when he recorded his gems After Midnight, Crazy Mama and Cocaine.

"My album 461 Ocean Boulevard is my homage to J.J. Cale," Clapton reveals in one of his cameos about a disc produced by Tractors drummer Jamie Oldaker.

"I've had hits with his songs and I'm very grateful to J.J. for that."

Cale was homeless until Clapton came to the rescue.

"I had a Les Paul guitar I hocked and sold to Marc Benno," Cale confessed.
"I was broke until Eric cut After Midnight."

That song was later used in a Millers Beer TV commercial.

Clapton is equally elated.
"J.J. has such a grasp of life, he's a very smart guy," says Clapton - one of the first artists to cut Cale songs.

Cale returned the compliment when he recorded Clapton song Golden Ring - written for Clapton's former wife Patty when she was wed to the late Beatle George Harrison.
JOHNNY RIVERS
I ain`t hidin` from nobody, ain`t nobody hidin` from me/ I got that green light, babe, I got to keep moving on/ I got that green light, babe, I got to keep moving on/ I might go out to California, might go down to Georgia, might stay home." " - They Call Me The Breeze - J.J. Cale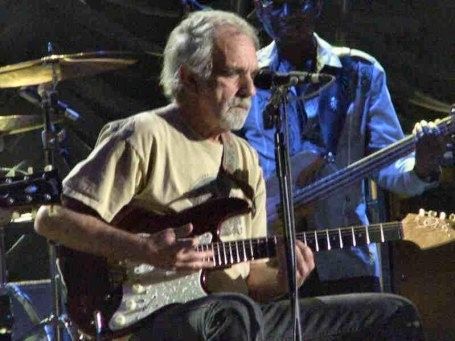 It was at the famed Whiskey Au Go Go in L.A. that the promoter persuaded Cale to change his name from John to J.J.

"We went in there on an off night when Johnny Rivers was playing," Cale recalled.

"There were girls in cages as Rivers played. The promoter said there's already a John Cale - the violin player in the Velvet Underground. I said 'you can call me what you like if you give me the job. So later they had J.J. Cale on the billboard."

Cale's recording started equally modestly in the sixties when he pitched his songs to Nashville publisher Audie Ashworth who became his manager.

He released three unsuccessful singles - Dick Tracy, In Our Time/Outside Looking In and Slow Motion with After Midnight as the B side for Liberty.

"My first album Naturally was cut with demo scale musicians as a spec album," Cale confessed.

"I was a big fan of Mose Allison with his swing and old style jazzy style. I also liked Billie Holliday - she always sang behind the beat. We cut Cocaine and then re-cut it."

It was the calm before the storm in 1972 in Nashville - the town north of the trailer -studio that was Cale's home for more than a decade.

Naturally and its immediate successors were on Russell's Shelter label in Tulsa.

The late Johnny Cash & Waylon Jennings, Allman Brothers, Bryan Ferry, Captain Beefheart, Jerry Garcia, Lynyrd Skynyrd, Santana, John Mayall, Freddie King, Deep Purple, Brother Phelps, Poco and a vast galaxy of country artists began recording Cale songs.

They Call Me The Breeze, Anyway The Wind Blows, Call The Doctor, Cajun Moon, Crazy Mama, Magnolia, Sensitive Kind and Travelling Light are among the better known.
COCAINE IN JOHLAND BAN ATTEMPT
"If you want to hang out, youve got to take her out, cocaine/ If you want to get down, get down on the ground, cocaine/ she dont lie, she dont lie, she dont lie, cocaine/ if you got bad news, you want to kick them blues, cocaine." Cocaine - J. J. Cale.
Although a former Queensland Minister For Health Sir William Know tried to ban Cocaine from radio here, Clapton has a different view on the song.

"There was a subtle element of disapproval of cocaine in the song," Clapton revealed. "That cocaine was a dead end street but J.J. is not political in his songs."

Cale is captured in concert in Oklahoma, Texas, Boulder and Denver in Colorado and beyond with his band augmented by Clapton, fiddle player Michael Doucet, Christine Lakeland, Richmond and many more.

Cale met Lakeland, a long time band member, backstage at a prison concert featuring B.B. King and the late Waylon Jennings.

"I'm a senior citizen now," Cale quips.

"I tried to dig up guys who were still alive - it was like a high school reunion."

Pianist Rocky Frisco, from the class of 57, adds "he's the lead dog pulling the sled."

That sled produced 14 albums - the latest in 2004 shared the same title as this DVD docco, filmed back in 2005.
DICK CLARK AND BULLETS
"When your day is done and you got to run, cocaine/ she dont lie, she dont lie, she dont lie, cocaine/ If your thing is gone and you want to ride on, cocaine/ dont forget this fact, you cant get it back, cocaine/ she dont lie, she dont lie, she dont lie, cocaine" - Cocaine - J.J. Cale.
Cale was perched on the eve of fame in 1979 when Crazy Mama reached #22 on the rock charts with a bullet and he was booked to play the syndicated Dick Clark TV show without band.

"They wanted me to lip synch," says Cale who refused.

"I'm a musician - not an actor. The record dropped from the chart."

Cale doesn't resile from his reclusive lifestyle.

"I'm a nervous jerk," he confessed.

"I'm not really laid back. My music is. I'm always a background person. It took me a while to lead the band."

So what about sources of songs that stood the test of time?

"Some of my songs are from experiences I've had, some are fiction," Cale recalled.

"Music comes from life - life doesn't come from music. It's the highest form of flattery when other people cover your songs. It was also good for my ego."

For a reclusive genius that's a mighty big confession and well worthy of one of the DVDS of the decade.