DAVE'S DIARY - 4/12/07 - PREVIEW OF EPISODE 1 - SERIES 9
BROOKS & DUNN HEADLINE NU COUNTRY TV
Nashville superstar duo Brooks & Dunn headline the return of Nu Country TV - this Saturday December 8 - on the eve of their debut Australian tour in March.

Brooks & Dunn and one of their support acts - former Grenfell rodeo rider and latter day singer Steve Forde - appear on the program, premiering
at 8 p m on C 31.

The show, also on C 31 in Queensland and South Australia, is repeated at select time slots in Victoria.

Brooks & Dunn are touring in March to promote their 12th CD Cowboy Town - they have already sold out their first Brisbane concert on February 29.

They have another Brisbane gig on March 1 with expatriate Newcastle star Catherine Britt and Geelong born Adam Harvey as supports.
Forde and Morgan Evans are the support artists on their Melbourne concert on March 5 and Sydney on March 10.

This week on Nu Country they reprise their vintage hit Play Something Country from their 11th album Hillbilly Deluxe in 2005

CLICK HERE for a Brooks & Dunn review from the Diary on April 12, 2004.

DWIGHT RETURNS WITH BUCK TRIBUTE

Kentucky born Californian singing actor Dwight Yoakam returns to Nu Country this week with the vintage Red Simpson song Close Up The Honky Tonks.

Fred Durst from Limp Biskit directed the video for the singer who toured here in 2006.

Dwight considered directing the clip but then he saw an advance copy of the Fred-directed movie The Education of Charlie Banks.

Fred wants Dwight to act in the next movie he's making.

"I was so blown away that I called my manager and said, 'I think Fred Durst should maybe direct my video,' " Dwight says. "She said, 'Whaaa…?' "

Dwight's acting agent at the William Morris Agency is Fred's directing agent, so a deal was quickly struck.

Yoakam admits it seems an unlikely pairing.

"As much as there is a whiplash effect of Fred Durst doing a Dwight Yoakam video on the surface, if you go just beyond that, it will make sense," he says.

"It certainly did to the two of us once we met."
Fred, raised in North Carolina, even served a stint in the Navy.

It's from Dwight's covers disc From Dwight To Buck - one of three tribute albums to Buck Owens who died at 76 on March 25, 2006.

Buckin Around by former Asleep At The Wheel singer and long time solo artist Jan Browne and Under The Influence Of Buck by Austin based band The Derailers hit the market first.

CLICK HERE for a CD review of From Dwight To Buck from the Diary.
CLICK HERE for a review of his Palais Concert in 2006.
CLICK HERE for a Dwight Yoakam feature from the Diary on July 26, 2005.

MIRANDA LAMBERT DEBUT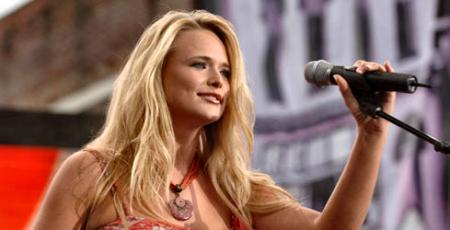 Texan fireball Miranda Lambert lives up to her incendiary nature in her debut on Nu Country TV.

The daughter of a former Dallas undercover narcotics cop delivers a little summary justice to a cheating male in the video for Kerosene - title track of her 2005 CD.

It's highly reminiscent of the result - but not the plot of the Gretchen Peters penned Martina McBride hit Independence Day.

Miranda, just 24, didn't choose her long time beau - Oklahoma star Blake Shelton - for the male lead.

Lambert, one of the stars of the recent CMA Awards show in Nashville, is touring the U.S. to promote her third album Crazy Ex-Girlfriend.

CLICK HERE for a Miranda Lambert feature from the Diary on May 5, 2007.

LESLIE AVRIL - CHRISTMAS PARTY GIRL
Former Nu Country DJ Leslie Avril promotes a rare appearance in her home state by a live clip of the Chris Wall song Trashy Women.

Leslie performed the song, also a hit for Confederate Railroad, at Apollo Bay with her hot band.

The Smiths Creek chanteuse will be reunited with fellow Nu Country DJ and Daddy Cool drummer Gary Young when she headlines our free Christmas party at Hotel Kew on Sunday December 16.

Leslie has released three CDS in a colourful career that included stints with The Blue Heelers and on stage roles with Nashville star Joe Sun.
Ms Avril shares the Nu Country party spotlight with Suzie Dickinson, Susan Lily, Snowy Townsend's Bona Fide Travellers and other special guests including Tracey Bunn who won acclaim with The Toe Sucking Cowgirls.

CLICK HERE for a Leslie feature from the Diary on June 14, 2004.
NICKI GILLIS RED HILL HEADLINER
Dynamic diva Nicki Gillis, born in the wide open spaces of West Australia, returns to Nu Country with the video of her new single Leaving You For Myself.

The video, an entrant in the 2008 Tamworth Golden Guitars, is one of the highlights of her second album Lucy's Daughter.

Nicki wrote the song with Flood singer Kevin Bennett.

"It is for all the women who have a simple wish for a little 'me time'", the mother of two revealed.

"I'm not leaving you for somebody else, I'm leaving you - for myself!"

Former Bushwackers icon Roger Corbett produced the album that also features Flame Trees - penned with Grafton born Don Walker.
Gillis recorded Flame Trees as a tribute to the troops in Iraq after a 2006 tour of the war zone with Lee Harding and Stacey Morris.

Nicki is among the headliners at the popular 20th Red Hill Country Festival - Sunday January 13 - with bluegrass aces The Davidson Brothers, Black Hill Ramblers, Prairie Oysters and many more.

Australia's Prairie Oysters shouldn't be confused with Canada's famed band Prairie Oyster who won lavish airplay on Nu Country FM.

CLICK HERE for our gig guide

STEVE FORDE IN METROPOLIS
Cowra-born Steve Forde returns with a video for the title track of his fourth album Metropolis.

Forde, a former rodeo rider, is one of the four support acts on Brooks & Dunn debut national tour in March.

It's a similar stint to his opening role on chart topping surfing Californian cowboy Gary Allan's Australian tour that brought him to Geelong on October 22, 2005.

Forde's collaboration with Lee Kernaghan and Adam Brand on Spirit Of The Bush topped the ARIA Australian Singles Chart on July 9.

The video has been nominated in the 2008 Golden Guitar awards.

Forde soaked up international influences on sojourns to Texas and Canada in 1998.
He is touring to promote his album, produced in Nashville by Richard Landis who has also worked with Vince Gill, Neil Diamond, Kenny Rogers, Eddie Rabbit and Ronnie Milsap.

Forde is the writer and co-writer of nine of the 12 songs on the album released here by ABC.

The Deluxe CD/DVD Limited Edition of Steve Forde also features six music videos, including two live recordings from the 2006 Deniliquin Ute Muster.

CLICK HERE for a Forde feature from the Diary on January 9, 2005.
TAMWORTH TRAIN SPONSOR
Nu Country has a new sponsor for Series #9 - The Tamworth Country Music Country Train that leaves Geelong and Southern Cross stations at dawn on January 19 for the NSW country music capital.

Headlining entertainment is Oklahoma raised stone country legend Becky Hobbs and Nashville comedienne, producer and singer-songwriter Kacey Jones.

We have new video clips by Becky and vintage footage of by Jones who hosted Nu Country TV from an Austin motel room during the Mickey Newbury festival in June of 2006.

Kacey recorded the Newbury tribute disc San Francisco Mabel Joy - the video clip, directed by New Mexico country star Stacy Dean Campbell, features singing actors Kris Kristofferson and Waylon Payne.

We'll reprise it in Series #9.

Kacey and Becky sing for their supper on the train - home for passengers during the Tamworth festival.

Nashville singer Julie Taylor performs on the train with local artists including Grant Luhrs, Connie Anderson, J R Williams, Ian Muir, Rick Bartlett, Hank Sasaki, June Harrison and Bec Hance.

Full details - www.tamworthcountrymusictrain.com.au