DWIGHT YOAKAM - THE BAILEYS - PALAIS THEATRE - ST KILDA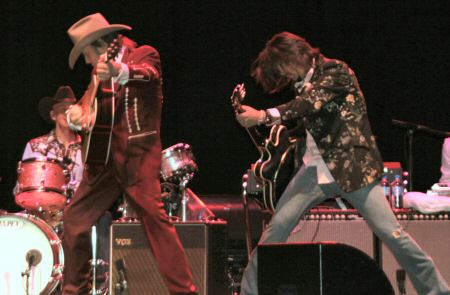 Dwight Yoakam at the Palais - photo by Carol Taylor
They came in Utes, pick-ups, four-wheel drives, sedans and bikes from the Wimmera, Shipwreck Coast, Van Diemens Land, Gippsland, Goulburn Valley and Riverina.

Dodging parking inspectors and other city locusts they invaded St Kilda for return of the Kentucky born colt whose manger was the same Pikeville hospital that gave birth to that other Coalminer's Daughter Patty Loveless just three months later.

So it should have been a triumphant trip for the singing actor who chose a town south of Bakersfield as his font for an assault on Nashville more than two decades ago.

Yoakam, who last toured here in 1996, celebrated his 50th birthday on Tuesday at his L.A. home after a Texas tour.

But dark clouds loomed two days later with the death at 86 of Tillman Franks - the writer of Honky Tonk Man - on the eve of Yoakam's return to this historic bayside Palais Theatre.
Yoakam chose the song, a 1956 hit for the late Johnny Horton, as his debut single in the days he teamed with hotshot producer-guitarist Pete Anderson.

The honky tonk thespian sold out his first concert in rapid time but sales stalled for the second show when a publicity void opened up as he limited interviews to north of the Murray-Dixon line.

So, unlike his first tour when his many interviews primed the sales pump, he lost out to touring peers such as The Dixie Chicks and Lee Kernaghan and disposable dudes and dames from the rock, rap and disco market.

Unlike the much-maligned Texan trio he didn't avail himself a chance of countering the commercial radio ban of country music by strutting his stuff on breakfast TV or the shrinking variety shows.

But promoter Andrew McManus employed lateral thinking to grant the support to a pure country combo instead of refried rockers or tuneless twerps who frequently clear auditoriums in curtain raisers for country stars.
THE BAILEYS
So instead of retreating to the under staffed upstairs bars for $7 glasses of champers and wine, appreciative fans were treated to energetic Tamworth quintet The Baileys.

And, like the rum that shares it name, it was a nice drop.

Singers Charlene, 18, and Crystal, 21 on acoustic guitar and mandolin and drummer brother Kurt Bailey, 20, guitarist Daniel Conway, 17, and bassist Lindsay Dallas 20 strolled through a sparkling septet of originals.

Unlike many support acts they enjoyed a quality sound mix that enabled their patter and vocals to be clearly audible.

Charlene set the mood with user-friendly quips about her siblings' love life and the genuine joy of opening for their idol.

A match made in honky tonk heaven for impartial observers - they didn't have a CD to flog so were not chosen for their role because they shared a record label with the headline artist.

The quintet, whose first major exposure was a recent DVD by Indian cowboy singer Bobby Cash, covered all emotions.

There was the positive passion of Somewhere Trouble Don't Go, You Make Me and You Belong To Me.

And that was balanced with ruptured romance of Second Hand Love, Goodbye To You and The Anger Song.

Guitarist Conway echoed the sisters' joy by confessing he was not yet 18 before they finished with his tune Caught In Your Web.

For trivia buffs bassist Lindsay is the grandson of country veteran Rex Dallas who has worked the beer and wine mines beyond city limits of the unlucky radio country since World War 11.

NASHVILLE REBEL
Dwight Yoakam - photo by Carol Taylor

Choice of Waylon Jennings' Nashville Rebel over the P.A. during interval was a not so subliminal message about the parallel careers of the late Texan and Kentucky born Yoakam.

Jennings bucked the system in Nashville and Yoakam, aided by Buck (Owens), did it in California.

Sadly Yoakam, like fellow rebel Steve Earle, suffered a horrific vocal mix on the first night - just three days after his 50th birthday.

It ranked on the irritant factor scale with recent gigs by Los Lobos and Hayseed Dixie - a stark contrast to expatriate Australasian superstar Keith Urban.
Urban and band played loud in the same venue but every instrument was audible with no feedback.

Dwight's problems kicked in on entrée song She'll Remember, latest album title track Blame The Vain, and I Want You To Want Me and never really disappeared.

This was a shame - Yoakam's unique voice is a powerful projectile in his armoury.

Tonight it was a weapon of mass distraction despite a stellar band ensuring dynamic delivery of 40 songs charting a colourful career in a two-hour plus show.

But there lay the problem - without airplay Yoakam's recent material was lost on the audience.

Country music relies on lyrics to connect - wiggles and twirls are optional extras or mere accessories for choreography connoisseurs.

So let's ignore the distortion - especially from the artist's acoustic guitar on song 26 - his stool perched rendition of Buenas Noches From A Lonely Room.
BUCK OWENS
Yoakam gave muffled apologies for his 10-year absence before a four-play tribute to Bakersfield benefactor Buck Owens.

It began with Johnny Russell penned Act Naturally, then Crying Time and Together Again before Streets Of Bakersfield - the 1987 catalyst for Owens career rebirth.

Dwight Yoakam - photo by Carol Taylor>
Yoakam revealed he was indebted to Owens - not just for his Bakersfield sound that was a lucrative alternative to the Nashville mainstream in the sixties and seventies.
Dwight also performed at Owens Bakersfield funeral in April after Buck bailed him out financially - becoming executive producer on his 1997 directorial debut on South Of Heaven, West Of Hell.

But Buck wasn't on the mixing desk to ensure the gravel gremlins were evicted from the vocal mike or slamming door bang was banished from acoustic guitar solo.

Even-handed patrons accept that drums and guitars drive the honky tonk train as long as they don't drown the vocals - that was compounded by muffled vocals in the sparse stage patter.

So let's deal with the good tidings.

The audience was treated to a kaleidoscopic soundscape of shuffles and two steppers floating atop a swirling ocean of country rock.

It was topped with multi-instrumentalist magic by guitarist Eddie Perez, axeman with The Mavericks after Nick Kane's plank walk, and keyboard ace Joshua Grange.

Their dexterity on banjo, mandolin, accordion and pedal steel was a joyous tributary on songs reaching back to Guitars, Cadillacs Etc, A Thousand Miles From Nowhere, Turn It On, The Distance Between You And Me and Fast As You.

Yoakam also punched out Honky Tonk Man from the pen of Tillman Franks who died at 86 on the eve of the concert.
MERLE AND BONNIE
Photo by Carol Taylor

He also delved into meaningful patter with explanation of his tribute to Bonnie Owens - one time singing spouse of Buck who later wed Merle Haggard and toured with him long after their divorce.

He explained Bonnie died three months after attending Buck's funeral and honoured her with a heart-wrenching rendition of Today I Started Loving You Again - a hit she penned with Haggard.

It was a pedal steel drenched highlight.

So was Yoakam's version of Johnny and Jack Anglin penned hit Stop The World And Let Me Off - reprised from a Waylon Jennings tribute disc.
Yoakam ensured he covered all bases - tunes such as This Time, Little Ways, Pocket Of
A Clown, Just Passing Time, It Only Hurts When I Cry, It Won't Hurt, Back Of Your Hand, Dreams Of Clay, Two Doors Down and Three Good Reasons.

The singer also honoured mentor Elvis Presley with Little Sister and Mystery Train, Merle Kilgore and June Carter Cash with Ring Of Fire, Cash again with an evocative version of his Sun Records era Home Of The Blues and Stonewall Jackson's Smoke Along The Track.

But that's what you expect from a Yoakam concert.

The singer also paid tribute to the late bluegrass purist Jimmy Martin with a sizzling rendition of Don't Forget Me Little Darlin' that fully exploited the musical magic of Perez and Grange.

Their encore included Long White Cadillac, Gone and Queen hit finale Crazy Little Thing Called Love.

Great theatrics and delivery - shame about the sound. - DAVID DAWSON