DAVE'S DIARY - 9 JANUARY 2005 - STEVE FORDE
STEVE FORDE - FROM LUBBOCK TO MT ISA
"Gas pedal mashed to the floor in my 64'/ V8 brick cruising around town like I own it/ she slides close to me, thank God for no bucket seats/ we're living in a world like a Hollywood dream, like it's 63." - You And Me - Steve Forde.
Don't accuse former rodeo rider Steve Forde of making easy bucks out of his hard bucks.

The latter day Grenfell farmer has the broken bones and bruises to show for his life in the saddle.

But it's equally rough and rocky travelling in his alter ego as a country singer-songwriter - a trail that landed him in the highly competitive U.S. market.

Sure, Forde hasn't endured the pain of former Wyoming world champion rodeo rider and singer Chris LeDoux, now 55, who returned to the road after a liver transplant.

Forde was raised on a Cowra farm and mixed music with bull riding and bareback bronc work before following his dream to Texas in 1998.
There he bought a 63 Dodge Polara that enabled him to travel and enjoy his twin pursuits from the Lone Star state to Colorado and Canada.

Forde turned his hand to fencing in famed West Texas panhandle city Lubbock between gigs and rodeos.

But his lucky break was a smashed thumb in Tennessee civil war town Franklin, home of David Lee Murphy, that led him to Nashville and fellow writer Dan Roberts who penned Beaches Of Cheyenne, The Old Stuff and The Fever for former Oklahoma superstar Garth Brooks.
WILD RIDE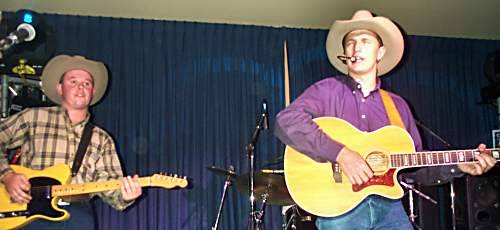 Forde, now 28, honed his tunes with Music City writers and cut two albums in Nashville - Livin' Right in 2002 and Wild Ride in 2004.

Steve released Wild Ride on new Sydney label Vital in July and is touring nationally with his band The Flange to prime the sales pump.

Prestige gigs this month include the Mt Isa Rodeo from August 6-8 and Gympie Muster from August 27-29.

The singer, who bought and works 1800 acres at Grenfell with a younger brother, utilises TV as his surrogate radio in his homeland.

Forde is subject of a video documentary on 24 hour a day country music Pay TV channel CMC and has included a video clip of his tune The Letter on his CD.

So what does Forde sound like?

Well, he soaked up his rodeo and road travails on U.S. sojourns and his production with Nashville studio serf Mark Mosely ensures this is a radio friendly disc.

That means vocal delivery is more Nashville than Charleville but the themes of Forde's 11 originals embroider modern honky tonk country.

Forde mines the melancholia motherlode in the ruptured romance and wry word play of Drinking Things Over, nostalgia of The Old Days and You And Me and positive parable That's My Life.

He explores his hell raising rural roots on the Shoalhaven River in Upstream - a sibling song of sorts of his Texan tributary Beer And Women.

The Australiana army will criticise Forde for exploiting American influences but that is a virtue, not a vice, if you have taken the plunge and worked in the biggest country market in the world.