DAVE'S DIARY - 13/8/13 - PREVIEW OF EPISODE 10 - SERIES 20
MARCH TOURISTS HEADLINE NU COUNTRY TV
Eclectic country combo Zac Brown Band headlines Nu Country TV this Saturday August 17 at 9.30 pm on Channel 31.

Oklahoma peers Cross Canadian Ragweed also returns to the show repeated Monday at
3 pm and midnight and Thursday at 1 am.

West Virginian Brad Paisley and bluegrass icon Alison Krauss also perform an historic hit video on Behind Bars on the Blaize Warden edited series.

And veteran Australian singer-songwriter Alan Caswell debuts his social comment video on the program closed by Texan Lee Ann Womack and available on Catch-Up video on the Channel 31 web page.
ZAC BROWN JUMP RIGHT IN
Georgian gaucho Zac Brown returns to Nu Country just five months after his band's debut tour that wowed fans at Myer Music Bowl with Jason Mraz.

The band enlisted some island mates for a Jimmy Buffett style dinner on tropical hit Jump Right In - third hit from its sixth album Uncaged.

There's no shortage of boats, belles, beds, booze, bungee jumping and planes in the joyous celebration of life in the slow lane.

The band plans a return tour in 2014 to build on its success this year.

CLICK HERE for a review of Uncaged in the Diary on August 12, 2012.
CLICK HERE for another Zac Brown feature in the Diary on November 2, 2011.

CROSS CANADIAN RAGWEED
Oklahoma bred band Cross Canadian Ragweed took its music ringside like June tourist Paul Thorn in the video for Fighting For from sixth album Garage.

Band members performed to the backdrop of a 12 round bout where the winners may have also been the losers.

Formed in Yukon, Oklahoma, the leaders of the Red Dirt country movement recorded seven studio albums and three live discs in a 20 year career.

It took its name from founding members Grady Cross, Cody Canada, Randy Ragsdale and Matt Wiedemann and moved to college town Stillwater, Oklahoma, where Mike McClure's Great Divide and Jimmy LaFave earned Stillwater the nickname North Austin.

In May 2010 the band announced a hiatus from touring.
Ragsdale said "Right now, I need to be at home for my family, particularly my son JC, who has autism. He's 10 years old now and still struggling in his development. I feel the only way I can help him is to be more hands on and close to home."

In September 2010 Canada officially announced the band was calling it quits by announcing their Last Call Show in October, 2010 at Joe's Bar in Chicago.

Canada and Plato formed The Departed with fellow Yukon-native Dave Bowen (drums), Seth James (guitar), and Steve Littleton (keyboards), releasing their debut album in June, 2011.

Ragsdale and Cross both returned to Yukon and Ragsdale toured with Stoney Larue from December 2011.

Their song Boys from Oklahoma plays as the credits roll in the movie Leaves of Grass starring Edward Norton and Susan Sarandon.

BRAD PAISLEY & ALISON KRAUSS SING A WHISKEY LULLABY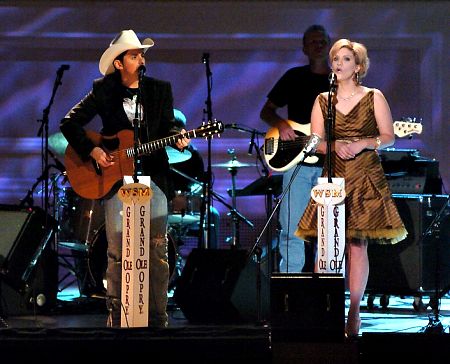 Brad Paisley and Alison Krauss prove the power of a song with a message in their video for Whiskey Lullaby in our Behind Bars segment this week.

The 2005 CMA song of the year was penned by veteran singer-songwriters Bill Anderson and Jon Randall - one of Lorrie Morgan's four former singing spouses who started it shortly after their divorce.

The video, set in World War II, starts in a bus full of ex war vets and sound of explosions still fresh in their minds.

The song is about a man and a woman who were married; he went to war and when he came back she was with another man. He kills himself, drinking himself to death, leaving a note to say that he still loves her.

In the next verse the woman is mourning his loss.

She thinks it's her fault and kills herself as well, drinking herself to death, holding his picture.

"Jon Randall and I wrote the song together," Anderson revealed.

"Jon was going through some pretty rough times back then. He had gotten a divorce and lost his writing deal and his record deal all within just a day or two of each other. And he went over to a friend's house and crashed for a couple of weeks. When he decided to sober up and come back and join the living again, he apologized to his friend. He said, "Man, I'm sorry for the way I've acted the last couple of weeks." And his friend said to him, "That's alright Jon, I've put the bottle to my head and pulled the trigger a few times in my life." So when Jon came to the writing session that was fresh on his mind. I went to the writing session with the idea to write a song called, Midnight Cigarette. Basically that turned out to be the first line of Whiskey Lullaby: 'She put him out like the burnin' end of a midnight cigarette.'

"That was what I wanted to write the whole song about. Jon loved that line so we wrote it down and then he said, "Here's a line here: 'He put that bottle to his head and pulled the trigger.' I said, 'Well, let's forget about the Midnight Cigarette. Man, you've got the perfect idea for the song there.' And it just kind of flowed from there."

Paisley, now 40, released it on 2004 album Mud On The Tyres and said "it's an angelic, ghostly bluegrass ballad, really a tragedy, and I think when I get to heaven, if the angels don't sound like Alison Krauss, we have been cheated."

CLICK HERE for a Brad Paisley interview on April 22, 2013
CLICK HERE to win his ninth CD Wheelhouse on our membership page.
CLICK HERE for an Alison Krauss CD review in the Diary on January 23, 2005.

ALLAN CASWELL PURE COUNTRY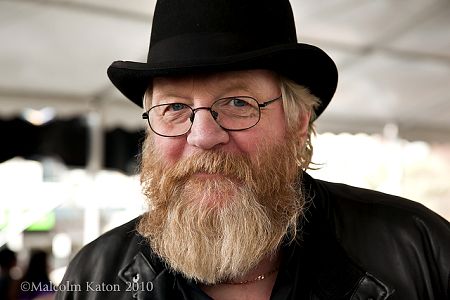 Sydney singer-songwriter Allan Caswell nails his social comment It's A Country Song with superb imagery dating back to the golden era of the genre.

Caswell's video is illustrated by country pioneers - his song eulogises the vinyl era that reflects the roots of his raising.

His lament on Aussie commercial radio and rhyming of Bakersfield and pedal steel fuels the title track of his 18th album in a 40 year plus career.

Time may have taken its toll on the psyche of the singer, born in Chester, England, and now living in Medlow Bath between Blackheath and Katoomba in the Blue Mountains.

But his longevity has been fertilised by lucrative royalties that began in earnest when he wrote The Prisoner theme On The Inside - a huge 1978 hit for Lynne Hamilton.

Caswell sued the publisher of chart topping band Alabama for allegedly plagiarising the song as Christmas In Dixie in 1982.

On The Inside was also theme for Prisoner Cell Block H in the US and UK and Caged Women in Canada.

In March 2011 Violet Town troubadour and former Killing Heidi and latter day Verses singer Ella Hooper, 30, released her version of On the Inside as the theme song for a local Pay TV version of The Prisoner.

Six time Golden Guitarist Caswell's tunes have flourished through recent years with covers by local artist diverse as Paul Costa, Tracy Killeen, Rose Carleo. McAlister Kemp and Travis Collins.

Patti Page, Cilla Black, Irish Rovers, Max Bygraves, Acker Bilk, Slim Dusty, The Living End, Chad Morgan, James Blundell, Anne Kirkpatrick, Don Spencer, Graeme Connors, Delltones, Doug Ashdown and Ricky May also covered his tunes.

Caswell, now 61, continues to write, produce, and lecture on songwriting and plans to market his autobiography On The Inside - a story of survival in the Australian Music Industry - on the international market.

Further Info - www.allancaswell.com
LEE ANN WOMACK - LAST CALL
Texan Lee Ann Womack makes the most of a country metaphor in the video for Last Call from her seventh album Call Me Crazy.

The single was released on June 30, 2008 and preceded Call Me Crazy, released on October 21, 2008.

Lee Ann played a sheriff - Chief Deputy Claire Wades in a small East Texas town in the movie Noble Things and landed her song Liars Lie on the soundtrack of Tim McGraw-Gwyneth Paltrow movie Country Strong.

Womack also joined fellow Texan George Strait and Georgian superstar and September tourist Alan Jackson on Murder On Music Row - their Nashville parody.
Lee Ann, now 46, was born and raised in Jacksonville - she was second of two daughters of a school teacher mother and high school principal father who also worked as a disc jockey.

Womack graduated from famed South Plains College in Levelland, Texas, before attending Belmont University in Nashville where she met and married singer-songwriter Jason Sellers in 1990.

They had a daughter Aubrie Lee Sellers, born 1991, before divorcing in 1996.

In January 1999 daughter Anna Lise Liddell was born after Womack married record producer Frank Liddell.

CLICK HERE for a feature on Lee Ann from the Diary on March 28, 2005.
HOW TO KEEP NU COUNTRY ON AIR
We need your support to return to air in December on Channel 31 to celebrate our 21st series of Nu Country TV.

Australian record companies and artists have joined forces to ensure our survival.

We have new CDS by major artists you can win by becoming a Nu Country member or renewing your membership.

They include singing actors Willie Nelson and Tim McGraw, Voice judge Blake Shelton and singing spouse Miranda Lambert, Ashley Monroe, Brad Paisley, Gary Allan, Keith Urban, Toby Keith, Dierks Bentley, Eric Church, Carrie Underwood, Charley Pride, Slim Dusty, Felicity and more.

We also have the latest John Fogerty and John Denver all-star tribute albums and DVDS by Miranda and fellow chart topper Lady Antebellum.

CLICK HERE for our Membership Page for full details.