DAVE'S DIARY - 2 NOVEMBER 2011 - ZAC BROWN
ZAC BROWN BACK IN TOWN
"I play the road, and the highway is our song/ and every city's like the same three chords/ been helping us along when the story's told/ and the crowd is done and gone/ shaking off the miles and trying to make it home." - I Play The Road - Zac Brown-Wyatt Durrette-John Driskell Hopkins.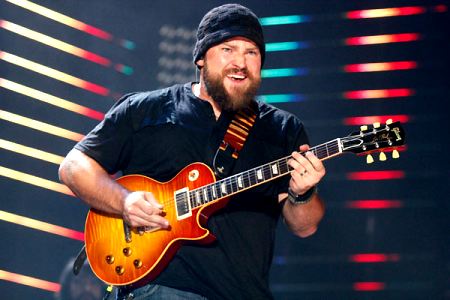 Grammy grabbing Georgian gaucho Zac Brown led his first search and destroy mission here on the unlucky radio country long before his band ascended to international fame.

The singer-songwriter and celebrated chef cruised east coast beaches as a boat person with a visa - but without a vanquished vessel.

Now, almost a decade down the surf splashed lost highway, the bearded bon vivant's performing price has rocketed.

And the father of four, who shared one of his two Grammys with fellow Georgian superstar and recent Australian tourist Alan Jackson, is back in the sales saddle.

His band's fifth indie album You Get What You Give topped Billboard's all-genre Top 200 on debut the only year this decade that Geelong didn't win a premiership - 2010.

It sold more than 153,000 copies during its September debut week and many more since.

Now, aided by a brace of highly accessible video clips - some featuring high profile duet partners Jackson and singing sailor Jimmy Buffett - he is poised to pounce.

Unlike fellow Grammy gatherers Lady Antebellum the band, formed in 2002, is not sold here as a pop act to penetrate the me-too mausoleums of commercial radio.

Instead Brown is swirling in the slipstream of hot country acts by winning widespread exposure on Pay TV channels CMC and Hit Country and Nu Country TV.

And, despite departure of 774-AM nocturnal roots music DJ Derek Guille for Shipwreck Coast, HQ Warrnambool, his music has surfaced on ABC, narrowcast and community radio.
CHICKEN FRIED FRANCHISE
"I thank god for my life/ and for the stars and stripes/ may freedom forever fly, let it ring/ salute the ones who died/ and the ones that gave their lives so we don`t have to sacrifice/ all the things we love/ like our chicken fried." - Chicken Fried - Zac Brown-Wyatt Durrette.
Zac Brown belatedly broke with a song first recorded by now defunct Virginia band Lost Trailers in 2006.

But it was two years before that Dixie delicacy Chicken Fried became the first of three #1 country hits on Zac's slow burning eclectic fourth album The Foundation that sold two million copies.

Now, with surf and highway hopping, the Georgian quintet has mastered a hedonistic hybrid of country, reggae, bluegrass and R & B.

It's a freewheeling formula pioneered by Buffett and homogenised by Tennessee superstar Kenny Chesney with toe dipping by Toby Keith and a Texan or two.

But that's not all for a band tipped to belatedly tour here on the lucrative summer-autumn festival circuit.

Zac has a flotilla of high profile duet partners on his speed dial, veteran Texan born producer and hit writer Keith Stegall on call and his own indie record label Southern Ground.

There's also a massive mobile southern fried kitchen feeding fanatical fans at concerts.

Zac, 11th of 12 children, knows plenty about sharing - especially food.

And that's not just way down in the Deep South, coast and islands where music lovers fast fed rap, disco, hip-hop and pop have rebel reflux.

He invaded multi-cultural Manhattan and far flung boroughs of New York City and New Jersey where the late Smoky Dawson once wreaked havoc with two rampant roos in 1950.

The Smoky cameo at the New York City premiere of Twentieth Century Fox movie Kangaroo - starring Peter Lawford and Richard Boone - won international headlines when two zoo roos Zip and Zap escaped en route to the screening from Dawson's topless convertible.

It was at the height of the Korean War but the New York World Telegraph front-page story Zip Zigs As Police Zag ignited international wire service headlines and earned Dawson fame that money can't buy.

Smoky, who also once called Warrnambool home as an infant, became the first artist to record for Nashville record label Hickory.

Wes and Fred Rose created Hickory and also managed and published the late country king Hank Williams.

Dawson signed a three-year deal and then wrote and recorded U.S. debut single The Last Supper and The Light Of The World.

The singer, who died at 94 in 2008, also played the role of a singing, sharp shooting cowboy in Broadway musical Kiss Me Kate with his wife Dot who died at 104 in 2010.
BROWN BUS MORE THAN A STEEPLE

"Well the bus it is our steeple, it brings us to the people/ and they will be there waiting dancing young and old/ and every one of us gets tired, but every one remains inspired/ and every one of us require, to keep picking through our souls." - I Play The Road - Zac Brown-Wyatt Durrette-John Driskell Hopkins.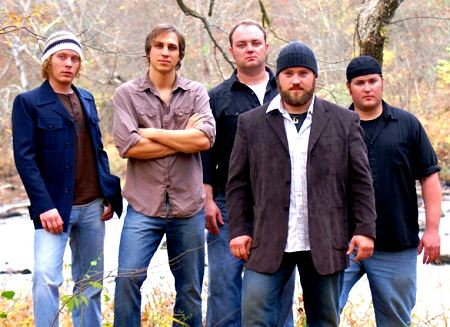 But Zac was not promoting a western movie when he took his band and food kitchen to the streets to share his magic with mainstream TV shows.

Yes, his merry minstrel and master chef melange on the mean streets of Manhattan was riveting recipe and edible entrée to syndicated TV shows that invade Australia by satellite.

Brown's band and travelling chefs headed by Rusty Hamlin - one of the few free-range acts to storm across a reactionary, regimented radio moat - was promoting You Get What You Give?

Hamlin is executive chef for Zac and feeds the masses from a 54-foot-long, 26-wheel, silver-and-blue highway behemoth called Cookie for pre-concert eat and greets catering for 150 plus food and music lovers.

A vast contrast to the Vinnie's soup kitchens here where recently retired ABC DJ Guille's wife Barbara toils as a volunteer.

Brown may be a good old boy with his feet embedded in the red Georgia clay but he's also a master marketer - not quite in the league of Oklahoma icon Garth Brooks who also found love the second time around with yet another Georgian singer Trisha Yearwood.

On stage and CD Brown's band toss fried chicken, beer, mama, ruptured romance, road anthems, surf, snow, freedom and soldiers into a bucolic blender that translates as well to TV as radio in the gimmick generation.

There's a freewheeling flavour to their music but, like many Dixie peers, there's a patriotic pistol firing up their brew.

The Chicken Fried video clip extols the laid back culinary delights of the processed poultry but then there's also that highly visible nod to military ancestors and modern warriors for the freedom to enjoy it.

Not quite as blatant as the flag fuelled swagger of Toby Keith, Charlie Daniels and Hank Williams Jr but the message is quite clear.

That's the entrée - what about the main course?
CADDIES WITH NO TEE
"Don't be fallin' in love as she's walking away/ when your heart won't tell your mind to tell your mouth what it should say/ may have lost this battle, live to fight another day/ don't be fallin' in love, as she's walking away/ you might fall down on your face/ roll the dice and have some faith." - As She's Walking Away - Zac Brown-Wyatt Durrette.
Jackson presented Brown with a 1966 Cadillac El Dorado after their duet on As She's Walking Away became the band's 5th No 1 hit and before they won their second Grammy for it.

It was just prior to the band's gig at the Nashville Bridgestone Arena on December 29.

The vintage white convertible was Alan's gift to Zac for his duet that topped country charts for two weeks in November of 2010.

"He was nice to include me on that," Jackson said of his fellow Georgian. "He's a pretty good fellow and I just wanted to do something for him." Zac says he noticed the car and thought, "That's Alan's car. It's got to be. That's bad-ass. Then Alan said, 'That's your car.' Man, that's unbelievable - it's unreal."
Zac embellished his humorous history insight when he revealed: "I will pay it forward. What an amazing night, amazing friend, amazing car and if I want to pull a Hank Sr., I now have the ride to do it in."

Jackson was thrilled to sing on the Grammy winning duet.

"Zac, that's his song, and he was just kind enough to ask me to come sing on it, a little bit," Alan said.

"I'm from Georgia originally, and so is Zac. After he hit, we just kind of met a time or two. He actually played some shows with me on the road. He's just a real guy, real musician and songwriter-singer. That's why I like him, and I think he feels the same way about me. He was just nice enough to ask me to be on that song, because he was a fan, and it was a real treat to be on there. Cool song he wrote, and we shot a little video. He's a nice fella."

But the song has its roots further south.

"We had just played a show in Orlando with the Los Lonely Boys," Durrette recalled.

"Zac and I went to a bar in Orlando to watch a UFC fight. We were sitting there watching this fight, and a girl and a guy walked in. All night, she stared at me and I was looking at her. She was a beautiful girl but she had her boyfriend with her so I obviously wasn't going to say or do anything. We kind of spoke all night from across the room but didn't say anything to each other. We really couldn't say anything. It was just one of those circumstances where you see a pretty girl in a bar and you don't have the guts to walk over and say hello to her. You find yourself missing that chance and find yourself kicking yourself when you leave. That's what sparked the song. I'm falling in love as she's walking away. There was nothing that I could do and I probably will never see her again. I don't even know her name. She'll never know this song's about her. I wrote the first verse and chorus in that sense, and then went to Zac. He had the idea of bringing the wise man into it and turning it into the older man at the bar who's much wiser man, giving you advice. Zac and I wrote the next verse."
KNEE DEEP IN A BEACH BUFFETT
"Knee deep in the water somewhere/ got the blue sky breeze blowin' wind through my hair/ only worry in the world is the tide gonna reach my chair." - Knee Deep - Zac Brown-Wyatt Durrette-Coy Bowles-Jeffrey Steele.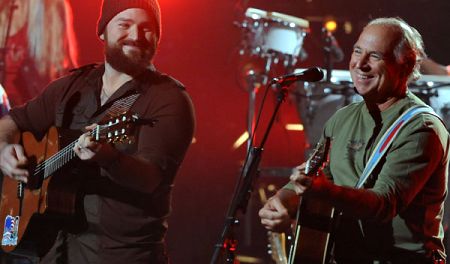 Brown and his band spent another week in Mexico, filming the video for hit single Knee Deep, featuring Buffett.

The video was shot in and around the Costa Careyes Resort in May and includes scenes on a private beach, in the pool area and under a coconut tree.

Luckily, Buffett 65 this Christmas Day didn't fall off stage as he did in Sydney in January, or reprise roles as an America's Cup mascot in 1987 for Dennis Conner in Fremantle.

And the band cut its album with producer Stegall - studio Svengali for Jackson, John Anderson, George Jones, Randy Travis, Catherine Britt and many more - in Atlanta, Nashville and Buffett's Shrimpboat Sound studio in Key West, Florida.

It features 14 new songs and a radio mix of previous hit Free.

Brown prefers his band to improvise so each show is its own distinct entity.

"It's important for us to maintain our originality, in order for us to function as artists," he said.
"And you're always growing and trying to figure out what the fans react to and how to entertain yourself while you're entertaining everybody else."

Dobro virtuoso Jerry Douglas, a hired hand for Alison Krauss's Union Station, joined Zac on some tour dates.

"They're the real thing, a pretty straight country act that actually can play their own instruments," Douglas said.

"You don't have other people guesting in to do things the band can't do."

Most popular contemporary country groups augment onstage and in-studio performances with hired musicians.

But on this album band members played all instrumental parts - except a Tony Rice guitar solo.

Brown, who started playing classical guitar at seven, blues bred pianist Coy Bowles, classical violinist Jimmy De Martini, drummer Chris Fryar, bassist John Hopkins and Clay Cook on guitar, mandolin and pedal steel flesh out the sound.

Cook, a former member of iconic Dixie Rockers - Marshall Tucker Band, also played in the Lo-Fi Masters duo with John Mayer.
ROAD SONGS ROOTED IN REALITY
"She says, "daddy where do you go/when you leave me all these nights/ with a suitcase and guitar in your hand?" - I Play The Road - Zac Brown-Wyatt Durrette-John Driskell Hopkins.
Evocative touring song I Play The Road is a sibling song of Highway 20 Ride that scored lavish video exposure in Australia.
Brown thanks a waitress for the gruel that fuelled the former.

"The band stopped at a restaurant on their way to a show when the waitress asked, "are you in a band?" Brown explained.

"They told her yes, and she asked what instruments they all played. When it was bus driver Big George's turn, she said: "What do you play?" And he said, "I play the road."

So it's no surprise Brown includes a song he wrote about his favourite tool of trade - his guitar Martin.

It's a clever tale of the guitar's rescue from a naked stolen generation of forest timber - Martin grows up to have his distinct timbre.

Not quite the same as the Richard Dobson song Piece Of Wood And Steel - historic hit for former convict country singer-actor David Allan Coe.
Salient sequencing is also a strong bow in their song quiver.
Powerful maternal and paternal paean Let It Go - the CD entrée - drives home the message that inner strength is the ultimate weapon for success over self-doubt.
The band covers all outer and inner extremities of romance in the vitriolic Cold Hearted, eternal hope in Keep Me in Mind and the Biblical leap of faith over heretic hurdles in Who Knows.

And the fatalistic Settle Me Down, replete with radio caveat, takes aims at lawyers, bankers and other corporate bullfrogs croaking in conformity.

"Hey boys, listen right here/ this ain't ever gonna get on country radio/ I'm tellin' ya'/ you gotta change your style."

And there's more drama, Texas style, in road song finale Make This Day that precedes the radio mix of Free.

"I passed out last night and I never made it home/ I wound up on a bus to San Antone/ now my head hurts bad and I ain't wearing shoes/ gonna find my wallet and my way back home to you."

Maybe this is where the spirit of Coe and fellow former convict country star Merle Haggard rise to the rescue.

"I got cuffs on my hands, chains on my feet/ I got locked up for the second time this week/and I know I make you cry but girl, my love is true/ I'm gonna find my wallet and my way back home to you."

For balance there's the blessed riverside requiem No Hurry - and the fatalistic Quiet Your Mind.
CHEATING AND DRINKING
"There's a note on the table, said I ain't coming back/ till your sorry ass is gone/ I'm tired of the cheating and running around/ I never saw the wrong in anything you've done/ whiskey's gone but I ain't leaving, there's got to be a bottle in the back/ whiskey's gone but I ain't leaving/ got to get this devil off my back." - Whiskey's Gone - Zac Brown-Wyatt Durrette.
Brown mastered geographical and leaving metaphors in his duet hits and Colder Weather.

But he also exposes those other country staples - cheating, drinking and the devil - in Whiskey's Gone.

So what else will boost the band's profile and price before take off to the tropics?

Zac's sextet is nominated for five gongs in the CMA Awards this month and another five in Rupert Murdoch's Fox TV Country Music Awards on December 5.

Brown stages his annual New Year's Eve show at Phillips Arena, Atlanta, with Sonia Leigh, Nic Cowan and special guests.

And Brown's record label Southern Ground?

"The Wood Brothers are one of the best live bands you'll ever see, and we just got Sonia Leigh's record finished, and I'm super proud of it," says Brown, 34.

"There's Blackberry Smoke coming on board, and Nic Cowan and Levi Lowrey, and all the people that love our music will love their music, too, I feel confident."

Zac co-writes and sings on Sonia's tune Roaming and took Blackberry Smoke on tour with his band.

And his veteran multi-instrumentalist Cook is featured in the Wood Brothers' video for Shoofly Pie.

His touring partners Dave Matthews Band, The Allman Brothers Lynyrd Skynyrd and B.B. King and diverse country acts echo his eclectic music.

You Get What You Give is out here on Warner Music.