DAVE'S DIARY - 12 AUGUST 2012 - ZAC BROWN BAND - CD REVIEW
ROBO REDNECK & BIONIC PECKERWOOD
"30 thousand feet above/ the city where I fell in love with you/ and the fading concrete skyline/ brings an urban lullaby/ that still rings true."
The Wind - Zac Brown-Wyatt Durrette-Levi Lowrey

ZAC BROWN BAND -WINDY HUMOUR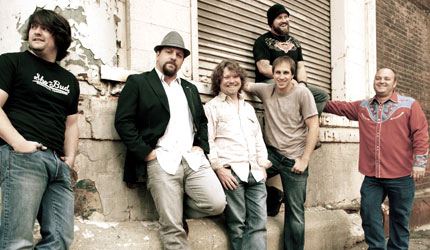 Chart topping Georgian country star Zac Brown owes the wizardry of his band's latest smash to a chance meeting in a Los Angeles tattoo parlour.

That's where Zac had a cosmic collision with video director Mike Judge of King Of The Hill and Beavis And Butthead fame.

Judge created the character Robo Redneck aka The Million-Dollar Honky who prepares for a battle with the Bionic Peckerwood.

It's all part of an animated video to promote the septet's latest hit single The Wind from its sixth album Uncaged.

The album topped Billboard Top 200 all genre chart on debut and is still #2 with sales surpassing 350,000 in a month.

The video narrative follows an extra-terrestrial trucking adventure in the backwoods almost claims the life of the animated singer.

Brown's bandmates rebuild their leader who returns as a beer chuggin', duck huntin', guitar pickin' man-robot hybrid.

The clip ends with a To Be Continued card, followed by a teaser for Robo Redneck vs. Bionic Peckerwood.

"Will the two fight? Join forces? Tune in soon to find out!"

So what does that have to do with the theme of the tune described by Zac as "the countriest country song on the radio right now."

Well, after a flood of peers' generic love songs and their vapid videos this is the Georgians proving they have expanded the sub genre mined long ago by Mississippi born Alabama raised Jimmy Buffett for new millennia TV and radio roughage.

The band is making hay to ensure long days in the sun don't leave it with media burn.

"When we were putting this album together, we already knew this would be the first single before we even went into the studio," Clay Cook - the band multi-instrumentalist recently revealed.

""It sets the tone; it's happy. It's a country-bluegrass song by a rock band, and there isn't enough of that on country radio."

The band recorded the disc at diverse studios in Atlanta, Asheville, Key West and Nashville.
ISLAND SONG

"Walking with the beach to my left/ sea to my right/ and I'm a get faded at the Tiki bar tonight/ then I'm a roll one up/ like my name is Bob/ yeah I'm gonna party like I'm a Jamaican." - Island Song - Nic Cowan.
Brown's bandidos, celebrating 10 years on that road, are not exactly a rock band but they borrow from the hedonistic trappings of seventies culture once reflected in the Redneck-Hippie shotgun wedding in Austin circa 1973.
The band delves into irreverent imagery with the Uncaged cover art by Brandon Maldonado - a demonic pastiche of the Virgin Mary titled Our Lady of Merciful Fate.
They also turned their anthemic title track into a barn burning stomper for chaps and chappettes living out their Dixie driven dreams.

"We're a vocal band and then the kind of music we decide to put around it is whatever we want it to be for that song," Brown revealed.

"Each song has its own life. People are like, 'You've got an R&B song on there?' You've got to listen to it. In a weird way, it all works together. It's really about making people dance. You just don't let them go. There's a lot of songs on the record that when we play them live we'll extend out long. But it's really about just grabbing people in that pulse and then not letting them go that entire song."
That's reflected in the furnace of the album that opens with Caribbean-flavoured Jump Right In.

Co-written with reggae star Jason Mraz - it has an island-inspired groove that Zac predicts will be "the song of the summer" next year.

The Caribbean theme is revisited four tracks later with Island Song - the album's only song not written by any of the band members.

Island Song - penned by Texan Nic Cowan, also on Brown's Southern Ground label - owes as much to Jimmy Buffett as Bob Marley.

The success of Brown's indie label with Atlanta artists diverse as Cowan, Sonia Leigh, Levi Lowrey, Wood Brothers Wheeler Boys and Blackberry Smoke encouraged the singer to open his own studio in Nashville.
LANCE'S SONG
"Doing what you love has a high price to pay/ some put on a suit, but he ran the other way/ drums drown out the yuppies/ and the one's who couldn't dream/ cause the freedom music gave him was worth more than anything." - Lance's Song - Zac Brown-Nic Cowan.
The band tossed idyllic rural and island themes into a bucolic blender and served them au naturel for more perceptive purveyors of the biggest genre of the post war era.

It's not those vocally challenged angst afflicted alt-country refugees from pop punk pipelines - artistically challenged chaps and chappettes whose boat never reached the golden shore.

Brown and co-producer Keith Stegall have also created a superior sonic staple - with no pollutants from the tailgates and tiaras trend tsars.

Stegall's success as a songwriter preceded his production prowess with acts diverse as stone country honky tonker John Anderson and Brown's fellow Georgian mainstream maestro Alan Jackson.

Eight of the group's last 10 singles went to #1 on the Billboard country singles chart - the other two peaked at #2.

They included duets with Jackson and Buffett.

The recipe is quite simple - creating nostalgia-drenched narratives with credible characters.

Check out the ravaged road warriors in Lance's Songs and Sweet Annie - descendants of I Play The Road and the absentee husband in Highway 20 Ride from previous albums.

Playing the road may be a creative retreat as the young fame flame burns bright but it can also descend into a fast moving playing pit drowned in a lachrymose lava stream.

It's a salient sibling song of the regret-fuelled ballad Sweet Annie where the wounded road dog pleads for reconciliation with the belle who no longer rings for him at her home.

"Can I stay with you a while/ cause this roads been putting miles on my heart/ sweetheart I've been livin in a fantasy."

It compliments another ruptured romance requiem Goodbye In Her Eyes that should not be mistaken for Dave Loggins' Goodbye Eyes - a tune once covered by the Nitty Gritty Dirt Band and Daryl & Don Ellis.
DAY THAT I DIE

"On the day that I die, I wanna to say that I/ was a man who really lived and never compromised/ I want to live out my days, until the very end, I hope they find me in my home with my guitar in my hands." - Day That I Die - Zac Brown-Wyatt Durrette-Nic Cowan.
The sextet that grew to a septet with the addition of percussionist Daniel de los Reyes validates the value of in-house writing with little need to earn royalties for Music Row tunesmiths.
"We're not just going to take some songs from a focus group in Nashville where people are sitting around in a circle having appointments trying to write catchy songs so they can sell them to a band like us," Brown, 11th of 12 children, says.

"You can tell all our songs come from us and from our artists, the people we write with and travel with. You can hear us in them and you can hear the chemistry in our band because we live together as a band. I don't think a lot of bands and artists work as hard as we do on the creation, on the writing, the arrangements and the recording in our format."

New Orleans musician Trombone Shorty and his horn section guest on R & tinged hook heavy Overnight.

The rollicking Natural Disaster enjoys wry word play about a preacher's daughter who "never did what Daddy taught her."
Amos Lee guests on Day That I Die - a fiercely proud ode to a musician's passion for his or her lifestyle.

The fitting finale is Last But Not Least - the band wrote it with Alabama born latter day Mississippi producer-hit singer-songwriter Mac McAnally who did his time in the road and studio mines with Florida based singing sailor-pilot-author Buffett.
MEET, GREET AND EAT
"Rollin down the windows/ trying hard to fight the sleep/ money's never much for a band in Tennessee/ another night of playin' / to a crowd with no ears/wanna hear the songs they know/and fill their bellies full of beer." - Lance's Song - Zac Brown-Nic Cowan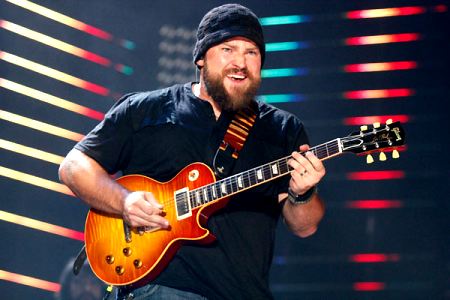 Meanwhile back in the engine room there's a mushrooming Zac Brown empire to ensure his chefs strike while the griller is hot.

There's also the former University of West Georgia student and camp counsellor's famed meet, greet and eat feasts for fans and music buffs before concerts and festivals.

The one time Dahlonega denizen and his father created the Zac's Place restaurant at Lake Oconee in 2004 before expanding to Southern Ground steak rubs and barbecue sauces and a 2010 cookbook.

All the products will be served at his Southern Ground Music & Food Festivals on Nashville's Lawn at Riverfront Park September 21-22 and the Blackbaud stadium in Charleston, South Carolina - October 20-21.

In Nashville Zac Brown & Friends perform nocturnal sets with special guests including Gregg Allman.

Other artists at the Nashville festival include Amos Lee, David Gray, and Edward Sharpe & The Magnetic Zeros.

In Charleston Zac lead the bill with nightly performances with The Avett Brothers, Grace Potter & the Nocturnals and Los Lonely Boys.

Both events feature Australian tourist Michael Franti & Spearhead, Jerry Douglas and Southern Ground artists including Sonia Leigh, Nic Cowan and Blackberry Smoke.

This may suggest Zac, father of four, may be too busy to take a pay cut and return down under to a country he once visited pre-fame as a beach bum tourist.

But, with winter in America a harsh mattress mistress, moneychangers in our trembling temples might be able to lure him to our lucrative summer-autumn festival circuit.

His local record company Warner is trying to break him way beyond the ABC and Pay TV channels, community radio and TV outlets into the me too mainstream corporate chains on the wireless waves.

So far the jury is out despite the eclectic Brown music raising Richard Stubbs rhythm method among the mirth on 3LO - 774 AM - and other not so likely avenues.

Maybe Trombone Shorty will help penetrate wise Brian and the juniors in the refried rock ranches where Randy Newman's Rednecks metaphor for holes in the ground still rings true.

Hell, if moths can be drawn to the faded flames of Gram Parsons cut rate cremation 39 years down the Lost Highway the popularity of Brown will rise higher than the careening carbon costs for farmers.

Zac Brown Band is: singer/guitarist Brown, violinist/singer Jimmy De Martini, bassist/singer John Driskell Hopkins, guitarist/organist Coy Bowles, multi-instrumentalist/singer Clay Cook, drummer Chris Fryar and percussionist de los Reyes.

CLICK HERE to win collectors items Zac Brown beanies and Uncaged on our membership page.

CLICK HERE for a previous Brown feature in our Diary on November 2, 2011.