DAVE'S DIARY - 1/9/09 - PREVIEW OF EPISODE 13 - SERIES 12
OLD CROW MEDICINE SHOW HEADLINE NU COUNTRY TV
Old Crow Medicine Show headline the finale show of Series #12 of Nu Country TV this Saturday September 5 - on C 31 - at 9. 30 p.m.

The former buskers reprise their song Caroline from their debut tour in March with concerts at Threbdo, The Forum and Golden Plains.

We also have new video clips by Justin Townes Earle, set to return here for his second tour in October.

Nashville duo Rory Lee Feek & Joey Martin debut on the show, repeated Tuesday - 3.30 am and Wednesday - 3.30 p m, with breakthrough hit Play The Song.

Our popular host Mid Pacific Bob Olson provide a nice little after dinner mint - Margarita Meringue Pie.

Maybe it's also on the menu at Joey's Marcy Jo's Mealhouse & Bakery in Pottsville near Nashville.

Former Gippsland singer Tracy Lee Killeen appears with the title track of her debut CD Back Here.

Also debuting is Melbourne band Blue Moon Lodge with its tribute to legendary boxing promoter Fred Brophy.

Singing Sydney actor Craig Morrison's Little Cowboys perform Miss You from debut disc Heaven Knows.
OLD CROW MEDICINE SHOW

Old Crow Medicine Show - Thredbo
Photo by Carol Taylor
Old Crow Medicine Show performs in the video for Caroline from sixth album Tennessee Pusher.

The song was inspired by a familial love story reaching back to the heyday of the St Louis Cardinals in 1934.
Bandleader Ketch Secor uses the sporting metaphor in a poignant paean to his sister circa 1983.

The North Carolina bred string quintet graduated from Guitar Town street corner busking in the late nineties to clubs like the famed Station Inn.

Veteran producer Don Was took the band to California to record - with cameos by veteran drummer Jim Keltner and organist Benmont Tench.

That album scored ABC and community radio and TV exposure here and prompted the tour that included entrée gig at the second CMC Rocks The Snowy festival at Thredbo.

The band later played another gig at Golden Plains' rock festival before its full show at the famed Forum in the Melbourne CBD.

CLICK HERE for a feature from the Diary on January 21. 2009.

RORY LEE FEEK & JOEY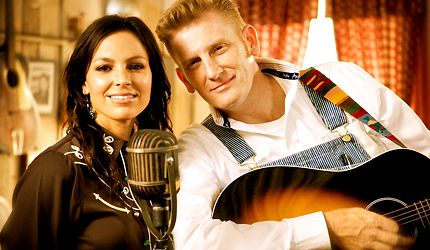 Rory Lee Feek and singing chef-spouse Joey Martin have cooked up a storm since teaming up a year ago.

The duo scored with indie hit Cheater, Cheater off debut disc Life Of A Song.

But this week we play the video for Play The Song - their parody of the music industry.

The husband-wife team dress in a leisure suit and a 1980s prom dress as they parody the men and women in control.

Directed by Peter Zavidil, it finds Joey encouraged by execs to dress in blue hair and spangles and Rory with facial piercings.

It's a spoof of Music Row's obsession with imaging.

"The video isn't much of a stretch from our own personal experience in the music industry," says Kansas born Rory who moved to Nashville in 1995 with his two daughters after an eight-year stint in the U.S. Marines.

"Joey had meetings like this as a solo artist and I have often had pleasure of my songs being picked apart by Music Row executives."

Feek first scored when he wrote Collin Raye 1998 hit Someone You Used to Know, Clay Walker 1999 smash Chain of Love, recent Blake Shelton hit Some Beach and Jimmy Wayne's I Will.

Joey Martin recorded ill-fated 2001 solo album Strong Enough to Cry that was never released.

The couple met at famed Bluebird Café during that recording and merged careers for CMT series Can You Duet? in 2008 and came third.

Soon after, they signed with Sugar Hill/Vanguard Records.

They still have time for extra curricular culinary cruising so if you're ever in Pottsville, Tennessee, visit Marcy Jo's Mealhouse & Bakery near the Feek family farm.

That's where Joey helps out her sister Marcy in the kitchen when not on the Lost Highway.

They have also created a special web site for new single To Say Goodbye.

It also has a dual purpose - solace for folks who have suffered death of loved ones without being able to say goodbye.

In July 1994, Joey's only brother, Justin, was in a car accident about a mile from their farmhouse in Indiana.

He was 17 and on his way to the county fair.

Joey and Justin were a year apart in age and the best of friends.

A nearby neighbour ran from the scene to the house to get Joey and her mom. On the side of the road that night, they held Justin's hand. They cried, and they prayed with him.

Several days later, he passed away.

He never regained consciousness, so Joey never got the chance to tell him her feelings.

CLICK HERE for a Joey & Rory feature in The Diary.
JUSTIN TOWNES EARLE - MOVIES & THE GOOD LIFE
Justin Townes Earle has scored widespread exposure for being the son of seven times Texan and latter day New Yorker Steve.

But, on his second album Midnight At The Movies, he tears a page out of the Holly Williams' songbook and eulogises his mother.
"Mama's Eyes was a very concentrated effort by me to make sure that everybody that listens to my music realizes that I am not an asexual product of Steve Earle," says Justin whose dad took his second Christian name from late Texan Townes Van Zandt.

"I was raised by Carol-Ann Earle, not Steve Earle, and I grew up with her rules. I wanted mama to get a little credit because she broke her ass for me when I was growing up. She'd work three jobs at a time and really worked her ass off to make sure that my head stayed above water. And I was not an easy kid to keep up with. I was a pain in the ass. And I wanted to make sure that mom got hers because people write and talk about dad all the time. He gets plenty of attention."

Justin, 27, promoted debut disc The Good Life on his first Australian tour in 2008.
This time around he has two discs and a deep catalogue to draw upon.

We belatedly received The Good Life video and will feature that with a preview of Midnight At The Movies.

Click Here for Anne Sydenham's concert review of Justin's concert on November 30, 2008.
Click Here for Justin's tour dates in Tonkgirl's Gig Guide.
Further info - www.myspace.com/justintownesearle
TRACY LEE KILLEEN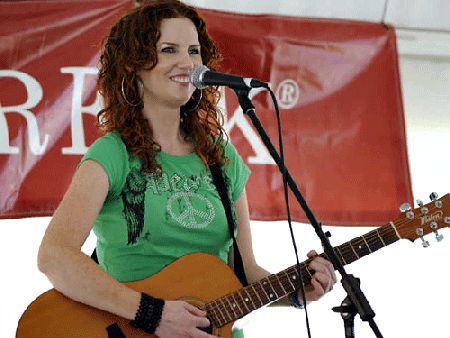 Tracy Killeen filmed her video for the title track of her debut solo album Back Then on her late grandparents' East Gippsland farm.

She utilised their historic 1957 International Ute and round hay bales that compliment the silage diet for modern dairy herds.

The raven-haired singer entered talent quests and Eisteddfods - at 15 she played nursing homes and bowling clubs.

In 1998 she won Gippsland Singer of Year and debuted with Ophelia's Charm for ABC/EMI disc The Open Road - Undiscovered Country.

She was a 1999 Tamworth Starmaker finalist and then graduated from Australian College of Country Music where she met Kiwi singer Nicky Sweeney.

They teamed as Sweeney Killeen and scored airplay on Nu Country FM, ABC and community radio for an EP and string of singles.

Sweeney returned to New Zealand in 2006 and Tracy cut her 2007 album with former Bushwackers member Roger Corbett who also produced the duo's music.

She appeared in Nashville on the 2008 Australian showcase and on TV shows diverse as Landline, Escape With ET and Today.

Tracy returns to Victoria in October for the annual Mildura country music festival.

Further info - www.tracykilleen.com
BLUE MOON LODGE HONOUR BOXING PROMOTER
Melbourne band Blue Moon Lodge honour legendary boxing promoter Fred Brophy with the video for their single Brophy's Tent.

The song is from their CD Diamonds On The Road and features footage from documentary maker Mark Shea.

Shea did a docco on the tent for the ABC a few years back.

It features shot of Fred Brophy some boxing action too.

Dave Walker's band Blue Moon Lodge features fiddler Greg Hunt who also played at Gympie this year.

Hunt, who played on Wangaratta raised Nu Country TV host Paul Hicks discs, also played our showcases with Steve Boyd's Preachers.

They played Gympie this year with Grafton raised singer-songwriter Troy Cassar-Daley also wrote a Brophy eulogy Fred Brophy's In Town for his seventh album I Love This Place.

But the local lads beat him to the punch with their video.

Walker previously released a solo disc 1ST Album.

Further info - http://www.bluemoonlodge.com.au/
CRAIG MORRISON
Sydney singer Craig Morrison's Little Cowboys had a fitting locale for the video of Miss You from his album Heaven Knows.
They filmed at Gympie High School in the shadows of the forest clearing of the August muster.

Craig has appeared in Australian TV shows A Country Practice, Sons and Daughters, Earth Watch, Secret Valley and the movie Mull.

After 15 years on those stages the multi-talented artist spent a year lived on the cutting edge of music in country HQ Nashville to source songs.
That was after a stint with pop group De Mont.

Craig had good genetics for both careers - he's the son of Lucky Starr who had a big hit with late Geoff Mack's song I've Been Everywhere.

Further info - www.craigmorrison.com.au
MARYSVILLE COLLECTORS CD BONUS
New and renewing members of Nu Country TV will receive a copy of the Kane-Welch-Kaplin CD collectors' single Marysville during August and September.

The Kevin Welch penned single, recorded at Salt Studio in East Brighton, is a bonus gift to viewers - as well as the CD you choose from our rewards listed below.

It compliments our TV show mini-docco on the trio's donation of their song to the Vinnies After The Fire CD.

After The Fire is available at Vinnies centres in Victoria and Tasmania, The Last Record Store - Collingwood, Capricorn Records Warrnambool and J B Hi-Fi stores.

WIN DIERKS BENTLEY CD

EMI Records has provided Nu Country TV with Arizona born Dierks Bentley's fifth chart topping CD Feel That Fire.

Bentley won an enthusiastic following on his debut Australian tour in May with superstars Brooks & Dunn.

Feel That Fire has already produced two U.S. #1 hits - the title track and Sideways.

Bentley, 33, has scored seven #1 hits since leaving Phoenix for Nashville as a teenager.

Dierks trails only expatriate Australasian superstar Keith Urban as most played male artist on U.S. country radio so far this year.

The father of two is currently blitzing the U.S with West Virginia born star Brad Paisley on his American Saturday Night tour.

Bentley plans to return to Australia for a second tour to capitalise on his growing fan base.

The singer has broadened his music by including bluegrass - featuring the famed McCoury family - on albums dating back to his indie debut Danglin' Rope.

He has also recorded duets with prolific Grammy winner Alison Krauss and Texan chanteuse Patty Griffin.

Win Feel That Fire by becoming a member of Nu Country or renewing membership.
It only costs $20 including postage.

Please email us first at music@nucountry.com.au

We will then send you the CD on receipt of your cheque or money order made out to Nu Country Music.
WIN SLIM DUSTY CLASSIC BOX SET
We have more good news for viewers - EMI Records has given us an invaluable collectors' item - a brace of the 4 Box sets by late Australian country legend Slim Dusty.

Sittin' On 80 features a lost, classic track discovered by Slim's widow Joy McKean.

Joy found Give Me Room from a 1997 recording at their home studio Columbia Lane.

It was written by one of Slim's favourite writers John Dohling - outback station hand and good mate who passed away in November last year.

Sadly he never heard the final version of Slim's recording of his classic trucking song.
It has now been released as a single and included on Sittin' On 80.

Slim's legendary Travelling Country Band played on the song that has been digitally re-mastered by Australia's mastering guru Don Bartley.

All you have to do to win Slim's 4 CD Box set is become a member of Nu Country TV or renew your membership.

It only costs $20 and includes postage.

Please email us first at music@nucountry.com.au

We will then send you the CD on receipt of your cheque or money order made out to Nu Country Music.
WIN BROOKS & DUNN CDS
Sony-BMG has also given us extra copies of the Cowboy Town tour souvenir CD and bonus Greatest Hits CD.

Viewers who become members or renew membership for just $22 including postage can win the double CDs.

Please email us at music@nucountry.com.au with your pledge.

Important note - please email first - don't send your membership until you have been confirmed as a winner.

Brooks & Dunn have sold more than 30 million album since releasing their debut disc in 1991.

TAYLOR SWIFT FEARLESS CD OFFER
Universal Music has donated copies of teen sensation Taylor Swift's huge selling second album Fearless to Nu Country TV.

Viewers who become members or renew their membership can win the Fearless CD.

Swift, 19, played capacity audiences on her debut Australian tour in March and plans to return in 2010.

Please email us at music@nucountry.com.au with your pledge.

Important note - please email us first.

Don't send membership cheque until you have been confirmed as the winner.
WIN CATHERINE BRITT CDS
MIKE BRADY TOO
We have Catherine Britt's third CD Little Wildflower for viewers who wish to become members or renew membership.

Catherine, Adam Brand and Mike Brady were among artists who donated their talent to the Whittlesea Bushfire benefit on Saturday April 4.

Brady donated autographed copies of his Country To Country CD to viewers who become members or current members who renew their membership.

Mike was also a VIP guest host of Nu Country TV during our eighth series.

So for your membership you can win Mike's CD Country To Country or Catherine Britt's Little Wildflower CD.
WIN JASMINE RAE & STEVE FORDE CDS
We have the following CDS for viewers who email our web page and pledge $22 membership at music@nucountry.com.au .

Telstra Road To Tamworth winner Jasmine Rae's debut CD Look It Up.

We also have Steve Forde's fifth album Guns & Guitars.

Both Rae and Forde performed at the CMC Rocks The Snowy festival at Thredbo.

Jasmine also supported Brooks & Dunn and Bentley on some of their Australian concerts.
KACEY JONES CD, DVD, POSTER & TEE SHIRT PRIZES
Internationally renowned country comedienne, singer-songwriter and producer Kacey Jones has given us a box of autographed merchandise for viewers and members who renew their membership.

A highlight is her acclaimed tribute disc Kacey Jones Sings Mickey Newbury that is scheduled for Australian release in July.

We have autographed collectors' copies of the CD for viewers who want to become members of Nu Country TV.

She also autographed tee shirts and posters for Nu Country members.

For your $22 membership and postage you can take your pick of Kacey memorabilia. We have limited supplies so please email us at music@nucountry.com.au first.
WILLIE NELSON EXCLUSIVE BOOK
We also celebrate Shotgun Willie Nelson's 75th birthday on April 30 with a special giveaway of his collectors' book.

We have limited stock of Willie Nelson - The Collected Writings Of A Living Legend - The Facts Of Life And Other Dirty Jokes.

The book, featuring yarns, jokes and Willie Nelson song lyrics, is the latest addition to out prize treasure trove.

It's available for viewers wanting to become members or current members wishing to renew their membership.

Please email us at music@nucountry.com.au for a chance to win a copy of this book with your membership.

We also have other CDS in our library as rewards for your valued membership - we rely on membership for our survival.