DAVE'S DIARY - 21 JAN 2009 - OLD CROW MEDICINE SHOW - CD REVIEW
OLD CROW MEDICINE SHOW HEAL TENNESSEE PUSHERS
CD REVIEW 2008
OLD CROW MEDICINE SHOW
TENNESSEE PUSHER (NETTWERK-SHOCK)
"Don't need no PHD for a hundred dollar car/ just find a crooked cop and that doctor disregard/ cause when it's either the mine or the Kentucky National Guard/ I'd rather sell him a line than be dieing in the coal yard." - Methamphetamine - Keith Secor-David Rawlings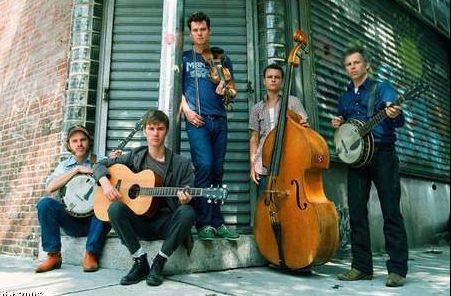 Ketch Secor and band mates researched their sixth album in the badlands where folks live on their wits.

Back in the woods and outside laws of big cities where money doesn't talk, it swears, according to their mentor Dylan.

This is a surrealistic snapshot of low-level dope dealers, grifters, hustlers, assassins and wayward angels with scorched wings.

The North Carolina bred string quintet graduated from Guitar Town busking in the late nineties to barrooms and clubs like the famed Station Inn with discs owing much to musical ancestors.

Producer Don Was may have taken the band west to California to record with cameos by veteran drummer Jim Keltner and organist Benmont Tench but didn't take the soul out of the country combo.

Was is no stranger to roots music - his production CV includes Bob Dylan, Willie Nelson and Bonnie Raitt.

"Country music is for busboys and bus riders and hitchhikers and prostitutes," says violinist-vocalist Secor.

"It's for the destitute. It's not for big business, big machines, big sales and big-box stores."
So it's a pleasant surprise that the band will strut its stuff live in Australia in March on a national tour that includes the second CMC Rocks The Snowy festival at Thredbo on March 6 and 7.

"In the past few records we were more involved in the music of the 1920s and '30s," Secor confessed.

"But since we've grown up, we've taken a wider look at the full swath of American music.

Before we were very strict about being an old-time string band, even though we started out with folk-revival music and owed a lot to Bob Dylan and Neil Young. But now we want to cop from everywhere and we want to cop from the best and no one's better than Chuck Berry.

"We realised that the guys who led the string bands in the '20s, guys like Charlie Poole and Gid Tanner, were borrowing from everywhere, especially from black jazz. If Alabama High-Test can wed Gid Tanner and Chuck Berry, that's a good couple.

That's a couple I want to meet in a song. Tanner's musical upbringing wasn't all that different from Berry's."
ALABAMA HIGH TEST
"65 Southbound, cruising with a half pound/ blue lights spinning around/ better put the hammer down/ dirt road, Tennessee, ain't nobody stopping me/ short run, straight line/ gotta keep making time." - Alabama High Test - Keith Secor.
So their road trip starts on a high note with Alabama High-Test - the tale of a hombre running from the law on 65 southbound with half a pound of Dixie-fried homegrown.

First pit stop finds a minstrel with dusty wings and purple robe on foot in Highway Halo - complete contrast to the Broadway babe who steals the character's wallet, heart and gold tooth in Music City in The Greatest Hustler Of All.

The Secor-David Rawlings update of Steve Earle's Copperhead Road finds a trailer park coalmine mama and black lung bandits cooking ice - not grits - to keep wolves from the door in Methamphetamine.
Old Crow Medicine Show is now based in Nashville but still write songs about folks they knew when they lived in the mountains: the meth cookers, barbeque chefs, bike gangs, chain gangs, hungry babies, street whores, train tramps, truck drivers, ex-lovers and panhandlers.

"When you stop at a truck stop in Bowling Green at 4 a.m.," Secor revealed.

"You're going to meet half the people on this record standing in line in front of you. If you don't see them, you've got your eyes shut. People who live in those Cumberland Mountains are dear to me. Our band greatly benefited from being able to briefly participate in their society. So I wanted to shine a light on them in their dark hollow. I didn't want to go new age on them, though; I didn't want to go Great Society on them either.

"That crystal meth has changed a lot of things in those mountains. In terms of what people need to get out of their three-room trailers, government isn't trickling down; big business isn't trickling down, and the meth isn't helping. A lot of the people on this record are now in prison. I hope this record will be heard by prisoners all around the country. I think it is good music for people who are incarcerated or who are bound up one way or the other-people like Lily Kimball and all the prostitutes of Memphis.

This gal she needs some wings, and a good song can make that happen."
BOXCARS, MARTYRS AND OUTLAWS
"Were you there when the man from Atlanta was murdered in Memphis?/ did you see him laying at the Lorraine Motel?/ did you hear them say that the CIA was witness/ to the murder of a man at a motel in Memphis?" - Motel In Memphis - Keith Secor

The merry medics are no one trick ponies - they punctuate social comment narratives with faded love in Next Go Round and hedonism in Humdinger before trip back to Mahalia - the widow left behind by the assassination of Martin Luther King in Motel In Memphis.

Then it's back to the road - the railroad - with a boxcar jumper decamping in Evening Sun and a woman providing culinary and debauched delights in a three-room shotgun shack in an alley behind a gaol in Mary's Kitchen.

It's no surprise homeless homage Crazy Eyes - penned by Secor and guitarist Willie Watson - precedes Secor's title track where an Appalachian outlaw claims a cheating woman, deputy sheriff lover and pusher in a triple homicide.

"If this sounds like a concept album it may be with Watson's revamp of Blind Alfred Reed's Lift Him Up segueing into Secor finale Caroline with sporting metaphor from the 1934 St Louis Cardinals in a poignant paean to his sister circa 1983."

Just a quarter of a century earlier - but the quintet reach back further with tawdry tales driving the train.

Their album art was another happy accident - the result of guitarist Willie Watson doodling a truck over and over to pass time in the studio.

When Secor saw that very same truck - "a '77 Ford Bronco, orange" - on the street, it seemed like a sign that they should use it on the cover.

Other band members - Kevin Hayes on guitjo (a banjo body with a guitar neck), Gill Landry on resophonic guitar and Morgan Jahnig on upright bass - were not enlisted for art offerings.
Discography
Tennessee Pusher (2008)
Big Iron World (2006)
O.C.M.S. (2004)
Live (2003)
Eutaw (2001)
Greetings From Wawa (2000)
CLICK HERE for TONKGIRLS' Gig Guide with Australian tour dates.