DAVE'S DIARY - 3/2/09 - PREVIEW OF EPISODE 9 - SERIES 11
TRACE ADKINS AND OLD CROW MEDICINE SHOW
Singing actor Trace Adkins hired acclaimed actor and director Stephen Baldwin for his new video clip that airs on Nu Country TV this Saturday - February 7 - at 8 p m on C 31.

Former buskers Old Crow Medicine Show also return to the show as an entrée to their first Australian tour in March.

The quintet joins Taylor Swift, Deana Carter, Joe Nichols and Corb Lund among the headliners at the CMC Rocks The Snowy festival at Thredbo on March 6 and 7.

Geelong born Adam Harvey - also playing two major Victorian festivals - combines with Kev Bloody Wilson in the video for their new hit Genie In The Bottle.

Gippsland band Jetty Road, performing with Harvey at Whittlesea Country Festival on Sunday, return to the show with a video filmed in Nashville.

And David Frizzell and Jett Williams carry on the family tradition in our new video vault segment.
ACTOR BAPTISED IN MUDDY WATER
Trace Adkins makes the most of his thriving acting career and casts famed movie star Stephen Baldwin as the sinner in his new video clip for Muddy Water.

Baldwin's long fallen character, hitches a ride with a truckie, to the historic southern church of Adkins choice.

It's there thrice wed Akins, 47 and father of five daughters, takes the sinner under his wing and organises the redemption.

There, in the muddy water of a swollen creek, a preacher cast as a hybrid of Billy Joe Shaver and late Harlan Howard and Charlie Rich, saves the wayward traveller with a muddy good baptism.

Baldwin, 42 and born in Long Island, New York and known for roles in movies such as 8 Seconds, Last Exit To Brooklyn and Born On The Fourth Of July, is well cast.
So is Adkins who visited L A after starring in Donald Trump's American NBC series The Celebrity Apprentice.

The Grand Ole Opry inductee and DUI victim played a role in David Zucker movie An American Carol - a spoof on the Charles Dickens classic A Christmas Carol.

Adkins, a former petroleum engineer and oilfield roughneck, also featured in the horror picture Trailer Park Of Terror - it screened twice during the recent Nashville Film Festival.

The movie finds six kids and a pastor stranded in an abandoned trailer park when their bus crashes in a rainstorm.

Trace has a satanic role in the film's first five minutes as an arcane drifter who tells the female lead she can find "salvation in violence."

As a result, Trace - hailed as a classic good guy in the final episodes of The Celebrity Apprentice - plays a bad guy in a bizarre film that features cannibalism and shotgun massacre.

Steven Goldmann directed the movie and also Adkins Muddy Water video from his 10th album, yes, titled X.

The director also made videos for Faith Hill's This Kiss, Alan Jackson's Drive (For Daddy Gene) and Kathy Mattea's 455 Rocket.

CLICK HERE for an Adkins CD review from the Diary on August 2, 2006.
OLD CROW MEDICINE SHOW WAGON WHEEL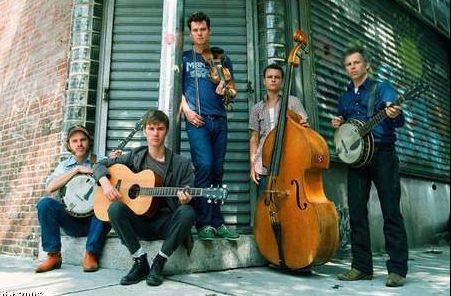 Roots country band Old Crow Medicine Show return to Nu Country with a video of their historic song Wagon Wheel.

The band, making its debut Australian tour in March, is one of the headliners at the CMC Rocks The Snowy festival at Thredbo on March 6 and 7.

Old Crow Medicine Show is touring to promote sixth album Tennessee Pusher that was released on September 23 on Nettwerk Records.

Producer Don Was took the string quartet west to California to record with cameos by veteran drummer Jim Keltner and organist Benmont Tench.

All songs on the album are originals with exception of Blind Alfred Reed's Always Lift Him Up.

A digital EP, Caroline, was released on July 29 with two songs from the full-length album and a bonus track, Back to New Orleans.

The band toured England and Scotland with two dates at the Ryman Auditorium - original home of the Grand Ole Opry - in Nashville.

Their Australian tour includes sold out Golden Plains Festival on March 8, Mossvale festival on March 14 and The Forum in Melbourne on Friday March 13.

CLICK HERE for Old Crow Medicine Show CD review from The Diary on January 21, 2009.
JETT WILLIAMS BOOK
Jett Williams, daughter of the late Hank, has become a spokeswoman of the Orphan Foundation of America after the success of her 1990 autobiography, Ain't Nothin' As Sweet As My Baby.
Jett, 56, performs a live version of her dad's historic hit Cheating Heart in our video vault on Nu Country this week with David Frizzell.

Williams took on the role to raise the awareness of orphans and foster children.

The Orphan Foundation of America helps teens who have aged out of the U.S. foster care system to pursue a post-high school education.

"For the grace of God, I got a couple more signatures in the system that put me into an adoptive home. But the system could have stopped before that," revealed Williams.

"And the thing about being an orphan or a foster child is that when you get to that age where the system releases you, you do not have the benefit of a family, which allows you the support to go on. I was blessed with a good education and it's critical to be able to have a profession and find adulthood."

The Foundation provides scholarships, internships and mentors and job placement for nearly 5,000 people in the program each year.
Williams was born in Montgomery, Alabama, five days after her father died on his way to Canton, Ohio, where he was to perform on New Year's Day, 1953. Relinquished by her natural mother, Bobbie Jett of Nashville, the infant was taken from the hospital where she was born into the home of Hank's mother, Lillian, who adopted her.

Lillian started lengthy adoption processes within days of the funeral of Hank, just 29.

She completed the adoption in December of 1954.

Unfortunately, she was dead within two months and the family no longer wanted the infant, whom Lillian had named Cathy Yvonne for the Yvonne in his hit Jambalaya.

The Williams made Jett a ward of the State of Alabama and she was relocated to a foster home in Pine Level at the age of three.

Subsequently adopted by a family in Mobile, Jett was raised there and attended the University of Alabama.

During her youth, Jett had no idea who her natural parents were - let alone her dad was Hank Williams.

Jett Williams was declared by court order dated October 26, 1987, to be the biological daughter of Hank Williams.

Further info - http://www.jettwilliams.com/index.html
DAVID FRIZZELL REVISITS SAGINAW, MICHIGAN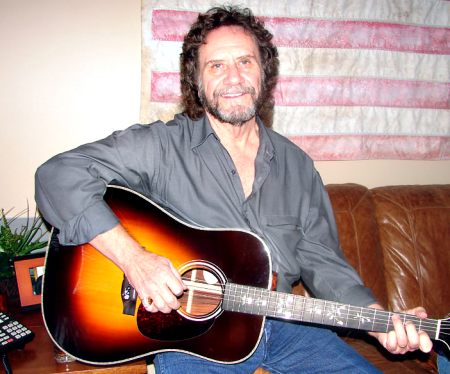 David Frizzell also ignites our video vault with his live version of late brother Lefty's timeless hit Saginaw, Michigan.

Frizzell has long been renowned for fertilising the roots of the genre.

The singer recorded Larry Cordle-Larry Shell parody Murder On Music Row in 1999 before fellow Texan George Strait and Georgian superstar Alan Jackson.

Frizzell, 67, a younger brother of late legend and Golden Gloves boxing champ Lefty - had a huge 1982 hit I'm Gonna Hire A Wino To Decorate Our Home before another smash duet with Shelly West on You're The Reason God Made Oklahoma.

Famed actor-director Clint Eastwood used You're The Reason God Made Oklahoma in his movie Any Which Way You Can and another in Honky-Tonk Man.

That was long after Frizzell left home at 12 to perform and tour with Lefty.

By his 18th birthday, Frizzell began recording country and rockabilly albums for Columbia Records.

Although a four-year hitch in the military slowed his career, Columbia immediately re-signed Frizzell after his discharge.

CLICK HERE for a David Frizzell feature from the Diary on December 30, 2008
ADAM HARVEY AND KEV BLOODY WILSON
Adam Harvey and his little mate Kev Bloody Wilson combined on writing his new hit Genie In The Bottle and the hilarious video clip we feature this week.

The Golden Guitar toting Geelong born bon vivant and the former Kalgoorlie sparkie wrote the song on a bus trip to Tipperary on an 2007 Irish tour.

Harvey was supporting Kev on a search and destroy mission of the Emerald Isle when inspiration overcame them.

The song is from Harvey's seventh album I'm Doing Alright that earned him a Golden Guitar for album of the year on January 26, 2008.

Kev's wife Betty, who sold her milk run when he hired Lucky Oceans as pedal steel player, also appears in the barroom clip.

"Kev loves country music and wanted me to go on the road with him in Ireland," said Harvey who also played the Grand Ole Opry in Nashville and sat for a portrait by an Archibald Prize entrant.
"We were driving through Tipperary when I told him of this idea for a song. He said it's a long way and I said that's been done - let's do the genie in the bottom of the Jim Beam bottle made me do it. Kev's really proud of it - we wrote it in half an hour. It just rolled out and wrote itself.

He really wants to be recognised as a country writer as opposed to the R rated stuff he's best known for."

Adam and Jasmine Rae also support Brooks & Dunn on their return tour of Australia in May.

Adam will join Kix Brooks, Ronnie Dunn and Arizona chart topper Dierks Bentley at Rod Laver Arena, Melbourne, on May 4 and Sydney on May 6.

Jasmine opens the shows at Perth on May 1 and Brisbane on May 9.

Before that Harvey headlines Whittlesea Country festival on February 6-8 and the 20th Bunyip festival on Sunday February 22.

Adam became mentor vocalist to TV weather presenter Sara Groen on Seven Network show It Takes Two and also supported legendary U.S. rock singer John Fogerty at his Rod Laver Arena concert on March 19, 2008.

CLICK HERE for an Adam feature from the Diary on October 18, 2007
FROM JETTY ROAD TO PRINTERS ALLEY
Gippsland band Jetty Road returns to Nu Country with a video clip cut on the other side of Nashville where Hank & Lefty reigned from the 40s and 50's.

Jetty Road filmed Good Times on the famed Lower Broadway and at Fiddle & Steel bar in Printer's Alley.

The quartet - featuring multi-instrumentalists Julian Sammut and Simon Ross - and sisters Lee and Paula Bowman from Nungurna in Gippsland.
The mechanical bull, featured in the clip, was grazing back in Newcastle - not in the wilds of Guitar Town.

"We wanted to make it look like it was all shot in Nashville and we couldn't find one of those in Nashville," revealed Lee Bowman.

"The club that we were actually filmed playing in was the legendary Fiddle & Steel in Printers Alley, Nashville. It was an awesome gig, great vibe and it was one of our favourite gigs over there."

The band also recruited look-alikes for their video.

"It was a laugh but yes, we did find those guys on the street while we were filming," Lee confessed.

"The guy who looked like Alan Jackson really spun us all out a bit! He was in the audience at one of our gigs and I swear, your heart skips a beat or two when at quick glance you think Alan Jackson is watching you perform! And then by chance, we saw him on Lower Broadway while filming the clip. Couldn't have been better timing!"

Bowman also added a little geographical info on the Nashville locale.

"The name of the bridge was the Shelby Street Bridge. Doesn't sound like much but it is the pedestrian bridge that takes you across to LP Field Stadium where all the big concerts are held.

It has a great view of the city and the river and the whole city was just buzzing."

Good Times is from Jetty Road's second album Dirt Road - City Lights.

The band also performs Whittlesea country music festival and the Man From Snowy River festival on April 4 at Corryong - spiritual home of Lee Kernaghan.

Jetty Road performs extensively in Australia and New Zealand and last year Nashville and Dauphin Country festival in Canada.

The band did two shows on a prestige bill featuring Georgian born stars Alan Jackson and Travis Tritt and Emerson Drive - a Canadian band who also topped U.S. charts.

Dauphin is Canada's longest running country music festival.

Further info - www.jettyroad.com
WIN NEW CDS BY BEING A NU COUNTRY MEMBER
TAYLOR SWIFT, JASMINE RAE & STEVE FORDE
Nu Country TV celebrates its 11th series with a brace of prizes to celebrate the CMC Rocks The Snowy festival and the national tours by superstars Brooks & Dunn, Dierks Bentley and Taylor Swift.

We have the following CDS for viewers who email our web page and pledge their $22 membership at music@nucountry.com.au

Taylor Swift - huge selling second album Fearless.

Jasmine Rae - debut CD Look It Up by the Telstra Road To Tamworth winner and touring partner of Brooks & Dunn and Bentley.

Steve Forde - fifth album Guns & Guitars by the tour mate of Brooks & Dunn and chart topper Gary Allan.

KACEY JONES CD, DVD, POSTER AND TEE SHIRT PRIZES
Internationally renowned country comedienne, singer-songwriter and producer Kacey Jones has given us a box of autographed merchandise for viewers and members who renew their membership.

A highlight is her acclaimed tribute disc Kacey Jones Sings Mickey Newbury that is scheduled for Australian release in July.

We have autographed collectors' copies of the CD for viewers who want to become members of Nu Country TV.

She also autographed tee shirts and posters for Nu Country members.

For your $22 membership and postage you can take your pick of Kacey memorabilia. We have limited supplies so please email us at music@nucountry.com.au first.

WILLIE NELSON EXCLUSIVE BOOK
We also celebrate Shotgun Willie Nelson's 75th birthday on April 30 with a special giveaway of his collectors' book.

We have limited stock of Willie Nelson - The Collected Writings Of A Living Legend - The Facts Of Life And Other Dirty Jokes.

The book, featuring yarns, jokes and Willie Nelson song lyrics, is the latest addition to out prize treasure trove.

It's available for viewers wanting to become members or current members wishing to renew their membership.

Please email us at music@nucountry.com.au for a chance to win a copy of this book with your membership.

MIKE BRADY MUSIC FOR YOUR MEMBERSHIP
Internationally acclaimed singer-songwriter Mike Brady volunteered to become a VIP guest host of Nu Country TV during our eighth series.

Brady hosted an episode that also featured an exclusive interview about recording the album in Nashville with expatriate Australian producer Mark Moffatt.

Mike has also donated autographed copies of his brand new CD Country To Country to viewers who become members or current members who renew their membership.

The generous singer donated his autographed CDS to attract your membership to ensure our survival.

So for your $22 membership including postage you can win Mike's CD Country To Country.

We have limited supplies so please email us first at music@nucountry.com.au so we can allocate your reward.
TANIA KERNAGHAN AUTOGRAPHED CDS
Tania Kernaghan has offered autographed copies of her fourth album Higher Ground to viewers who either become new members or renew their membership.

The album was produced in Santa Monica, Franklin, Nashville and the Gold Coast with Daniel Kresco.

Tania recorded 11 songs written by younger sister Fiona and producer Kresco on the acclaimed disc.

If you wish to be rewarded for your membership with Tania's new CD please email us at music@nucountry.com.au.

We also have other CDS in our library as rewards for your valued membership - we rely on membership for our survival.