CORNER HOTEL - 8 MARCH 2006
SARAH CARROLL & CHRIS WILSON/THE WAILIN' JENNYS/SARAH LEE GUTHRIE & JOHNNY IRION
A PALINDROMIC ARRAY OF TALENT
As Sarah Carroll observed during her opening set, the evening's entertainment was arranged in a palindromic format - a married couple followed by a trio followed by a married couple -marking a night of virtuoso performances involving the use of many instruments and the singing of exquisite harmonies.
Each act was distinctly different, though all were acoustic. The simplicity of Sarah Carroll's act - Sarah on vocals and guitar and ukulele with Chris Wilson provided backing on harmonica - segued into the complex instrumental and harmonic singing of The Wailin' Jennys which in turn segued into the duet style of Sarah Lee Guthrie and Johnny Irion. It made for a night of engaging diversity.
Sarah Carroll and Chris Wilson
The husband and wife team of Sarah Carroll and Chris Wilson started the show with a 40-minute set of songs mostly drawn from Sarah's new EP Pirate Girl. They began with "Accident Waiting to Happen" the first track on the aforementioned EP, then "Closing Time". "Closing Time", as Sarah explained, is about the break-up of her former band GIT. Fetching out her "electric ukulele" Sarah launched into an unreleased song, "Drunk Man" which will be on her forthcoming new album.

< Sarah Carroll - The Corner - 8 March 2006
Sarah & Chris performed nine songs in all and were joined on stage at one point by Shula Hampson who provided harmony vocals. See below for the set list.
It was an unassuming little set enlivened by Sarah Carroll's witty stage patter. Of interest to Nu Country TV viewers, Sarah has been one of the presenters featured in Series 5 of the Nu Country TV show.
The Wailin' Jennys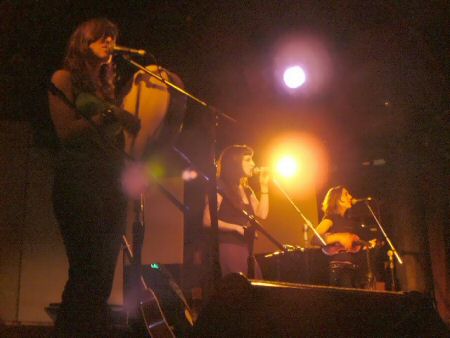 The Wailin' Jennys - The Corner - 8 March 2006
After a short break, Canadian trio The Wailin' Jennys took the stage and we in were for a treat!
The Wailin' Jennys are Ruth Moody (vocals, piano accordion, guitar and bodhràn), Vicky Mehta (vocals, harmonica, guitar and percussion) and Annabelle Chvostek (vocals, violin, mandolin and guitar) and hail from Winnipeg. The Corner show was their first appearance in Australia and the audience was instantly entranced from the opening number "The Devil's Paintbrush" to the final note of their set.
The Wailin' Jennys exhibited mastery over several instruments and took turns leading the singing. They all have beautiful voices ranging from Ruth Moody's soprano, Vicky Mehta's mezzo to Annabelle Chvostek's alto. The combination of their voices was extraordinary, a harmony made in heaven, each voice distinct and yet blending perfectly with the others. Everything said about their harmonies is true. It was fresh and lush and veritable candy for
the ears.
They sang songs from their current album 40 Days - which has a mix of original and traditional tunes - and covers from artists as diverse as Dave Olney and Huddie Ledbetter.

The original songs like "Heaven When We're Home" and "One Voice" are fine examples of the song writing craft.
The instrumental arrangements to accompany the singing were very effective. The girls played a variety of instruments, Ruth Moody tapping a bodhràn as percussion, while Vicky played guitar or harmonica and Annabelle a violin. Or Ruth playing an accordion while Vicky provided percussion on a circular flat drum and Annabelle played mandolin. Their take on "Water From A Deeper Well" a familiar song from Emmylou Harris' s Wrecking Ball was, in my opinion, better than Emmylou's version.
Other highlights were the Ruth Moody song "One Voice", the à cappella Huddie Ledbetter cover "Bring Me a L'il Water Silvy", "Beautiful Dawn", "Swallow" a new song from their upcoming record, and "Apocalypse Lullaby" a song about connectedness and the need for harmony in the world.
The Wailin' Jennys set lasted for an hour and rarely has this reviewer's jaded palate been so impressed with an act.
They will be playing several other shows in Melbourne and at various regional venues over the coming months. I highly recommend that you catch them. Check the gig guide for dates and venues.
Sarah Lee Guthrie and Johnny Irion
Sarah Lee Guthrie & Johnny Irion - The Corner - 8 March 2006
This time of year always brings diverse and special International music acts as the festival season kicks in.
We are spoiled for choice, as artists invited to Port Fairy, East Coast Blues Fest, Womadelaide and the Brunswick music festivals, put on side shows in the city and selected regional venues.
It is the first time Sarah Lee Guthrie and Johnny Irion have come to these shores and I was fortunate enough to see them perform their first gig at Basement Discs. They created a very good impression there so I was glad to catch them again at the Corner.
Both had come down with a stomach bug caught from their daughter, but true troupers that they are they gave an honest and endearing performance on the night.
The husband and wife act forming the last syllable, so to speak, of the palindrome, was simple and engaging, with both parties playing guitars and singing.
They opened with "Georgia Pine" from their album Exploration. It is one of several songs on the album written by Johnny Irion another of which, "Mixed Blessings", was performed next.
Sarah Lee related a story regarding the next song, "Dr King", which was written by Pete Seeger. They were attending the Hudson Clearwater Revival Festival and were summoned to play with Seeger at 10.00 in the morning. They had never heard the song before and had to improvise. Sarah Lee wasn't all that fazed, as she pointed out, Guthries don't rehearse whereas Johnny came from a different school of music that did rehearse. Johnny remarked that it was in the key of "G" and added that "G" is the people's key. After that first performance, Sarah Lee and Johnny adopted the song and adapted it for their own repertoire.
Both Sarah Lee and Johnny possess pleasant voices which blend very naturally when they sing. Johnny Irion's voice reminded me somewhat of Neil Young and Sarah Lee's is a pleasant alto.
Johnny Irion - The Corner - 8 March 2006

Johnny Irion is a fine musician and played both guitar and dobro, while Sarah Lee stuck to basic guitar chords. Despite coming from a famous music family, Sarah Lee found her true calling in music only fairly recently. At one stage during the show, she withdrew to the back of the stage to tune her guitar. Light hearted badinage between the couple filled in the hiatus, with more remarks on the Guthrie lack of rehearsal.

The audience was stirred with the artists' encouragement to sing along to the chorus of Mike Paxton's song "Thirty Inch Coal". Someone had requested "Love Hurts" the old Gram & Emmylou classic and Sarah Lee and Johnny sang a quite wonderful version of it.

The song "Kindness" was inspired by Arlo Guthrie's church in Yankee Ville Massachusetts. Sarah tells an amusing story about Arlo's acquisition of it. Apparently a preacher came by when Arlo was inspecting it and asked him what brand of church it was going to be. Arlo answered that it was a "bring your own god church" which is echoed in the lyrics of the song.
Towards the end of their set, Sarah Lee and Johnny invited Chris Wilson to join them on stage for the last song in which he played harmonica.

He also joined them for the encore "Gotta Prove", where they abandoned the mikes and stepped to the front of the stage for an unplugged segment.
And so the palindrome had come full circle and the audience, a friendly and attentive crowd, was left with a feeling of completion and satisfaction in a night well spent with a fine mix of music and song.
SET LISTS
SARAH CARROLL & CHRIS WILSON - 8.15 TO 9.00
1. ACCIDENT WAITING TO HAPPEN
2. CLOSING TIME
3. DRUNK MAN
4. NOT INCLINED TO TRY
5. IT HURTS ME
6. DANGEROUS
7. THE LISA MARIE
8. MIDNIGHT BUS (JOHN D LOUDERMILK COVER)
9. EVERY HUMBLE KNEE (TRADITIONAL)
THE WAILIN' JENNYS - 9.15 TO 10.20
1. THE DEVIL'S PAINTBRUSH
2. ARLINGTON
3. BRING ME L'IL WATER SILVY (HUDDIE LEDBETTER COVER)
4. BEAUTIFUL DAWN
5. SWALLOW
6. BEGIN
7. BRING EM ALL IN (MIKE SCOTT COVER)
8. AVILA
9. HEAVEN WHEN WE'RE HOME
10. APOCALYPSE LULLABY
11. DEEPER WELL (DAVE OLNEY/DANIEL LANOIS/EMMYLOU HARRIS COVER)
12. ONE VOICE
SARAH LEE GUTHRIE & JOHNNY IRION - 10.40 TO 12.00
1. GEORGIA PINE
2. MIXED BLESSINGS
3. DR KING (PETE SEEGAR SONG)
4. IN LIEU OF FLOWERS
5. WHEN THE LILACS ARE IN BLOOM (TRADITIONAL)
6. SHORT LEASH
7. SWING OF THINGS
8. EXPLORATION
9. ?
10. THIRTY INCH COAL
11. MORNIN'S OVER
12. LOVE HURTS (GRAM PARSONS COVER)
13. KINDNESS
14. ?
15. (ENCORE) GOTTA PROVE
REVIEW & PHOTOS BY ANNE SYDENHAM
SEE ALSO: Dave's Diary http://www.nucountry.com.au/articles/diary/july2005/120705_wailinjennys.htm
http://www.nucountry.com.au/articles/diary/may2005/170505_sarahleeguthrie.htm