DAVE'S DIARY - 17 MAY 2005 - SARAH LEE GUTHRIE
& JOHNNY IRION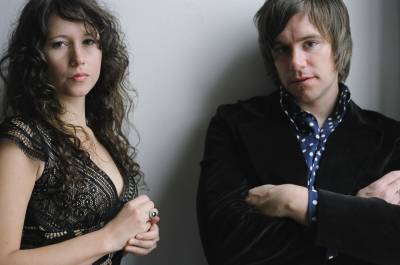 Sarah Lee Guthrie & Johnny Irion
WHEN LITERARY GENES WASH
"Still flying the flag up on Gervais/ was a battle flag, now we can put it away." - Gervais - Johnny Irion.
Sarah Lee Guthrie is following a family tradition that dates back to the Oklahoma dust bowl era that launched her legendary grandfather Woody.

She was on stage from the age of two - often using her freewheeling dad Arlo's guitar case as a bed.

And now Sarah Lee's daughter Olivia Nora, almost three, is doing the same when she tours with her singing spouse Johnny Irion.

Guthrie and Irion plan a summer tour of Australia to promote their debut duets disc Exploration (New West-Shock).

And they'll bring their daughter who sleeps to the rhythm of the road.

"She's done over 300 shows, so she knows the drill," Sarah Lee told Nu Country TV in a call from the couple's home in Columbia.

The singer, who learned to play guitar on stage from her father instead of following college aspirations, is keen to follow her dad who has toured here over three decades since scoring with tunes diverse as Alice's Restaurant and his hit of Steve Goodman song City Of New Orleans.

"I used guitar cases as cribs shortly after I was born," says Sarah, now 26.

"I was the baby of four children. I was thrown in front of a thousand people a night and messing up in front of them. For the first three years, I really worked hard at my guitar playing, my singing and my stage presence. My dad was really supportive by letting me learn like that. When you're thrown into the fire, you tend to learn pretty fast."

Sarah was just two when she made a cameo on her dad's disc The Power Of Love in 1981.

And she made her live debut at Carnegie Hall at 14 with Arlo and Pete Seeger.

"I didn't start playing music until I was 18," Guthrie said.

"Of course, I always joined my dad on stage to sing backup, but I never took it seriously until I met Johnny."

In 2001 Guthrie cut a self-titled solo disc and Irion released his debut disc Unity Lodge after playing in bands diverse as Queen Sarah Saturday and Dillon Fence.
BLACK CROWES
They met at a Black Crowes concert in Los Angeles and headed to South Carolina for their assault on the music business.

Johnny Irion is a grand nephew of John Steinbeck and grew up in Chapel Hill, North Carolina.

So it was not surprising they recruited Pete Seeger's grandson Tao Rodriguez to play on their cut of Dr King - an unreleased Seeger eulogy to Martin Luther King.

"It was great to get it out the song out there for Pete," Irion told Nu Country TV. "Tao plays with the Mammals who were in Minneapolis when we were recording. He was doing a gig. He came in and tracked the song at 11 am and at 3 p m they were out of there and on to their next gig in Wisconsin."

Former Jayhawks guitarist Gary Louris produced the disc with Ed Ackerson and hired Dave Boquist (fiddle and banjo) and Eric Heywood from Son Volt on pedal steel.

Irion called in drummer Zeke Hutchins from Grammy nominee Tift Merritt's band and pianist Greg Readling of bluegrass outfit Chatham County Line.

"We toured Holland about two years ago, and The Jayhawks happened to be playing in Amsterdam on our night off," Irion revealed.

"We went backstage afterwards to say hello, and we asked him if he'd be interested in producing our record, and he was."

Johnny and Sara Lee wed in L.A. in October of 1999 but found lure of the Carolinas, where Irion was raised, more conducive for creativity.

DRIVE SOUTH
"In the South it's cheaper to live, there are more places to play and you get paid for playing," Irion, 36, revealed.

"In L.A. you either go for the jackpot or die there. I grew up in Chapel Hill, North Carolina, and was surrounded by family."

But it was not all peace in the Carolinas as detailed in Irion's song Gervais about the main street that runs through Columbia - also the hometown of Bill Anderson.

"For some the Civil War is still going on," he added, "we're trying to bring them into the new millennium, usher them along. Behind closed doors there's more racism than you would think. That's a tough question, racism is still rampant in America."

Government spending on the space race is also queried in the title track of their disc that is scoring airplay here on ABC and community radio.

"It's neat to look up there but the millions could be spent down here on poverty," he says.
"It's the same with the war effort. I should have been a lawyer."

But instead he was an actor in L.A with cameo roles in movies including Ghost World and several TV programs including the Dennis Leary show.

"It was a fluke," says Irion, "I know a know a publisher from Cherry Lane publishing. He wanted me to help on music side but I finished up acting instead of working on the music which I would have preferred."
IN LIEU OF FLOWERS

The singer was driven to write In Lieu Of Flowers - the campaign for trust funds for musicians suffering psychiatric problems without health insurance.

Musicians diverse as Kevin Welch, Ray Wylie Hubbard, Eliza Gilkyson, Jimmie Dale Gilmore and Reckless Kelly after the death of an Austin musician.

"I read a story in the Austin Chronicle about a woman who started a fund for her son after he committed suicide," Irion said.

"She asked for people to send donations for a health trust instead of flowers. That's how the song started. It's a moving thing."

Irion and Guthrie created a collective country folk hybrid after cutting solo discs that showcased their individual writing styles.

"I fell in love with a guitar player," Sarah Lee says of their romance reflected in their mix of love and social comment songs.

Guthrie wrote her biographical Holding Back at a writing retreat in Massachusetts.

"Johnny told me to go write a hit song so I did my best," she quipped.

"We had been touring so much I had to take two weeks off and write - I finished four or five songs. Some of the words in there are autobiographical, but it's really a song to anybody who is afraid to step into their own shoes and explore their own creativity."

HOYT AXTON
But it was late Oklahoma born singing actor Hoyt Axton - not her folks who inspired her song When The Morning's Over.

So was that a sequel to Axton's hit When The Morning Comes?

"Yes, that's where I got the inspiration," Sara Lee confessed.

"He was a really good friend of the family. I went to visit him in Montana before he died. I cut his In A Young Girl's Mind on my solo album. It was one of my favourite Hoyt songs. He's written a lot of great songs. He was a mentor - his voice and music are hard to forget."

Axton was born in Duncan, Oklahoma, on March 25, 1938, and died at 61 on October 26, 1999, in Victor, Montana.

Hoyt Axton >
Hoyt, an honorary deputy sheriff confined to a wheel chair after a 1995 heart attack and stroke, was a major influence on Guthrie and Sydney singer Corrina Steel who cut his song I Dream Of Highways.

The singing actor wrote a brace of hits including Greenback Dollar for the Kingston Trio in 1963, Joy To The World and Never Been To Spain for Three Dog Night, The No, No, Song for Ringo Starr and The Pusher for Steppenwolf.

He also appeared in movies diverse as Black Stallion, Endangered Species, Gremlins, Disorganised Crime, King Cobra and Kingfish.

His late mother Mae Boren Axton wrote the Elvis hit Heart Break Hotel.
CEASE FIRE
Cease Fire is one of the few songs the couple wrote together from the start to finish.

"Johnny and I took a train from New York to Philadelphia," Sarah Lee said.

"That's the story behind it in song. A week we were driving down the road in the car and wrote it together. It's one of the few songs we wrote together. Usually one starts the songs and the other finishes it."

The duo's country-folk hybrid is reminiscent of The Woodys on tunes such as Mixed Blessings and Swing Of Things.

Mixed Blessings - featuring harmonica and acoustic guitar - delves into hawks, doves and an axe murder.

They veer from the country accessibility of Swing of Things to fiddle flavoured love song Gotta Prove, harmonic Kindness and esoteric imagery of Georgia Pine.

Guthrie and Irion plan a summer tour to promote their 12-track disc Exploration on New West, distributed here by Shock.
http://www.braindumps.com/350-029.htm
http://www.test-king.com/exams/CAS-001.htm
http://www.bentley.edu/
http://www.actualtests.com/exam-SK0-003.htm
http://www.certkiller.com/exam-EX200.htm
http://asq.org/
http://www.braindumps.com/70-461.htm
http://www.test-king.com/exams/642-996.htm
http://www.bfit.edu/
http://www.actualtests.com/exam-LX0-101.htm
http://www.certkiller.com
http://www.aruba.com/