DAVE'S DIARY - 25/8/2014 - PREVIEW OF EPISODE 13 - SERIES 23
MAVERICKS HEADLINE NU COUNTRY TV
Floridian super group The Mavericks headline Nu Country TV in the Series #23 finale this Thursday August 28 at 10.30 pm on Channel 31/Digital 44 on the eve of their third Australian tour.
Tennessean troubadour Deana Carter also returns to the show repeated Monday 5.30 am and 2.30 pm and Thursday 2.30 am just five years after her CMC Rocks The Snowys debut at Thredbo.
Nouveau string and bluegrass bands Old Crow Medicine Show and Trampled By Turtles also return to Behind Bars on the series filmed and edited by Laith Graham.
Grafton raised singer-songwriter Adam Eckersley and singing spouse Brooke McClymont and her trio The McClymonts also return with their latest video clips.
Nu Country TV is a highlight of the C 31 streaming list on Digital 44.
Just follow this link on your computer or mobile phone - http://www.c31.org.au/program/view/program/nu-country-tv
THE MAVERICKS HONOUR JOHN HARTFORD
The Mavericks honour Glen Campbell with a new live version of a John Hartford gem.
Gentle On My Mind won Grammys for both the late bluegrass singer and Arkansas born star Glen Campbell in 1968.
Hartford wrote it after seeing the Doctor Zhivago movie
The song earned him huge royalties as theme for Glen's long running TV show
It was covered by 300 other artists including Dean Martin, Patti Page, Elvis, Roger Miller, Aretha Franklin, Johnny Cash, Andy and Lucinda Williams
Singer Raul Malo, who cut six solo albums in the Mavericks' decade long hiatus after six studio discs and two live albums between 1991 and 2003, also owes a debt to Campbell.
"I think part of it at least for me is just that - that it's not something that people would normally hear us play," Malo, now 48, says of their version of Gentle On My Mind .
"That to me makes it a perfect candidate for us to play! And at the end of the day, it's a beautiful song. It's one of my favourite songs that really turned me on as a kid to country music. And of course Glen Campbell is one of our heroes."
"Somebody told me the other day that when they listen to the new record, it takes them somewhere that they may not necessarily have ever been, but it feels so familiar in so many ways. And to me that's a beautiful compliment. Because my favourite music I think does that. It transports us somewhere and it makes us feel like we've been there even though perhaps we never have. And if you can make people feel that with your music, I think that's a mission accomplished. I can't sit here and say 'Well, I think it'll tear your heart out.' I just hope it resonates with people."
CLICK HERE for a Mavericks feature on their seventh album In Time in The Diary on February 27, 2013.
DEANA CARTER RETURNS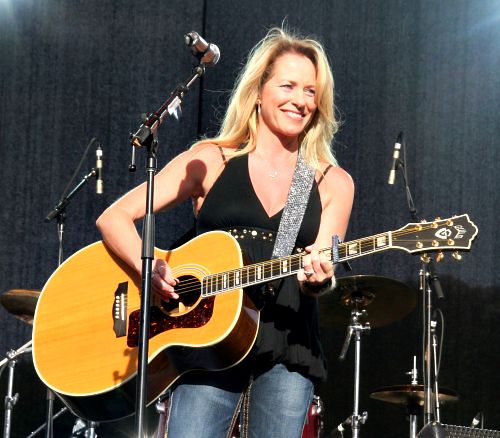 Photo by Carol Taylor
Deana Carter performs the video for her song Do Or Die that she directed from her seventh album Southern Way Of Life . On her own Little Nugget Records .
Deana, now 48, is daughter of late session muso and hit writer Fred Carter Jr
The resurrected artist put more focus on her song-writing after the success of Kenny Chesney hit You and Tequila that she wrote with Matraca Berg - singing spouse of Nitty Gritty Dirt Band bassist Jeff Hanna.
"It's like I went from zero to 60 all of a sudden," Deana says.
"I was writing more and traveling more. So I had all these songs laying around and I thought that I needed to do something with them. We decided to put them on this record."
Deana wrote several tunes for her acclaimed 1996 debut album Did I Shave My Legs for This including #1 hit How Do I Get There.
Her most famous hit, award-winning Strawberry Wine came from Matraca and Gary Harrison.
The release of Southern Way of Life is even more pivotal because of what Carter had to endure before it could ever see the light of day.
"I lost my dad, and also went through some major surgeries on my spine and on my knee," Carter revealed,
As part of the lengthy operation, which occurred because of a car accident, the surgeon actually removed her vocal box in order to perform the surgery.
"Now, I'm healthy and good, and healing through all of that, and have been writing songs," she adds.
"I'm glad I took the time personally to take care of myself and my family. Now, we have a record."
Carter collaborated with hit tunesmiths, including Kacey Musgraves and Band Perry' s Kimberly Perry
"It's an exciting time when you see too much of one thing happening because you know it's about to shift or start shifting," she explained.
"I've always looked at that as an opportunity."
The Tennessean says there are several new artists in country music that make her optimistic about the future of country music.
"If you hold your breath and ride the wave you will break through. Those artists are very artistic girls - Kacey, Brandy Clark and Ashley Monroe - they're very artistic, very unique-sounding girls who aren't super mainstream. I think that's a beautiful thing to be talked about like, 'Why aren't those girls on the radio more?' and know that you're next."
Kacey Musgraves had just turned six years old when Deana Carter catapulted to country stardom with the release of her debut single Strawberry Wine in 1996.
But they found they had plenty in common when they got together to write for Southern Way of Life .
"When I sat with her and watched how she played guitar - she had such open tunings and cool ideas - I was like, 'I used to be that way. I used to just not worry about it and just create,'" Carter revealed.
"It was so refreshing to be with her and do that. I'm so proud of her, it's so great."
The women penned That's Just Me - one of her favourites on the record.
"It was just fun, it had a lot of Dolly Parton roots to it," she explains.
"A good riff and tempo. It talks about the roots of who we are and making the best of a situation. The lyric says 'It's not the crown that makes the queen.' It's that kind of thing. 'What's the point in a pot of gold if you haven't got a hand to hold?' Just cool little lyrics that now, seeing her whole career and how she writes and us together, it was just a real good match. It was serendipity."
"In fact, it was such a good match that the song almost wrote itself. That first writing appointment, we got the song done in like two hours. So we were going, 'Okay, we can make happy hour. There have been a lot of days when I've struggled to get through a song in a day, but that one came really quick and easy."
Inviting Musgraves to help her write for Southern Way of Life was a leap of faith, since Carter says it is the most personal album she has ever recorded.
"Most of these songs mimic my own life," she added.
"Instinctively autobiographical, the project weaves through many levels of emotions and situations culminating with the title track that will make any Southern smile."
CLICK HERE for a Deana Carter interview in The Diary on May 23, 2005.
OLD CROW MEDICINE SHOW BOOTLEGGERS BOY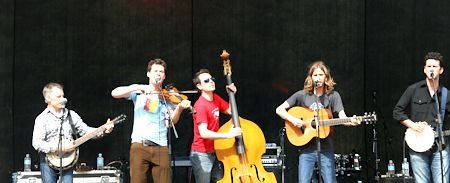 Photo by Carol Taylor
Old Crow Medicine Show made their Australian debut with Deana Carter at the 2009 CMC Rocks The Snowys festival at Thredbo.
They recently released their sixth album Remedy in the U.S .
While we await delivery of that disc from their local distributor Mushroom we feature the band's live performance of the classic Bootlegger's Boy in Behind Bars.
CLICK HERE for a CD Review of their previous album Tennessee Pusher in The Diary on August 14, 2012.
TRAMPLED BY TURTLES ANIMATE WALT WHITMAN
Minnesota bluegrass aces Trampled by Turtles also honour and animate famed American literary figure Walt Whitman in Behind Bars .

It's a sequel of sorts to Texan troubadour Brent Mitchell's popular 1997 album title track Reciting Whitman To The Cows - a staple on Nu Country FM in our radio era.

Trampled by Turtles have also appeared on popular American TV shows Deadliest Catch and Squidbillies that also featured veteran Texan singer-songwriter Billy Joe Shaver.
Their song Alone was featured at the end of 2013 movie The Way-Way Back .
The band formed in Duluth, Minnesota in 2004, debuted with Songs from a Ghost Town and released their eighth album Wild Animals this month.
Their fifth album Palomino was Top 10 on the Billboard bluegrass charts for 52 weeks.
Stars and Satellites was released April 10, 2012 and debuted at #32 on the Billboard 200 Chart and #11 on the Alternative Chart.
Trampled By Turtles made its TV debut April 24, 2012, on Late Show with David Letterman.
Further info - http://trampledbyturtles.com/
GRAFTON DOUBLE SHOT
We feature two bands this week with their roots in Grafton - also home town of Troy Cassar-Daley and Cold Chisel hit writer and pianist Don Walker.
The McClymonts do a little pole dancing on their video for Here's To You And I - title track of their fourth album released here early this year.
Brooke McClymont is the singing spouse of Adam Eckersley whose band perform Should Have Known Better.
But that's not Brooke shedding her top on the video from the latter day NSW Central Coast based band's The First Album.
Both bands play CMC Rocks North Queensland festival at Townsville next month with Gary Allan, The Mavericks and Blackjack Billy after the annual Gympie Muster this month.
Adam toured the U.S. with The McClymonts in their lunge at international success.
Brooke and Adam became parents in 2013.
''Honestly, I keep forgetting I'm pregnant,'' Brooke said at the time.
''Women would hate me saying this but it's been awesome. I haven't had any problems.''
The McClymonts travelled regularly between Australia and America, attempting to crack the US market.
''We've been really slogging away at it over there in the US, slowly building a fan base and playing at pretty much everywhere you can play - all of the country music festivals,'' Brooke says.
''We're just kind of balancing the two worlds - Australia and America - as best we can.
''We're doing a great job of it at the moment, so unless something becomes more permanent and we need to be in one place more than the other, we'll keep doing it.''
CLICK HERE for a McClymonts feature in The Diary on January 25, 2010.
HOW TO KEEP NU COUNTRY ON AIR
We need your support as we celebrate the finale of our 23rd series of Nu Country TV .
Australian record companies and artists have joined forces to ensure our survival.
We have new CDS by major artists you can win by becoming a Nu Country TV member or renewing your membership.
They include singing actors Willie Nelson and Tim McGraw, Voice judge Blake Shelton, Ashley Monroe, Brad Paisley, Gary Allan, Toby Keith, Dierks Bentley, Eric Church, Carrie Underwood, Chris Young, Charley Pride, Slim Dusty, Rosanne Cash, Kacey Jones and more.
We also have the latest John Denver all-star tribute album and DVDS by Lady Antebellum.
CLICK HERE for our Membership Page for full details.