DAVE'S DIARY - 6/4/14 - PREVIEW OF EPISODE 6 - SERIES 22
DIERKS BENTLEY HONOURS HIS DAD ON NU COUNTRY TV
Arizona country and bluegrass star Dierks Bentley headlines Nu Country TV Thursday April 10 at 10.30 pm with a song inspired by his late father.

Singing Georgian actor Travis Tritt also showcases his daughter Tyler in a show repeated Monday 5.30 am and 2.30 pm and Wednesday 11.30 pm.

New York born and Colorado raised singer-songwriter Gretchen Peters performs a pair of songs in Behind Bars filmed and edited by Laith Graham.

Veteran Sunraysia sired band The T-Bones also debut with a song from their aptly titled seventh album Long Time Coming and teenage Texan Voice winner Danielle Bradbery showcases her debut disc title track.

Nu Country TV has been added to the C 31 streaming list.
Just follow this link on your computer or mobile phone - http://www.c31.org.au/program/view/program/nu-country-tv
BENTLEY TAKES VIDEO CAST ON ROAD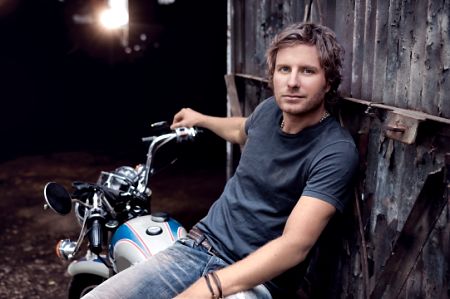 Dierks Bentley took the cast of his video I Hold On with him on the road to prep them for their performance.

"I had this idea, what if we just trace the steps of someone, to get to that idea of faith, love and freedom? But not get to it in a cheesy or generic way," Bentley revealed.

"We wanted an authentic way. The way I saw faith, love and freedom, and the way I saw America, was through a tour bus. That was my first time going through places like Wisconsin and Illinois and Iowa and Nebraska. I think anybody who watches that video feels like they're on the bus and on the ride."

Dierks, 37, wrote the song while mourning the death of his dad Leon who died at 88 on June 1, 2012.

Almost three months before - March 13 - Bentley played St Kilda Palais with Lee Kernaghan at a concert attended by Carlton footy stars Andrew Walker, David Ellard and St Kilda captain Nick Riewoldt.

Leon's death also inspired Here on Earth, Bourbon in Kentucky and Damn These Dreams - on Dierks eighth album Riser, released here in summer.

CLICK HERE for our exclusive feature on Bentley in The Diary.
CLICK HERE to win Dierks previous album Home.
TRAVIS TRITT AND TYLER
Thrice wed Georgian singing actor Travis Tritt, 51, and daughter Tyler Reese Tritt, just 15, combine in the video for Sometimes Love Just Ain't Enough from the re-release of his 2007 album The Calm After.

Travis has released 12 albums and acted in diverse movies including Rio Dablo, Fire Down Below, The Cowboy Way, The Long Kill and Blues Brothers.

Travis Tritt has a stretch of highway named after him in hometown Marietta and has shared serious acting parts with peers such as Shotgun Willie Nelson, Randy Travis and Tim McGraw.
"I became an accidental actor because of success in the music industry," says Tritt who debuted with Texas born Kenny Rogers in Rio Diablo after his video Anymore ignited widespread exposure.

Cameos continued in Dill Scallion, Gremlins 2, Outlaw Justice, Sgt Bilko and his voice was used in Disney animated bluegrass musical, My Peoples.

His latest role is in 2001 Maniacs.

"I get to play a gas station attendant who is a foreteller of doom," Tritt revealed.

"In most horror films there is at least one character who says, "Don't go down to Crystal Lake. That's where Jason lives" or "Stay away from this place." Well, I'm that guy warning these young people who are about to go off on this adventure of impending doom. But I get to come back later on and do a dream sequence that one of these kids has. I get to be a vicious, evil, dirty rotten, the most despicable character you could ever imagine. Those are the most fun. You get to reach down and go to a place inside your own psyche where you dig up all the sludge that's on the bottom and raise it up to the top. You get to get by with all kinds of things you could never get by with in society. It's fun. It's almost therapeutic to do that sort of thing."

CLICK HERE for a Tritt CD review in the Diary on January 25, 2011.
GRETCHEN PETERS DOUBLE SHOT BEHIND BARS
Gretchen Peters performed live in our Nu Country FM studio in Harley House at the Paris, Texas, end of Collins St in 2001 after our previous studio burned down at Beer Can Hill, Northcote on June 26, 2000.

This time the singer returns with live performances of The Matador and ninth album title track Hello Cruel World.

Gretchen, 56, was born in Bronxville, New York and raised in Boulder, Colorado.

She moved to Nashville in the 1980s and wrote hits for Martina McBride, Etta James, Trisha Yearwood, Patty Loveless, George Strait, Anne Murray, Neil Diamond and many more.

She won 1995 CMA song of year for McBride's version of her domestic violence and revenge song Independence Day, replete with fiery video.

The title track of her 1996 debut album The Secret of Life was recorded by Faith Hill, who toured here twice with singing spouse Tim McGraw, back in 1999.

CLICK HERE for an exclusive Gretchen feature in the Diary on December 21, 2011.
T BONES LONG TIME COMING TO STAKE THEIR CLAIM TO FAME
Robinvale refugees The T-Bones debut on Nu Country TV with marathon video Lead Me Blind from aptly named seventh album Long Time Coming.

The bush bred and Beer Can Hill matured band played Nu Country FM gigs in our halcyon radio era.

The video lead characters are singer Pip Pupillo, daughter Lila, two dogs and a pig.

The beach locale is atop Beer Can Hill - the pub is the nearby Northcote Social Club.

All country scenes were at Euston - across the NSW border from where Pip and guitarist Charlie Wilde were raised in the citrus belt HQ Robinvale.

The long and winding road in the video is the barren but beautiful Sturt Highway that leads north to Balranald and Hay.

Guitarist Wilde says the pig and dogs were not harmed in making of the video but have sought anonymity as they are in a witness protection scheme here in the big smoke.

CLICK HERE for a review of Long Time Coming in the Diary on March 5.
DANIELLE BRADBERY IN HEART OF DIXIE
Danielle Bradbury was just 16, when she won the fourth season of The Voice while being mentored by Oklahoma judge Blake Shelton.

Danielle is from Cyprus, Texas, and sang Heart of Dixie in both the show and on her self-titled debut album released on November 25.

Bradbery, now 17, was Shelton's third winning protégé and youngest winner before he discovered the Swon Brothers.

Bradbery was born in Houston, Texas to Danny Bradbery and Gloria Redden Martinez but moved to Cypress, Texas.

She attended Cypress Ranch High School and has an older sister Monica and three younger brothers, Drake, Drew and Collin.
On June 19, 2013, the day after Bradbery won The Voice, she was signed to Big Machine Records who released The Heart of Dixie on July 16.

On September 14, 2013 she performed on the WGTY Great Country Radio stage at the York Fair and sang four songs from her album - Young in America, Dance Hall, Never Like This and Daughter of a Working Man.

Bradbery made her Grand Ole Opry debut on the historic stage of Ryman Auditorium in Nashville on November 12.

She later joined Brad Paisley's Beat This Summer tour and sang the national anthem at opening ceremonies of 2013 Formula 1 United States Grand Prix.

Her song My Day was featured in the Sochi 2014 Winter Olympics as she was chosen to be "the voice" of the Games' promotional campaign that partnered NBC Olympics with The Voice.

She joins Hunter Hayes as a special guest in his We're Not Invisible tour starting March 20, 2014.

Further info - www.daniellebradbery.com
HOW TO KEEP NU COUNTRY ON AIR
We need your support as we celebrate our 22nd series of Nu Country TV.

Australian record companies and artists have joined forces to ensure our survival.

We have new CDS by major artists you can win by becoming a Nu Country TV member or renewing your membership.

They include singing actors Willie Nelson and Tim McGraw, Voice judge Blake Shelton, Ashley Monroe, Brad Paisley, Gary Allan, Toby Keith, Dierks Bentley, Eric Church, Carrie Underwood, Chris Young, Charley Pride, Slim Dusty, Eli Young Band, Rosanne Cash and more.

We also have the latest John Denver all-star tribute album and DVDS by Lady Antebellum.

CLICK HERE for our Membership Page for full details.