DAVE'S DIARY - 5 MARCH 2014 - T BONES CD REVIEW
T BONES
LONG TIME COMING (INDIE)
T BONES STAKE THEIR CLAIM TEN YEARS AFTER
"The big old Murray River is where we went/ to forget about our troubles and the worries of the world/ put that punt out on the river/ take her out for a ride/ gonna catch us a big fish to eat tonight." - Murray River - Andrew Pupillo.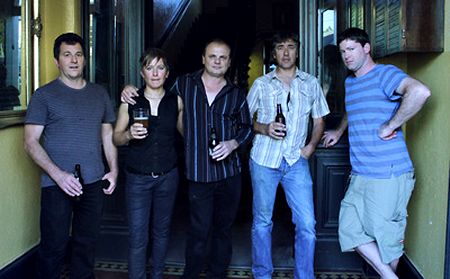 When the T Bones rode out of Robinvale back in the eighties they had a few pit-stops en route to the now gentrified Beer Can Hill horizon in downtown Northcote.

They lost a few drummers - Rohan Keert headed south west to the Shipwreck Coast where he picks up the tempo for Lost In Suburbia when not eking out an academic career as a secondary school principal.

Jim Carden flew north from Caringbush to Johland where his professional career included running a major airport.

But the meat on the T Bone has always been singer Andrew Pupillo and guitarist Charlie Wilde - two Sunraysia saddle-tramps who share song-writing duties and fuel the engine room - and Goulburn Valley raised guitarist James Stewart.

Now, a decade since their sixth album Lowdown they have left the Western Highway way behind and are back in the recording and performing saddle in the big smoke at Soundpark studio and Appleby in Wild West Brunswick.

Yes, that's not far where the Dawson clan settled in the 1840's so it's fortuitous that roots music again permeates the former farmlands and brick works of the Phoenix estate.

This time Miles McNicol picks up the tempo and Alics Gate-Eastley is on bass and album guests include veteran pedal steel guitarist Garrett Costigan, Hugh Martin on Hammond organ and Charlie's daughter Loretta on piano accordion.

The T Bones ride in the same rural reared, urban refined outlaw posse as the Dead Livers, with whom they shared a penchant for living and writing on the cutting edges of their chosen milieu.

They also shared a premature arrival in Tamworth like other unsung heroes before them - Saltbush, Moose Malone, Peter Caulton and the late lamented A P Johnson.

The T Bones hybrid of roots country, folk and rock may be mistakenly dubbed alternate country for its subject material but they don't have the baggage of the failed rockers with dubious vocal clarity, grunge guitars and Johnny Cash clones trying to find a soft place to fall between the city cracks.

This is the real deal.

And, like the Livers, the T Bones have an unfashionable but highly creative lead singer who puts his beliefs where his mouth is.

Pupillo and Livers singer Marty Atchison - a teacher by trade and carer by repeated twists of fate - nail their audiences by the strength of their songs and delivery.

Not for them the frozen smiles of the reality TV twerps, faux FM radio comics and dancing divas of mass distraction.

Pupillo sings with a raw power as he tears torment from the back pages of his partners in rhyme on the mean streets of urban ghettoes and out way beyond the neon.

BROKE DOWN IN NARRANDERA
"The car broke down coming out of Narrandera/ left her stranded out on her own/ she sat down beside the road and started to cry/ sometimes the brightest stars in the sky/ sometimes they can fall." - Learn To Fall - Charlie Wilde.
Pupillo delivers Wilde's album entrée Big Train - milking the metaphor of their own return to the recording rails - with a fierce passion.
It segues into Learn To Fall - Wilde's tale of a highwaywoman who steals her boyfriend's car after suffering his romantic disconnect.

But she stalls her steed outside NSW Riverina town Narrandera and decamps in the car of the Good Samaritan shearers who arrive after the writer mixes his celestial and metrological metaphors to drench his damsel, no longer in distress but perhaps falling into another amorous abyss.

So it's no surprise Pupillo sings the praises of a strong willed brunette temptress in She Declined but mourns the maiden who leaves him for a trendy suitor after he declines to lavish her with fools' gold in Get Yourself Around Here.
All this is laced with more than a tinge of regret when the new beau has adornments the male lead does not - "got no tattoos or piercings, no I ain't trendy."

Such fashion accessories may be the chosen flavour of the moth drawn to city candles and flames but not the singer who still believes his love lubricant is more lethal than booze in the stage spotlights in Gotta Get High.

Perhaps even deeper and darker is Wilde's depression dirge Lead Me Blind, accompanied by a video featured Pupillo and his daughter Lila.

The song's victim gambles on a hand he can't win and is plunged into the depths of depression that claim as many lost rural souls as urban casualties in the new millennia.
Don't get the impression all the characters here are perishable.

Pupillo's nostalgia narrative Murray River is a timely trip back in time to the supreme stream and inland oasis where precious childhood dreams are attained every time the characters fish, swim and sing in a world untarnished by modern stresses.
SHADY SIN CITY SVENAGALIS
"You'd been living up north in Sydney/ running around that old harbour town/ with some shady local businessman/ who thought you might be good for business/ said he had some information/ and he could take you along for the ride." - Wondering Why - Charlie Wilde.
More mysterious and bleak is Wilde song Wondering Why where the male lead reconnects with a femme fatale who returns after an encounter of the seedy kind with a Sydney spiv - the type sometimes referred to as a colourful identity.

Wilde's character is mystified by the allure of the young lass - why has she chosen him for a soft fall?

The story is left open ended - we never learn if she was the victim of a pious property tycoon, greedy gambling syndicate tsar or a Bitcoin pyramid pariah.

It's a sibling song of sorts of Pupillo's vitriolic Let Me Down Again.

The bejewelled Jezebel lies and cheats her bewildered beau, leaving him like a clown with a football metaphor to boot him in the soul.

"You ripped my heart, straight from my chest/ kicked it around that old footy ground, until it was a bloody mess."

It's not clear if the scene of the rhyme was the MCG where the lads' Tigers play second fiddle to latter day home game bandits Collingwood or back home in Robinvale or Euston.

There's no mystery of the locale of Wilde's Silver City Blues where it's closing time after a gig and the morning after the band is leaving behind the lovers and fighters for a gig in Broken Hill.

A fitting finale perhaps is Pupillo's pugilistic Fighting In The Pub - a Saturday night ritual of passage in saloons and public houses the world over.

But here it's fists - not bottles, beer glasses, knives, guns, syringes or Molotov cocktails favoured by barbarian bikeless bikies in the mean streets of Sydney and beyond.

And there's a bonus for male spectators when the females of the species head outside and scratch, bite and eye gouge until one of the combatants loses her top and turns it into a spectator sport.

Yarra Village voyeurs may be disappointed to learn that's unlikely to happen at the band CD launch at Northcote Social Club in their March 30 matinee with special guests Dan & Al and Bell St Delays (Tracy McNeil and Luke Sinclair.)

Well, maybe the T-Bones will stake their claim to equality by shooting a video on the day for Fighting In The Pub.