DAVE'S DIARY - 14/12/13 - PREVIEW OF EPISODE 3 - SERIES 21
ALAN JACKSON BLUEGRASS DEBUT ON NU COUNTRY TV
Georgian superstar Alan Jackson debuts two video clips from his acclaimed The Bluegrass Album on Nu Country TV this Wednesday December 18 on Channel 31 at 10 pm.

The singer, who made his second Australian tour in September, performs with the bluegrass band who played on his sessions in Nashville.

Singing actor Shooter Jennings also returns to the show with his new video from his sixth album The Other Life on a show repeated Monday 5.30 am and 2.30 pm and Tuesday at
1 am.

Geelong and Grafton raised singers Adam Harvey and Troy Cassar Daley eulogise Shooter's late dad Waylon and Willie Nelson with a new video for one of their vintage hits.

Ironically, they have withdrawn their album Great Country Songbook from the 42nd Australian Golden Guitars awards after criticism by former CMAA President John Williamson that the disc featured covers of American songs.

Singer-songwriter Will Hoge showcases a video being used to promote a surviving automotive icon in the series filmed and edited by Laith Graham.

And latter day Texan Slaid Cleaves honours soldiers returning from wars in far flung countries.

Nu Country TV has been added to the C 31 streaming list.
Just follow this link on your computer or mobile phone -
http://www.c31.org.au/program/view/program/nu-country-tv
FROM GEORGIA TO THE BLUEGRASS FONT
Alan Jackson proves the depth of his musical palette by performing videos for two of eight songs he wrote for The Bluegrass Album.

Jackson, 53 and father of three daughters, used his bluegrass session musicians to back him in the videos.

The singer used a scenic mountain backdrop to illustrate the pathos primed love story of Blue Ridge Mountain Song where the memories linger after the death of the female lead.

Jackson also enlists his bluegrass session pickers to back him in the video for his road renovation anthem Blacktop at a sold out concert at the famed Station Inn locale in Nashville.

Alan has also cut two gospel albums in an illustrious recording and performing career that began 25 years ago when he was discovered and managed by expat Australasian Barry Coburn.
CLICK HERE for an exclusive Alan Jackson interview in The Diary on October 24, 2010.

WILL HOGE STRONG IN A CHEVROLET SILVERADO
Nashville singer-songwriter Will Hoge bucked the trend when his song Strong was used in a commercial to promote its latest Chevrolet Silverado truck.

The song, with its power and loyalty metaphor, is also on Will's aptly titled eighth album Never Give Up.

Hoge, 41, will earn more royalties when another songwriting client, - the Texan Eli Young Band, tours here in March with Toby Keith and performs another of his songs - Even If It Breaks Your Heart.

Will has emerged from the shadows of being a cult songwriter to blaze his own trail as an artist - with more than a little horse power.

The former history teacher and basketball coach from Civil War town Franklin sold 100,000 singles of Strong that he wrote with Zach Crowell and Ashley Gorley.

Strong is played to millions of people during televised sporting events.
"I've built a career in 15 years of trying to be an artist that has integrity," Hoge revealed.

But Hoge went to Songwriters Hall of Famer Don Schlitz for advice about having his song used as a truck commercial.

"He's a dear friend and mentor to me, like an uncle", Hoge said.

"I'm an independent artist starting my own label, and I had this opportunity to get a song heard at a mass level, and to have that song be one I'm really proud of," he said.

"Worst-case scenario, the ad campaign flops and I get a free truck out of the deal. As it turns out, the only thing it's done is bring a new audience that's never heard me before.

We've sold more than 100,000 copies of that single now, and I would never have imagined that would be the case."

Hoge's commercial ascendance is cause for celebration among many who feared for his life in August 2008, when he lost six pints of blood in East Nashville after his scooter collided with a van.

He was on his way to buy milk for his family at Kroger, after a recording session for the aptly titled album The Wreckage.

He suffered a crushed lung, broken sternum, ribs, shoulder blades and collarbone and a swollen, bloody face.

He also lost ivories enough to send the tooth fairy to the bank for a loan.

"It was the first time in my life when music got real unimportant, real fast," Hoge said.

"Almost lost my family. Learning to walk. It was interesting to put the music down for a while and to learn it has its own place. And then, when I was able to do it again, it became more of a gift."

More info - http://willhoge.com/wired
SLAID CLEAVES STILL FIGHTING THE WAR
Latter day Texan singer-songwriter Slaid Cleaves pays tribute to veterans returning home from war with horrific memories and mental baggage in his latest video filmed at KUT in Austin, Texas.

Still Fighting The War is the title track of the 49 year old singer's 13th album.

Cleaves rides in the same posse as Robert Earl Keen, Hayes Carll, Guy Clark, Ray Wylie Hubbard and Adam Carroll.

Slaid was born in Washington, DC, and raised in South Berwick and Round Pound in Maine.

He majored in English and philosophy at Tufts University, New England, and released five cassette albums before he scored airplay on Nu Country FM with 1997 debut disc No Angel Knows and 2000 album Broke Down after moving to Texas.

Cleaves busked in the street and formed an alt-country band in Portland, Maine, but moved with his wife Karen to Austin in 1991 chasing a dream.
That dream was music - not his alter ego as guinea pig drug tester at Pharmaco to pay bills, even after winning best new folk talent at Kerrville in 1992.

Although the pharmaceutical testing was the envy of some peers it enabled him to hone his craft as a writer.

CLICK HERE for some Cleaves CD reviews in The Diary on January 30, 2013.
SHOOTER JENNINGS DIGS OWN GRAVE
Shooter Jennings meets his waterloo in his video for Wild & Lonesome from sixth album The Other Life that is accompanied by a short film of the same name.

Shooter was driven past famed Nashville haunts like Tootsie's Orchid Lounge and recording studios before being forced to dig his own grave at gunpoint and being buried with his guitar.

Shooter's kidnappers - a young boy and a man in animal suit - buried him in shallow grave outside town.
Wild & Lonesome is also in the TV show Sons Of Anarchy featuring his long-time partner Drea De Matteo who also appeared in The Sopranos and Joey.
CLICK HERE for an exclusive Shooter interview in the Diary on April 28, 2012.
ADAM AND TROY HONOUR WAYLON & WILLIE - NOT WILLO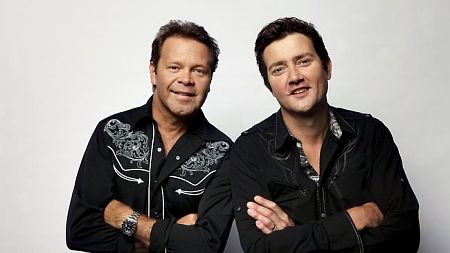 Geelong born Adam Harvey and his little Aussie mate Troy Cassar-Daley perform their latest video - a tribute to their heroes Waylon Jennings and Willie Nelson.

Adam and Troy shared stages with Waylon & Willie and The Highwaymen on tours here in the nineties and included Good Hearted Woman on their latest CD - The Great Country Songbook .

They also showcased it in Melbourne and Warrnambool concerts last month.

Adam and Troy quit the 42nd Golden Guitar Awards in Tamworth in January after being sledged by John Williamson for being too American.

The duo made the finals of six awards with Great Country Songbook - one of the biggest selling country albums of 2013.

Williamson criticised their eligibility for Album Of The Year because it included covers of American songs.

This was despite the first single being Lights On The Hill, written by Australian country music matriarch Joy McKean and originally recorded by late husband Slim Dusty.

Williamson quit as president of Country Music Association of Australia this month and also slammed Keith Urban's inclusion in the Golden Guitars finalists.

"It's as though the Golden Guitar Awards are the American Country Music Awards of Australia. It seems the industry is hell-bent on producing more Keith Urbans," he wrote in his resignation letter.

"If we are not respected as a legitimate organisation to promote original Australian country music, I cannot be associated with it any longer."

The bucolic bun-fight highlights a festering growing divide within the Australian country music community about its identity.

Those in the Williamson camp want to return to "what Henry Lawson and Banjo Paterson started."

But the phenomenal success of Urban in America after many years of hard slog has inspired many young artists including The McClymonts, O'Shea, Greencards, Kasey Chambers and Catherine Britt to try their luck at the world's biggest country music market.

Harvey and Cassar-Daley withdrew to try to restore harmony within a fractured Australian country music community.

They also declined to perform but will attend the ceremony in Tamworth in January to support fellow nominees.

Their Great Country Songbook album paid tribute to the songs the pair grew up on including Coward Of The County and Rhinestone Cowboy.

"It would have been awkward. I don't want the Golden Guitars to be about who didn't deserve to win or who shouldn't be there," Harvey said.

"Troy and I are rapt with how well the album has gone and getting out there to celebrate these songs on tour. I don't want it to look like I've grabbed my bat and ball and gone home so we will go and wish good luck to Sara Storer and Lee Kernaghan and all the other nominees."

But Harvey admitted he had been hurt by Williamson's comments particularly when the duo were nominated for a Golden Guitar three years ago for their duet of the Roger Miller classic King Of The Road.

"To be honest, I have been hurt by some of the comments, not only from Willo, but from others I thought were really good friends as more people weighed in on this debate," Harvey said.

"Our intentions in making this record were good and still are.

"John Williamson did ring me himself, so I'll give him that, and said he hoped he hadn't lost a friend over this but I had to tell him I was pretty disappointed.

"It was his idea for us to do King Of The Road and he was happy for that to be nominated.

"He told me he now regrets that.

"But I think there is so much more he could do as president and if he wants to change things, he would be better off staying."

Harvey said success of Urban, Kasey Chambers and other Australian country artists in America inspired young artists as much as our bush poets.

"Keith Urban is proudly Australian and should be celebrated. Australia has a fantastic country music industry and I think there's plenty of room for all of us, the bush balladeers, the John Williamsons, Keith Urbans, Troy and Kasey," he said.

"I know what I won't be getting off Santa. No Golden Guitars this year," he joked.

You can win The Great Country Songbook by renewing your Nu Country membership or becoming a member.

CLICK HERE for our membership page for full details.
CLICK HERE for an exclusive Adam Harvey interview in The Diary on November 5, 2009.
CLICK HERE for an exclusive Troy Cassar-Daley interview in The Diary on February 12, 2012.
HOW TO KEEP NU COUNTRY ON AIR
We need your support as we celebrate our 21st series of Nu Country TV.

Australian record companies and artists have joined forces to ensure our survival.
We have new CDS by major artists you can win by becoming a Nu Country TV member or renewing your membership.

They include singing actors Willie Nelson and Tim McGraw, Voice judge Blake Shelton, Ashley Monroe, Brad Paisley, Gary Allan, Keith Urban, Toby Keith, Dierks Bentley, Eric Church, Carrie Underwood, Chris Young, Charley Pride, Slim Dusty, Adam Harvey, Troy Cassar-Daley and more.

We also have the latest John Denver all-star tribute album and DVDS by Miranda and fellow chart topper Lady Antebellum.

CLICK HERE for our Membership Page for full details.