DAVE'S DIARY - 22/2/14 - PREVIEW OF EPISODE 13 - SERIES 21
GEORGIAN HEADLINES NU COUNTRY ON EVE OF RETURN TOUR

Georgian singer-songwriter Craig Campbell headlines Nu Country TV Wednesday February 26 at 10 pm on Channel 31 in our Series #21 finale on the eve of his third Australian tour.

Campbell's video has a fishing double entendre but it's not host Mid Pacific Bob Olson's catch of the day.

Instead Bob serves up barbecued corned beef with patio sauce in Behind Bars & Barbecues on his western front patio at his Beer Can Hill delta retreat in Northcote.

Laith Graham films our singing chef in the summer shade on a show repeated Monday at 5.30 am and 2.30 pm and Tuesday at 1 am.

Bob also visits a ghost town with Floridian Jake Owen and shares drinks with Texan Jason Eady on a program edited by Laith.

And he welcomes back expatriate Australian bluegrass band The Greencards who play 38th Port Fairy folk festival and Love & Theft who revisit seventh CMC Rocks The Hunter Festival - both in March.

Laith and Bob also combine on the Nu Country TV Series #22 premiere on Thursday March 6 at 10.30 pm.

Nu Country TV has been added to the C 31 streaming list.
Just follow this link on your computer or mobile phone - http://www.c31.org.au/program/view/program/nu-country-tv
CRAIG CAMPBELL CATCHES FISH
Georgian Craig Campbell returns to the show with a saucy video for Fish - one of nine songs he wrote on his Keith Stegall produced self-titled 2011 debut album.

Campbell, former guitarist in Texan Tracy Byrd's band, moved to Nashville in 2002.

Craig, 35 and father of two daughters, did his time in Lower Broadway beer and wine mines before songwriting on Music Row.

Campbell was one of five children in a blended family in Lyons (population 4,000) halfway between Macon and Savannah - also locale that produced peers Jason Aldean, Billy Currington and Lady Antebellum.

His parents divorced when he was young, leaving oldest sister Lynn - 11 years his elder - to tend to siblings while his mother worked multiple jobs to keep food on the table.
He saw his biological father on alternate weekends until his death when Craig was 11 years old.

Campbell performs CMC Rocks The Hunter in March and shares previous career with stone country chanteuse Chalee Tennison.

After winning talent quests he served two years as corrections officer in Georgia State prison system.

Instead Baptist baritone Campbell chose church as launch pad to a talent quest and career that saw him gravitate from southern covers bands to singer-songwriter in the biggest country casino - Nashville.

He released indie 5-track EP Five Spot after learning to work arenas and clubs in Byrd's band.

Campbell launched another EP Outta My Head and two albums - the latest Never Regret in May, 2013 - that produced five chart hits despite being unfashionably traditional and true to his roots.

Like Shooter Jennings, Craig lanced rock refugee outlaws in song.

"There's a desire and a hunger for the more traditional music - pretty much what country music was based on," Campbell revealed.

"Hurtin' and drinkin' and leavin' and all that stuff is real life. I think some of the pop-oriented country music doesn't touch on that anymore. There is nothing at all pop about me or my music. I feel like that's one of the reasons why I've done fairly with country radio. I'm what country radio is known for."

Craig performed in another video with Grafton raised Nu Country TV host and prolific Golden Guitarist and ARIA winner Troy Cassar-Daley in our previous series.

CLICK HERE for a Craig Campbell feature in the Diary on July 14, 2012.
GREENCARDS RETURN TO PORT FAIRY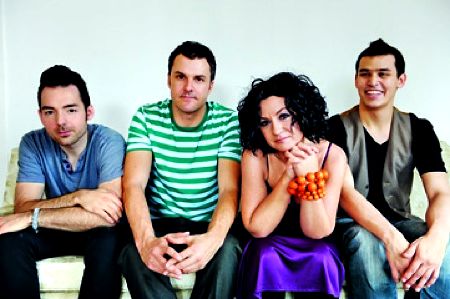 Expatriate Australian bluegrass band The Greencards explore high tides, surf & sun on rocky outcrops on the coast north of Sydney in their video for Black, Black Water from sixth album Sweetheart Of The Sun.

Dorrigo born bassist-singer Carol Young, nee Brady, wrote Black, Black Water on the second album on their own Darling Street Records.

The video is like a National Geographic documentary with footage of the Australian coast and none of the band.

Catching the group's fascination with the blue on a map isn't difficult.

"Mainly being from Australia, you grow up being near the beach or a river and that's such a big part of our lives, and continues to be a big part of our lives," said Adelaide born mandolinist Kym Warner - son of veteran bluegrass musician Trevor.

"It's a themed record, a concept record, based around motion and travel."

The Greencards continue their aquatic theme when they play 38th Port Fairy folk festival on the Shipwreck Coast of Victoria before heading north to the wineries for the seventh CMC Rocks The Hunter festival next month on a welcome trip home.

Now a quartet - spearheaded by Young, 40, and Warner, now 39, they released The Brick on June 20, 2011.

Eamon McLoughlin joined the band in Austin, Texas, in 2002 and left in December 2009.

He was replaced by Tyler Andal, a fiddle player from White House, Tennessee.

Carl Miner, originally from Oregon, joined in May 2010, playing acoustic guitar and won the 1999 National Flatpicking Championship at Walnut Valley Festival.

"We've been striving for this since our first record," said Warner of The Brick.

"We recorded totally in one room this time, with very little isolation. It was all about doing the performance now, without going back to add anything later on."

"What you're hearing is all one take," Young adds.

"If someone really didn't like what we'd done, we'd play it all again from the top rather than drop the part in. When you drop in a part, you lose a little bit of the feel. You've got to get a run-up to it."

They were nominated for Grammy Awards in 2014 for Sweetheart Of The Sun, Viridian in 2008 and 2010 for Fascination in Best Country Instrumental.

They have also toured the U.S. with Shotgun Willie Nelson and Bob Dylan.

CLICK HERE for a Greencards interview in the Diary on August 2, 2005.
CLICK HERE for a Greencards CD Review in the Diary on May 19, 2007.
JAKE OWEN VISITS GHOST TOWN
Floridian singer Jake Owen visits a Ghost Town way beyond the surf in the video from fourth album Days Of Gold.

Jake, now 32 and a twin, quit golfing to follow music dreams.

Owen wed model Lacey Buchanan after proposing on stage in hometown Vero Beach after touring with expatriate Australasian superstar Keith Urban.

Owen planned to be a professional golfer on Florida State University team before suffering career-ending water skiing injuries.

"Since I was 12 years old, my plan was to play professional golf," Jake, now 30, revealed.

"I was determined golf was going to be my life. I couldn't wait to get out there and start playing with Tiger Woods and the guys on tour."
Jake was born 15 minutes after fraternal twin Jarrod and raised in Vero Beach.

After high school graduation the twins drove to Tallahassee where Jarrod played tennis.

A water skiing accident altered Jake's course.

"I had to have reconstructive surgery," Owen recalled.

"I was so depressed. I didn't have a Plan B."

Well, music was surrogate solace for Owen who had many hits since changing careers and moving to Nashville.

"I was sitting in the apartment getting more and more down," Owen says.

"As it turned out, my neighbour had a guitar, so I asked if I could borrow it. To pass the time I just started teaching myself to play. I had always loved music. I grew up listening to classic country, Waylon Jennings, Merle Haggard."

Owen also had Top 30 hit with Sugarland and Little Big Town on Life In a Northern Town.

Jake wrote eight songs on second album, Easy Does It, recorded in the home studio of his producer.

More info - www.jakeowen.net
JASON EADY WISHFUL DRINKING
Mississippi born latter day Texan Jason Eady debuts on Behind Bars with Wishful Drinking from fifth album AM Heaven - one of three produced by frequent Aussie tourist Kevin Welch.
Jason and his Wayward Apostles won a wide following after hooking up with Welch who lives at Wimberley near Austin.

Although country was Jason's first love he was exposed to the musical stew of the lower Delta - blues, soul, R&B and primal swamp rock - growing up in Jackson, Mississippi.

Eady performed local bars at 14, singing, playing guitar and writing songs but live music culture in the Magnolia State was geared to hits and classics.
He moved to Nashville to seek a record deal but became disillusioned and headed back to Mississippi, joining the Air Force on the way home.

"Becoming a translator in the Air Force helped me be a better songwriter," Eady says.

"I got a much broader view of the world and other cultures that helped me see things from a better perspective."

After the military Eady worked in a Fort Worth bank's IT department and attended open mic nights.

"I was surprised to learn Texas was exactly opposite of Mississippi," he says.

"If you played too many cover songs the audience would get restless. They wanted original music."

That encouraged him to step up song-writing and leave his day job, never to return.

Eady first two albums, 2005's From Underneath the Old and 2007's Wild Eyed Serenade, "were about trying to zero in on what I wanted to do. They had singer-songwriter, country, southern rock and other kinds of songs.

"I had no idea about production or how to work in the studio," Eady revealed.

"I was all over the map. Things really clicked when I started working with Kevin. He helped me focus on the music I heard growing up in Mississippi, but as a way of discovering more about who I was as an artist. With AM County Heaven and now Daylight and Dark, I've learned to stop second guessing. Now I understand I'm a country artist. That's the music I love, and that's what I always want to be."

Daylight and Dark weaves together 11 songs about deep, messy details of love and life - it's sequenced to follow one man's journey through complexities of the heart.

But semi-autobiographical Daylight and Dark is not a concept album - it's a raft of real stories populated by characters that coalesced around the title track.

"The moment I came up with the first verse and chorus of Daylight and Dark was a breakthrough," Eady recalled.

"I understood what I wanted to convey in the album is that life is not simple. Most songs don't do that. They're either happy or sad. But life doesn't work that way. Most of the time we live somewhere in between. And that place is between the daylight and the dark."

It took three months for Eady to write and begin recording songs he describes as "going beyond the surface and digging into the little cracks in our lives, our dreams and our desires - the things that keep us from connecting, that we all have to deal with, all the time."

His sixth album is an artistic and commercial breakthrough that cracked Top 40 on Billboard and has an old-school honky-tonk sound.

"One of the things Kevin Welch taught me is that believability is number one," Eady says.

"The things I'm writing about have to seem true and the words being said need to sound like they'd really come out of my mouth."

Daylight and Dark's high-powered barroom ballads OK Whiskey and We Might Just Miss Each Other offer a direct connection to honky-tonk spirit of AM Country Heaven.

Other Side of Abilene has gentler arrangements, crafted by layered fiddle and electric, acoustic and pedal steel guitars reflective of the overall sound.

Also Late Night Diner and the title track echo the narrative style of Vern Gosdin and Don Williams, whose recordings, like Jason's, blend a novelist's eye for detail.

"Their approach and the roadhouse style of artists like Merle Haggard and Buck Owens are both part of my DNA," Eady added.

"I hope that really comes across on Daylight and Dark and makes it a deeper country music album overall."

When Eady and Welch were making AM Country Heaven, it was initially intended as a side project that wouldn't be released under Eady's name.

The disc's adult approach to timeless topics like love, loss and yearning helped Eady find a new, larger audience.

Daylight and Dark was cut outside Nashville at engineer George Bradfute's Tone Chaparral studio with Americana award winning multi-instrumentalist Fats Kaplin on pedal steel and fiddle, guitarist Richard Bennett, drummer John Gardner and bassist Steve Mackey.

Further info - www.jasoneady.com/
LOVE AND THEFT HEAD TO HUNTER VALLEY
American duo Love And Theft perform If You Ever Get Lonely from their second self-titled album.

Eric Gunderson and Stephen Barker Liles - both 30 and sons of preachers - play CMC Rocks The Hunter next month.

Eric will be here for the entire festival - last year he flew home for early birth of son Camden William on March 10, 2013.

Gunderson married Emily Hagar in 2010.

Love and Theft originally formed as a trio in 2006 in Nashville with Brian Bandas who sang lead and played guitar.

All three grew up in church, moved to Nashville around the same time and were introduced by songwriter Robert Ellis Orrall.
They rehearsed for six months before playing shows and auditioned for several labels until Lyric Street offered to sign them to Carolwood.

They went back to day jobs until contracts worked out - Liles took a job at Blockbuster, Gunderson did tiling and Bandas worked at an Irish bar and all three parked cars at Maggiano's restaurant in Nashville.

"That was a real balancing act that year," Bandas said.

"We were writing a lot and knew that we were going to take this to the next level in a matter of time. We were trying to make sure once the time came we were ready. When we weren't working our crappy normal jobs, we were writing and rehearsing. We played a lot in Nashville for a year."

Their chart debut was 2009 with Runaway Top 10 on Billboard - debut album, World Wide Open, was released on August 25, 2009.

Love and Theft became a duo in 2011 when Bandas left, moved to RCA and released Angel Eyes - their first #1 single.

Top 40 hits Runnin' Out of Air and If You Ever Get Lonely both appear on their second album - the former won 2013 CMT video of year.

Liles was engaged to Jenna Michelle Kennedy on May 28, 2013 - on August 28, 2013 they had their first child before a June 2014 wedding.

Further info - https://www.loveandtheft.com
HOW TO KEEP NU COUNTRY ON AIR
We need your support as we celebrate our 21st series of Nu Country TV.

Australian record companies and artists have joined forces to ensure our survival.

We have new CDS by major artists you can win by becoming a Nu Country TV member or renewing your membership.

They include singing actors Willie Nelson and Tim McGraw, Voice judge Blake Shelton, Ashley Monroe, Brad Paisley, Gary Allan, Toby Keith, Dierks Bentley, Eric Church, Carrie Underwood, Chris Young, Charley Pride, Slim Dusty, Eli Young Band, Rosanne Cash and more.

We also have the latest John Denver all-star tribute album and DVDS by Lady Antebellum.

CLICK HERE for our Membership Page for full details.