DAVE'S DIARY - 19 MAY 2007 - GREENCARDS CD REVIEW
GREENCARDS
VIRIDIAN (DUALTONE-SHOCK)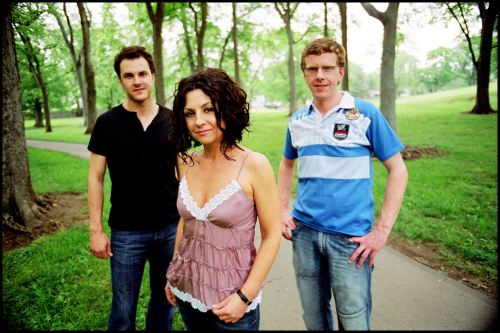 Expatriate Australians Kym Warner and Carol Young lived up to the name of their trio when their third album soared the American Billboard bluegrass chart on debut.

The Coffs Harbour and Adelaide born duo and English fiddler Eamon McLoughlin stole the chart top from homegrown bluegrass artists with a superb strategy, aided by work visas.

Instead of refrying high lonesome roots of an historic genre the trio mined an acoustic sound akin to peers Alison Krauss and now defunct Nickel Creek.

And, aided by another expatriate South Australian Jedd Hughes, the trio energised its loping single Waiting On The Night into a high rotation video clip on CMT and soon here on local cable TV channel CMC and Nu Country TV.

The trio all performed in the video that was shot in New York City and Coney Island
Hughes, who also released a U.S. major label solo album, wrote it with bassist singer Young with whom he harmonises.

It's the album entrée and sibling of All The Way From Italy that the guitarist penned with Warner about leaving his Mediterranean ancestral roots.

So why is this trio, ignored by radio and media in their homelands, such a success in their adoptive domicile?

Well, like Keith Urban, the recipe is lifting the bar and picking, grinning and writing with the cream of the crop in the most competitive roots music market in the world.

Warner and Young headed into the badlands of West Texas before hooking up with their fiddler in a five year stint in Austin.

Now, using Nashville as their HQ, they have access to producer Doug Lancio and the best studio serfs.

The Greencards chanced their arm on song sequencing with their originals, Hughes tune Here You Are and Young-Warner co-write with local star Ronnie Bowman on Who Knows - as the first five tunes.

McLoughlin-Robbie Gjersoe instrumental Su Prabhat slows the pace as a prelude to rollicking Shinin' In The Dark - one of two Warner tunes penned with ace songsmith Jerry Salley.

It's a credit to Warner, who adds mandolin, bouzouki and slide mandolin, Lonesome Side Of Town - his other co-write with Salley - is perfect punctuation for two covers near the close of the disc.

The Greencards don't really cover I Don't Want To Lose You and Travel On penned by Mike Henderson and Kim Richey, who toured here in 2001.
The not so secret weapon of mass distraction is Young's soothing soprano, augmented by fiddler Andrea Zonn's harmonies, that ensures aural bliss on passion of the former and vitriolic wanderlust of the latter.

Maybe it validates the album title - meaning green and blue (as in grass).

And proves why they were chosen to open a high profile tour by Bob Dylan and The Redheaded Stranger Willie Nelson.