DAVE'S DIARY - 14 JULY 2012 - CRAIG CAMPBELL INTERVIEW
CAMPBELL - ANOTHER SIX SHOOTER
"You can talk to me about tractors/ cowboys boots and pick-up trucks/ ole cane poles and dirt roads/ and spitting Skoal in a Dixie Cup/ you can tell me about your grandpa/ and how he turned you onto Hank/ you gotta tell me how country you are/ you probably ain't." - You Probably Ain't - Craig Campbell-Keith Stegall-Michael White.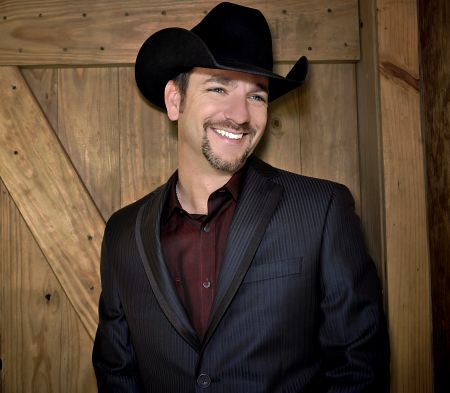 Georgian country singer Craig Campbell should never be mistaken for the BMX bike rider, sculptor and comedian of the same name.

And, of course, he won't be lumped with faux cowboys and blow-dried clotheshorses jumping on the country bandwagon.

The young father of two daughters did his time in Lower Broadway beer and wine mines before chancing his arm on songwriting on Music Row.

And, like Shooter Jennings, he lanced rock refugee outlaws in song and video.

Craig wrote nine of 11 tunes on his Keith Stegall produced debut disc but not all ignite social comment on the cash and carry clones doing tributes to Hank, Willie, Waylon, Buck and even older pioneers.

Campbell performed at the second CMC Rocks The Hunter festival in March and shares a previous career with stone country chanteuse Chalee Tennison.

After winning talent quests in his home state he did a two-year stint as a corrections officer in the Georgia State prison system.

Tennison, now 43, worked as a prison warder in Texas while fronting bands before moving to Nashville and releasing three acclaimed albums.

Unlike some Aussie turnkeys neither appear to have had a lucrative but short-lived sideline in smuggling.

Instead Baptist baritone Campbell chose the church as his launch pad to a talent quest and career that saw him gravitate from southern covers bands to singer-songwriter in the biggest country casino - Nashville.

The singer released an indie 5-track EP after learning to work arenas and clubs in bands fronted by Texan Tracy Byrd.

Campbell, 33, has since launched an album that produced three chart hits despite being unfashionably traditional and true to his roots.

"There's a desire and a hunger for the more traditional music - pretty much what country music was based on," Campbell revealed.

"Hurtin' and drinkin' and leavin' and all that stuff is real life. I think some of the pop-oriented country music doesn't touch on that anymore. There is nothing at all pop about me or my music. I feel like that's one of the reasons why I've done fairly with country radio. I'm what country radio is known for."

FAMILY MAN

"I've been working as a temp at the local factory/ I hope they hire me on full time/ I got shoes to buy and mouths to feed/ I drive a buy here pay here truck/ it ain't new but it is to me/ it ain't much but it fires right up and gets me from A to B/ what puts the dirt underneath my nails/ what keeps the calluses on my hand." - Family Man - Craig Campbell-Jon Henderson-Joel Shewmake.

But let's back track to the Georgian's family roots.

Campbell grew up one of five children in a blended family in tiny town Lyons (population 4,000) about halfway between Macon and Savannah.

It may be small but was also the locale that produced peers Jason Aldean, Billy Currington and Lady Antebellum.

His parents divorced when he was extremely young, leaving his oldest sister Lynn - 11 years his elder - to tend to the siblings while his mother worked multiple jobs to keep food on the table.

He saw his biological father on alternate weekends until his death when Craig was 11 years old, leaving little impact on his memory.

"The older I get," Campbell says, "the more I realise didn't know him."

The man Campbell called dad married his mum when Craig was six.

"In all honesty," Craig says, "my life began when my mama married my step-dad."

The Campbell family soaked up tri-weekly services at the local Baptist church where he played piano for the congregation from 10 until 18.

Craig learned harmony from listening to mama sing from the hymnbook.

"I'd stand beside her and try to mimic what she was doing," he recalls.

"In a Baptist church, you have to learn how to sing harmony because the song was not always in your key so you gotta find somewhere to go with it. It was a small church just full of older folks. They didn't care what it was, as long as somebody was playing some music. At first, I was just hunting and pecking, picking out the melodies to the songs."

But there was sibling support that launched his embryonic career.

At 15 his sister Lynn convinced him to enter the Jimmy Dean/True Value Country Showdown talent contest.

He won by singing fellow Georgian Travis Tritt's Foolish Pride and John Michael Montgomery hit Be My Baby Tonight.

He later formed the house band Out Of The Blue at the local Kerrigan's club.

With assistance from the owner and booking agents the band toured small venues five and six nights a week as far as Wyoming and Elko, Nevada.

The band once drove the 1,800-mile trip from Florida to North Dakota, stopping only to change drivers or fill the tank.

It was a gruelling schedule but also gave Campbell knowledge of how to fill out a set-list and win over an audience.

"You can go anywhere and play Lynyrd Skynyrd, you can go anywhere and play Hank Williams Jr.," Campbell recalled.

"There's certain songs - Friends In Low Places, Dixieland Delight, Sweet Home Alabama, Margaritaville, Brown Eyed Girl - it don't matter where you are. You'll get a response."

HAGGARD AND KEITH WHITLEY
"Soaked in the whiskey and washed in the blood/ that's who I am and what I love/ Saturday nights full of Haggard and Whitley/ a Sunday morning choir/ that's music to me." - That's Music To Me - Craig Campbell-Tim Nichols-Cason Chamberlain.
In 2002 a friend was getting divorced in Nashville and invited Campbell to move up and share an apartment.

Campbell scored a maintenance position at Belle Valley Apartments in Bellevue.

Within a week he moved to Tennessee and scored a gig and met another musician at Douglas Corner Café - same venue where Georgian Trisha Yearwood secured her first recording deal.

When Campbell told the musician he played piano he got an offer to fill in Saturday night at The Stage - one of the largest clubs on historic Lower Broadway.

"I ultimately wanted to be a singer," Campbell recalled.

"But it's hard to go down there and say, 'I'm a singer, give me a gig.' I introduced myself as a piano player."
Campbell played five nights a week at diverse clubs on Lower Broadway and later fronted a band at The Stage.
Yet another fellow Georgian Luke Bryan introduced Craig to songwriter Jon Mabe who got him to sing a demo session for songwriter wife Connie Harrington.

Campbell soon became an in-demand singer on Nashville's demo circuit.

Bryan, who hadn't yet signed with Capitol, advised Campbell to write his own songs.

If he could sing and write he'd be more valuable and have an identity of his own.

"At first it was a job," Campbell admits.

"I wasn't used to it but then I started writing songs that I thought were kind of cool and I'd play them live and people would applaud, and then it started getting to people requesting them. It takes on completely different meaning whenever you can stand up and say, 'here's a song I wrote.' As opposed to, 'here's a song I like.'"
MINDY MARRIAGE
"My ex-wife's at the door knocking/ Lord that woman won't leave me alone/ same question, where's my money/ well, honey, you can't get blood from a stone." - When I Get It - Craig Campbell-Jason Mathews-Jim McCormick.
Campbell started courting singer, Mindy Ellis, whom he knew before he moved to Nashville.

Months after she broke off a relationship, he got a call from Mindy while waiting at the Country Music Hall of Fame to audition for Nashville Star. She wanted to hang out - he couldn't leave.

"She said, 'Well, I have a van that has a TV and VCR. I'll just come to you and we'll watch a movie.' So she came down and we plugged in Face/Off with John Travolta and Nicolas Cage and we watched it. We've been together ever since."

He started playing piano in her band before one of her friends got him a job for 15 months touring with Byrd's band.

During his tenure with Byrd, Campbell wed Mindy and started a family.

They now have two daughters - Preslee and Kinni.

He scored a weekly gig at The Stage with his band - musicians who also played with Big & Rich, Chris Young, Mark Chesnutt and Joe Diffie. Bartender Kim Trosdahl introduced Campbell up to her partner Michael Powers of Bigger Picture Group.

Powers brought Stegall to the club in August 2008 so Campbell soon had a producer.
Stegall produced fellow Georgians Alan Jackson and the Zac Brown Band, Floridian John Anderson and expat Novocastrian Catherine Britt.

Stegall signed Campbell to Bigger Picture in September 2009 and they soon had Campbell's first single, Family Man, on radio.

"I wrote Family Man when I found out my wife was pregnant with our first baby," Campbell said.
KEITH STEGALL
"Got some Skynyrd and Strait on a burned CD/ a blanket on the ground underneath the trees/ and nowhere to go/ and all night to get there." - All Night To Get There - Keith Stegall-Vicky McGhee-Lee Brice.
Campbell knew he and his producer were on the same page when Stegall unknowingly pitched him one of Craig's own songs for his album.
That track, I Bought It, opens Campbell's self-titled album.

"The one word Keith has used a lot with me is iconic," Campbell says. "He says, 'we don't want to do a one-song project, we're gonna shoot for 20 years.'"

Campbell says he doesn't write pre-fabricated chart chaff.

"I have to believe every one of my songs," Campbell revealed.

"It's traditional, back-to-basics, true country music. It's what I am. I can't be anything else. There's a desire and a hunger for the more traditional music - pretty much what country music was based on,"

Campbell earlier released his indie Five Spot on June 8, 2010, before his self-titled debut CD on April 5, 2011 ignited three singles.
"We started recording back in 2009," Campbell recalled.
"We recorded five songs and we put out a five song EP, sometime around early 2010. The EP was available on my website and Itunes and then we went in and finished the record and recorded 8 more songs and it came out in April, 2011. It took a long time, but I guess you can say I've been working on it five or six years because that's how long I've been writing these songs. Once we started the process, it didn't take any time at all. We
didn't have many things going on so for the company to start making money I had to start making money pretty quick."
FISHY BUSINESS
"Fish she wants to do it all the time/ early in the morning, in the middle of the night/ she's hooked and now she can't get enough/ man, that girl she loves to fish." - Fish - Craig Campbell-Arlos Smith-Ashe Underwood.
Double entendres have been a staple in country music - recorded versions of songs are sanitised for radio to appease right wing coalition corporate programmers.

There are few individual disc jockeys on commercial radio with clout of the late Captain Midnight, real name Roger Schutt, who died at 70 in Nashville in 2005.

Captain Midnight was the source of the DJ character in the 1978 movie FM featuring Tom Petty and Jimmy Buffett.

The DJ bolted the studio door and kept on playing his music of choice after receiving song lists in the mail from the station's new chain owners.

He was also the character who inspired the Mark Germino song Rex Bob Lowenstein.

Captain Midnight reigned in the seventies and played artists diverse as singing Texan crime novelist Kinky Friedman, Waylon & Willie, Jerry Jeff Walker and others who lived and sang on the edge.
Artists avoid lyrics like ass and diverse slang for dope and other taboo subjects.

Instead singing actor Tim McGraw is soaring mainstream charts with his song Truck Yeah that translates to another lyric live in concert.

So it's no surprise that Campbell song Fish, that beat Truck Yeah out of the chute by almost a year, enjoys the same variation live.

Fish uses the phrase "back of my truck" to set up its hook line, "My baby loves to Fish."

The song is a popular singalong at concerts but the singer says his fans nearly always yell back the correct lyric and not the implied rhyme.

"I'm sure there are some drunks in the crowd that want to be funny and change the lyrics to the song," Campbell says.

"But for the most part, they all say 'fish.'"

So has success changed the piscatorial phrase family man?

"I drive a buy here, pay here truck," and I still drive it," says Campbell. "It's a 2000 model Chevy Tahoe. It has 200,000 miles on it, and it gets me from A to B and that's really all you need. That song is really autobiographical to me. A lot of the material is from personal experience. That is me being a father."