DAVE'S DIARY - 6/2/13 - PREVIEW OF EPISODE 9 - SERIES 19
TOURISTS HEADLINE NU COUNTRY TV
March tourists The Band Perry and Billy Ray Cyrus headline Nu Country TV this Saturday February 9 at 10.30 p m on Channel 31.

The Band Perry plays St Kilda Palais on Friday March 15 with Rascal Flatts before joining the super group, Cyrus any many more at CMC Rocks The Hunter.

Retro Texan artists The Derailers and Geezinslaw Brothers perform in our Behind Bars segment edited by Blaize Warden and repeated Monday at 2.30 pm and midnight.

The Victorian Brook Chivell Band and Queensland singer-songwriter Luke Austen also perform car songs on the show.
THE BAND PERRY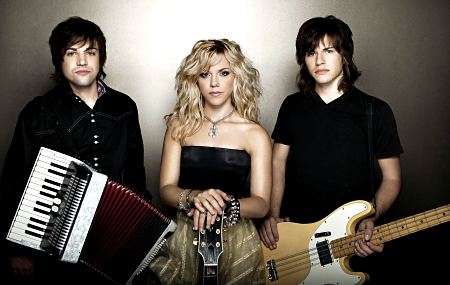 The Band Perry performs the video for Postcards From Paris from its self-titled debut CD that earned platinum sale status.

Vivid snapshots of the trio in exotic Parisian locales adorn it.

Alabama born singer Kimberley Perry and brothers Neil and Reid formed the trio after moving from Mobile to Greeneville, East Tennessee.

Neil and Reid were roadies for Kimberley when she fronted her first band at 15.

They later formed their own group - The Mobile Music Machine.

But success came after they moved with their mother and father - a paediatric oncologist - to the tiny town in the East Tennessee Mountains.

The trio write most of their own songs.

Collaborators including an American Idol judge Kara Dioguardi and a family trio from Champagne, Illinois.

"We wrote Postcard From Paris with Kara Dioguardi," Kimberly said.

"Kara was in Nashville writing with several country songwriters and artists. That was really wonderful - she only had a couple of hours to write. Our A&R lady was a friend of Kara. She called. Kara had a free afternoon if we would care to write. She was our career matchmaker. That's funny thing about writing relationships is you don't really know how it's going to turn out. You could write song or you could end up going to get a coffee together.

Luckily, it worked and we wrote Postcard From Paris. Kara has been so great. She's almost taken on big sister role for us. She's really given us a lot of advice and helped us out. We sat around and wrote the song. Everybody was bouncing lyrics off each other - the song was finished in hour and a half. We got a bowl of tomato soup and later got to hang out with her in her house in L.A."

The trio is set to release its second album on April 2 - lead single Better Dig Two has already hit #1 on Billboard charts.

The trio's chart-topping single If I Die Young also went quadruple platinum and scored CMA Awards in 2011 for Single and Song of the Year.

It also earned 2011 Academy Of Country Music trophies for Top New Vocal Duo.

The Band Perry plays St Kilda Palais on Friday March 15 with Rascal Flatts on the eve of gigs at CMC Rocks The Hunter at Hope Estate.

CLICK HERE for a Kimberley Perry interview in the Diary on October 31, 2010.
BILLY RAY CYRUS RETURNS
Singing Kentuckian born actor Billy Ray Cyrus returns to Nu Country on the eve of his second Australian tour with the video for his latest single Change My Mind.

Cyrus's character changes his mind in his Good Samaritan role in the desert
The Sands no-tell motel sent the singer home to his beloved.

Change My Mind is the title of his 13th album on Cadillac Ranch records.

Billy Ray, now 51, is no stranger to acting - he had lead roles on hit television shows Doc and Hannah Montana - the latter with daughter Miley Cyrus.

Billy Ray appeared in Mulholland Drive and recently played Billy Flynn in the Broadway version of Chicago.

It's not clear if the grandson of a former Kentucky senator will follow daughter Miley to Phillip Island - locale of the family of her actor beau Liam Hemsworth.

But he is finishing his memoir, Hillbilly Heart, released in April.
He has plenty of roughage including a support letter from the late Johnny Cash that opens the memoir.

Cyrus says. "On the next page, I put a verse from Psalms, 'The truth will be your shield and your buckler.' That's what this book is, is just the solid truth about my life starting on Aug. 25, 1961, to now."

It includes how he met Harold Shedd - renowned producer and record company executive who signed him to his first record deal in 1990.

The singer visited Nashville for a decade in search of a music career - a period of "ten years of being told no."

"The decade of the '80s, you would not believe how many times I came down from Kentucky and coming down Interstate 65 and there's Nashville in your front windshield," Cyrus recalled.

"Back then, I had a brown bag, and inside of that bag was my dream, my new song, my new demo, my new hope. I'm carrying it, and I'm looking through the windshield driving that Chevy Beretta down through here going, 'this is the time, this is the time something is going to happen.' "

Shedd signed Cyrus to Mercury for first album, Some Gave All.

While Cyrus was recording he slept in his car in front of The Music Mill, now home to Nashville Songwriters Association International.

Mercury devised a plan to launch a line dance in promotion of the album lead single, Achy Breaky Heart combined with the video capturing the scene at Cyrus' live shows.

It was enough to make the two-chord song a five-week No. 1 international hit.

Some Gave All topped Billboard Top 200 all-genre album chart for 17 weeks and sold more than 9 million copies.

"I came down and cut that album in the summer of '91, and the persistence paid off," Cyrus says.

"Now, it's hard to believe it's 20 years later than that."

Cyrus married second wife Leticia, started a family and moved to a sprawling farm in Thompson's Station, Tennessee, with their six children.

CLICK HERE for a Billy Ray Cyrus feature in The Diary on June 16, 2009.
GEEZINSLAW BROTHERS
Famed Austin comedy duo The Geezinslaw Brothers debuts with its video for Help I'm White And I Can't Get Down.

It's from 1992 album Feelin' Good, Gittin Up, Gittin Down on Step One Records.

The duo - Sammy Allred and Dewayne "Son" Smith - provide invaluable rhythm method dance hints for TV viewers.

They have frequently been in the news in their 50 year career that included opening for the late Elvis Presley and touring with Perry Como, Roger Miller and Willie Nelson.
They appeared on Louisiana Hayride, Ed Sullivan and Jackie Gleason shows and Ralph Emery's Pop Goes The Country and Nashville Now.

Allred, now 74 and a character in singing Texan crime novelist Kinky Friedman books, was also a breakfast DJ on the Sammy And Bob show on KVET-AM for 35 years.

Sammy was fired in 2007 for allegedly using a profanity on the air.

But as part of Sammy and Bob, Allred won CMA Awards as a radio personality in 1999 and 2006.

In 1988 this writer appeared as a guest on their KVET-AM show as part of an Austin-Australia cultural exchange organised by Willie's merchandising manager Bo Franks.

Sammy now appears on another station KDRP in Dripping Springs - locale of the first Willie July 4 picnic.

The Geezinslaw Brothers tour bus crashed into famed Austin country music venue The Broken Spoke on Sunday October 2, 2005.

Their driver lost control and drove through a wall of the dance hall, hitting two parked cars but avoiding any personal injuries.

The Geezinslaws, regular guests at Willie Nelson July 4 festivals, cut If You Think I'm Crazy Now on Willie's Lone Star Record label in 1978.

Their debut disc was the Kooky World Of The Geezinslaw Brothers in 1963 - their 12th album The Eclectic Horsemen was released in 2005 with cameos by Willie, Kelly Willis and Kinky.

Further Info - www.geezinslaws.com
DERAILERS BUCK THE GRASS
Retro Austin band The Derailers perform with a cast of frogs and femme fatales in their video for Who's Gonna Mow Your Grass?

It's on their eighth disc Under The Influence - one of three tribute albums for the Texan born Bakersfield legend released last decade.

The band met their hero in 1995, performing at a Buck Owen's birthday celebration in Austin.

Owens was visibly touched by the extent to which The Derailers honored him with their faithful adherence to the sound he created.

He invited the band to come and play his Crystal Palace club in Bakersfield, California - and began their musical relationship.

Buck personally asked The Derailers to be house band for his 70th Birthday Bash in 1999.

He stood up and cheered for them in front of his friends and family, as well as business and musical associates - including a reunion of classic Buckaroos line-up.

"Over the years, we talked to him extensively about music, what he had done and what we were trying to accomplish," says Derailers leader Brian Hofeldt.

"He offered insight and sympathy for what we had ahead of us, and most importantly,
encouragement. He put his money where his mouth was and continued to book us in his club and get together with us whenever we came through Bakersfield. It was an honour to be recognized and boosted by a man who was our musical hero and the times we had to spend with Buck are cherished memories."

After signing to Palo Duro Records and touring behind critically acclaimed 2006 release, Soldiers of Love, Hofeldt survived a run-in with a drunk driver and theft of his beloved vintage guitar.

The Derailers retro sound dates back to 1994, when Hofeldt and longtime friend Tony Villanueva formed it.

They were from Oregon but aspired to the Bakersfield Sound with Beatles influences and found musical success in Austin.

Villanueva, who took most of the lead vocals, left the band in 2003 to pursue a higher calling as a minister.

The band released its ninth album Guaranteed To Satisfy in 2008.

CLICK HERE for a Derailers CD review in The Diary.
LUKE AUSTEN
Luke Austen performs the video for his new single Drive from his second album Truth Is Simple.

The dual Golden Guitar, now 31, winner hails from Mackay in Queensland.

After leaving school he went on the outback road with Brian Young.

The son of a coalminer and truckie also spent six years in Troy Cassar-Daley's band before winning the 2010 Star Maker quest.

These days if the Austen Chevy breaks down he can always call Gosford Towing - that's what his character did in his video.
The new Austen album includes 10 of his songs co-written with collaborators such as Shane Nicholson, Troy Cassar-Daley and Jerry Salley.

CLICK HERE for a Luke Austen CD review in the Diary on November 25, 2010.
BROOK CHIVELL BAND
The Brook Chivell band performs in their video for Drive On from debut album Thrills And Spills.

They co-produced it with producer-engineer Adrian Hannan who also worked with Taxi Ride and Carter & Carter.

Melbourne model Tina Evans is the femme fatale featured in the car scene in the video by Monster & Bear Productions.

Band leader Brook spent five weeks in Nashville in April and May last year and went on tour with Randy Houser.

The band formed in 2009.

Chivell recruited drummer Ray Deegan, bassist Daniel Meiners, guitarist Paul Gales and backing vocalist and writing collaborator Anthony Emery.

Elise Beattie also sang on the album and guested with the band at the Deni Ute Muster.

Further info - www.brookchivell.com
LADY ANTEBELLUM DVD PRIZES
We have copies of the hot new DVD by recent Grammy Award winners and Australian tourists Lady Antebellum for new members and renewing members of Nu Country.

The 18-track Own The Night World Tour DVD has five bonus songs with exclusive version of Black Water featuring Darius Rucker and Thompson Square.

There's also intimate backstage footage of the band, road crew and fans on a tour that included two concerts at the famed St Kilda Palais.

The 124-minute DVD features the band performing its many hits live in Little Rock, Arkansas, and documentary footage of band members and song sources.

Click Here for our membership page for details of all prizes.