DAVE'S DIARY - 6 FEBRUARY 2013 - THE DERAILERS CD REVIEW
2001 CD REVIEW
THE DERAILERS
HERE COME THE DERAILERS (Lucky Dog-Sony).
DERAILERS BUCK OFF GOURDS
"I got my PHD in heartaches and misery/ and a BS in bar stool philosophy/ you're my inspiration in for higher education/ now the final test is right here in front of me/ I'm taking a bar exam under a neon sign/ I'm going to graduate when you're off my mind." - Bar Exam - Tony Villanueva-B Carter-R Ellsworth-Carter.
Oregonian exports The Derailers knew they were on the verge of success when they copped a bagging from fellow Austin band The Gourds.

It seems the retro country combo frocked up a little too much for Gourds front man Kevin Russell.

"They came to town from Oregon posing as a fun little Buck Owens cover band with shiny clothes," Russell jibed.

"They were actually working the whole time as liaisons between the city, real estate tycoons and high tech rollers. Believe it or not these guys are power hungry and they are extremely dangerous."
The Derailers favour Nudie Hollyweird suits and plunder the past for their music but do it with credibility absent from many peers.

Their musical pinnacle was Rory Lee-Dennis Knudson update of 1956 Wynn Stewart hit Waltz Of The Angels, featuring Buck Owens, but they have now lifted the bar.

Yes, the lads cut Bar Exam - sibling song of Kenny Mellons He'll Never Be A Lawyer (Because He Can't Pass The Bar) and Marty Brown's Behind Bars - on their fifth album Here Come The Derailers (Lucky Dog-Sony.)

And, of course, they copped flack for moving from rock producer Dave Alvin to Kyle Lehning of Randy Travis and Waylon Jennings fame.

"There'll probably be some story line in the Press that we dumped Dave Alvin and sold out to Nashville," guitarist-singer Brian Hofeldt said.

"But Dave's been telling us all along that we should get a Nashville producer. He'd say 'y'all are a country band. You should work with someone who's produced some country hits."
JIM LAUDERDALE
"And we were all the rage in Paris, San Antonio and Dallas/ and every honky tonk and dance hall in between/ hardly had to cross the state line/ Texas was our big time/ thought we'd made it far enough/ cause we were all the rage in Paris." - All The Rage In Texas - Jim Lauderdale.
So it was no surprise that the band cooks on the wry word play of their own tune Bar Exam and prophetic Jim Lauderdale tune All The Rage In Texas about a band who can't break beyond their home turf.
That song, replete with nice refrain, is not entirely prophetic - The Derailers belatedly won release here and Japan.

They began as a duo in 1990 with Hofeldt and Tony Villanueva but reunited in Austin in 1993 and cut a live disc before their studio albums.

Although they mainly cut original material they punted here on Dallas Frazier's Charlie Rich hit Mohair Sam, Kostas tune More Of Your Love, and If It's Really Got To Be This Way from the prolific Gary Nicholson, Donnie Fritts and Arthur Alexander.
More Of Your Love - deeply rooted in the Owens-Stewart Bakersfield sound - sets the mood of a disc enriched by Lauderdale's input.

Jim penned honky tonk lament I'd Follow You Anywhere with Melba Montgomery and teamed with Hofeldt and Villanueva for the rollicking Your Guess Is As Good As Mine.

The mix of band originals and covers works - especially when highlights include Bar Exam, the steel drenched You Know What She's Like and finale There Goes The Bride featuring Delbert McClinton on harmonica.

The altar amorist gets, ah, hot feet - "like someone set fire to her shoes."

Nice twist, fellows.

And, yes, Hofeldt does his Raul Malo impersonation of Roy Orbison on original tune I See My Baby.

A good starter kit for local lads harvesting angst - but in a melodic and accessible way for suburban styrofoam stylists who missed country when it was cool in the sixties.
2003 REVIEW
THE DERAILERS
GENUINE (LUCKY DOG-SONY)
DERAILERS BACK ON TRACK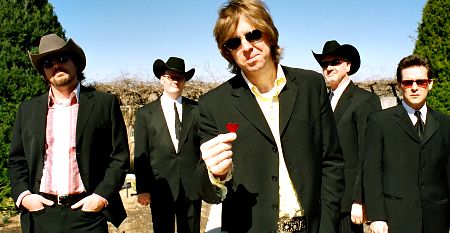 When Geelong country refugee Adam Harvey joined Montana hit writer Kostas for a session on a Nashville sojourn the union stalled when the famed American suggested a boomerang metaphor.

Harvey, like the song, didn't come back for the bait.

But Kostas found a home for his idea when he wrote Boomerang Heart with Jim Collins and Brian Hofeldt for The Derailers sixth album Genuine (Lucky Dog-Sony).

Hofeldt and fellow Oregonian refugee Tony Villanueva, both 36, used it to punctuate Alone With You and the title track that Tony wrote with Al Anderson.

Brian and Tony, co-founders of the Austin based band, wrote some disc highlights - Tex-Mex flavoured Leave A Message Juanita, Scratch My Itch and wry parody Uncool.

But they chose a Jim Lauderdale pair The Way To My Heart and Take It Back, co-written with John Leventhal and Leslie Satcher, to set the retro county mood.

I Love Me Some Elvis, written by Doug Powell and Bryan Kennedy, is designed for listeners to "help them get in touch with their inner Elvis", says Hofeldt.

"Part of the Derailers sound and image is happiness, and we have so much fun recording and playing in the dance halls we just try to provide people with a good time, a smile and a laugh," he added.

Precious peers have bagged the band and Dwight Yoakam for milking the Buck Owens sound.

Despite rejoicing in that historic west coast country-twang this is the first time they cut an Owens song - 1967 instrumental The Happy-Go-Lucky Guitar.

"I think Buck will be happy because Don Rich (Owens' long time lead guitarist and collaborator who died in a motorcycle accident in 1974) was co-writer on it," said Hofeldt.
DERAIL NOTE
VILLANEUVA EXIT
Villaneuva, who took most of the lead vocals, left the band in 2003 to pursue a higher calling as a minister.

When asked if Villanueva has heard this new release, the first by the band without him, Hofeldt sounds surprised and said that Villanueva hadn't.

"I gotta get him a copy of this," Hofeldt said.

"He lives up in Oregon now. We're a little bit out of touch. I'm so busy doing what I'm doing, and he's busy dong what he's doing. I gotta give him a shout, get him a copy, see what he thinks. Tony's a great guy. He's always been very supportive and encouraging. I'll bet he'd be proud."
Like most big splits, the one between Villanueva and Hofeldt caused turmoil.

"New Year's eve 2003 was his last gig." Hofeldt explains.

"At that point, with Tony leaving the band, I just wasn't sure if I wanted to keep doing it because Tony and I had such a tight musical relationship, and we'd been doing that for 10 years at that point, and gosh, it was like a divorce. I missed my buddy. But I took a month off and talked to the guys in the band, and we decided to forge on."

The band released its ninth album Guaranteed To Satisfy in 2008.