DAVE'S DIARY - 4/12/12 - PREVIEW OF EPISODE 1 - SERIES 19
PISTOL ANNIES AND KASEY & SHANE ON PREMIERE
Riveting trio Pistol Annies and Aussie stars Kasey Chambers and singing spouse Shane Nicholson headline our premiere of Series #19 on Saturday December 15 at 10.30 pm
on C 31.

We also feature Geelong born Red Hill Country music festival headliner Adam Harvey on our show repeated Mondays at 2.30 p m and midnight.

Texan Charlie Robison - former husband of Dixie Chick banjo and dobro ace Emily Erwin - also makes his debut on the premiere edited by Blaize Warden.

And veteran western swing band Asleep At The Wheel, singing actor Lyle Lovett and Suzy Bogguss feature in our popular Behind Bars segment.
PISTOLS AND PILLS
The Pistol Annies return to Nu Country TV with their satirical video for Taking Pills from debut CD Hell On Heels.

The video - replete with Lost Highway humour - helped shoot the album to No. 1 on the Billboard chart in 2011.

The trio's huge success enabled Ashley Monroe and Angaleena Presley to expand their solo recording careers.

Ashley, just 26 and a prolific songwriter, cut two EP CDS before debut solo album Like A Rose produced by Vince Gill and Justin Niebank.

The Knoxville born singer wrote all songs including the duet with fellow Pistol Annies singer Miranda Lambert's husband Blake Shelton on You Ain't Dolly (And You Ain't Porter.)

She has another duet with Ronnie Dunn on I Don't Want To.
Other co-writers include Texans Guy Clark and Jon Randall Stewart and Shane McAnally.

Coalminer's daughter Presley hails from Beauty, Kentucky, and released a 2011 self titled solo album produced by Mike Wrucke.

She signed to expatriate Australians Barry and Jewel Coburn's Ten-Ten publishing company and has written a brace of hits for major American artists.

Angaleena, now 33, has also penned songs for Australian artists including Kirsty Akers, Jasmine Rae and Talia Wittman.

Lambert, 29, and Shelton are frequent CMA, ACM and American Music Awards winners.

This year they won CMA song of the year for Over You - they wrote it on Shelton's brother being killed in a car accident when Blake was just 14.

Miranda won best female vocalist for the third consecutive year.

She also appeared in TV show Law And Order - Special Victims Unit and hosted The View.

Pistol Annies song Run Daddy Run also appears on the Hunger Games movie soundtrack.

CLICK HERE for a Miranda Lambert CD review in the Diary on January 11, 2010.
CLICK HERE for a Miranda feature in the Diary on May 7, 2007.
ADAM & EVE
ARIA award winning couple Kasey Chambers and Shane Nicholson returns with Adam & Eve - first video from their second duets album Wreck & Ruin.

Adam & Eve dug up more than a few skeletons in the Garden of Eden in their amusing video.

Wreck & Ruin is a five-time finalist in the 41st Tamworth country music awards in January.

The NSW Central Coast duo performed the prestige Americana festival in Nashville before returning home for an east coast tour.

They will also perform a free concert in Tamworth on January 23.

The duo launched its album at Rutherglen House - the six-story bluestone Melbourne mansion of famed socialite Peter Janson in Highlander Lane in the CBD of Melbourne.

CLICK HERE for a Kasey and Shane CD launch feature from the Diary on September 7.
ADAM HARVEY - GEELONG TO RED HILL
Geelong born singer-songwriter Adam Harvey is a fellow NSW Central coast resident with the Chambers-Nicholson clan.

The long tall troubadour headlines Red Hill Country Music Festival on Sunday January 13.

Harvey tries to uncap a genie in a Jim Bean bottle with help from little mate Kev Bloody Wilson in their humorous, historic video this week.

Adam, who turns 38 on New Year's Eve, wrote Genie In The Bottle with Kev on one of their tours of Ireland.

The duo was on the road to Tipperary and it adorned Adam's seventh album I'm Doing Alright in 2007.
Harvey, father of two, shares the Red Hill bill with Paul Costa, Kristy Cox, Adam Toms and many more.

The prolific Golden Guitarist is touring to promote 10TH album Falling Into Place.
CLICK HERE for a Harvey feature from the Diary on November 5, 2009.
CHARLIE ROBISON - BLINDED BY BARLIGHTS
Texan Charlie Robison continues the drinking theme in the video for his embryonic hit Barlight off his 1995 album Bandera.

The laconic singer acts out the honky tonk nursery rhyme theme of the song in his amusing clip.

Charlie, 48, is the elder brother of likely 2013 tourist Bruce Robison who first toured here in 2000 with singing spouse Kelly Willis.

The duo performed live in the Nu Country FM studio at Beer Can Hill in Northcote before a gig at Continental Café in Prahran.

Both Bruce and Charlie are fathers of twins.

Charlie visited Australia with former wife Emily on one of the two Dixie Chicks tours.
The singer was wed to the trio's multi-instrumentalist for nine years from 1999.

They have three children and shared the same divorce lawyer in a friendly split.

Robison sourced much of seventh album Beautiful Day from that divorce.

Robison said writing about pain helped him relieve it.

"Basically, it was cheaper therapy," Robison says. "Once I got it down on paper and started looking at it kind of as an outside person, I was able to gain perspective on a lot of things."

Robison admits he wrote the songs as though Emily was looking over his shoulder.

"I definitely envisioned her listening to them," he said.

"I kind of felt that if the shoe were on the other foot, she'd be writing about the same thing. The record's not a vindictive one or anything like that. It's written more about me than it is her."

Emily and sister Martie cancelled a 2010 tour of Australia after releasing their Court Yard Hounds album.

Another early Robison hit El Cerrito Place recently became a smash for Tennessee superstar Kenny Chesney, 44.

That was long after Chesney's divorce from actress Renee Zellweger - who was in the Cold Mountain movie with fellow star Keith Urban's wife Nicole Kidman.

The couple wed on May, 9, 2005, but split four months later - September 15.

El Cerrito Place - written about a street in Los Angeles - is on Chesney's huge selling 13th studio album Welcome To The Fishbowl.

Fellow Texan Keith Gattis wrote the song and Charlie cut it for his 2004 album Good Times.

Gattis also cut it on his 2005 album Big City Blues.

Dixie Chicks singer Natalie Maines sang on Robison's hit and Grace Potter harmonises on Chesney's version.

Charlie released a live DVD-CD recorded at Fort Worth cowboy bar Billy Bob's - the largest in the world.

CLICK HERE for a Robison feature and CD reviews in the Diary.
ASLEEP AT THE WHEEL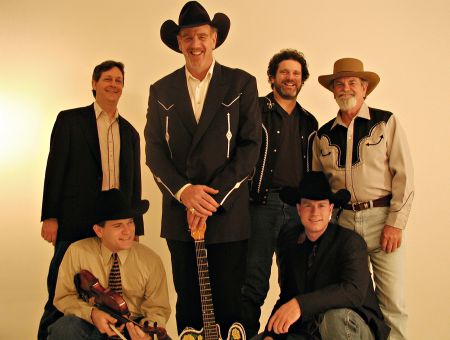 This week Texan band Asleep At The Wheel and some mates celebrate western swing pioneer Bob Wills in Behind Bars.

Asleep At The Wheel had a cosmic flashback on a bus strip to Bob Wills & The Texas Playboys.

Illinois born Suzy Boggus, now 55, joined with the band to perform Old Fashioned Love.

Then singing Texan actor Lyle Lovett joked about how he always looked up to fellow Texan and Wheel singer Ray Benson in Blues For Dixie.

Singing Texan crime novelist Kinky Friedman refers to Benson as the tallest Jew in Texas.

Both songs were on the Wheel 1993 album Tribute To The Music of Bob Wills.

Wills, born in Limestone Country, Texas, died in Fort Worth at the age of 70 on May 13, 1975.

Other artists on the disc include Willie Nelson, Merle Haggard, George Strait, Chet Atkins, Riders In The Sky, Johnny Rodriguez, Vince Gill, Dolly Parton, Mary Stuart, Brooks & Dunn, Garth Brook, Johnny Gimble and Leon Rausch .

Band expat co-founder Lucky Oceans - latter day host of ABC Radio & TV show The Planet - also guests.

In 1999 Asleep At The Wheel released Ride With Bob - another all-star cast tribute to Bob Wills And The Texas Playboys.

Then in 2005 Benson and Texas-born screenwriter Anne Rapp wrote A Ride With Bob: The Bob Wills Musical - a quasi-fictional account of Wills' life that features 15 of his songs performed by Asleep at the Wheel.

Benson plays Ray Benson - a burned-out, road-weary Western Swing musician who rediscovers his mojo after encountering a tour-bus driver who just happens to be the ghost of Bob Wills.

CLICK HERE for a Willie Nelson and Asleep At The Wheel feature in the Diary on July 4, 2009.

LADY ANTEBELLUM DVD PRIZES
We have copies of the hot new DVD by recent Grammy Award winners and Australian tourists Lady Antebellum for new members and renewing members of Nu Country.

The 18-track Own The Night World Tour DVD has five bonus songs with exclusive version of Black Water featuring Darius Rucker and Thompson Square.

There's also intimate backstage footage of the band, road crew and fans on a tour that included two concerts at the famed St Kilda Palais.

The 124-minute DVD features the band performing its many hits live in Little Rock, Arkansas, and documentary footage of band members and song sources.

Click Here for our membership page for details of all prizes.