DAVE'S DIARY - 7/9/12 - KASEY CHAMBERS & SHANE NICHOLSON - CD REVIEW
ANIMALS HOVER OVER BLUESTONE MUSEUM
"Gotta get good with the big black dog/ hanging all around the door/ gotta get wet in the dirty water/ where the fish don't swim no more." - Wreck & Ruin - Kasey Chambers-Shane Nicholson.
There's a dark sense of humour lurking when Kasey Chambers and Shane Nicholson kiss the sky.

They chose six-storey bluestone Rutherglen House in Highlander Lane in the Melbourne CBD for the live launch of their second duet disc Wreck & Ruin.

Those historic digs, adorned with stuffed wildlife from all corners of the world, have long been home of Octogenarian icon, bon vivant and world traveller Peter Janson since he decamped the tower of the Windsor Hotel in 1988.

This heritage listed quasi museum, circa 1842, is third CBD home since the nearby Federal Hotel went to God in 1973.

Captain Percy Pierre Gustaf-Janson drew his first breath in New Zealand and was raised by a grandfather among the English aristocracy in the old country.

But after a lengthy career of driving racing cars and investing in historic relics of the realm he offered shelter from the storms of life to the couple raised on the Nullarbor and north of the Murray Dixon line in Johland.

The bearded host to generations of expat English aristocrats visiting the colonies - and other plane and boat people living here - was not front and centre at the door to greet guests or the artists.

But mid-way through rehearsals downstairs in the servants' quarters there was an apparition.

< Captain Peter Janson
"This quaint old chap with a beard wandered in and asked if we would be long as he was anxious for a bite to eat," Kasey told me.

That was before Liberation Records boss-St Kilda fan Michael Gudinksi announced chicken wings - a weapon of mass distraction for Chris Judd captain of the Chambers' favourite team Carlton - were not on the menu.

It was that kind of soiree under the gaze of giraffes, lions, bears, iguanas and all conquering giant Cats.

The duo regaled guests who travelled from as far afield as Brisbane with anecdotes about song sources as they showcased new tunes.

Sadly, Molly Meldrum who shared a propensity with Janson for falling off historic buildings while doing running repairs was not in attendance.

Gudinski confided that his fellow Saints supporter had just survived an accident in a taxi in Bangkok.

Instead a large herd of record retailers, sprinkled with the odd community radio and TV host and print media music writers, enjoyed a preview of a 13-song disc set for release a month later.
ANGELS FLY ON SHIPWRECK COAST
"When the angels come from heaven above/ sweet as honey, sweet as honey/ pick me to fly on a white winged dove." - Have Mercy On Me - Kasey Chambers-Shane Nicholson.

The Chambers clan music has long been popular in the U.S. where they were adopted by free form Americana radio and its far flung audience.
So it's no surprise Kasey's Storybook covers compilation, accompanied by an autobiography, was released on Sugar Hill in the U.S. on July 30 for the long hot summer.

It was apt timing - peak of a devastating drought that also had Americans thirsty for Australian milk products.

The singer, 36 and mother of three, has a strong support base in the live music capital of the world - Austin, Texas - where Paul Kelly and expat Greencards have done their time in the more literate melody mines.

Now Chambers and Nicholson prime pump the U.S. release of Wreck & Ruin on October 22 with a major role at Americana festival in Nashville on September 12.
Nicholson, raised at Redcliffe due north of Brisbane, also scored wide acclaim for his fifth solo album Bad Machines.

Their high profile draws attention to lesser lights from the unlucky radio country using the festival as their wooden horse to storm the mecca.

"Some country singers look at Nashville in the same ways as actors look at LA," Nicholson, also 36, told The Australian before they left.

"As long as you go to live there and play there you'll get discovered. It's ridiculous. The whole idea you can move somewhere and just because of that you'll make it your music still sucks. There's more chance of success if you stick it out rather than make more of the same."

The road to Music Row is littered with diverse expat hits and misses.

Keith Urban heads the hits, Jedd Hughes, Greencards, Kylie Sackley and Adam Brand are hanging in there and the hugely talented Catherine Britt is relaunching from back home - with a little help from Bill Chambers.

Others, with diverse measures of talent, have tried to hitch their flag to the country flag but flutter and stutter in the wind.

Shane and Kasey, with brace of interviews done in our winter, keep home fires stoked for their Australian spring tour.

For them the calculated search and destroy missions and tours of foreign fields give better returns than random carpet-bombing.

They begin in the Shipwreck Coast capital Warrnambool - a dairying and University city in the buckle of the Bible belt, due east of the S.A. border where the Chambers clan fished during summer when not hunting on the Nullarbor.

The October 24 entrée gig is at the downtown Lighthouse Theatre in the recently revamped Performing Arts Centre that suffered internal soaking on opening night from the ceiling when the sprinklers malfunctioned.

It was not related to the infamous masturbating angel on top of the nearby War Memorial that frequently finds its downstairs soldier relieved of his gun or merely frocked up in an odd array of lingerie of the day.

OK that's the launch pad.

What do paying punters score from the disc recorded at Nash Chambers Foggy Mountain Studio at Laguna in the Hunter Valley?
VALLEYS AND GULFS

"We could sail away to Tobago/ fly across the Gulf Of Mexico/ or we could just stay here a while/ wrapped up in the quiet life." - The Quiet Life - Kasey Chambers-Shane Nicholson.
Wreck & Ruin shares sonic similarities to the duo's 2008 ARIA award winning Rattlin' Bones disc with its country-bluegrass-gospel-old timey focus.

The couple retreated to cottage near small Hunter Valley town Wollombi in March to create their new songs.

The studio band features long time bassist James Gillard, drummer Steve Fearnley, guitarist Jeb Cardwell also adds banjo with dobro and fiddler-mandolinist John Bedggood.

Chambers adds banjo to vocal duties while guitarist Nicholson also plays mandolin, accordion, harmonium, harmonica and percussion.

"We put together a whole new band for this album and got together with them a few days before we started recording," Nicholson said.

"We hung out around the studio jamming songs and getting comfortable with each other, but we didn't prep the album songs too much. It was more about creating a sense of ease between everybody before we got to work."

The disc opens with the funereal Til Death Do Us Part.

It segues into the title track with the characters duelling with the devil while the imagery is thick with escapees from the Janson museum - "black dogs hanging all around the door" and catching "that monkey on a wire."

The combatants appear to be exorcising demons of rattling bones as they bait rats and stop dragging bags of stones.

Although the serpents have been silenced and sent back to their baskets and vines they are set loose again in the biblical single Adam And Eve.

Their writing retreat was idyllic akin to The Quiet Life but the song locale is reminiscent of those favoured by Jimmy Buffett and Zac Brown but the delivery is pure bliss.
DOWN UNDER DUST BOWL
"This town has gold a hold on me/ this town has got a hold on me/ well, I lost my soul/ I'm stuck here in a dust bowl." - Dust Bowl - Kasey Chambers- Shane Nicholson.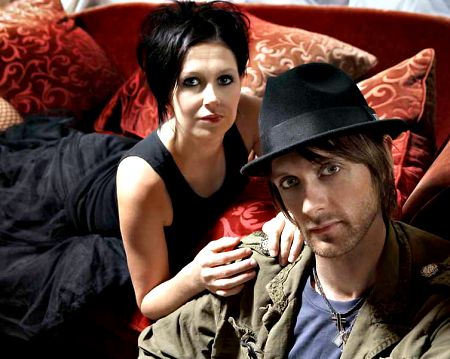 Dust Bowl kicks off with a riff borrowed from Jackson but the duo seems happy to be stuck way out from where the late Woody Guthrie fled.

They effortlessly stroll through the pathos of Familiar Strangers and slow down for the plaintive pleas of Your Sweet Love.

Rusted Shoes is a loping hobo lullaby while Flat Nail Joe delivers joyous advice to an imperfect blue-collar artisan.

OK there's the meat and bones on a disc that reverts to freedom battles in Have Mercy On Me, the soft gospel of Up Or Down and flippant canine metaphor of Sick As A Dog.

The funereal finale Troubled Mind is a fitting bookend for entrée song Till Death Do Us Part.

Chambers, who wed Nicholson in 2005, is best qualified to tell why the family formula is chiselled in stone and works again.

"I hope people will get a sense of who we are as a couple," Chambers told the Austin Chronicle.

"I guess I mean that a little bit to do with who we are as a couple in our day-to-day life, but there's a certain sound that we create when it's only the two of us. We could not create that on any other solo album, or with any other artist. It's something that we've realised is really quite special. There are a lot of songs on this album that I don't think we could sing if we weren't married."

CLICK HERE for Tonkgirl's Gig Guide for tour dates.