DAVE'S DIARY - 4 DECEMBER 2012 - CHARLIE ROBISON
CHARLIE ROBISON EMBRYONIC MUSIC
Explanation - These three CD reviews were written when Charlie Robison and his multi-instrumentalist wife Emily of the Dixie Chicks were still married.

We then detail the history of the Keith Gattis song El Cerrito Place - originally a hit for Charlie - but now a smash for Tennessee superstar Kenny Chesney.

And, as a bonus, we add part of a Nashville Skyline column by Texas born, Nashville writer and author Chet Flippo about the history of El Cerrito Place.
2004 CD REVIEW
GOOD TIMES (DUALTONE)
CHARLIE SCRATCHES PUSSY WILLOW ROSE
"I know a girl here in Laredo, her name's Pussy Willow Rose/ she's got that ring around the collar/ got that ring stuck through her nose/ she works there at the Dallas Cowboys but she got no in-between/ like all them other boys in dresses they ain't every Cowboys dream." New Year's Day - Charlie Robison
Thank God and the Texas hill country heat for Charlie and Bruce Robison and singing spouses.
And let's not forget the dry humour that permeates their music and cracks formulaic chart chaff.

The Bandera bred brothers Robison survive on song strength and ensure their marital and breeding stock continue the lineage.

Charlie lives with Dixie Chick wife Emily and son Gus in the Texas hill country near San Antonio, next to his father's ranch that has been in the family since the 1840's.

They have a combined 2,000-acres of cattle, quarter horses raised on round bale hay.

"I definitely couldn't do one without the other," Robison revealed of his dual careers.

"They're very symbiotic for me. I really get a lot of inspiration to ranch from music and to do music from ranching."
And when Bruce and wife Kelly Willis returned from an Australian tour they weaved their dingo tales into One In A Million that he wrote with Charlie.

Bruce wrote You're Not The Best (But You're The Best That I Can Do) and Charlie cut it on his 1998 album Life Of The Party.

Let's remember embryonic tune Sunset Boulevard, updated for Charlie & Bruce Robison-Jack Ingram Unleashed Live album in 2000 with oral praise of Monica Lewinsky.

Charlie sets a cracking pace on fifth album Good Times (Dualtone-Shock) with border town divorce ditty New Year's Day following his hedonistic title track entrée.

Sequencing is everything.

He follows Keith Gattis lost love song El Cerrito Place, with co-producer Lloyd Maines daughter Natalie's harmonising, and another Gattis tune Big City Blues.

Then there's Waylon Payne's Benedictine brewed ballad The Bottom.

Payne - son of Willie Nelson's long time guitarist Jody and late singer Sammi Smith - played Jerry Lee Lewis in the Johnny Cash movie Walk The Line.
HOME COOKING
"She'll unbutton that top button/ wipe her hands on that ol' blouse/ she's always lookin' finger lickin' good around the house." - Love Means Never Having To Say You're Hungry - Charlie Robison.
And then we're back to humour in Love Means Never Having To Say You're Hungry.

It seems Emily's home cooking was equally enticing in the boudoir as kitchen.

Robison spans three generations with Photograph about Gus and grand paternal tune Something In The Water.

"It's meant to leave yourself with the thought that for your grandkids, you're going to be just a photograph some day," Robison, then 40 revealed.

"It's a tribute song, but it's also a song make you ponder mortality a little bit."

You can savour lines about the divorce of his dad and mum - mine host at the Purple Cow cowboy bar.
"Momma and Daddy burned hot like a flame/But it all turned to ashes with no one to blame".

Charlie's bittersweet love song Always and death nostalgia bluegrass finale Magnolia sandwich Terry Allen's riveting Flatland Boogie - the original version was produced by Maines who plays dobro, steel and lap steel guitar.

Robison admits reading reviews.

"People give me a perspective with reviews that I haven't thought of," Robison says.

"I feel I've written a whole lot more from first person. On other records I veiled the things I've written about myself and put it in the third person. It's more transparent of where I am in my life and who I am. When your life changes so much - you get married, you settle down and have a kid, you change the way you think of things even though you don't realise it. That kind of creeps in there."

Robison's era at Sony boutique label Lucky Dog included tours with kindred spirit - thrice wed Georgian gaucho Travis Tritt.

"He's looked at as one of the cooler (artists) and a great guy." Charlie said of the singer who also released his 11th album My Honky Tonk History (Sony) in 2004.

2001 CD REVIEW
STEP RIGHT UP (LUCKY DOG)
CHARLIE PLAYS BINGO WITH FRED NEGRO DINGO
"Well, you asked me to meet you at the movies/ Meryl Streep in a part with an accent/ it sounds like a favourite of mine/ but I came to an elderly woman/ her child had been taken away/she said, by a pack of wild dingoes." - One In A Million - Charlie & Bruce Robison.
Texan troubadour Charlie Robison is the master of pert parody - he created a cyber snow storm when he called West Virginia born traditionalist Brad Paisley a little moron.

Now, on his third album Step Right Up he has ignited a delicious debate with his Azaria Chamberlain movie spoof One In A Million.

Robison sets up his tale with the male character, stopping for few Cervezas with mates, and then being robbed en route to a date at the Evil Angels movie starring Streep.

It's there that Robison's role model, through the miracles of literary licence, emulates part of the movie's plot and tracks down the dingoes and rescues the baby.

But the hero hasn't made it to his date's love nest so he sets off on foot next morning when his car won't start.

Guess what - this time he is kidnapped by aliens in a spaceship who have heard of his tracking skills.

Their babies have also been stolen by dingoes so Charlie's chappie hunts the pack and rescues the alien babies.

But there is still no solace for the jilted date - the Good Samaritan gets drunk on space beer and never fronts.

Hey, this is what makes country music such a wondrous genre in the hands of the right artists.

BRUCE ROBISON AND KELLY WILLIS
"I followed that trail of the dingoes/ they put up a terrible fight/ but I finally retrieved her baby/ and we drank to the end of her plight." - One In A Million - Charlie & Bruce Robison.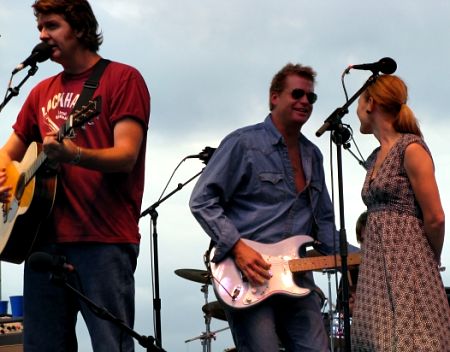 Charlie, then 36 and singing spouse of Dixie Chick multi-instrumentalist Emily, hasn't played gigs down under.

But wife Emily, Charlie's brother Bruce - co-writer of One In A Million - and his singing spouse Kelly Willis have been.

So we have several sources for this salacious satire - Charlie may or may not have seen Evil Angels that featured Nu Country TV creator and DJ-actor Peter Hosking as assistant to the coroner at the first inquest.

But here is some concrete evidence that Bruce, Kelly and Emily are up to speed on the voracious appetite of our dingoes.

Bruce and Kelly performed live to air and Internet at Nu Country's Beer Can Hill studio in Northcote on their Australian tour in January, 2000.

That was five months before it was barbecued on June 26 - the fatal first day of its 28th broadcast.

The duo took home a pair of Nu Country tee shirts with singing satirist Fred Negro's world famous dingo mascot after being told the story that inspired Evil Angels.

And, of course, Emily (banjo and dobro player here) learned about the exploits of the dingoes on her trips with the Dixie Chicks.

One In A Million is not the first or last song about the Aussie dingo but it's by far the funniest - equally importantly it's delivered with a rollicking Tex-Mex lacing.

Satire and reality driven narratives have long been Charlie's strong suit - he reprised Sunset Boulevard on second album Life Of The Party and Desperate Times here.

The Bandera born brothers also co-wrote intro song, Right Man For The Job, and Bruce penned Tonight but the major writer here is Charlie with six solo tunes.

Ironically, the first single from this disc was a cover of the NRBQ tune I Want You Bad - maybe a good radio lure in the U.S.

But Charlie excels when he cuts loose on his originals - The Preacher, John O'Reilly, Rain and Desperate Times.

The Wedding Song - performed with Dixie Chicks singer Natalie Maines (daughter of his former producer Lloyd) - is a radio friendly, duet oasis in the mainstream.
LIFE OF THE PARTY
"Well they call me the life of the party/ they call her the belle of the ball/ well we start before everybody/ and I promise we'll outlast them all." - Life Of The Party - Charlie Robison.
And Life Of The Party - a parody of the double entendres in country - was the title of his previous disc but saved for Step Right Up - also title of an album by his little mate Todd Snider.

But, like this disc, there was no song with that title on Todd's album.

Charlie desked this gem with Dixie Chicks co-producer Blake Chancey and promoted from Lucky Dog to the Sony mother ship after Life Of The Party sold 100,000 plus units - a major figure for an alternate roots country act.

So how will Charlie fare here?
This is out only as a Sony import - airplay is limited to community radio and the ABC.

If One In A Million was a single it would ignite a sales storm in the same way Lee Roy Parnell's former AFL Seven Network footy theme, If The House Is Rockin', could have done.

But record companies are cautious - because Australian mainstream radio is too scared to embrace.

Many community radio country music hosts are not smart enough to get it - swift smacks with the stupid stick en route from the womb to tomb left them with charisma by-passes.

Lateral thinkers - roots country fans - will find this a creative conduit and good value.

I thank the maker for sending me the mirthful majority of disc jockeys at Nu Country who ducked and dodged the stupid stick.

As singing Texan crime novelist Kinky Friedman and many other sages have long said "some people get it - some never will."
1998 CD REVIEW
LIFE OF THE PARTY (LUCKY DOG)

CHARLIE CHICK HAPPY - NOT GAY
"Well, I wish I had my picture in the Rolling Stone today/ I wish that the Enquirer would spread a rumour I was gay/ I wish I had some buddies, some movie stars and such/ cause I probably wouldn't worry about the two of us so much." - Sunset Boulevard - Charlie Robison
When Bandera bard Charlie Robison first recorded Sunset Boulevard he was one of a vast galaxy of unsung heroic Texan singer-songwriters riding the roots country range.

The sixth generation Texan played with brother Bruce in Two Hoots & A Holler, Chaparral and the prophetically named Millionaire Playboys.

Now, it's a decade down the lost highway, and Charlie is acting out the sentiments of his whimsical tune from the Austin American Nights compilation.

Robison, now 37, has appeared in cult movies Blood Trail, Cement and played a detective in NBC's House Of Frankenstein.

And, after releasing his second album Life Of The Party a year ago on Sony's alternate country label Lucky Dog he surrendered his last shred of privacy by wedding Dixie Chick banjo ace Emily Erwin.

Brother Bruce's singing spouse Kelly Willis sang at the wedding and so did Emily's sister Martie and divorcee Dixie Chicks singer Natalie Maines - daughter of Charlie's prolific producer Lloyd.
Charlie, like Lyle Lovett, has suffice natural talent to be a genuine star before betrothal but exposure and sales are catalysed by cranking the tabloid TV tools - especially here in the unlucky radio country.

The first three tracks - Bruce's Poor Man's Son, Charlie's Sunset Boulevard and honky tonk nirvana nursery rhyme Bar Lights were reprised from earlier releases.

That satiric streak is the poetic putty that makes this disc, belatedly released here to dovetail with the Dixie Chicks 5th album Fly (also Sony), a genuine gem.

Charlie delved into home town dramas on debut solo disc Bandera with Desperate Times but Bruce's tawdry tune You're Not The Best (but you're the best that I can do) wasn't inspired by Emily or Kelly.

But My Hometown, Arms Of Love, hilarious Shakespearean Loving County and Damon Bramblett's tune Writing For The Mail have a Lone Star grain of truth embedded in their amorous aquifer.

Charlie is a master storyteller whose eclectic music is borne from the long hours of highway hopping - Molly's Blues with Nashville burning down - and time travel for his civil war vignette Indianola.

There are salient signposts from the best work of Dylan, John Prine and Robert Earl Keen but check this out as your first spring cleansing of the soul.
EL CERRITO PLACE - NOW AND THEN
"Somehow I wound up the desert just after daylight/ there's a Joshua tree grows that little place you always liked/ these pioneer people they ain't got much to say/ if they might have seen you they ain't giving you away/ now it's been two days." - El Cerrito Place - Keith Gattis.
Kenny Chesney single El Cerrito Place took its name from a street in the Hollywood Hills in southern California but a pair of Texans wrote it.
Lone Star State native Keith Gattis wrote the haunting ballad - it was a hit for Charlie in 2004 and also recorded by Gattis.

"I've loved that song for a while," Kenny says.

"There is a certain longing in this song that in a lot of ways I really relate to. It's about wanting something that's obviously not there, this searching that we all have for love and lust, and someone that's not in your life anymore. It talks about all of the measures that we go through to feel loved and to get that certain thing back that's just driving you crazy. El Cerrito Place has that certain insanity about it that I think is very relatable. There's searching and longing that all of us have inside. I've felt every bit of emotion that the character in that song deals with."

Robison wasn't surprised to see Kenny's version on his 13th album Welcome to the Fishbowl.

"When that song first came out as a single, he called me and was like, 'Man, I can't stop watching that video and can't stop playing that song,'" Charlie revealed.
"I went to sing it with him at some of his shows, too. So I had the feeling he was going to end up doing that song someday and sure enough, he did.

It's hard to take a song that there's a definitive recording of and make it your own, and I think he did a good job with it. You've gotta stay true to it but then again you've gotta put your own twist on it at the same time."

While Charlie's version features background vocals by Dixie Chicks Natalie Maines, Kenny recruited friend and former touring partner Grace Potter to sing backup on his interpretation.

"She has a way of singing the harmony that makes you feel that person's pain even more," says the country superstar of the Nocturnals singer who first collaborated with him on the award-winning Matraca Berg-Deana Carter penned tune You and Tequila.

Potter & The Nocturnals are performing at the 2013 Byron Bay Blues Festival.

El Cerrito Place is the third single from Welcome to the Fishbowl, following Come Over and the CMA-nominated duet with Tim McGraw - Feel Like a Rock Star.
LIVE AT BILLY BOB'S
Charlie has since recorded a live album and DVD the legendary Billy Bob's Texas in Fort Worth.

He said he has been talking about a Billy Bob's record for about a decade and finally set a date.

He recorded new crowd favourites El Cerrito Place and New Year's Day that were on albums after his last 2003 Live CD recorded at Gruene Hall - the oldest dance hall in Texas.

He also included older material that was not on the other live records and a couple of new songs destined for a studio album.

"A lot of times, for people who have never been to a show or have been to a live show and like the way we do stuff live, it's just a whole different feel," he said.

"It's a good way to feel like you're out listening to something live. I've always loved other people's live records."
CHET FLIPPO DETAILS GATTIS-ROBISON SONG HISTORY

NASHVILLE SKYLINE
Veteran Texas born Nashville writer and author Chet Flippo wrote a detailed history of El Cerrito Place.

Here is an edited version of his Nashville Skyline column.

El Cerrito Place started life with its songwriter, Keith Gattis, a young Texan from Georgetown and then Austin, who moved to Nashville in the 1990s and signed with RCA Records.

RCA released his self-titled album in 1996.

Reviewers compared him to a young George Jones.

His second album in 2005 for the Texas-based Smith Music Group, Big City Blues, drew considerable favourable attention, but no one in Nashville - or Texas for that matter - knew just what to do with Gattis.

It was an old story: too good for Austin, too un-commercial for Nashville.

Gattis put it on Big City Blues with a delicate piano and Hammond B3 organ accompaniment.

At almost six minutes (5:58) long it was a deeply personal song of an individual's agony.

Charlie Robison, a Houston native raised in Bandera, Texas, recorded El Cerrito Place before Gattis did.

His version has a classic Central Texas vocal and warm production with unmistakable Dixie Chicks aura and background vocal sound, produced by Lloyd Maines.

Maines is the father of Chicks lead singer Natalie Maines, and Robison was then married to Chick Emily Erwin. Robison again makes it a song of deep personal angst.

Charlie put it on his 2004 Dualtone album Good Times at 5:41, again with piano and B3 and issued it as a single as well. It had no success.

Radio wasn't ready for a long song that some DJs called "navel-gazing."

Charlie had been on Sony's Lucky Dog imprint label along with such "hip" acts as Jack Ingram, BR5-49, Deryl Dodd and the Derailers.

It was a doomed record label.

Charlie did another album for Sony's Columbia Records before leaving for the indie Dualtone label.
MORE CHESNEY TASTE
"Somebody said they might have seen you/ where the ocean meets the land so I've been out all night lookin'/ for your footprint in the sand, did you hear the ocean singin'/ baby did you sing along, while you danced over the water to that ol' forgotten song, were you even here at all." - El Cerrito Place - Keith Gattis.
Now Chesney comes with a recording of El Cerrito Place at 5:51, again with piano and B3, on his new album Welcome to the Fishbowl.

Robison spread a more laid-back Central Texas ranch vibe on this quintessentially Southern California song, Chesney's is a busier Nashville production.

His choice of a songwriter's favourite on his new album - on the heels of his selection of another such composition, You and Tequila, written by singer-songwriters Matraca Berg and Deana Carter - signalled that he's increasingly to be taken seriously as a songwriter's friend.

Not just the Music Row songwriting factory songwriters, I mean.

You and Tequila added another whole dimension to Chesney's body of work and elevated his status as song stylist.

Grace Potter was his singing partner from the rock world, who added the spark to Chesney's recording of You and Tequila and made it one of the best performances in recent memory.

As if to underscore that point, Chesney takes the unusual step of including on Welcome to the Fishbowl a live performance of Tequila that he and Potter recorded at Red Rocks Amphitheatre.

Now, Potter is back and admirably fills out Kenny's rendition of El Cerrito Place as this song continues on its journey.

Interestingly just as Robison covered two Gattis songs on an album Cerrito and Big City Blues so does Chesney record two Gattis compositions here: Cerrito and I'm a Small Town.

Cerrito has also been recently and admirably re-recorded by another East Tennessean, Chelle Rose, whose five-minute-plus stark acoustic demo turns the song into a gothic tale.
KEITH GATTIS - BIG CITY BLUES
"Skinny dippin' in the Perdenales River/ country girl sure could make me shiver/ right now that's just what I could use/ to wash away these big city blues." - Big City Blues - Keith Gattis.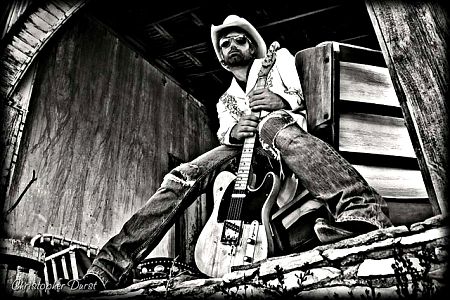 Gattis himself is a classic example of the singer-songwriter whom the Nashville music establishment just doesn't know quite how to handle.

When he came to Nashville in the mid 1990s, he knocked around and spent a lot of time hanging with another Nashville expatriate, Dwight Yoakam, and frequently worked on the road as Yoakam's lead guitarist.

Robison made a video for Cerrito, which he himself brought up to CMT. I thought then - and still think - it's one of the most powerful music videos ever made.

Totally captivating - like a mesmerising film noir.

Ordinarily, I do not want to watch a music video for the first time with the subject of the video watching it with me.

It felt completely comfortable on this occasion. My praise was genuine. CMT played that video. A lot. And deservedly so.

But both young Texans Gattis and Robison sort of struck out in Nashville.

There was just no room at the time for songs written straight from the heart.
WILLIE, BUDDY AND KENNY
As Willie Nelson once sang about his own failed fortunes in Nashville, "Sad songs and waltzes aren't selling this year."

The same thing happened to young Texan Buddy Holly when he tried to blast out of West Texas and came to Nashville and kind of fizzled out before figuring out who he was.

Decca Records in Nashville didn't understand him.

Once he left town and started making records that sounded the way he felt musically, he became an international star and a rock 'n' roll icon.

Of course, that doesn't happen every day, but there have been worthy Texans by legions that Nashville has chewed up and spit out. Not maliciously or out of spite.

They simply didn't fit the system.

What they had in most cases was, as both Strother Martin and Paul Newman said in the movie Cool Hand Luke, a "failure to communicate."

Willie had to flee Nashville and head back to Texas to find fulfilment and stardom when he pursued the music he truly loved and felt.

Hell, Chesney is a native Tennessean, and he got thoroughly beaten down when he first came to Nashville to make it.

Had it not been for a rock 'n' roll record label head who believed in him, Chesney might today well be a farmer back in his native East Tennessee.

But Phil Walden, who launched the Allman Brothers and many other great artists on his Capricorn Records label, saw Chesney and liked what he saw and heard, and he believed in him.

He signed him to Capricorn's fledgling Nashville country label.

Chesney recorded one Capricorn album, In My Wildest Dreams in 1994.

When Capricorn's country division and Chesney's album failed to catch on, Walden shut the label and moved back to Atlanta.

He still believed in Chesney, though, and shopped him to every Nashville record label. And back then, there were still a lot of them. None wanted Chesney.

Walden kept trying, though, and finally persuaded Joe Galante of RCA and BNA Records to take a chance on Kenny.

Many years later that gamble paid off handsomely.

El Cerrito Place is the glue that connects Gattis, Robison and Chesney and Nashville and Texas and Southern California.

It's one song that in its different iterations links past and present. It truly shows the power of a single song. Reading the lyrics, it does not seem especially captivating.

Although the introduction of El Cerrito Place as a real place does serve to give the song added meaning.

Obviously, the actual El Cerrito Place, in the Hollywood Hills, remains seared in Gattis' memory:

"And all them pretty people up on El Cerrito Place/ They all got somethin' in their pockets, all got somethin' on their face/ They roll down to La Brea where it meets the boulevard/ Singin' hallelujah while they dance over the stars/ They all think they're goin' far."