DAVE'S DIARY - 27/2/13 - PREVIEW OF EPISODE 12 - SERIES 19
MAVERICKS REBIRTH HEADLINES NU COUNTRY
Reformed Florida band The Mavericks headlines the Series #19 finale of Nu Country TV this Saturday March 3 at 10.30 pm on Channel 31.

The Mavericks have just announced their debut Australian tour with a headlining role at Gympie Muster in August.

March tourists The Band Perry also return to the show, filmed by Laith Graham and edited by Blaize Warden.

South Carolina born star Josh Turner and Texan James McMurtry perform in our Behind Bars segment.

And West Virginia coalminer's son Billy Payne and Gippsland singer Trace Killeen also appear.

MAVERICKS BORN TO BE BLUE
The Mavericks celebrate their 20th anniversary reincarnation by performing the video for their hot new single Born To Be Blue.

The band reformed recently to record seventh album - aptly titled In Time.

Bassist Robert Reynolds toured here in the nineties with former wife Trisha Yearwood before she wed Oklahoma superstar Garth Brooks.

He also performed here with Texan Kevin Montgomery on a more recent tour.
Lead singer Raul Malo recorded three solo albums including Sinners & Saints in the band hiatus and sports late Bakersfield mentor Buck Owens' autograph on his guitar.
It's a long way from Havana to Austin via Miami and Nashville but The Mavericks have made the journey with little collateral damage.

Well, there's no sign of guitarist Nick Kane who bit the dust many moons ago for a solo career.

But the hard-core trio - Malo, bassist Robert Reynolds and drummer Paul Deakin - also cut a live album in the heart of Texas with a little help from their friends.

Guitarist Eddie Perez, one time Aussie tourist with singing actor Dwight Yoakam, and long time hired hand keyboard player Jerry Dale McFadden, rejoined the band.

It's a long time since their last studio disc Trampoline in 1998.

CLICK HERE for some Mavericks CD reviews in The Diary.

THE BAND PERRY - LOVE WITH A BLUEJAY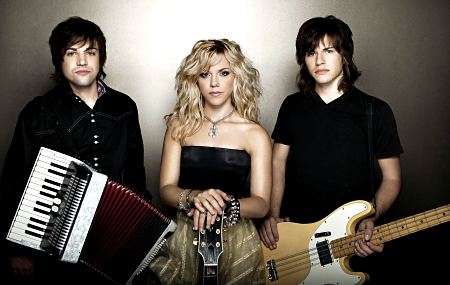 The Band Perry performs in the video for new single Better Dig Two on the eve of its debut Australian tour in March.

The trio shares the stage at St Kilda Palais on Friday March 15 with fellow chart toppers Rascal Flatts en route to the CMC Rocks The Hunter festival.

The single is on the band's second album Pioneer - released in April - sequel to its self titled platinum debut album.

Lead singer Kimberley Perry recently revealed her new beau - Toronto Bluejays catcher
JP Arencibia who spend his off-season in Nashville.

Kimberley displays her love for the baseball star by wearing a Bluejays hoodie.

The trio recorded Pioneer for Republic with producer Dann Huff.

"When we set out to record Pioneer the three of us drove from Greeneville, Tennessee, to Malibu to work with Rick Rubin," Reid Perry revealed.

"Our time in the studio with Rick was incredible because during the sessions it challenged us to set higher goals as songwriters. We needed to take the music back home to Tennessee to Dan Huff.

Better Dig Two was their fastest-rising career single.

Kimberley and brothers Neil and Reid formed the trio after moving from Mobile to Greeneville, East Tennessee.

Neil and Reid were roadies for Kimberley when she fronted her first band at 15.

They later formed their own group - The Mobile Music Machine.

But success came after they moved with their mother and father - a paediatric oncologist - to the tiny town in the East Tennessee Mountains.

The trio write most of their own songs.

CLICK HERE for a Band Perry interview in the Diary on October 31, 2010
JOSH TURNER - PUNCHING BAG
South Carolina born singer Josh Turner returns to Nu Country with the video for recent hit Time Is Love from his fifth album Punching Bag.

The singer won acclaim for his role as gospel singer George Beverley Shea in the latest movie about famed evangelist Billy Graham.

He was cast as Graham's sidekick Shea in Billy: The Early Years.

It opened on October 10, 1988 - Graham's 90th birthday.

Josh, born at Hannah, and wife/keyboardist Jennifer are parents of three children.

They live on 40 acres south of Nashville - they use their 1,700-quare-foot log cabin for songwriting
Josh recently recorded a duet with North Carolina born star Randy Travis on the song T.I.M.E. on Travis's 25th Anniversary album.

Turner, now 35, and Travis, 53, performed a live duet on Josh's breakthrough hit Long Black Train at a Turner gig in Nashville.

Jennifer attended Belmont University to pursue Christian music but wound up singing opera in Europe.

"Over there I realised I missed other kinds of music," she said.

"When you're in opera, you just practice opera for hours and hours."

She returned to Belmont to get her masters and become a teacher - that's when she met Josh.

Jennifer says he's responsible for her going "from opera to the Opry."

CLICK HERE for a Josh CD review in the Diary on December 11, 2007.
JAMES MCMURTRY - PAINTING BY NUMBERS
Texan James McMurtry debuts on Behind Bars in the video for Painting By Numbers - one of his many social comment songs.

The song - on James 1998 debut album Too Long In The Wasteland - was one of his first hits.

In more recent times James, now 50, penned Cheney's Toy about the former U.S. Vice President on his ninth album Just Us Kids in 2008.

The singer, who hangs his hat in Austin, also parodied George Dubya Bush, The Iraq war and Walmart in We Can't Make It From Here.

McMurtry is a prolific solo writer - his song Choctaw Bingo was also recorded by fellow Texan Ray Wylie Hubbard on his 2005 album Delerium.
James also appeared in the movies Daisy Miller and telemovie series Lonesome Dove - based on the 1985 Pulitzer-prize winning novel by his famed father Larry.

Larry, 76, also wrote The Last Picture Show and 1975 Terms Of Endearment - both later Oscar winning movies - and co-wrote the screenplay for Brokeback Mountain.

His other novels adapted to movies included Texasville, The Evening Star, Horseman Passing By (Hud), Leaving Cheyenne (Loving Molly), and the mini-series Streets Of Laredo and Dead Man's Walk and Johnson's War.

James also appeared on the soundtrack of John Mellencamp movie Falling From Grace as one of Buzzin' Cousins with Dwight Yoakam, John Prine, Joe Ely and Mellencamp.

His dad gave him a guitar at the age of seven and his mother, an English professor, taught him to play it.

James later studied at the University of Arizona in Tucson and worked as an actor, painter and bartender before ascending to music.

CLICK HERE for historic cd reviews in the Diary.
BILLY PAYNE
West Virginia coal miner's son Billy Payne debuts on the show working with a tribute to late outlaw country king Waylon Jennings.

Payne, who learned guitar at 12, now records and works with Waylon's former band The Waylors.

The singer has released several albums, utilising the production and musical skills of Waylon's band and producers.

During 1991 joined local bands Country Tradition and Bandolero before forming his own band Sidewinder.

He recorded debut disc No Limit On Love in Nashville in 2000 and second CD Back To The Simple Life in 2005, Country Till I Die and Spirit of An Outlaw.
Payne co-wrote all songs on the latter with his producer-manager Jerry Bridges and recorded a new project with The Waylors - Carter Robertson, Jeff Hale, Kevin Madill and Reggie Young
Further info - www.myspace.com/billypaynecountry
TRACY KILLEEN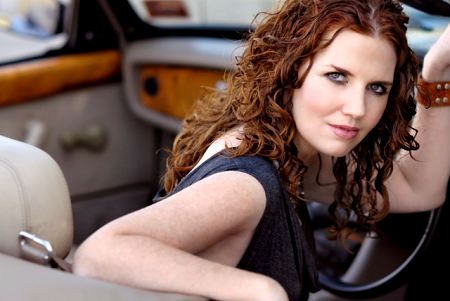 Gippsland raised singer Tracy Killeen returns to the show with the video for the title track of her second album Driver's Seat.

Tracy has returned to Gippsland for the birth of her first child.

Driver's Seat is the follow-up to Good Lies and her video for her poignant World War 11 song - 42 - Margaret & Vera

The songs are on the 2010 Golden Saddler award winner's second album Driver's Seat, released by WJO distribution.

The ravishing redhead won 1998 Gippsland Singer of Year and debuted with Ophelia's Charm for ABC disc The Open Road - Undiscovered Country.

She was a 1999 Tamworth Starmaker finalist, graduating from Australian College of Country Music where she met Kiwi singer Nicky Sweeney.

They teamed as Sweeney Killeen and scored airplay on Nu Country FM, ABC and community radio for an EP and singles.

Sweeney returned to New Zealand in 2006 and Tracy cut her debut 2007 solo album with former Bushwackers member Roger Corbett who also produced the duo's music.

She appeared in Nashville on the 2008 Aussie showcase and TV shows diverse as Landline, Escape With ET and Today.

Further info - www.tracykilleen.com
GARY ALLAN CD PRIZES
California singing cowboy singer Gary Allan debuted at #1 on the Billboard all-genre Top 200 chart with his ninth album Set You Free.

We also have Tim McGraw's 12th album Two Lanes Of Freedom and The Mavericks seventh album In Time.

We have more exciting news - you can win these acclaimed CDs by becoming a member of Nu Country TV or renewing your membership.

CLICK HERE for our membership page to win Set You Free, Two Lanes of Freedom and In Time.
LADY ANTEBELLUM DVD PRIZES
We have copies of the hot new DVD by recent Grammy Award winners and Australian tourists Lady Antebellum for new members and renewing members of Nu Country.

The 18-track Own The Night World Tour DVD has five bonus songs with exclusive version of Black Water featuring Darius Rucker and Thompson Square.

There's also intimate backstage footage of the band, road crew and fans on a tour that included two concerts at the famed St Kilda Palais.

The 124-minute DVD features them performing many hits live in Little Rock, Arkansas, and documentary footage of band members and song sources.

Click Here for our membership page for details of all prizes.