DAVE'S DIARY - 18/1/11 - PREVIEW OF EPISODE 7 - SERIES 15
COUNTRY STARS FLOOD RELIEF TV
It's no surprise that country artists are first out of the chute when natural disasters strike in the unlucky radio country.

And it's not just because they can cut it live without the aid of a phalanx of backing musicians, ecstasy bunnies and tonsorial and make-up artists. Lee Kernaghan, Kasey Chambers and Troy Cassar-Daley proved on the Nine Network flood relief concert their songs connect with long suffering Australians living beyond the neon.

So it's natural we feature altruistic artists on Nu Country TV this Saturday - January 22 - at 9.30 p m on C 31.

Northern Territory born and Mackay raised Luke Austen, who played bass with Cassar-Daley on the Nine show, performs his video She's So You from debut solo disc Light Of Day.

Expatriate Colac and Wallington bred Adam Brand, who worked behind the scenes at Kinglake and Whittlesea and fund raising benefits after the Black Saturday bushfires, returns this week.

And fellow Geelong raised benefactor and bon vivant Adam Harvey also returns on a show featuring Mt Waverley singer Twyce Daily.

Ironically Texan Jack Ingram, a headliner at CMC Rocks The Hunter, is surrounded by water when he reprises his video for Barefoot & Crazy.

And Kansas born Jarrod Nieman and Nashville duo Steel Magnolia debut on the show hosted by Beer Can Hill delta flood victim Mid Pacific Bob Olson, and repeated Monday - 3.30 am - Tuesday 4.30 p m.

LUKE AUSTEN ON CRUISE CONTROL
Luke Austen is well qualified to understand rural hardship.

The 2010 Starmaker winner's dad is a coalminer and truckie whose livelihood was dependent on subterranean elements.

Austen learned the ropes as an outback roads scholar for four years with veteran bush balladeer Brian Young.

Luke, now 29, then joined Young's protégée Troy Cassar-Daley's band for another seven years on bush and coastal treks.
Austen, raised in latter day flood ravaged Mackay, sang of his dad's dual careers in Lonely Highway and Two Miles Down and a paternal discovery in Sacred Bones.
He also honoured embryonic employer Young in Every Time He Travels Through Cloncurry - a song penned by latter day Yackandandah singer Pete Denahy.

But his own paternal experiences fuelled the song and video for She's So You on Saturday's show.

Austen performs in Tamworth this week and CMC Rocks The Hunter on March 5 and 6 to promote his Compass Brothers album Light Of Day.

Click Here for a review from the Diary on November 25.
ADAM BRAND - FIRES AND FLOODS
Adam Brand is fast becoming an expert on natural disasters.

When he moved to Nashville with third wife Jade Hatcher to reap hay from a major record deal his adoptive city suffered devastating floods in May.

Now, on a tour of Australia, to promote prophetically titled 10th album It's Gonna Be OK it's déjà vu.

"The floods that have hit parts of Australia are the worst some areas have had in history," Brand, 40, told American news sites.

"Regional towns have been completely cut off and the military are dropping in food and supplies."

After a show in Dubbo, Adam and his band woke up to the water rising.

"By that afternoon, the town was cut off from all directions," Adam said. "We managed to get out with a couple of hours to spare to our next show that night."
Brand is no stranger to natural disasters and the victims - his work behind the scenes after the Black Saturday bushfires is a good example.

"These towns are the places I tour and have a lot of good friends who today are homeless," he said.

"But just like the people of Nashville, the folks out in these country towns of Australia are tough. We will all band together and get through this."

Brand is likely to perform at flood relief concerts.

Meanwhile the singing spouse of Dancing With The Stars diva Jade performs the video for It's Gonna Be OK on Nu Country.

Click Here for a Brand feature from the Diary on March 31, 2009.
ADAM HARVEY BRINGS THE FAMILY
Geelong born Adam Harvey, winner of seven Golden Guitars, has dealt with bigger natural disasters than his hometown only winning two of the last four premierships.
The latter day NSW Central Coast father of two is sure to raise a hand and glass to help flood victims in this summer of discontent.

Meanwhile the singer performs this Saturday in the video for Better Than This on latest greatest hits album Best So Far.

So do Adam's wife Kathy and children Conway, 9, and Laylah, 8.

Adam and Kathy once lived near the childhood Terang home of Herald Sun online sub editor Bernie Slattery.

It's not clear if any of the trio will feature at the inaugural Terang country music festival on March 9.

The festival, staged at a footy ground where Slattery debuted as an under 18 player before his career began on Hampden Football League Record, is headlined by expat Texan Doug Bruce.
Click Here for an Adam Harvey interview in the Diary on November 5, 2009.

JACK INGRAM ROCKS THE HUNTER
Texan country rocker Jack Ingram returns here for his second tour in two years.

The singing actor is a headliner at CMC Rocks The Hunter on March 5 and 6 after debuting last year at CMC Rocks The Snowys at Thredbo.

Jack is the latest in a long line of Texans to hire expat South Australian Jedd Hughes for his guitar playing and songwriting.

Energetic axeman Hughes sang and played on Ingram's 13th album Big Dreams & High Hopes.

That was after Hughes wrote and performed with Texas born Rodney Crowell who toured here with Will Kimbrough.

Ingram, 39, performs the video for Barefoot & Crazy on famed Lake Travis near Texas capital Austin.
The singer's interview with Nu Country in 2009 was part of a Guinness World Records breaking interview marathon.
It was shortly after Hughes joined Ingram's choir on his revamp of the 1999 Todd Snider-Ingram song Barbie Doll.

Arizona born Australian tourist Dierks Bentley was Jack's duet partner and Little Big Town, Lost Trailers, Randy Houser, James Otto, Hughes and songwriter Bruce Sanders filled the redneck choir.

Ingram appeared in TV soapie Army Wives and also movies diverse as Abilene, with Ernest Borgnine, and Hope Floats.

Click Here for a Jack Ingram interview in the Diary on August 30, 2009.
Click Here for a new Jack Ingram interview in the Diary.

JERROD NIEMANN NOT IN KANSAS ANYMORE
Kansas born singer-songwriter Jerrod Niemann is not the first artist lured to an old Nashville mansion by a young blonde.

But he's probably first to have fellow singer Rachel Bradshaw - daughter of former NFL quarterback Terry Bradshaw - as his video bait.

Rachel sang on Niemann's debut album Judge Jerrod and the Hung Jury and also appears in the video for What Do You Want?

It was filmed at the Two Rivers Mansion near Nashville - also used by The Band Perry for their #1 hit If I Die Young.

"It's a black-and-white video, and it was shot real vintage and sort of abstract," says Niemann whose hometown is quaintly named Liberal.
"I didn't want it to be so focused on one particular story because it's their the viewer's imagination, and I didn't want to take away from that."

The theme entrée is akin to famed Clint Eastwood movie Play Misty For Me where the nocturnal DJ is lured to a rendezvous by a phone call.

"I always like twists," Niemann, now 31 said.

"I know they're videos, and I doubt anybody's ever gonna see our video and be like, 'Ah, I never saw that coming!' But I still liked it."

Niemann flirted with fame more than a decade ago when he co-wrote the Garth Brooks hit Good Ride Cowboy - a tribute to late rodeo rider country star Chris LeDoux.

He recorded a pair of independent albums before signing a development deal with a major label.

When that deal fell through he signed with Category 5 Records and charted with single I Love Women (My Momma Can't Stand).

The label folded after the single release and album hit the cutting room floor.

After a second record deal failed, Niemann broke up with his girlfriend, gained 60 pounds and dealt with a serious bout of depression.

But he bounced back by focusing on Judge Jerrod, cut without a label.

Upon completion his publisher Sea Gayle Music, founded in 1999 by Brad Paisley, Chris DuBois and Frank Rogers, shopped it to Arista who released it fully intact.

It includes the humorous Jamey Johnson penned ballad They Should Have Named You Cocaine.

Jerrod's mates Johnson and Randy Houser appeared in his video for first hit Lover, Lover - a remake of Sonia Dada's 1992 summertime smash You Don't Treat Me No Good.

Further info - www.jerrodniemannofficial.com

STEEL MAGOLIA BLOOM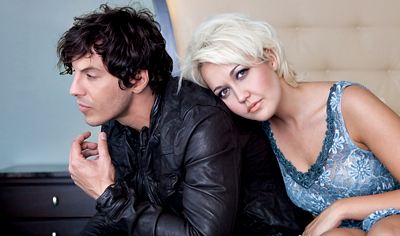 Steel Magnolia emerged from the same reality TV show - Can You Duet - as expat Australians O'Shea and Joey & Rory.

That was after Texas born and Illinois raised born Joshua Scott Jones and Louisiana lass Megan Lindsay toiled for five years as a duo after meeting at a Nashville karaoke bar.

The duo performs the video for second single Just By Being You on this week's show.

They wrote seven of the 12 tracks on their self-titled debut, produced by Dan Huff and released this month on Taylor Swift's label Big Machine.

The last track, Glass Houses, is a song Josh penned solo.

"It could be something that Merle Haggard would sing, which is very cool," Josh, 28 and a former radio station sales rep, says of the classic-sounding tune.

"We were very glad that that song got a chance to be on the record."

They also recorded the historic Keith Urban & The Ranch song Homespun Love.

"That was actually brought to us by Big Machine VP of A&R Allison Jones," says Josh. "We didn't know we had a void on the record until we recorded that song and realized we needed some of that boogie woogie in there, and it's so cool that Keith Urban wrote it."

Though it wasn't written as a duet, Steel Magnolia put their stamp on it. "Lyrically when you first hear it, you don't really think that it could be a duet," says Meghan, now 25 and a former karaoke bar manager.

"But we put our spin on it. It is so sassy. It's one of my favourite tracks on the record. It's one that you can jam out in the car to."

Steel Magnolia's newest single is Last Night Again accompanied by a Grease-inspired video filmed in a Nashville bowling alley.

Further info - www.myspace.com/steelmagnoliamusic
TWYCE DAILY NEVER ENOUGH
Mt Waverley singer-songwriter John Williams needed to distinguish himself from other country artists who share his birth name.

So the singer, who grew up in Para Hills near Adelaide, called himself Twyce Daily for his recording and video career.

No chance of being mistaken for the former Echuca dairy farmer who calls himself J R Williams whose duet partners include Renee Stewart and Kasey Chambers.
JR recently collaborated with Bill Chambers on the duet for Truck Stop Girl - also accompanied by a video.
But we don't have that video - instead we have a pair by suburban John Williams, aka, Twyce Daily.

Williams, 56, played in Diddy Coy with Jaq Ravens, Christine Pratico, Janelle Kitchen and Rod Wilson before morphing into Twyce Daily.

We'll run a snippet of Twyce Daily's video for Gypsy In My Heart that features images of his travels to Mt Isa rodeo, Mildura, Melbourne and the Northern Territory.

He wrote the song after seeing a TV interview in which the late Slim Dusty talked of the gypsy in his heart and his love for Australia.

Twyce Daily used his original song as theme for a string of outback DVD documentaries he filmed and edited for Roadworx Pictures in Victoria.

JACKSON AND LAMBERT PRIZES FOR TOURS
There's great news for fans of Georgian born superstar Alan Jackson and quadruple CMA Award winning Texan star Miranda Lambert.

We have the March tourists latest CDS as prizes for viewers who renew Nu Country TV memberships or become members.

Sony-BMG promotions chief Emma Smith has also given us Miranda's new DVD - Revolution: Live By Candlelight.

Alan's 34 Number Ones features his biggest hits including his duet with Zac Brown Band - As She's Walking Away.

The bonus tracks also include his version of the late June Carter Cash-Merle Kilgore written Johnny Cash hit Ring Of Fire and the rare track Look At Me.

Emma also donated Miranda's huge selling 4th CD Revolution.

And as a bonus there is Miranda's brand new DVD featuring rare acoustic performances of six songs White Liar, The House That Built Me, Love Song, Heart Like Mine, Love Is Looking At You and Rolling Stones country classic Dead Flowers.

Jackson and Lambert perform their hits at Rod Laver Arena on Friday March 4 before headlining CMC Rocks The Hunter on March 5 and 6.
WIN KEITH URBAN CDS ALSO
Expatriate Australasian superstar Keith Urban returns for a triumphant tour with chart-topping mates Lady Antebellum in April.

And Keith's long time record company EMI-Capitol has great news for Nu Country TV viewers.

Promotions ace Bianca O'Neill has donated autographed copies of his huge selling ninth album Get Closer to You.

All you have to do to win the Jackson, Lambert and Urban CDS of the Lambert DVD is become a member of Nu Country TV or renew your membership.

It costs just $20.

Please send a cheque or money order made out to Nu Country Music to us at P O Box 625 - Northcote - 3070.

We also now have electronic banking for membership payment and renewal.

But email us first at music@nucountry.com.au as stocks are limited.
Other prizes on offer include -
Taylor Swift - 2ND CD Fearless.
Tim McGraw Southern Voice Tour CD with 11-bonus video clips.
Dierks Bentley - Feel The Fire. CD
Felicity - Landing Lights
Slim Dusty Sittin' On 80 Boxed Set
Steve Forde - Guns & Guitars
Catherine Britt - Little Wildflowers.
Mike Brady - Country To Country.
A variety of compilation CDS.